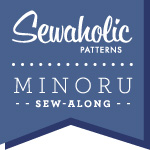 Yesterday, we sewed the lining into our jackets. Today we'll finish it up by sewing the lining to the cuffs. The pattern instructions call for slipstitching, but we can even do that part by machine with a little trick. I'll show you how to sew the lining into our jacket cuffs completely by machine!
If you skipped ahead and slipstitched your cuffs, you can still use this technique on other lined jackets. So there's still something to learn potentially. Unless you're already familiar with this method. (Sometimes I forget which methods are commonly use and which are methods I learned in school and have used ever since.)
Want to catch up on previous Sew-Along posts? Click the links below to read more:
In the sewing instructions, it asks you to slipstitch the cuffs to the lining. And we could do that, but I have another way! We can finish the cuffs by machine instead. Here's how!
First, poke the sleeve lining into the jacket sleeve. I've pulled my lining out, to show you that it's been inserted into the jacket sleeve. You'll want to reach in and pull yours out a little too, to get ready for the next step. Make sure your lining is hanging straight, not twisted inside the jacket.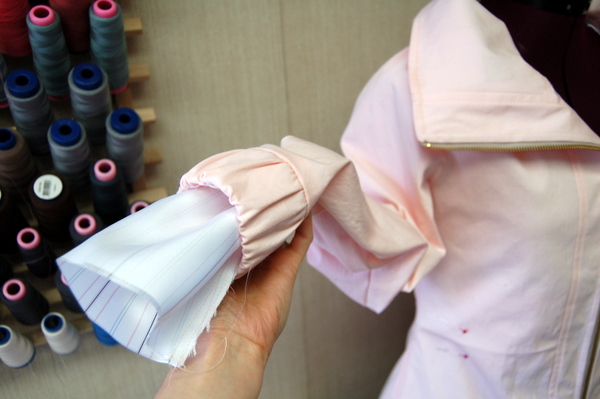 Now, we'll find our sleeve seam, and turn under the seam allowance. Our seam allowance is 5/8″ or 1.5cm on the hem of the sleeve. No need to press, we'll just hold it in our hands for now. We'll be pinning it down shortly!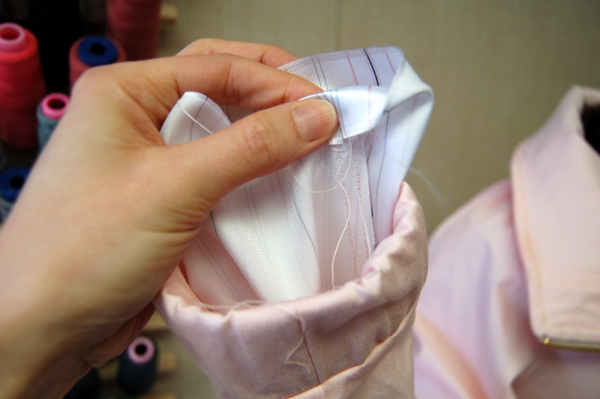 Now, we'll pin that folded edge of the lining on the jacket cuff, lining up the lining seam with the cuff seam.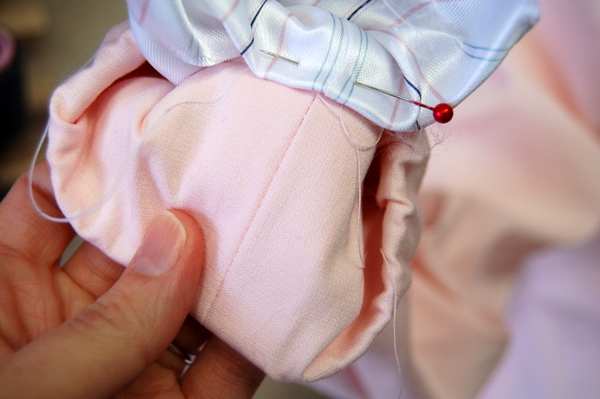 This pinning part is the most important step. It's what allows us to sew the cuffs in this way! I remember in school, we'd think we could line up our sleeve and sleeve lining without the pinning part, and often end up with a long joined sleeve that was impossible to turn right-side-out. Trust me, it happens! If we've done the pinning right, the rest is fairly straightforward.
Reach up through the open hem of the jacket, and pull the pinned cuffs out. This is a really weird-looking photo, but it's what yours will look like too if you try it!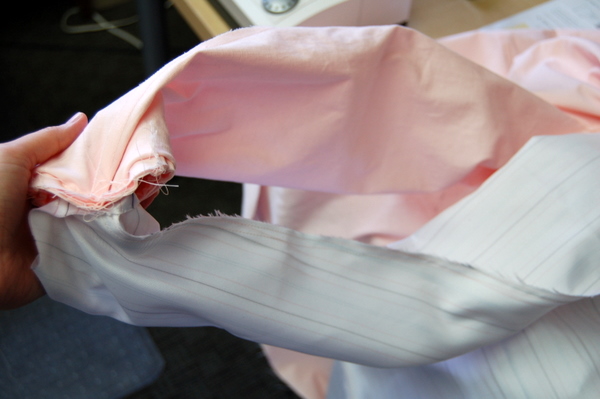 Now, we'll repin the lining to the cuff, and get ready to sew it in place. We have it pinned like this: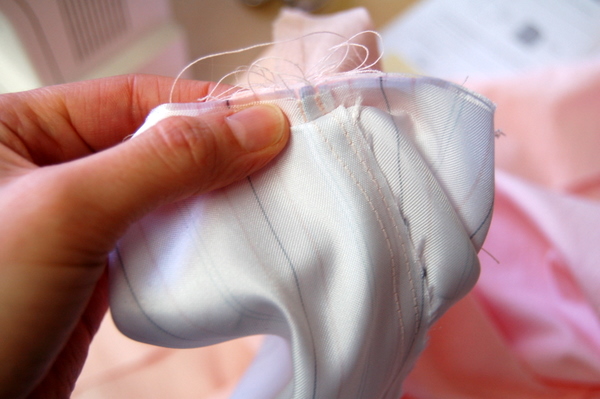 Remove the pin, and re-align the lining edge with the cuff seam allowance without shifting the lining from its original position. You just want to get rid of that fold, while keeping the seams aligned.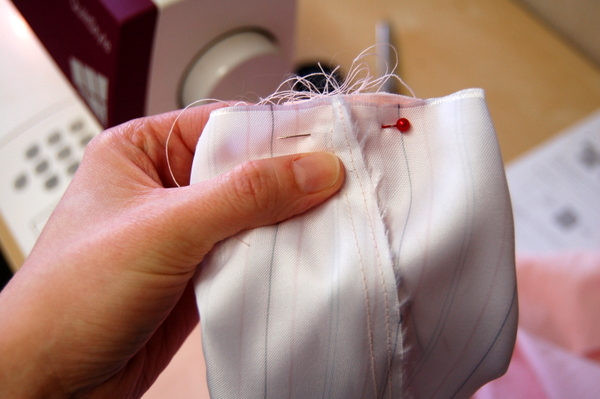 Pin all around the cuff and lining.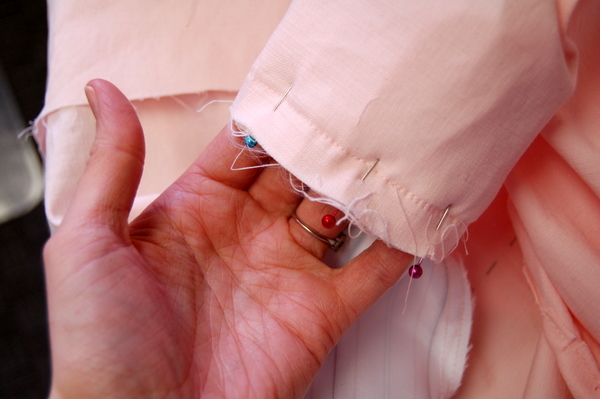 I'll admit, this next part is the most difficult. Especially if your cuffs are narrow. If you can get through this last step, we're done!
Sew the cuff lining to the cuff seam. (None of the photos I took while actually sewing turned out, or rather, you couldn't figure out what was happening. So I settled for an after-photo!)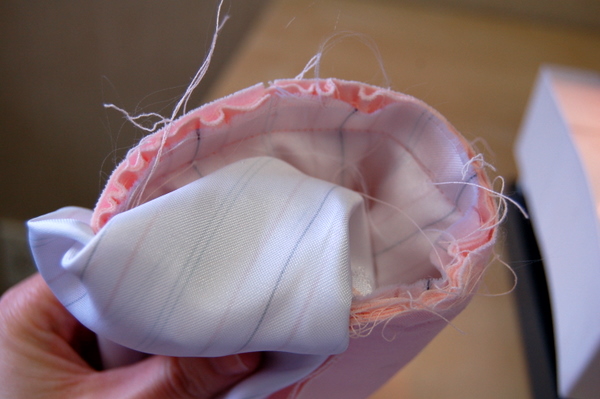 Here's what it looks like, before turning…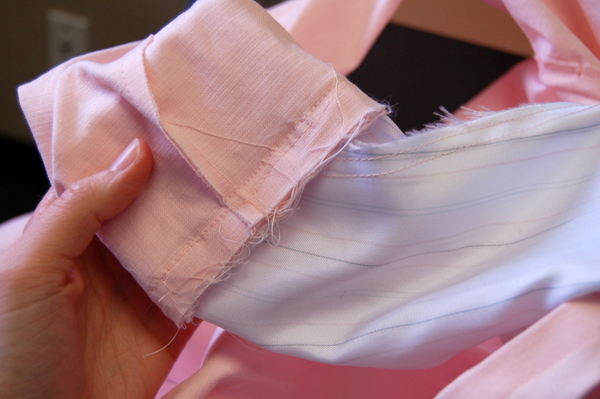 and here it is, after turning right side out!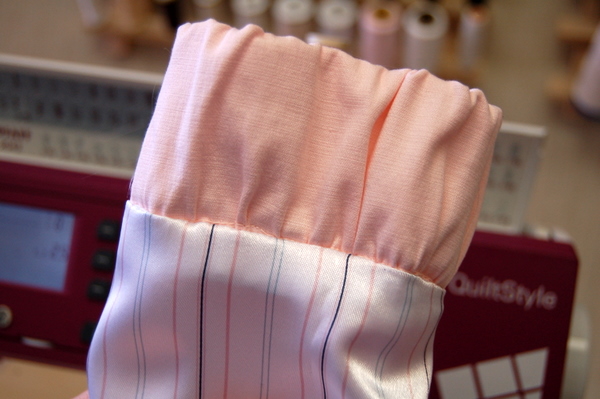 Repeat for the second cuff.
If this method is too hard to follow, or it's just too tight to stitch around the cuff on your particular sewing machine, you can follow the original directions and slipstitch. I wanted to show you a new method as an alternative to slipstitching, and also introduce a cuff finishing method that might be new to you! Is it faster? Perhaps. Is it more secure and stronger? I think so.
Have you seen this machine-stitched cuff method before? Which method are you going to use on your coat?