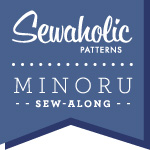 Today, we get to sew! If you've finished cutting and marking your fabric, you're ready for today's set of sewing steps!
We will sew our jacket front and back to our sleeves, and we'll topstitch these seams. Easy, right? The Minoru Jacket features raglan sleeves, which are much easier to sew than classic set-in sleeves.
The only thing that may take a bit of time and experimenting is the topstitching. Do you want to use a contrast colour? A thicker topstitching thread? How far away do you want to topstitch? I'll demonstrate following the pattern instructions, which is my favourite look, but you're welcome to try any sort of topstitching you like on your jackets! (And I've posted a couple of topstitching tips below to help you get a nice-looking stitch on your jackets. Have a tip to share? Already done the topstitching on your jacket and have a suggestion? Leave a comment!)
Want to catch up on previous Sew-Along posts? Click the links below to read more:
Today, you'll need your jacket front and back pieces and your sleeve pieces. Thread your machine in matching thread, and we're ready to start!
Start with your jacket back piece, and lay it on your table, right side up. On mine I can tell which is the right side of the fabric because the tailor's tacks are facing upwards. (Other than that, it's pretty hard to tell the difference!) If your fabric looks basically the same on both sides, mark the right side with a pin, a piece of tape, a chalk 'X' on the wrong side, or something so it's easy to tell which is which.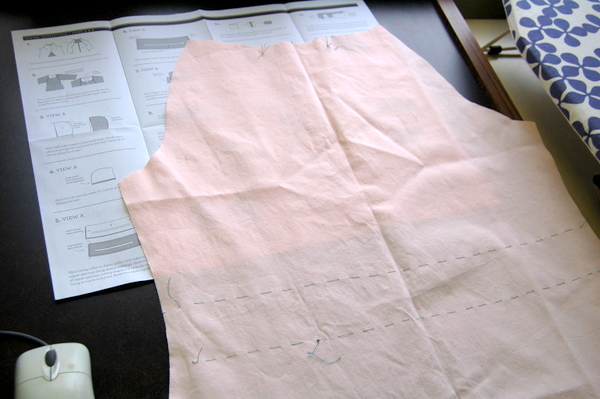 Open your pair of cut sleeve pieces, and place them right side down on top of the jacket back. Start by lining up the notches, then the top and bottom edges of the sleeve seam, and then pin evenly in between.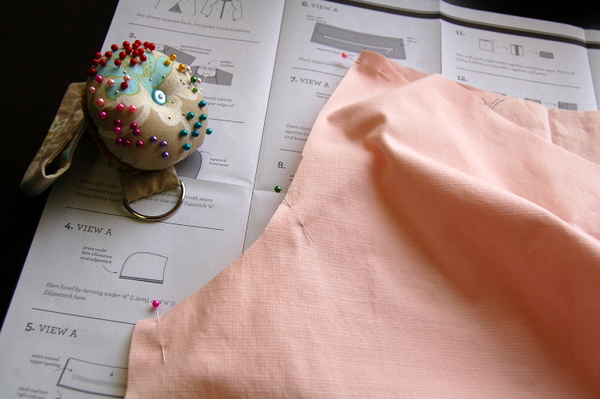 Sew this seam, backstitching at both ends. Repeat these steps to sew the Jacket Front to the sleeves, making sure to place right sides together.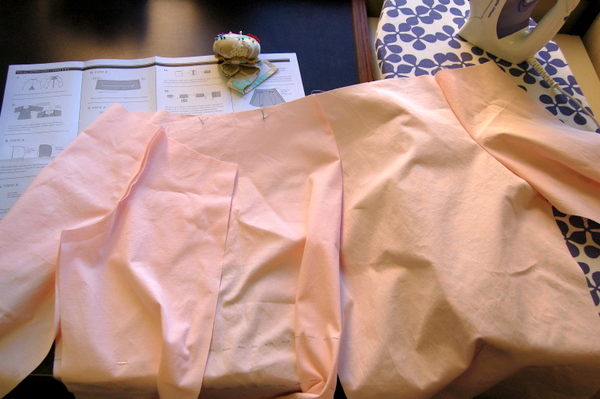 I was in a hurry, and didn't finish thread-tracing my elastic markings on the Jacket Front. Busted! Instead, I poked a pin through the starting points of each line, and clipped into the seam allowances to mark each line. It'll do for now!
After these seams are sewn, let's trim and clip the seam allowances so they can be pressed flat.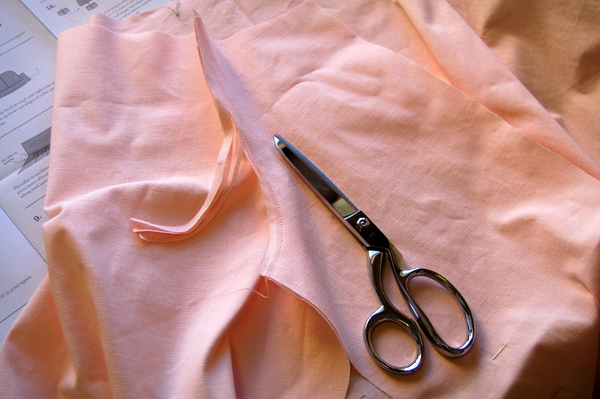 Press the front seam allowance towards the sleeve, and the back seam allowance also towards the sleeve.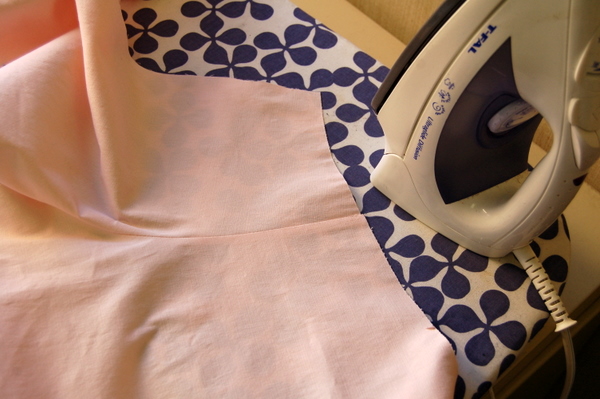 Now, let's topstitch that seam allowance in place! I like a 1/4″ (6mm) topstitch. It's close enough to the seamline to look clean, not too close that it disappears, and I can use the edge of my presser foot as a guide.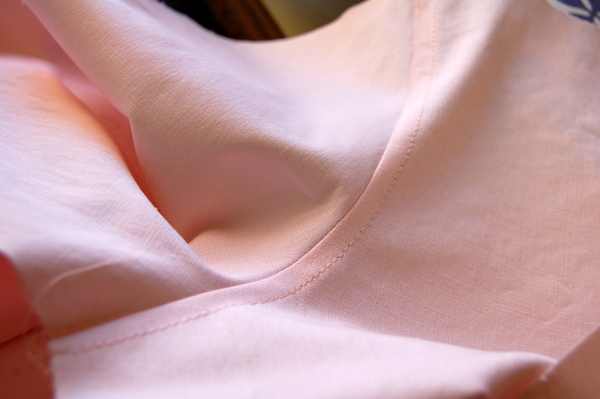 Some topstitching tips:
You may prefer to topstitch first, and then trim the seam allowances. That way your topstitching is going through all of the layers, and you're only trimming off the extra.
Use a triple stitch as alternative to thick thread.
To change the width of your topstitching, move the needle position. Just make note of where you've moved it so you can keep topstitching consistent.
Go slow. It's not a race! No one will know how slowly you topstitched your seams, but everyone will know if it's crooked or uneven. (Ok, they might not notice – but you will!)
Unsure of your topstitching skills or thread colour choice? Test on scrap fabric.
Compare a couple of colours if your fabric is hard to match. Stitch a couple of rows of different colour thread next to each other and pick your favourite.
Lighter thread colours = shiny! Darker is better. If you can't get the right colour, try and get the right shade at least.
It may be easier to topstitch and THEN trim your seam allowances.
It may be easier to topstitch and THEN press the seam allowances, because you haven't pressed a crease.
Gently pull apart the seam as you topstitch, so it's as far open as it can get.
Use the edge of your presser foot as a guide. If the edge isn't where you want it, use one of the grooved lines on the foot, or shift the needle position so the edge is in a better place
I only did the one seam for the photographs, so I'm off to topstitch the other four seams and catch up. Any tips for topstitching? Any questions on this step of the Sew-Along? Leave a comment below!