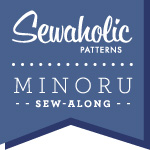 Hey, everyone! Happy Tuesday! I am pleased to report that I'm feeling well enough to sew again. Isn't that the worst, feeling too sick to sew? When it hurts to concentrate and focus your eyes on those tiny little stitches? Well, I feel much better now! Thanks for your patience and well wishes!
I think it was a case of exactly what Lucy said: "It's like your body holds on as long as it needs to and then goes, 'right, that's it. Enough is enough.' My body was kind enough to let me finish packing up the last of the pre-sale orders and then decided to force me to rest. Could it be that my body is smarter than my stubborn mind, perhaps, and knows when to take a break?
The good news? We're back to sewing, hurrah!
Today we'll sew our front plackets to the jacket, and baste in the front zipper. Now you'll really be able to try on the jacket and see how it looks!
Want to catch up on previous Sew-Along posts? Click the links below to read more:
The one good thing is that while I was away, many of you had a chance to catch up. So we're all much closer to the same place in our jackets now!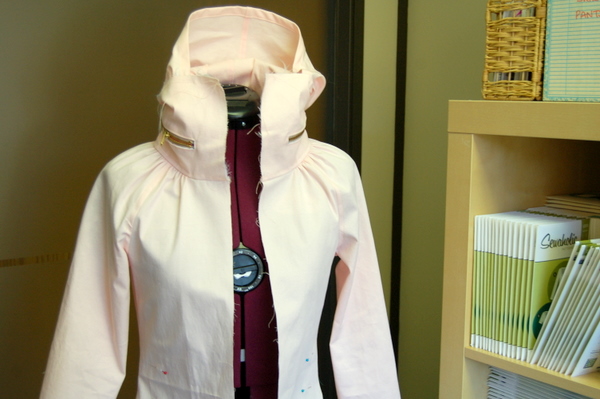 Let's get to it! We'll need our half-finished jackets from this post, and our front placket pieces. We'll only need to sew in two of our band pieces today, but we needed to cut 4. (Make sure you have four placket pieces in total!) And if you're like me and still haven't cut your lining, we won't need it today thankfully.
Apply fusible interfacing to your band pieces. (To save time, you might want to fuse interfacing to all four band pieces at once, while we're at it.)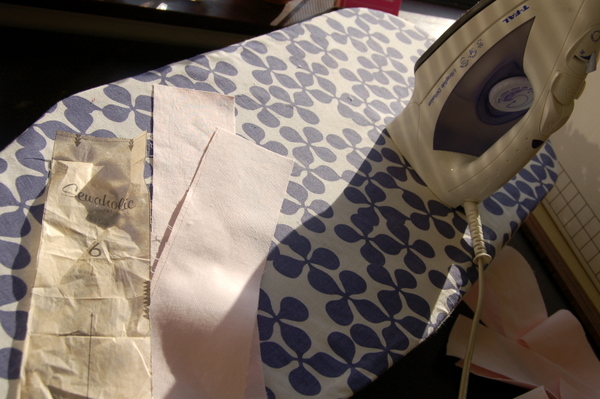 One thing I should mention, if you're using a nylon or similar fabric, you may not want to use fusible interfacing as it might melt your fabric! Consider a sew-in interfacing instead, or perhaps doubling-up your main fabric to strengthen the front bands. Having the bands interfaced helps to support the collar and the zipper but if it really won't work with your fabric, leave it out completely. You'll end up with a slightly softer, more relaxed collar and band area.
If you applied the interfacing to all four bands, set two of them aside. (One pair, that is – check to make sure you have two different bands set aside (not two of the same side) and two different bands ready to use today.) Compare the tops which are slightly angled, and the notch placement – your pair of bands should be a mirror image of each other, not identical!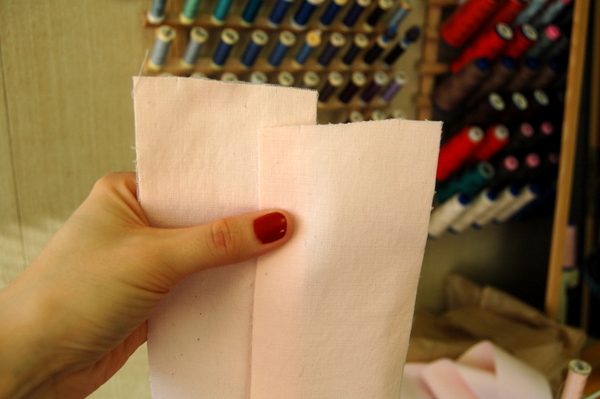 Pin the front placket to the centre front opening. (Placket, band, it's the same thing. I call them plackets in the pattern instructions but also think of them as front bands, too.)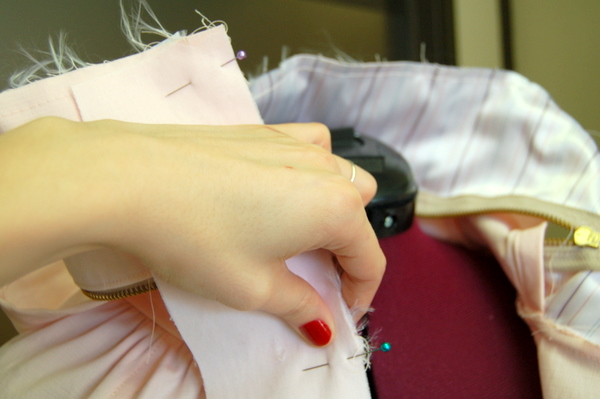 Line up notches to neckline seam, and match notches halfway down the body.
Sew plackets to jacket, starting all the way at the top and stitching all the way to the bottom.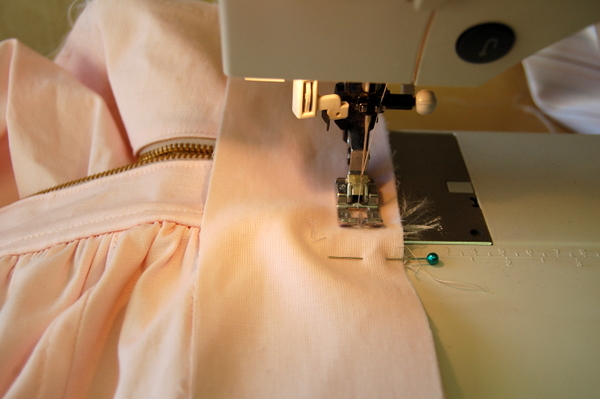 Press seam allowances towards plackets, and topstitch this seam. (I didn't press the seam before topstitching it, but pulled the seam apart gently to make sure it was open while topstitching.)
Remember to use the same topstitching stitch length and distance away from the seam as we did in this first topstitching step!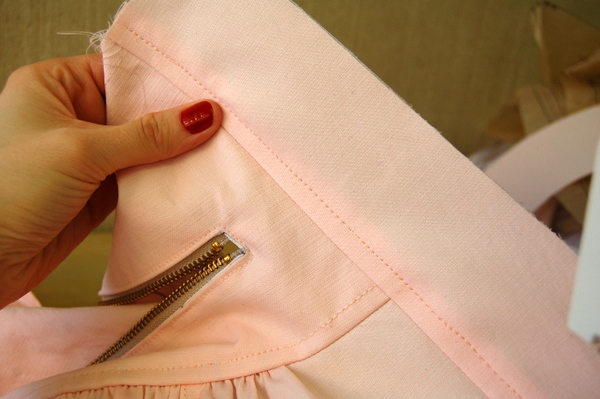 Trim seam allowances. Repeat for the other side of the jacket.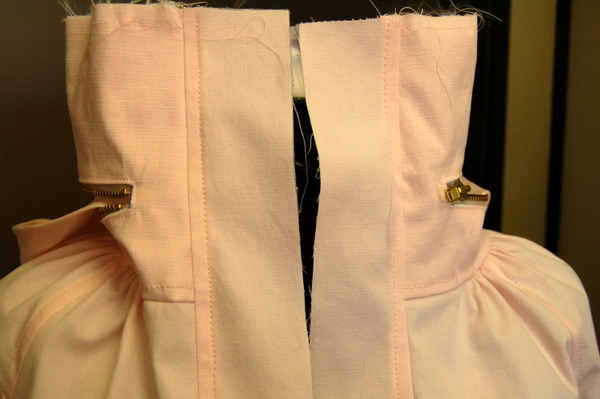 Now, we'll baste our centre front zipper in place. Take your zipper, and open it up a couple of inches. You want to be sure that you're basting in place with the zipper pull on the outside, not on the inside. See how in the photo below, we have our zipper aligned with the placket edge, but with the pull facing down?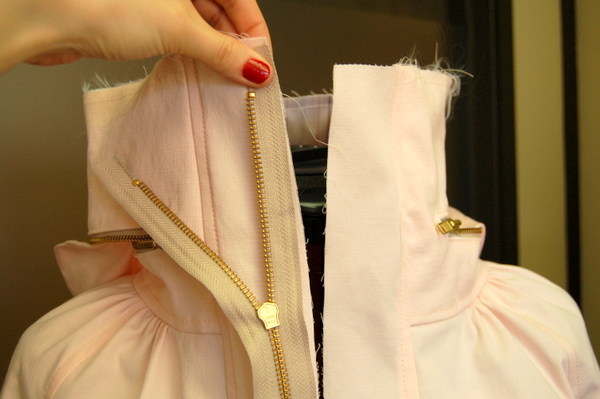 Starting with the left side of the jacket (right side actually, but the side that's on your left when facing the jacket), pin the zipper tape to the placket.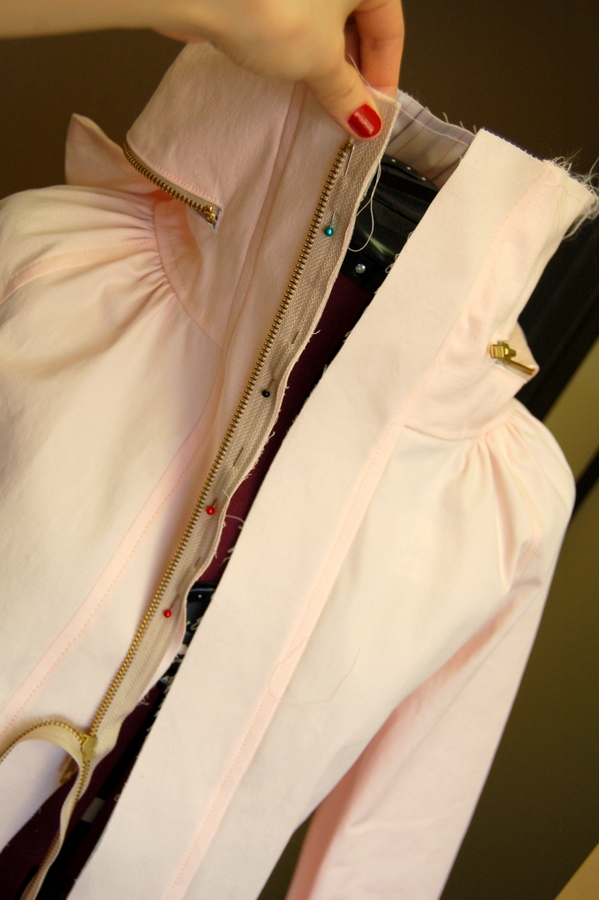 Now when we turn the zipper tape and seam allowance to the inside, our zipper slider is right where we want it – facing us!
I find it's easiest to start pinning the opposite side at this point too, so we don't end up with twisted zippers.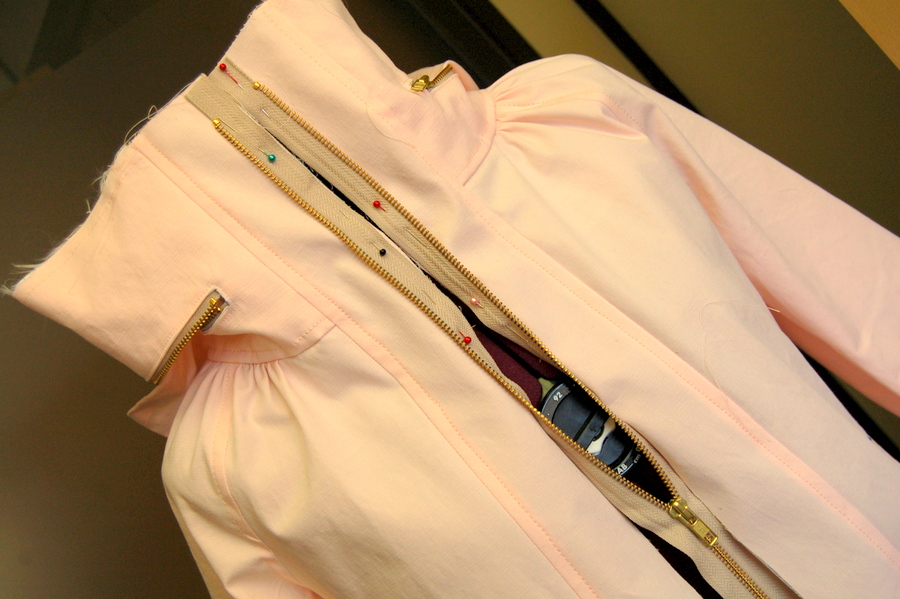 Continue pinning the zipper all the way down, to the bottom of the jacket.
NOTE: Your zipper will end before the placket does. That's intentional! It's supposed to end before the placket for looks, and also to reduce strain on the bottom of the jacket when we're sitting down. If you really wanted your jacket zipper to end in line with the bottom of the placket, measure from top to bottom of the placket, and choose a zipper that matches this length exactly, shortening to fit if needed.
Let's baste our zipper in place! This basting stays in permanently, but it won't be the only line of stitching holding our zipper in place when we're all done. Open the zipper completely and separate it at the bottom, so you can sew one side at a time.
Baste about 1/4″ (6mm) from the edge or so. I like to use the edge of my presser foot as a guide, but in this case I'm using the left edge and getting it as close to the teeth as I can without riding over them. Repeat with the other side of the zipper too. If you come across the slider, simply move it up out of the way while you stitch that section, and move it back down when you're done.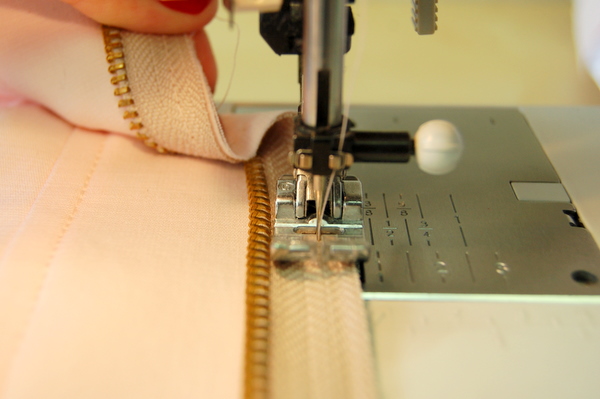 And that's it for today! You'll be able to try on your jackets now, and get a proper idea of fit. When we stitch the zipper down for real and press that seam, it will give us a little more ease, in case you find the fit to be snug!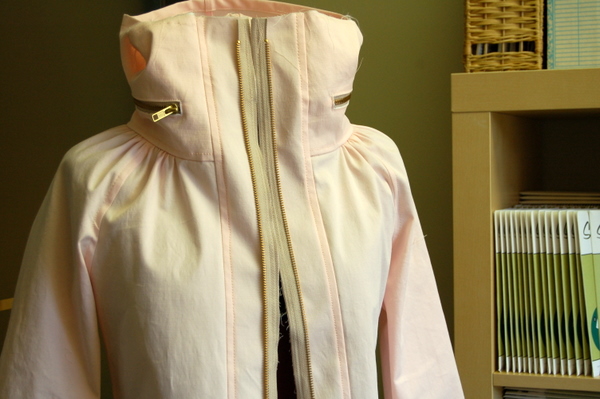 I have some serious catching up to do after being away for a little while. Thanks for understanding and I'll do my best to have the next Sew-Along step ready for us shortly!