It's time to hem our dresses. If you haven't already, you'll want to hang your dress for at least 24 hours to let the fabric settle. Then even out your hem by trimming off any excess fabric that seems to hang lower than it should. It's very possible that the fabric at the side seams of your dress will be longer after the dress hangs overnight. Just be sure that your elastic is sitting straight across when you trim your hem. This will likely mean your dress will need to be on a dress form, or on someone's body, or flat on a table.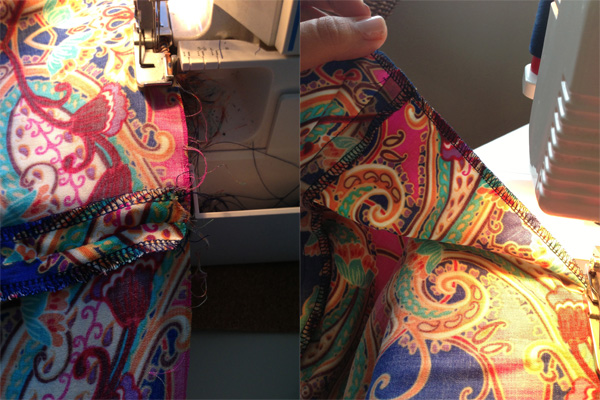 Next let's finish our raw edge. Your center back seam should be pressed open, and your side seams should be pressed towards the front.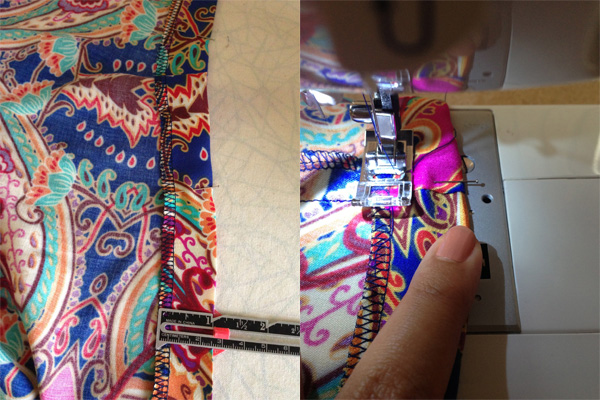 Iron the hem allowance up at 1" (2.5cm). I like to use my little ruler as I go so that it's nice and even, and pin as I go.
I've decided to hem my dress by machine. I am stitching along the center of my overlock finish. You can see in the photo above on the right, I'm also pointing out the little hole in my plate that I am using as a guide to be sure my hem is nice and even.
Another great hem option is the catchstitch! Tasia does a great demo at the end of this post during the Lonsdale sew-along. This option would be great for delicate fabrics, like silk charmeuse, or a solid fabric where you think a machine stitched hem would jump out too much. The catchstitch will be just about invisible.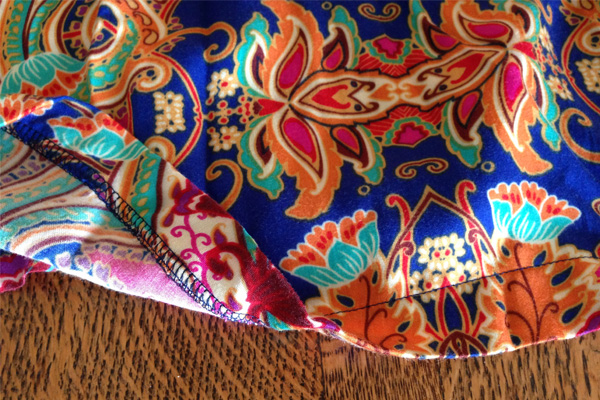 Since my dress is a pretty busy print, I don't mind the look of the machine stitched hem.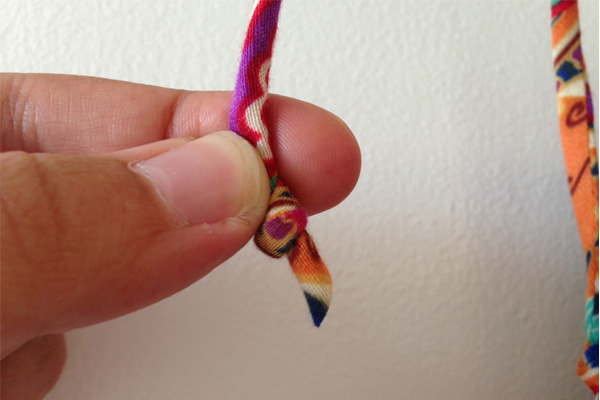 Finally, let's knot the ends of our straps and trim the end diagonally. This will help the raw edge not to fray!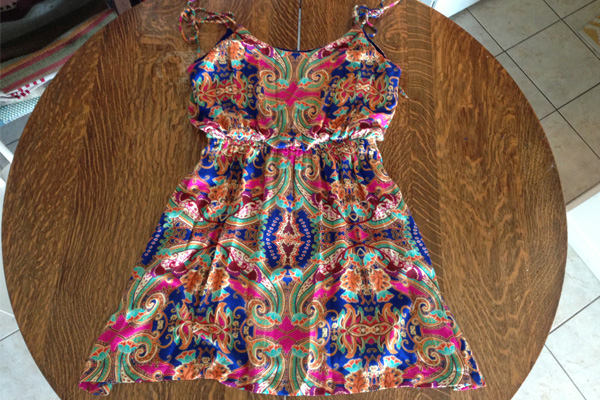 Now we can admire our lovely finished dresses! I'm going to take some proper photos of this dress on me and share them with you soon.
We'd absolutely love to see you wearing your fantastic Saltspring dress! Yes you! Here's how you can share:
–          If you've blogged about it, share a link in the comments!
–          Upload pictures to the Sewaholic flickr pool
–          Instagram a photo with the hashtag #sewaholicsaltspring
–          E-mail photos to us at info(at)sewaholic(dot)net
We'll be putting together a post (or two!) to round up our favorites.
Here's a recap of all of our sew-along posts:
Thank you so much to everyone for following along, and for being so encouraging and supportive during my first 'sew-along'! I've loved walking you through the construction of the Saltspring dress. Looking forward to seeing your versions!