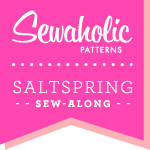 Good morning my lovely sew-along superstars! The fall season is fast approaching here in Vancouver (when did that happen?), and I've been dreaming about wearing this dress in the sunshine during our last few summery weeks.
Is anyone else getting excited to complete and wear their Saltspring dress?
I can't wait to see your versions! So let's hop to it and make some more progress today!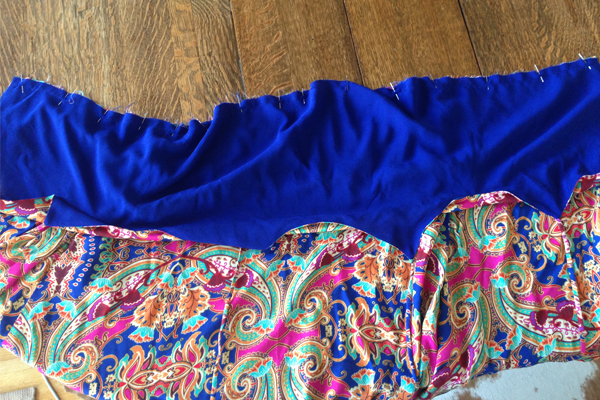 First up let's pin our bodice to our skirt, with the right sides together and the bodice lining facing up.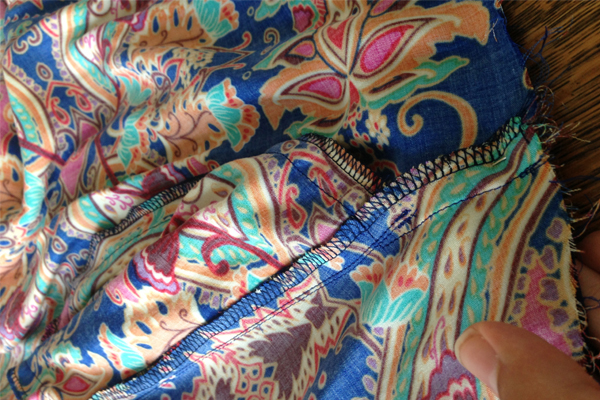 Use as many pins as you'd like, and take extra special care to line up the side seams, center front notch, and center back. Our side seam allowance should be facing towards the center front, so that our pockets hang in the right direction.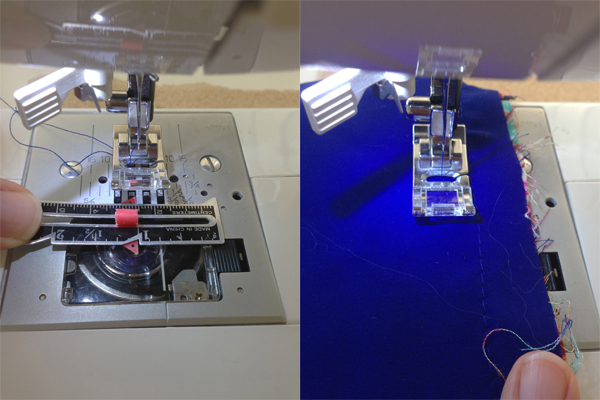 Next we want to sew this seam at a 1" (2.5cm) seam allowance. Since my sewing machine doesn't have a marking to follow for 1", I like to keep my eye on something to line my raw edge up with. In this case, I'm looking at the top left screw and lining up my raw edge in the middle of that. This way I know I'll keep an even seam allowance all the way across.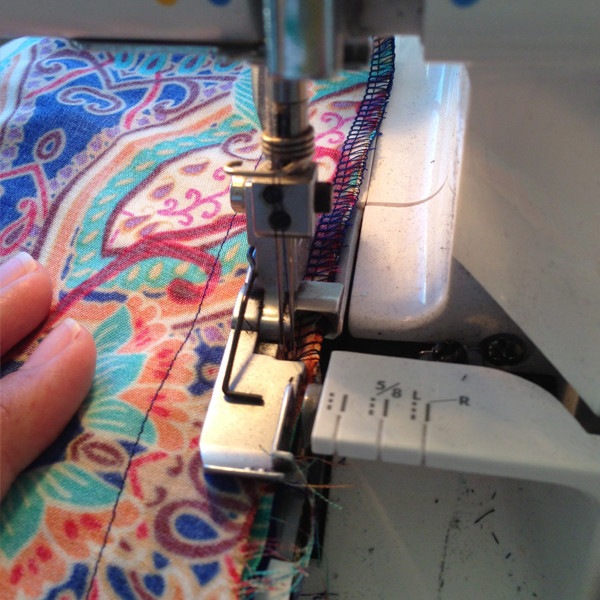 Now let's finish these seam allowances together.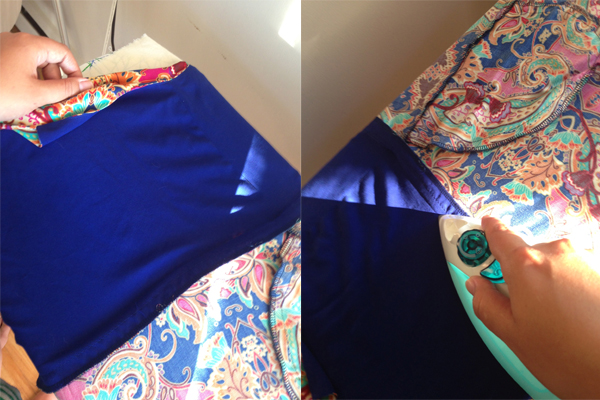 We're going to press the waist seam down. This can be a bit tricky because our outer bodice layer is bloused, so it won't lay flat. While I press, I like to pull up my bodice so that the excess fabric is at the top. This way there won't be any creasing from the bulk of the blousing, and we can get this seam nice and flat.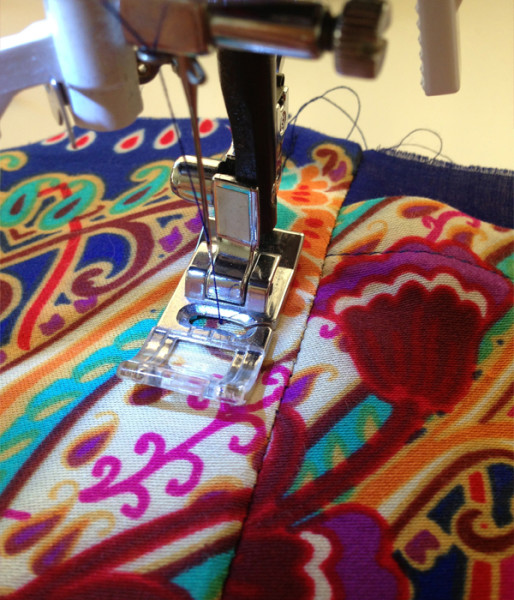 To form the casing, let's topstitch our skirt along the waistline, 1/2" (1.25cm) from the seam. It's important to catch the seam allowance underneath, this will be the casing for our elastic!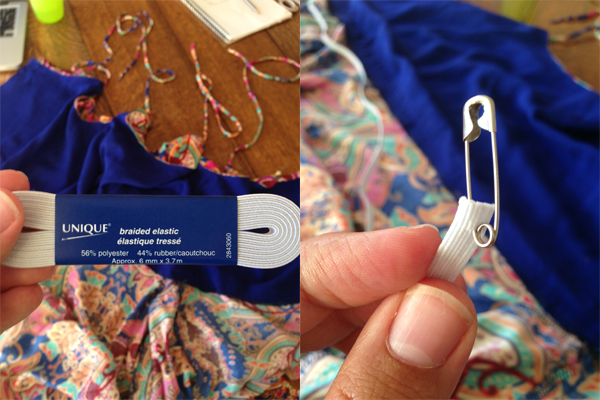 Using the elastic guide in step 14 of the pattern instructions, cut your elastic according to your size. Feel free to test this before you cut and adjust the elastic to be tighter or looser if needed. This is a great place to make the dress fit you exactly right.
Attach a safety pin to one end of your elastic, and slowly work it through the casing. About 3/4 of the way through, I like to pin the end of my elastic at the center back so that it doesn't get pulled in and lost in the casing! Once you reach the other end, pin this end of the elastic in place at center back as well. Use your sewing machine to tack the elastic down at each side of center back.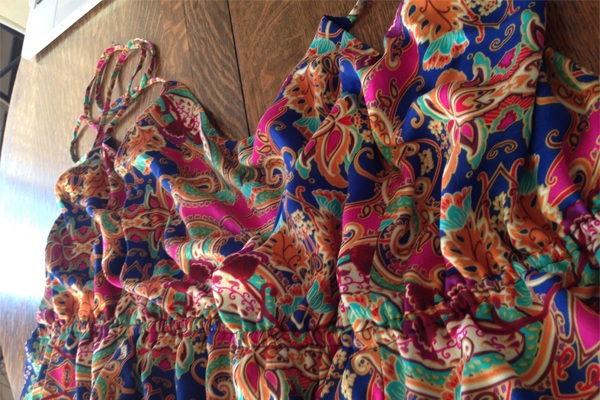 To even out the elastic in the casing, grab each end and give it a few tugs. This will help to evenly distribute the gathers that are created by the elastic.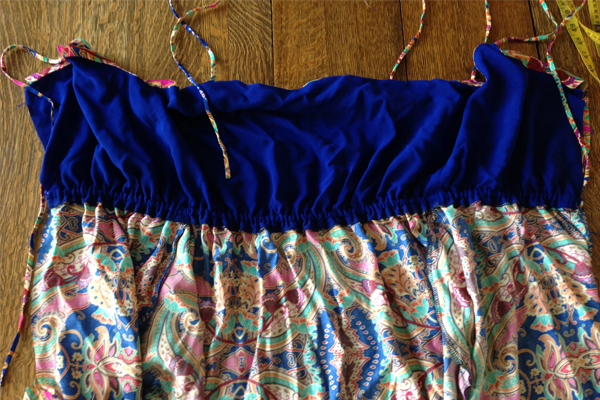 There we go! Our dress is really starting to come together. At this point we can even try it on with a couple of pins down center back to test the fit and admire our beautiful progress.
We're going to tackle the center back zipper next. I'm looking forward to demonstrating, it's really a clever method.
Happy sewing everyone!