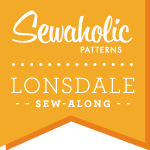 Hurrah! We're almost finished our Lonsdale Dresses. All that's left is a little hemming!
Today I'll show you how to hem the dress. You can hem it any way you like! Sew a blind hem by hand, or sew a machine-stitched hem if you don't mind the stitch line showing.
For my project, I'm applying bright red seam binding to my hem for a surprise touch of colour.
Catching up? Here are all of the earlier sew-along posts!
First, iron the seam binding flat. No, very first, decide if you want to shorten your dress at all, or if you're happy with the length! Then iron the seam binding flat.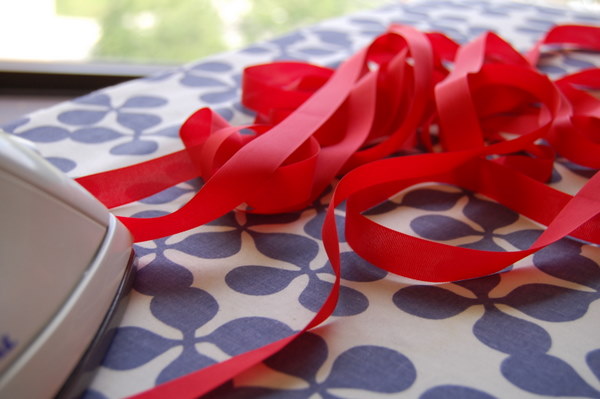 We'll pin the seam binding along the raw edge of our hem, covering the edge with about half of the seam binding.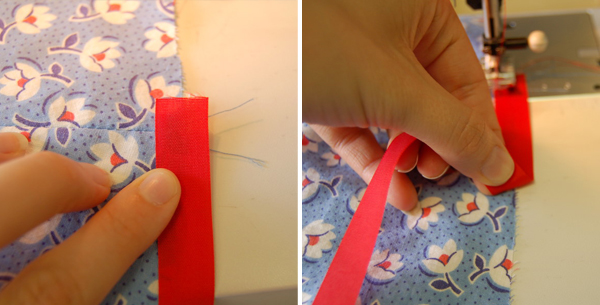 Sew the seam binding close to the edge. I changed my thread to red so it would match! I did leave the bobbin with blue thread. For better results, change both threads to a matching colour! Or if you like the look of contrast stitching, leave your main thread in.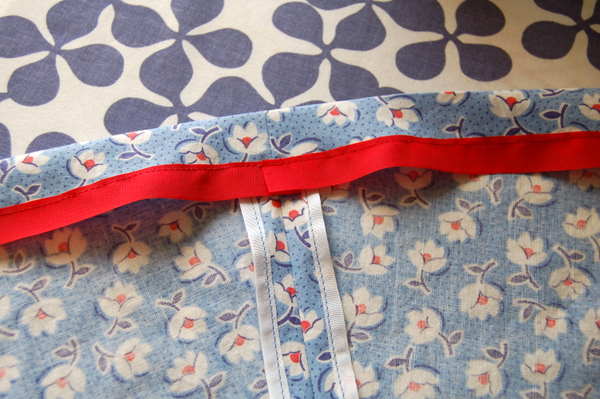 Fold under the hem allowance, and press. I love this bright red trim!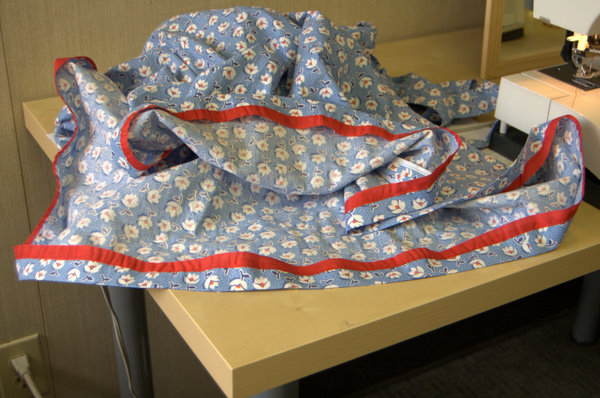 Pin all around the hem, to hold it up while you sew it in place. Using a hand-sewing needle, sew the hem in place with a catch-stitch.
In the photos below, I've show the two steps to catch-stitching. On the left, we're taking a small bite out of the seam binding, with the needle pointing to the left. Then on the right, we're catching just a thread of our main fabric (I took a bit more, so you could see it in the photo) again with the needle to the left. Repeat these steps until your dress is hemmed!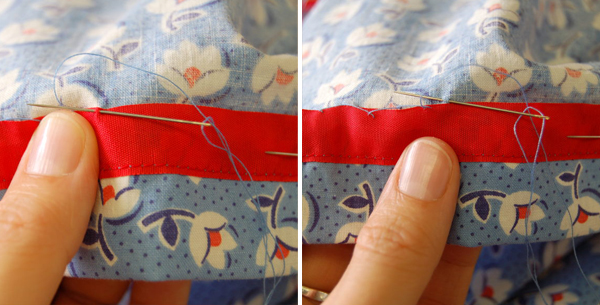 Well, I'm off to finish my hem. Hand-sewing is fun, as long as you don't get impatient! Relax and enjoy making tidy, invisible stitches.. while you think about how exciting it will be to wear your new dress!
Have a lovely weekend everyone! Can't wait to see your finished dresses!