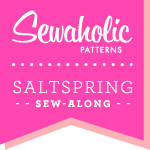 Since we've released the Saltspring dress, we've received some questions about lining the skirt. This is not covered in the instructions. Here are some ideas and tips we have about lining options!
Tasia covered underlining and lining really well in this post from the Lonsdale sew-along. The same methods can be applied to the Saltspring dress. Underlining each piece and then treating it as one layer is a great option for beginners.
When I made my Saltspring muslin, I had another method in my mind that I wanted to test out. I took some pictures of the lining in the finished dress to show you!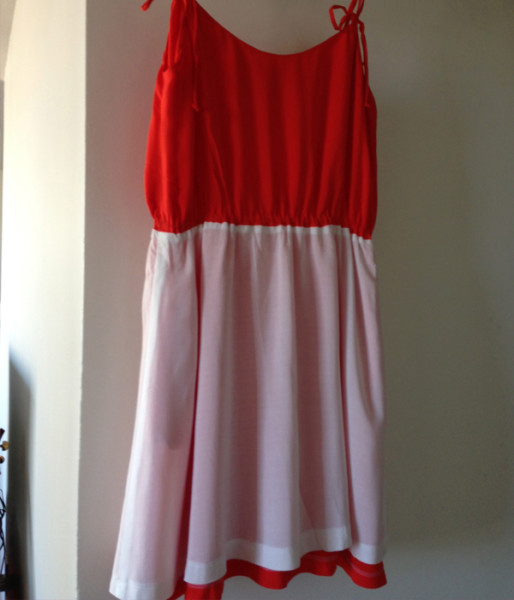 Above is what the inside of my skirt lining looks like when completed.
In this method, we're going to sew our lining along the waist after the whole dress is finished!
My first step was cutting another set of my center back skirt pieces and center front skirt piece. I used a white viscose batiste because at this point I had run out of my red fabric! For our lining fabric: sew the side seams and finish this seam allowance. Finish the center back seam allowances before sewing the center back.  Now we can sew the center back seam below the circle, and press this seam open. Overlock (or use your preferred method) to finish your top edge (along the waist).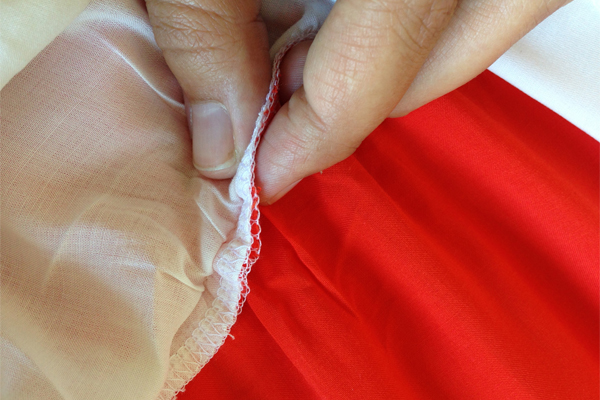 Let's sew our lining to the waist seam allowance on the dress. You can see above I am showing that the lining is attached to the seam allowance at the waist.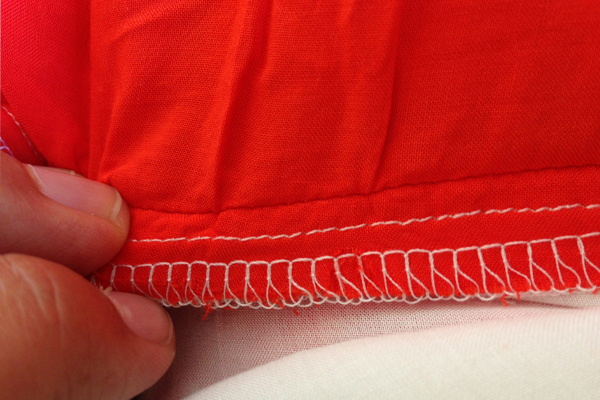 Another photo so you can see. The white stitching is where I've attached my lining.
Since at this point our zipper is already in, we won't be able to machine sew all the way to center back. We can stop sewing a couple of inches away from the center back. Then we can slip stitch our lining in an "L shape" to keep it in place around the zipper. No need to slip stitch all the way around the zipper if you don't want to. I personally don't mind when my lining hangs loose from my zipper.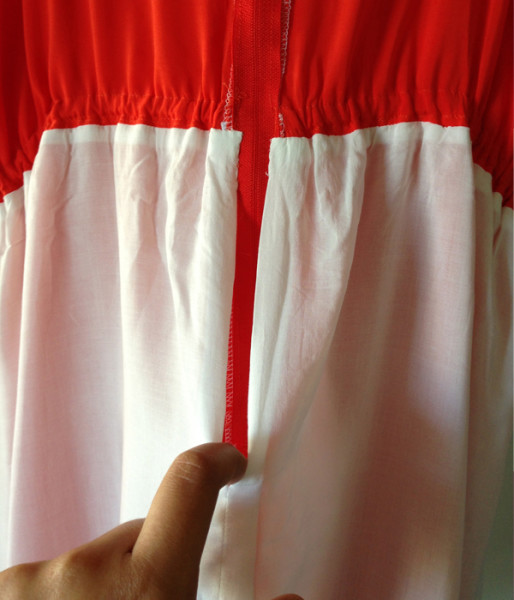 Above is one more photo showing the lining – I'm trying to show with my finger that the center back opening in the lining is left loose, and it still looks clean and finished.
This method was non-traditional, but easy and straightforward. Now we have some options and ideas to take care of lining or underlining the skirts of our Saltspring dresses!