Hello everyone! Today we're going to go through a FBA (full bust adjustment) for the Saltspring dress. Most patterns (including Sewaholic) are designed for a B cup size. It's important to keep in mind that your cup size in pattern making may be different from your bra cup size. To figure out your size, start by measuring across your bust. Then measure your high bust (for this, measure above your bust, running the tape measure just under your arms). If the difference between these two is more than 2" (5 cm), then you are larger than a B cup.
For example:
Bust measure = 41" (104 cm)
High bust measure = 37" (94 cm)
Difference = 4" (10 cm), so in this case you could do a FBA for a better fit!
Choosing your pattern size:
If you are larger than a B cup, then you want to choose your size based on your high bust measurement + 2 inches (5 cm). Then look at your actual bust measurement. The difference is how much extra room you are going to need to add to the bust. For example:
High bust measure = 37" (94 cm)
Add 2" = 39" (99 cm), so you should use the size 14 pattern piece as your base
Your actual bust measurement is 41" (104 cm), so you will need an extra 1" (2.5 cm) of space around the bust (keep this in mind for later!).
The method:
This tutorial is for an "imaginary full bust", since we don't actually have a full bust model or dress form to fit on. However, I did lots of research before putting together this tutorial to try to find the best way for you guys to do this. It seems that one of the most popular and well-reviewed methods is Palmer and Pletsch's from Fit for Real People. So this is heavily influenced by that method along with lots of tutorials online. There are more links below and resources to help you out.
So let's get started!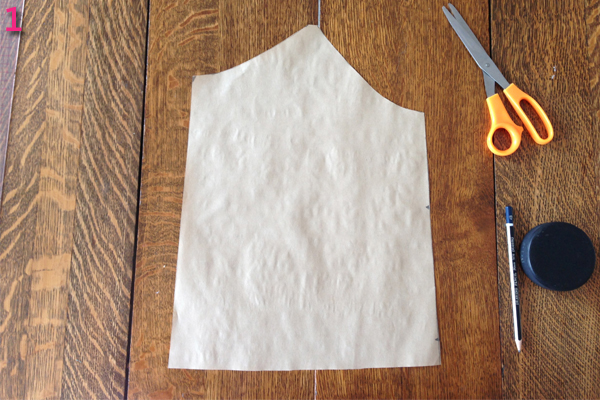 1. First we want to trace our Bodice Front piece.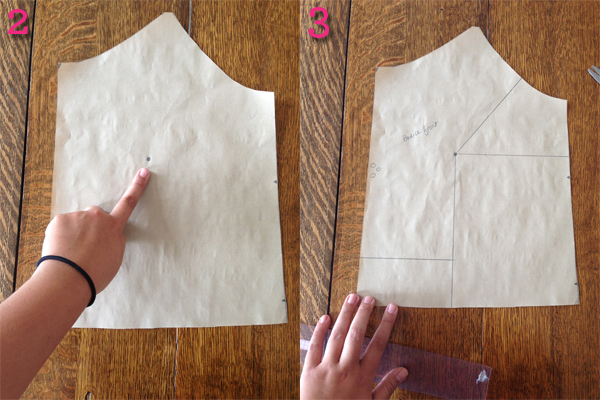 2. Take your traced piece and hold it over your body with the center front lined up with the middle of your body. Mark your bust point
3. Draw four lines:
One line from your bust point down to the waist, parallel to the grain line (center front).
A second line from your bust point to the side seam, perpendicular to the grain line.
A third line from your bust point to the underarm, about a third of the way up.
Finally, a fourth line at the bottom left of your piece, from the center front to your first line, perpendicular to the grain line (tip: you can use our 'lengthen and shorten" guidelines to know where to draw this line).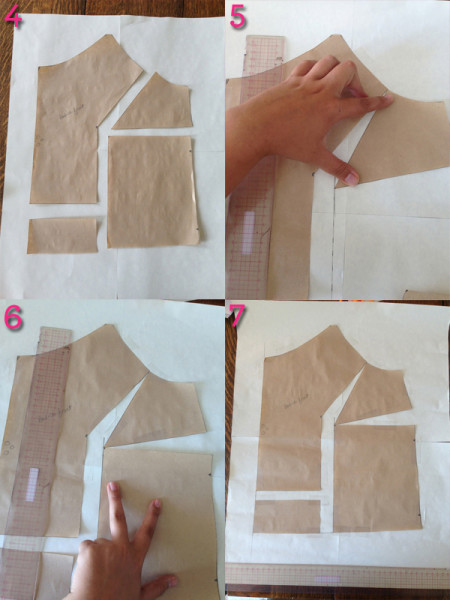 4. Cut along these lines to split your bodice front into four segments. Tape down your top left piece in place.
5. Now remember how much room we need to add to the bust? For this tutorial, it's 2" (5 cm) total, so we need to open up our bust by 1" (2.5 cm) on this piece, which will add up to 2" (5 cm) when we cut on fold. You can see in the photo above, I am pivoting my top right piece like a pie, so that my armhole stays together, and I am opening an inch away from the bust point. Tape this down in place.
6. Now place your bottom right piece as shown, we want to line this piece up so that there is a 1" (2.5cm) space all down the middle, parallel to the grainline. Tape this guy down too.
7. Slide your bottom left piece down so that it lines up along center front and waist. Tape this in place.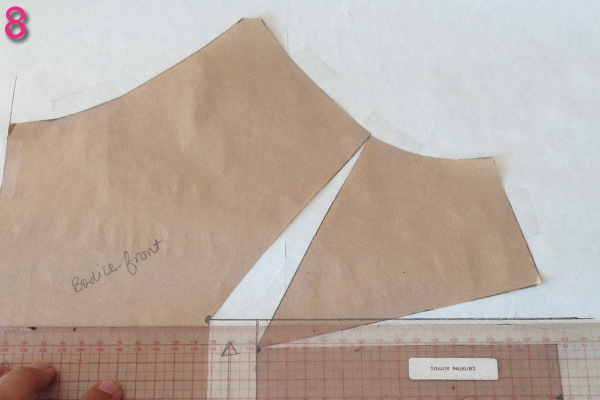 8. I decided to keep the dart in this tutorial – I feel it will be the best way to get a lovely fit around the bust! So to begin drawing our dart, draw a new line from the original bust point to the side seam, perpendicular to the grain line.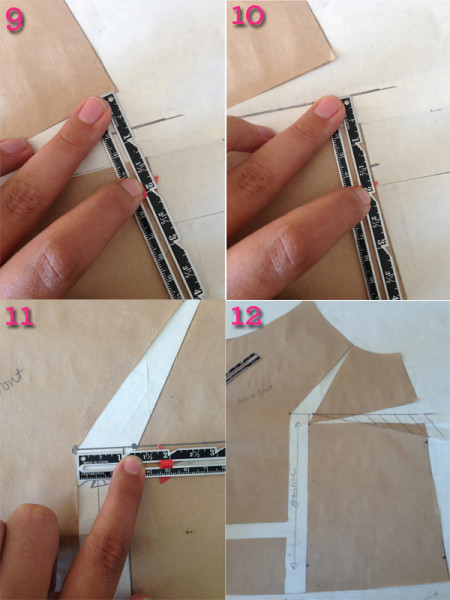 9. Measure the original opening at the side seam
10. Mark this measurement along the side seam, extending below the line you drew in step #8.
11. Mark your dart apex: it should be around 1 to 1 1⁄4" (2.5 to 3 cm) from the original dart point.
12. From the dart apex, extend your second line to your side seam marking to create a dart!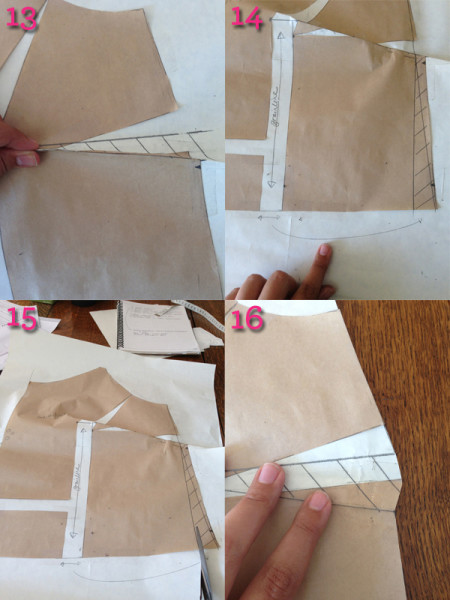 13. Close and pin your dart.
14. Now if you look at the waist, we ended up adding an inch (or whatever extra space you needed) when we added space for the bust. But we don't need this extra space at the waist. So let's trim this amount off the side seam and taper down to nothing at where the dart begins.
15. It's finally time to trim down our pattern piece. Keep the pin in the dart as you trim, so you get a perfect dart hat at the side seam.
16. See? That's a dart hat!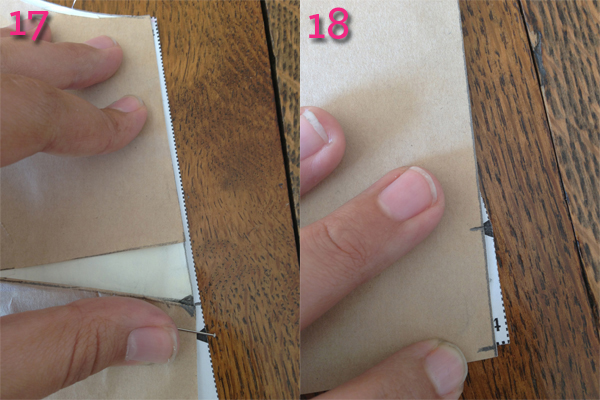 17. We just need to check our side seam notches! Since we have a dart now on our bodice front piece, let's add notches at the side seam at the top and bottom of the dart. Now let's compare our front bodice to our back bodice side seam, to be sure our pieces will match up nicely. I raised the notch on my back bodice side seam so that it lines up with our dart seam.
18. Same thing goes for my lower side seam notch, where my waist seam will be. Make sure those line up on your front and back piece! I had a tiny bit of excess on my front bodice, so I just trimmed that off.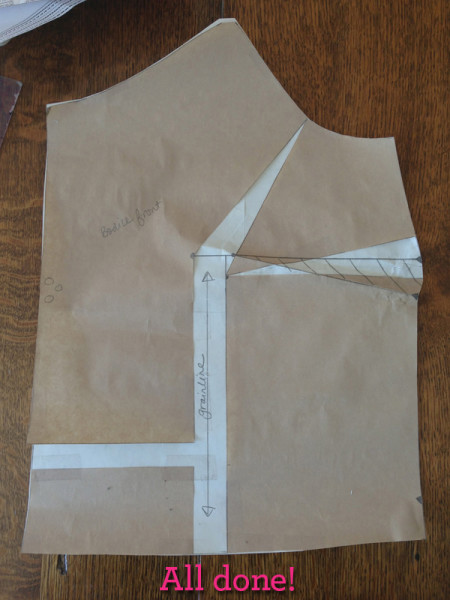 Now you we can admire our lovely FBA!
Remember the bodice lining is 2" (5cm) shorter than the bodice piece. So you can trace your bodice piece, and trim off two inches from the bottom to get your lining piece.
Here is a round up of some of our favorite FBA tutorials and tips from around the web:
Alright, so that just about rounds it up. Did I miss a great tutorial? Please do let us know if you have any questions or anything to add in the comments.
On Thursday we'll continue with the Saltspring Sew-Along!