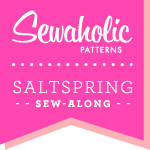 Hello y'all! We're trucking along with our Saltspring dresses today.
Need to catch up? Click on the pink badge for all of our Saltspring posts to date!
Today it's all straps, all day long. Let's get started!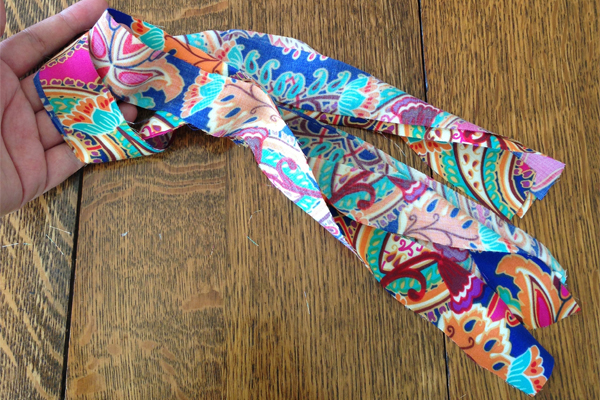 First we'll be working with our strap pieces, so let's grab those suckers.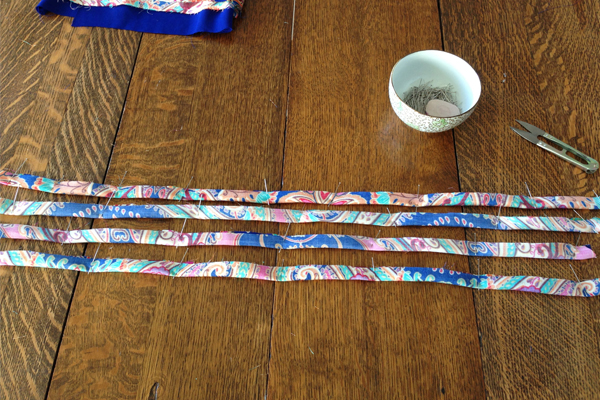 We'll need to start by folding the straps in half as shown, right sides together. It's easy for long pieces like this to move around and fall off grain. I like to use lots of pins to be sure my pieces are perfectly lined up when I feed them through the machine.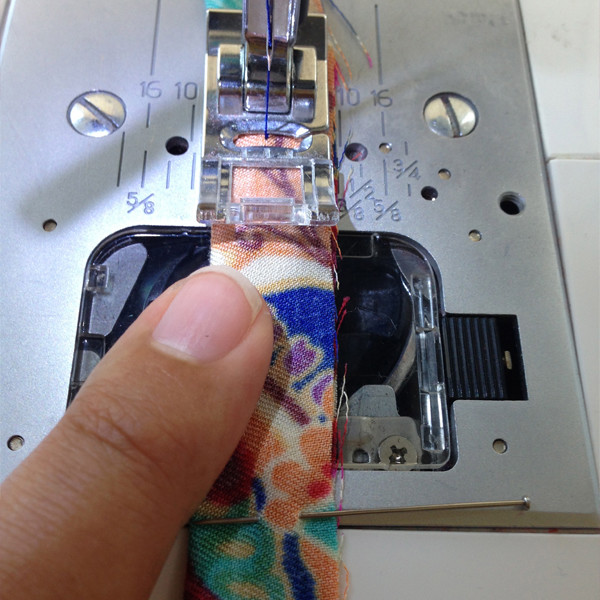 Now let's sew our seams. When we sew, we want our fold to be on the left side, and our raw edges to be on the right. Now let's not get too concerned about where the raw edges line up on the right side. It's important that the stitches are an even distance away from the fold. I like to look at my foot and line my fold up with it. I'm sewing with a 3/8" seam allowance. So I line that up, then I look at where the fold hits my foot, and I try to keep it lined up that way!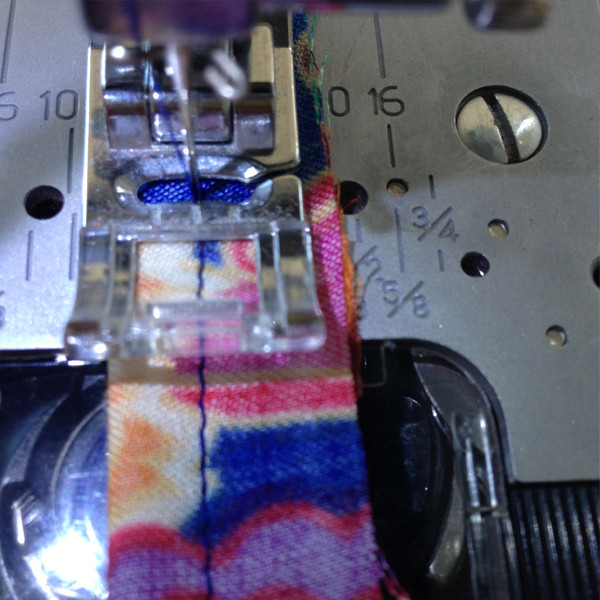 We suggest sewing the seam twice for extra strength. There is lots of stress on the seams when we are turning these straps right side out. Not to mention when we wear and wash this dress, the last thing we want is for the seam to snap, and then everything unravels. This is like a strap insurance policy. The second seam is easy, just line your first seam up with the center of your foot and sew slowly!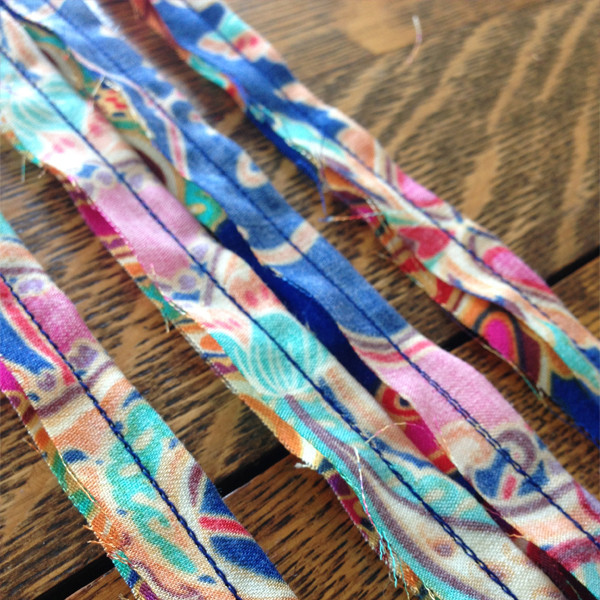 Okay, so now you need to repeat that 3 more times. Don't fall asleep!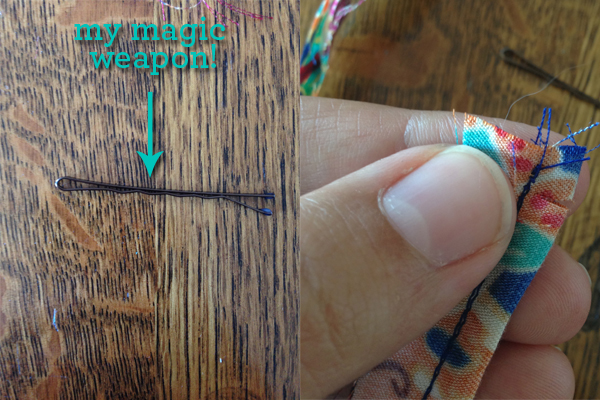 Now it's time to turn our straps right side out. I have a really good trick for this. A bobby pin! Do you guys have tons of these all over your home? I do, and they work so well for this purpose. I start by making a snip on the fold side of my seam.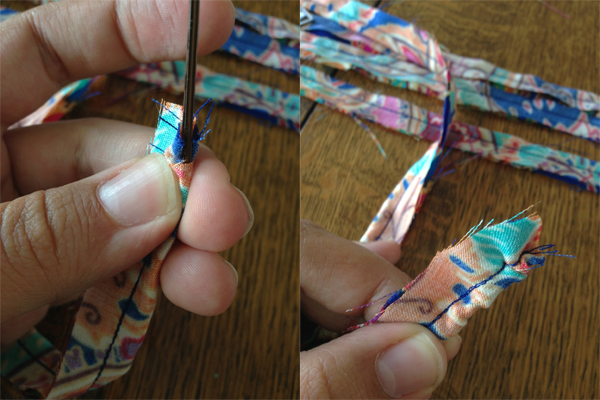 Then I need to catch this little loop I cut. So I feed it between the ends of my bobby pin, and then push both ends of my bobby pin into my strap.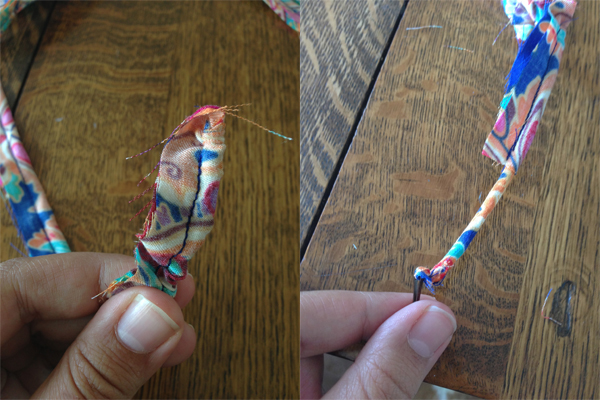 Slowly pull down the bobby pin. It can take a little bit of coaxing at the very start, but once you get it going, it will feed through quite easily. See in the right picture? Bobby pin pulling my finished strap out the other side! And this only took a minute.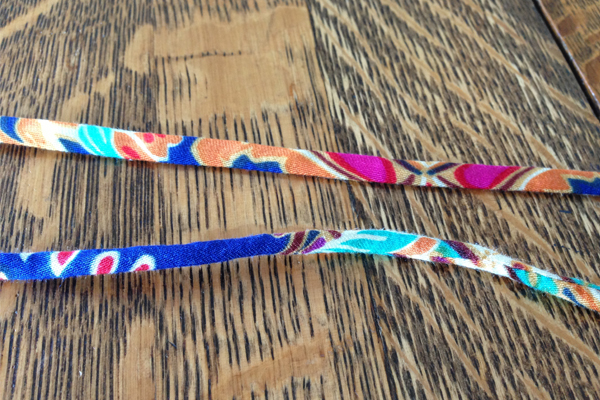 Here I wanted to show you how the strap looks before and after pressing. You can see my ironed strap at the top, it's flatter and straighter. If you want to leave it un-pressed, it will just be a bit rounded, and it might curl a bit. Whatever you prefer! I went with pressed.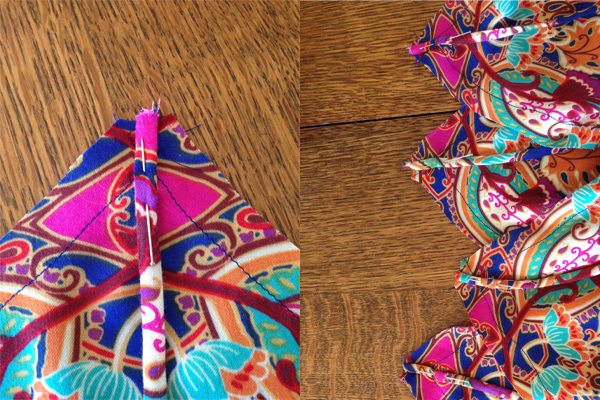 Now let's stitch our straps down so that they don't move when we attach the lining to the bodice. You can use your staystitching on your bodice as a guide, and line up your strap in the center. Pin it down and repeat for all four straps.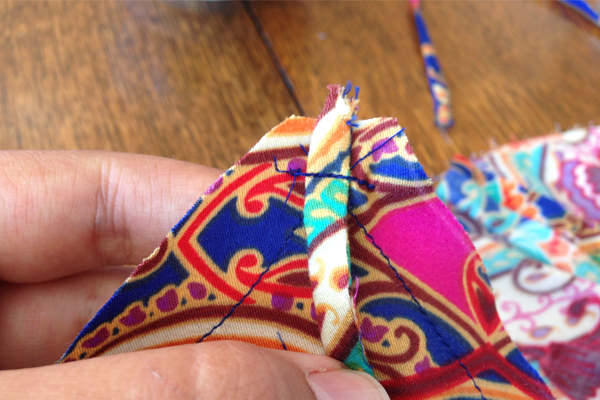 There it is, nice and simple, just a quick stitch across to keep it in place!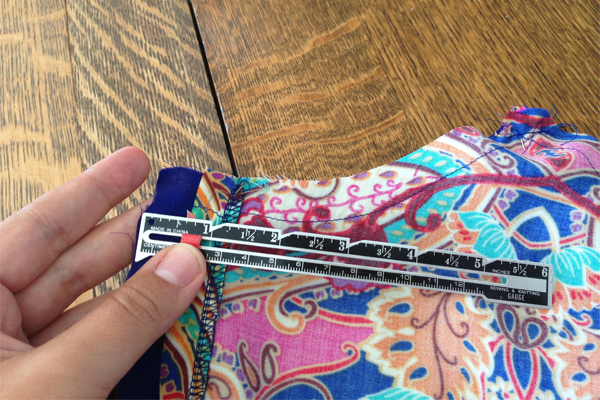 Now we're ready to attach the lining to the bodice. Now remember how we turned and stitched the center back of our bodice pieces? This will make sense when we get to the zipper. But for now, we need to be sure to let the bodice lining extend an extra 5/8" (1.5cm).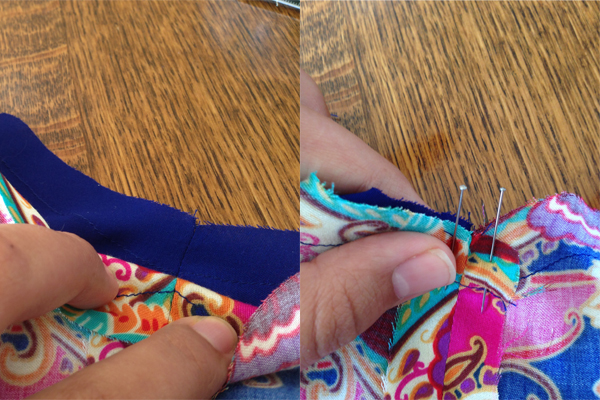 Line up your bodice with the lining, right sides together. Pin along the top edge now. When we hit our side seams, make sure to line up the seams nicely. I like to put a pin really close on either of the side seam to be sure it will line up when we sew.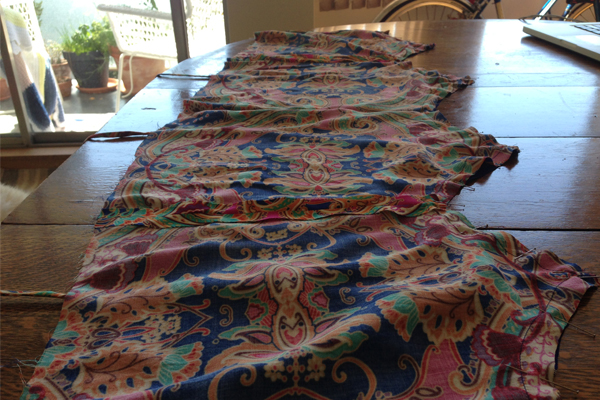 Now it's time to sew all along this top edge. I think I was so concerned with taking tons of strap pictures, I didn't take any photos of sewing this seam. Oops! You can follow the handy drawing in step 7 – sew all along the top edge with the usual 5/8" (1.5cm) seam allowance, pivot at the strap to sew across, then pivot to continue. Maybe your staystitching wasn't perfectly inside the seam allowance, but don't worry too much if you cross over your staystitching. You can always unpick it if it shows from the right side after you sew this seam.
We'll stop here today. On Monday we'll be working on understitching and finishing this bodice!
How about strap variations?
We've had a lot of questions about strap variations. We love the ties at the shoulder, but there is definitely lots of room for cool strap alternatives! I played around a bit with this on my red Saltspring dress. I wanted to try doing a little loop at the front, and a double strap coming from the back that could tie in the front. I think it came out great!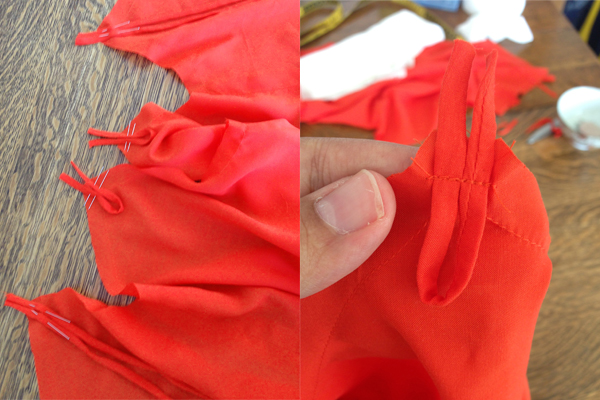 You can see a couple of photos of my process here. I used the same method as above to make four straps. Since they are plenty long, I just clipped off a bit from each, and used two of those small pieces to create my loops. Once you pin that all in place, proceed as normal!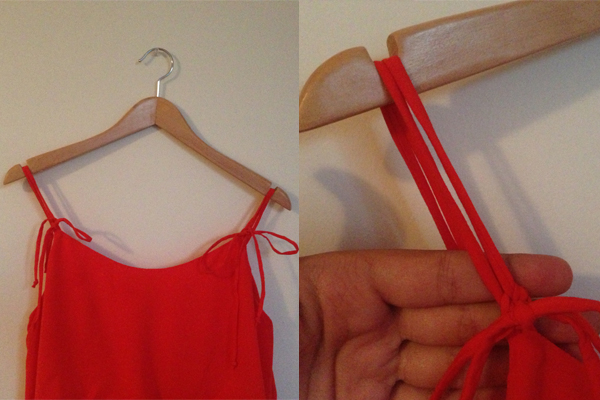 Having the ties in the front means that they wont get in the way of a purse sitting on your shoulder. They also wont be hidden if you wear a little cardigan with your dress! The double strap adds some interest and hides a bra a little bit better than a single strap.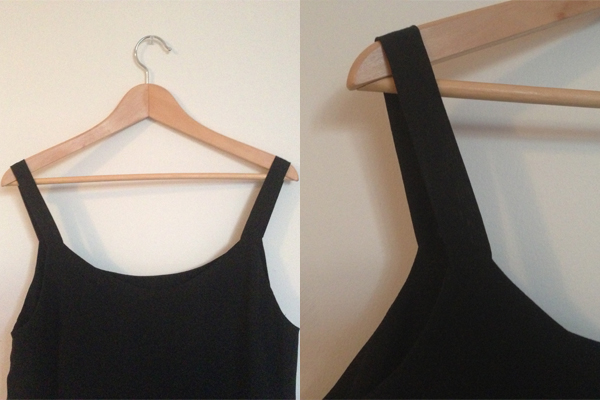 I also made another variation of the Saltspring that I haven't revealed yet (SHH!). But I really wanted to show you guys these straps right away. I wanted to experiment with a thicker strap that did not tie. I absolutely love how it turned out. All I did was cut one long strip of fabric. I made mine 2 3/4" (7cm) by 30" (76cm) and used a 3/8" (1cm) seam allowance. After sewing this I turned it right side out, pressed it, and cut it in half to make two straps. I tried on my bodice and then pinned my straps at the length I wanted, and marked the length. I used these markings as a guide when I sewed my straps in place.
So are there other variations we could do? Yes! How about braided straps? We could make some extra straps and braid them together. We could also make thicker straps as above, but make them longer and have them tie at the shoulder. I also love the idea of a slightly thicker double strap that doesn't tie, like my black version above, but a bit thinner and two of them side by side!  There are tons of possibilities and this is a fairly easy mod that can make your dress more unique and personal!
So that's it for today. If you need to, you have the weekend to catch up, and we'll pick things up on Monday. Have a wonderful weekend everyone!