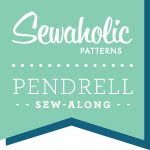 It's here! Finally, today we get to start sewing. Are you pumped or what? Thanks for all of your patience through the pattern adjustment and preparation posts. While I'm sure they were greatly helpful to some of you, the rest of you have been itching to start stitching away. So thanks, and let's get to sewing!
Still catching up? Here are the first ten posts:
Let's begin sewing! By now you have cut out your fabric, any underlining pieces if necessary, and are ready to sew. So let's get started! I'll be sewing View A today, the teal polyester version. I'll show different versions depending on the steps we're sewing – and how my photos turn out, if I'm sewing at night or during the day! Hopefully that's not too confusing for you guys!
Pre-Sewing Steps:
Choose matching thread
Wind a bobbin in matching thread – I always fill my bobbin up completely!
If you're using a serger – change your serger thread to your closest matching thread colour
Grab your tools: pins, scissors, tape measure
Let's begin! Today, you'll need your Front and Back, pieces 1 and 2.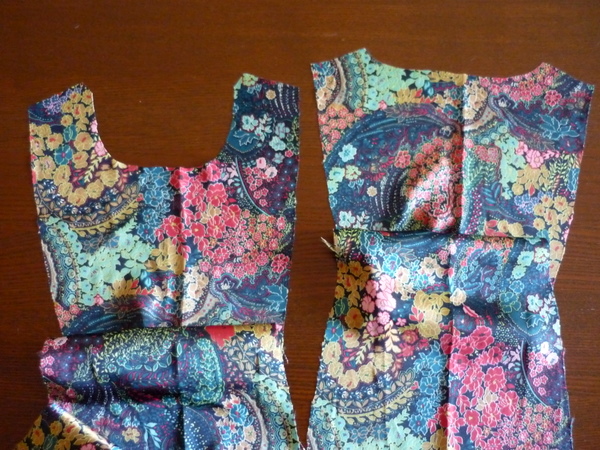 The first step is to staystitch your front and back neckline. Staystitching is a permanent row of stitching, used to stabilize the neckline. (Or waistline, or other area that might stretch out as we work with it.) Staystitching uses the same stitch length you would for stitching seams, on my machine the setting is 2.5 for regular stitching and 4 for basting.
So, we'll staystitch both the front and back necklines! Start at the highest point, at the shoulder and work downwards, towards the centre.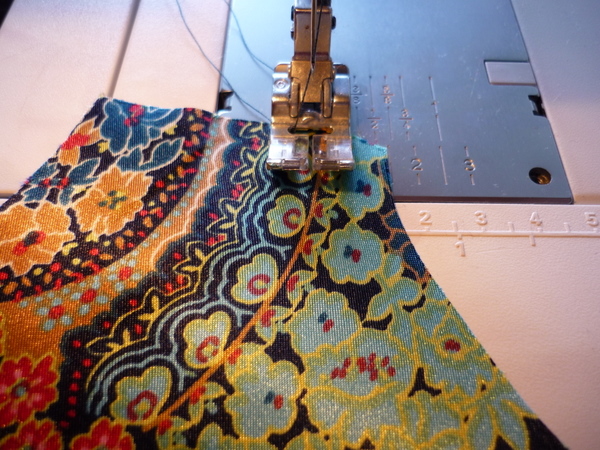 You want to staystitch just inside the seamline. Here's a very close-up photo, showing how I'm stitching just inside the 1.5cm line.
When you get just past the centre notch, stop your stitching. Stitch perhaps four or five stitches past centre, and then stop. Don't backstitch at this point.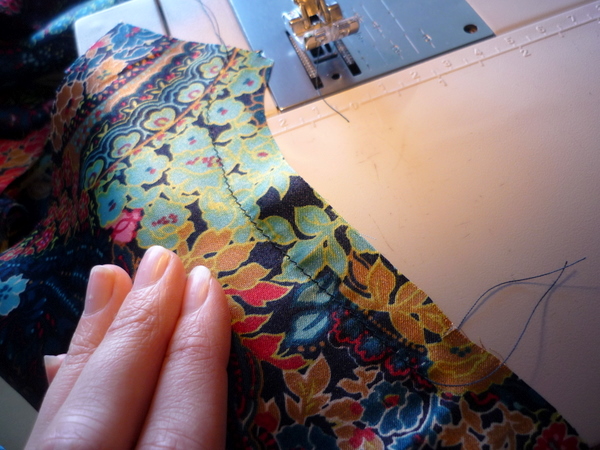 Now, turn your piece around so the wrong side is facing up. Starting from the shoulder again, staystitch to centre front. Overlap a few stitches at centre front, over the previous staystitching, and stop.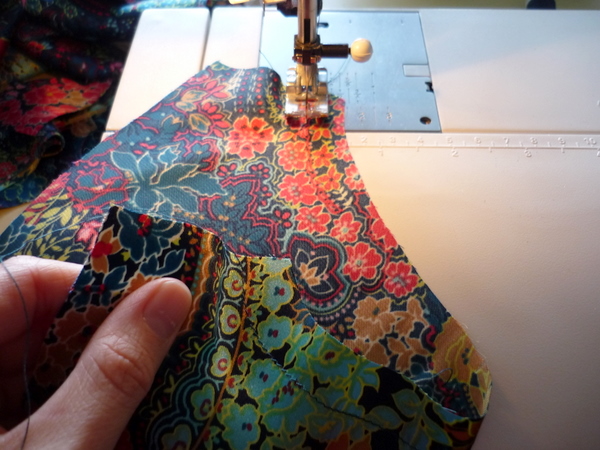 Here's what your finished staystitching should look like: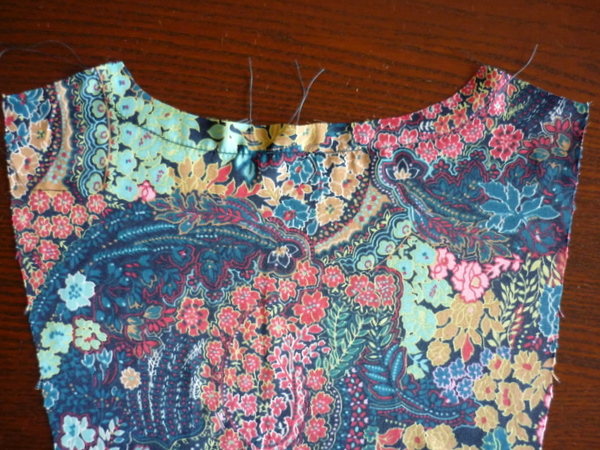 Repeat with the Front piece, staystitching from the shoulder down again, and then turning the piece over to stitch the other side.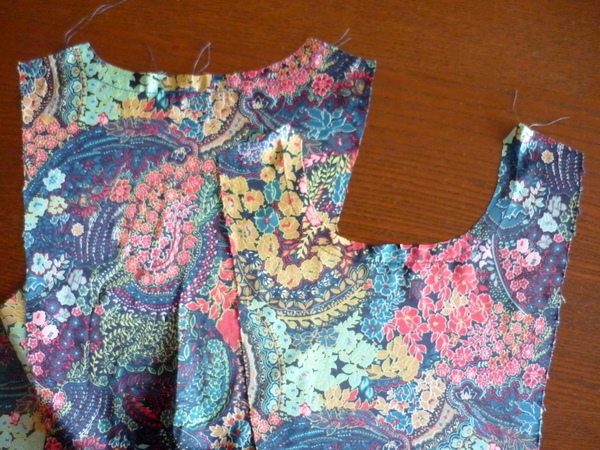 Once the staystitching is in, let's keep going! The second step is to sew the front to the back at the shoulder seams.
Line up the front and back pieces, right sides together and wrong sides facing you. Pin along the shoulder seam, as shown: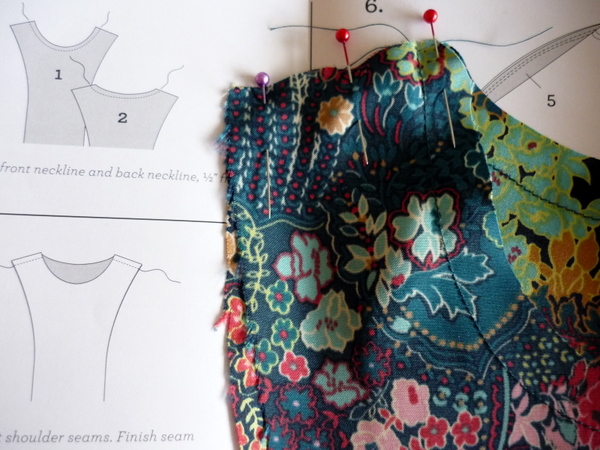 Repeat with the other shoulder seam, so they're both pinned and ready to go.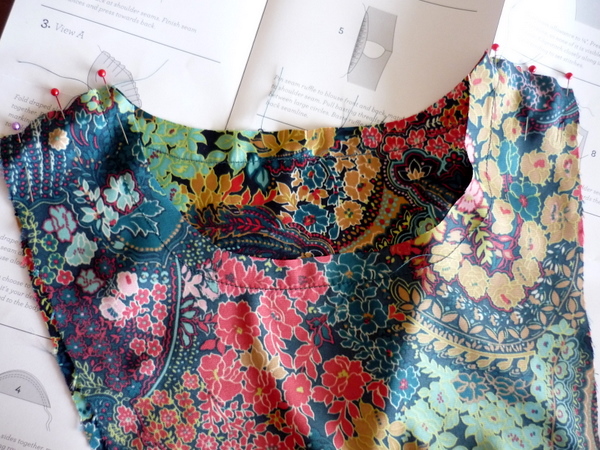 Stitch the shoulder seams, taking a 5/8″ seam allowance (1.5cm), and backstitching at both ends.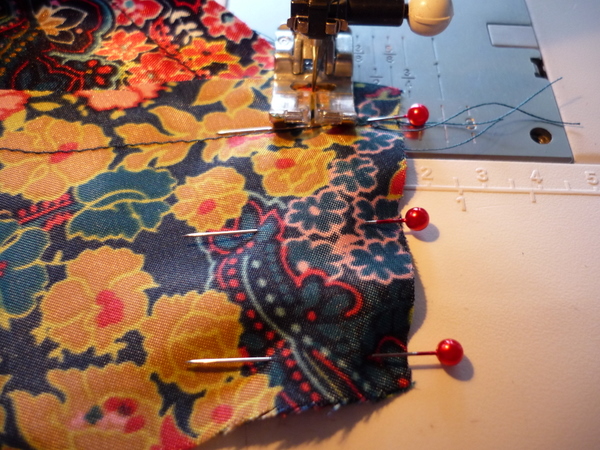 If your fabric is slippery like mine, be careful when backstitching! You might want to stitch in one place, instead of backstitching. Simply set the stitch length to zero when you start and finish the seams, and increase it back to 2.5 when stitching the actual seam.
Here are the shoulder seams, after stitching: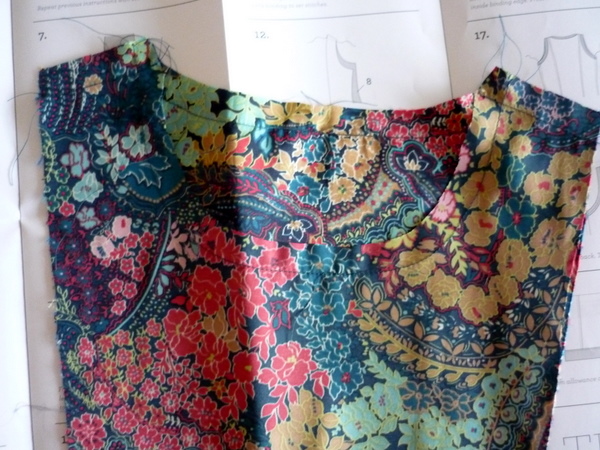 Next, finish the edges of the shoulder seams.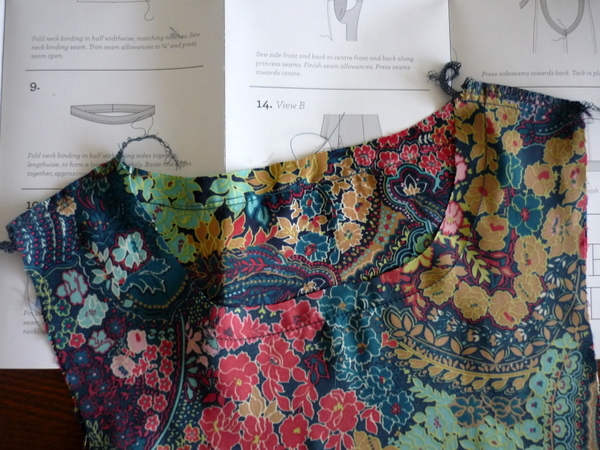 Since these are easy steps, let's talk a bit about edge finishes. If you have a serger, lucky you! Finishing your edges will be fast and easy. If you don't, there are a few choices you have to finish your edges.
Here are a few links to check out, though I'm sure there are more! (Let me know if you have a link to add to this list!)
As always, pipe in with your favourite edge finishes and techniques! I'll be back tomorrow with a post on the next few sewing steps.