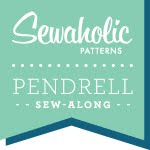 Day three of the Pendrell Sew-Along! Today, we're going to measure ourselves and choose our size. We'll measure ourselves, compare the measurements to the pattern envelope sizes, and decide which cutting lines to follow.
This is also a good time to see if you'll want (or need) to make any adjustments or alterations to the pattern.
Need to catch up? Here are the first two posts in the series:
Ready to follow along as I measure myself, with some awkward-looking photos? Let's go!
You'll need:
a measuring tape
a mirror
the pattern envelope
possibly a friend to help you, if there's someone handy!
pencil and note paper
Note: Wear the bra you're most likely to wear with the blouse. I have a range of padded bras, some with lots of enhancement and some that give a more natural look. If you know you're likely to wear the super-padded one with this blouse, then measure yourself wearing the right bra.
Measuring yourself:
The first measurement will be the bust. Measure this around the widest part of your bustline, making sure the tape is straight around the back. (This is where the mirror comes in handy! Take a glance at your rear-view and check if the tape is straight around your back.) If it dips down, your measurement will end up larger than it needs to be.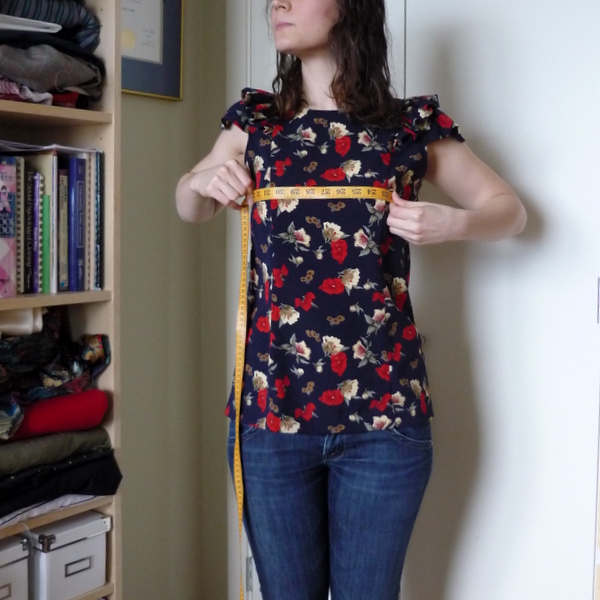 Try to ignore the strange faces and snug jeans in these photos – focus on the measuring instead! While we're working on our top half, let's also measure our high bust. This is a Fit for Real People trick, choosing a pattern based on your high bust size and adjusting for a full bust. Ever tried to go up a size to fit your bust, but ended up with wide, droopy shoulders and too-big armholes? This method helps to ensure that doesn't happen!
This picture helps to demonstrate the 'high bust' position. You want to loop the tape measure above the bust in front, and under the shoulder blades in the back, where your bra sits. The tape measure is not straight for this measurement but angled upwards at the front.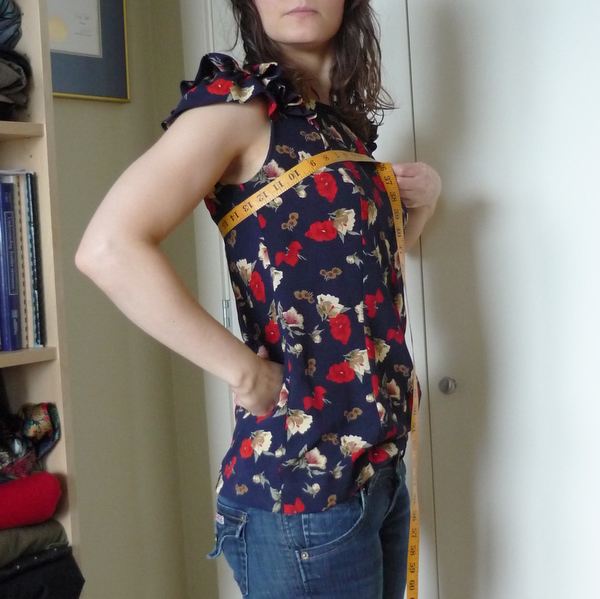 Next, let's measure your waist. You want to measure your natural waistline, not where you wear your pants. Bend at the side, and measure where the crease in your side happens. Even if you're very thin, your body will still 'fold' at the side when you bend.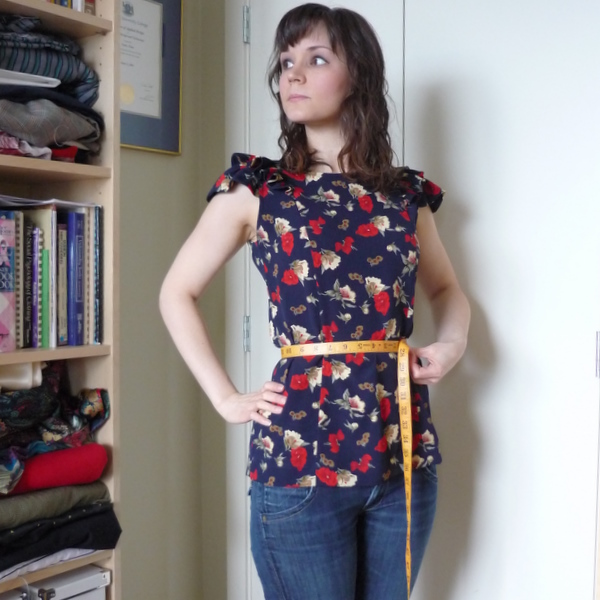 When you bend to the side, the tape measure will slip into your natural waistline. That's where you want to be measuring. Awkward side-bend photo coming up! You can also tie a string or ribbon around your waistline, so that you can see the position of your waistline as you measure yourself.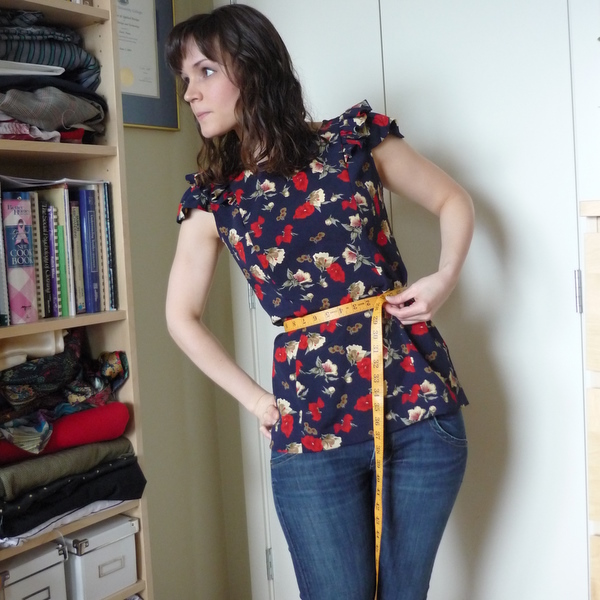 Now, measure your hips. Loop the tape measure around the widest part of your hips. Make sure it's straight around your rear end, not dipping down or pulling upwards. Again, it helps to use the mirror as a guide, to make sure the tape is straight! Mine is fairly straight but creeping up a bit in the back.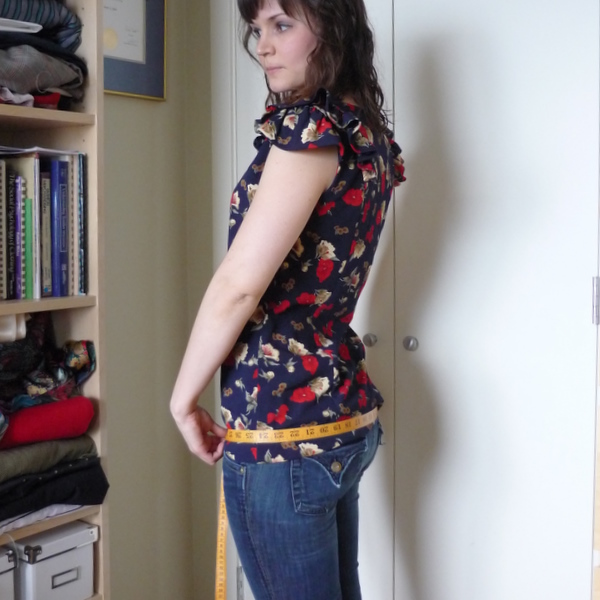 Another view of the hip measurement. You can see that from the front, my thighs are wider than my hips, but from the side and back, my rear end is still the largest part. Not the most flattering photos, but I hope they are helpful for educational purposes!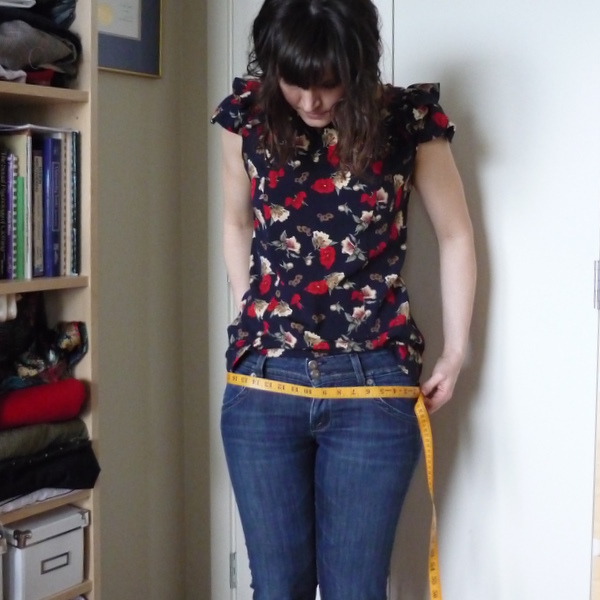 One other thing to note, don't pull the tape measure too tightly. You should be able to take a breath in and out. The tape measure shouldn't be squeezing in to make yourself smaller.
Also, don't 'cheat' on your measurements either. Write down the real measurements from the tape measure, no matter what they are or if they're increased since last time you measured. You'll only be cheating yourself – and making it harder to fit – if you don't use accurate measurements!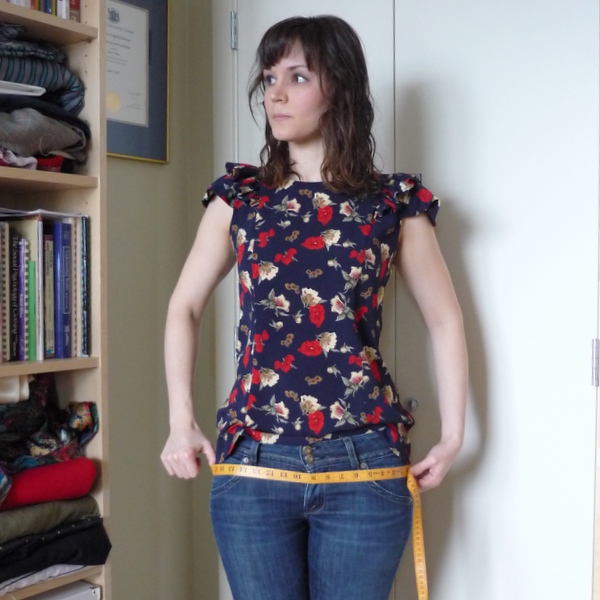 Choosing a size:
Compare these measurements to the pattern envelope back. If all of your measurements are in one column, then the pattern will be perfectly proportioned for you! You may still want to make some adjustments for your personal preference, but you should be able to make the pattern directly out of the envelope. Lucky you! (Isn't it nice, to be all in one column for once?)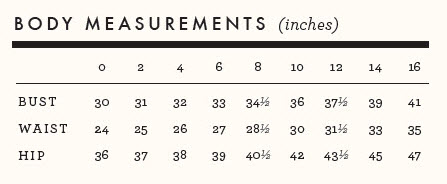 If your measurements are in different columns, then you'll want to make some adjustments. Let's see if you should choose the pattern by your high bust measurement, or by your bust measurement.
A little bit of math: take your BUST measurement, and subtract your HIGH BUST measurement. You'll have a small number that is the difference between High Bust and Bust.
Now follow one of these two options:
1. If the difference between Bust and High Bust is LESS than 2″, then choose the size based on your BUST measurement.
2. If the difference between Bust and High Bust is MORE than 2″, then choose the pattern based on your HIGH BUST size, and plan to do a Full Bust Adjustment (FBA).
For example:
If your BUST is 33″, and your HIGH BUST is 32″, then choose a size 6.
Your BUST is 39″ and your HIGH BUST is 36″, then choose a size 10 and plan to do a Full Bust Adjustment.
Full Bust Adjusters – do I have this right? If you're an expert at the FBA (or at least, experienced!) please jump in and correct me if I'm wrong.
The reason we choose the pattern based on the bust size, is because it factors in the shoulders. The whole blouse 'hangs' from the shoulders, neckline, and bust. In comparison, the hips and waist are easy to alter! If your bust and waist are in one column, but your hip measurement is in a different column, then choose the size based on your bust and waist, and we'll adjust for the hip later.
How's it supposed to fit?
One thing I wanted to mention is that this blouse has more ease than you might be used to. It's loose-fitting, with about 4 inches (10 cm) of ease around the bustline. That's part of the style, it's relaxed for a soft silhouette, and also so you can pull it over your head. To get the same look, resist the urge to over-fit the blouse. That's why I suggest using something drapey instead of actual muslin – seeing how the blouse looks in a stiff, board-like fabric may put you off the style! I hope I've explained this properly. The blouse is meant to have space between you and the blouse! It's the princess seams that give it the illusion of being fitted to the body, and streamline the look.
Fitting and sizing are such personal issues, so I hope this quick guide to measuring and choosing a size has given you enough to get started! Tomorrow and the day after tomorrow, we'll start talking about pattern adjustments.
For the beginners out there, does this make sense to you? If you have any questions on how to choose your size, leave a comment below. (I am bracing myself for lots of questions, so ask away!)
UPDATE: Amy left a helpful comment on when a Full Bust Adjustment is necessary. Thanks, Amy!
The need for a FBA can also be affected by how much design ease there is, If something is close fitting, i.e., 0-2 or so inches of ease, then a FBA may be an absolute necessity for bustier gals. 4 inches gives a lot of "wiggle room," so a FBA may not be necessary. When in doubt, I make a muslin without any changes and go from there.