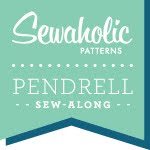 Today's post is a bonus post on how to cut the Pendrell Blouse in scalloped-edge lace! All versions of the blouse would be gorgeous in lace, don't you think? The ruffles would be adorable with scalloped lace edges, as would the pleated sleeve with a lace edge. So would the classic, sleeveless shell – gorgeous and feminine under a blazer for work!
Love the idea of a lace blouse, but aren't sure how to get started? This post is for you!
Need to catch up? Here are the links to the first seven Sew-Along posts:
For my demonstration, I have the coolest thrifted fabric to use. I always browse all of the fabric-related sections at Value Village – material, bedsheets, curtains. To some of you, used fabric might be a turn-off. But to me, there are so many thrifty possibilities. Bedsheets can be used for dresses or at the very least, muslins and test garments. White or light-coloured sheets could work as lining, muslin or sew-in interfacing.
And today, we have a 'tablecloth' of lace. I swear this is just a piece of lace fabric, where someone's sewn the border trim around the edges to use as a tablecloth. It feels like lace fabric, trust me! Since the launch of the Pendrell I've been dreaming of making a lace version, either in cream or black. Looks like for $5.99, I can have my lace blouse on a budget!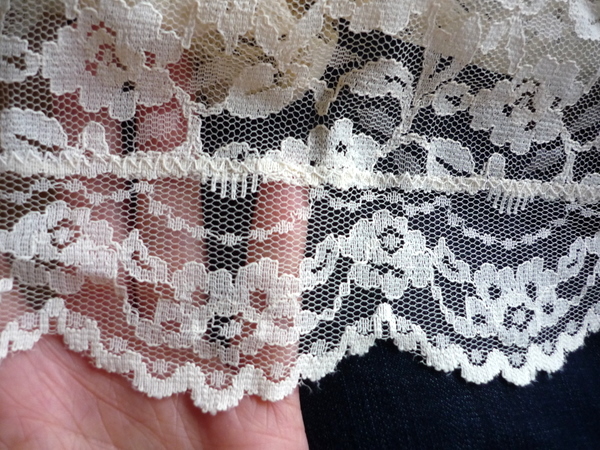 I could just make the lace blouse using only lace, for a revealing look. But that's not really my style. So I'm going to underline it using this matching cream polyester. (Also from Value Village, for $4.99.) I'm hoping to make a fancy, designer-inspired lace blouse for under $15.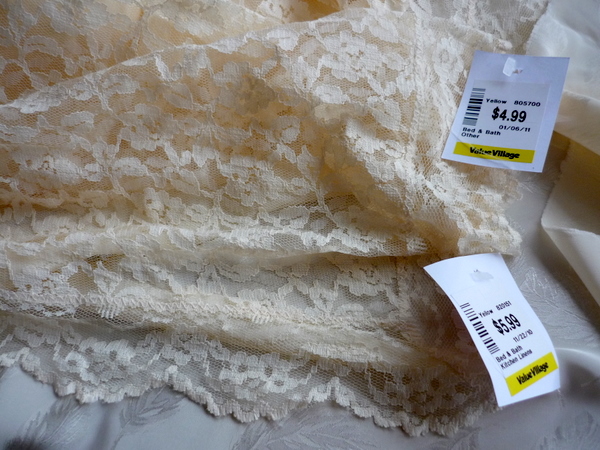 Today I will show you how to cut out scalloped-edge lace for the Pendrell Blouse. We'll cut some of the pieces out of lace, and some of the pieces out of the underlining fabric.
Cut from Lace:
Front, Back, Side Front, Side Back (1, 2, 7, 8)
Either the draped sleeve (3), or the two ruffles – Seam Ruffle and Sleeve Ruffle (4 & 5)
Cut from Underlining Fabric:
Front, Back, Side Front, Side Back (1, 2, 7, 8)
Neck Binding, Armhole Binding (6, 9)
This way, we're binding our edges with the underlining fabric. Much smoother than trying to create bias binding out of lace! I've left the sleeves or ruffles sheer, it will give us the prettiest finish and takes advantage of the scalloped edge.
Let's begin!
First, press the edges of the lace with a cool iron. I don't know the exact content of this lace, but it's likely synthetic. If your iron is too hot, you'll melt the lace! When it doubt, stay around the polyester setting.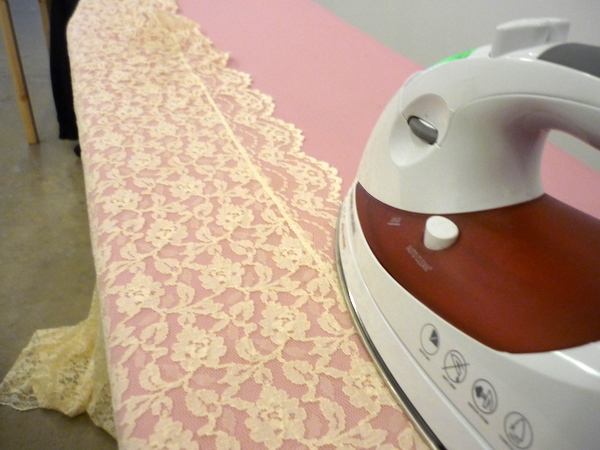 Now, lay out the lace on your cutting surface. Adjust the fabric so the lace edge is straight, using the edge of your table as a guide.
Take your sleeve pattern piece, or sleeve ruffle pattern piece, and line up the fold line along the edge of the lace. Pin along the edge.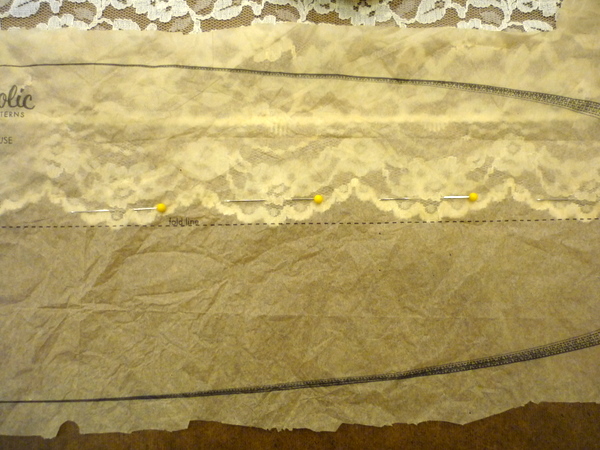 Smooth out the pattern piece, and pin along the top edge. You'll notice we're ignoring the grainlines on these pieces. It's OK to cut these pieces on the straight grain, so that we can use the border. They won't drape quite as nicely as they would on the bias, but since we're not folding the piece in half, we can get away with doing it this way.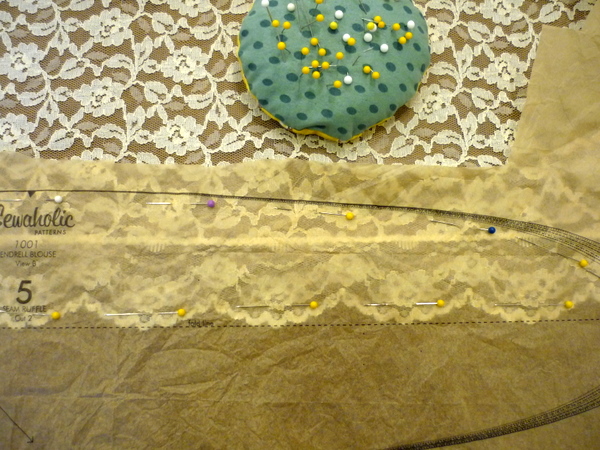 Cut out the pattern piece, as you'll need it to cut the second ruffle or sleeve. I find it much easier to cut these pieces open, instead of on the fold.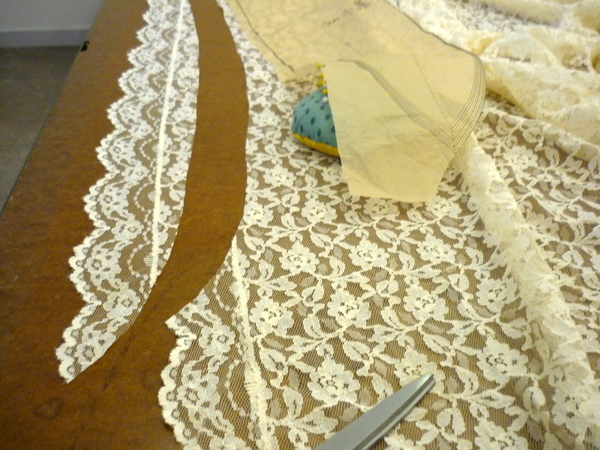 Pretty! My lace edging is sewn on, so I have a line down the piece. If you use real scalloped-edge lace you won't have that line.
Repeat for the other sleeve ruffle, so you have two identical pieces. Or, if you're making the draped sleeve version, cut another draped sleeve.
If you're making View B with the ruffles, cut out two of the other ruffle piece. You'll end up with four lace-edged pieces.
Once the ruffles (4 for View B) or sleeve (2 for View A) are cut, then fold your fabric in half to cut out the body pieces. Place, pin and cut out the four body pieces out of lace.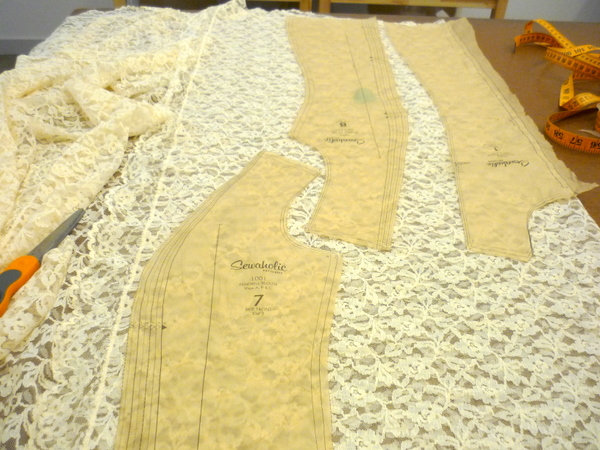 Want to hear the unfortunate part? My lace tablecloth is stained. There are what looks like coffee stains on a couple of the lace body pieces. (Note to self, check thrift-store fabric closely for damages!) They're so subtle, you can barely see the discolouration, which is why I didn't see them until I was up close cutting the fabric. I'm going to try and remove the stains, cross your fingers they come out!
Because of that, I'm not going to cut out my underlining fabric just yet. If you're following along, go ahead and cut out your underlining pieces.
Here's what you'll need to cut from underlining, for Views A, B, or C:

Four body pieces: front, back, side front, side back (1, 2, 7, 8)
Two binding pieces: armhole binding, neck binding (6, 9)
I'll let you know if I manage to get the stains out, or if this post was purely for informational purposes!
A side note: Every lace is slightly different, this post is just to give you an idea of how to work with the lace, and how to position the ruffles to use the scalloped edge. And of course, to give you another possibility for making the Pendrell Blouse!