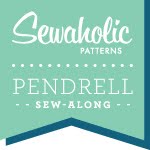 Welcome to the Pendrell Sew-Along, Day 2! If you're just joining us, here's a link to the first sew-along post:
January 10th: Pendrell Sew-Along: Supply List, Schedule & Sew-Along Badge
Before we cut, let's talk about pre-washing your fabric. Pre-washing is basically washing your fabric before you start sewing. That's all there is to it!
There are a couple of theories and reasons why we do this step. I'll give you the whys and hows of prewashing, and then tell you what I'd do with each possible type of fabric. Jump in if you have a different opinion or method!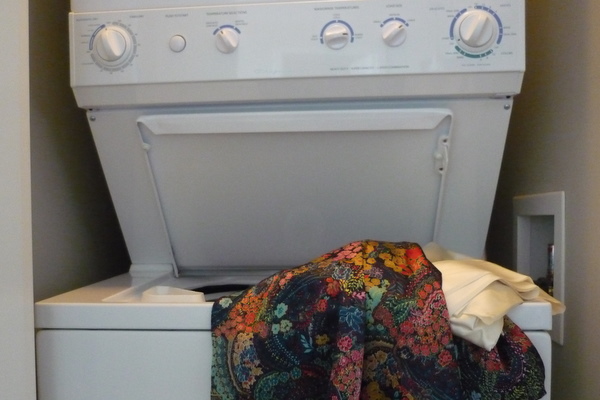 Why both prewashing?
To avoid shrinkage! There's nothing worse than seeing your beautifully finished project come out of the wash, shrunk. Luckily, we have control of the shrinkage, if we wash the fabric before cutting.
To remove sizing and finishing. After fabric is dyed, there are chemicals used in the finishing process. It's nice to wash as much of the remaining chemicals out of the fabric before you start working with it. Especially if you have sensitive skin! BUT on the other hand, these finishing chemicals are there to stabilize the fabric and might make it easier to work with.
To make it clean. I like to buy fabric from thrift stores, or vintage fabric online. If you're not squeamish about used fabric, it's a great and eco-friendly way to go. Vintage fabric often comes with that 'vintage smell,' and just about everything in Value Village has that thrift-store smell. Give it a wash so it's fresh to work with.
How to prewash your fabric:
One theory is to wash your fabric the way you would wash the finished garment. If you'd machine wash and dry your finished blouse, then do the same to the fabric.
Another is to wash it harder than you'd wash the finished garment. Even if you're going to hand-wash your finished blouse, there's a slight chance someone might toss it in the dryer accidentally, and shrink it. If you wash and dry it, then the shrinkage will happen before you sew up the shirt.
Ok, that's nice. What about my fabric?
Cotton: Definitely pre-wash! Cotton will soften up a little after washing, plus it's the most likely fabric to shrink on you later. I'd pre-wash in hot water, and tumble dry. Cotton voile and lawn, cotton knits – wash and dry these ones.
Rayon: My blue ruffled Pendrell is a soft rayon, which I pre-washed and dried before cutting. Rayon's very similar to cotton (both are plant-based) so I treat them the same way. Rayon can shrink as much as cotton, and some rayons will shrink more! However, I see a lot of rayon garments that are 'dry clean only.'
Silk: This one's tricky. Silk can be washed, but it will often change the texture and sheen of the fabric. For my silk satin, I'm not going to wash it or have it drycleaned. I'm going to sew with it unwashed, and dry-clean the finished blouse. If you'd like to be able to wash the finished blouse, try hand-washing a tiny piece and see how it turns out. Silk may get softer, more wrinkled and less shiny after it's washed, so you might not like how it looks! Or you might love it, and then you will be able to wash the finished garment. The other option is to not wash it at all before sewing, and know you'll have to dry clean your blouse. The good thing about this style is there are no sleeves, so it won't need washing quite as often. The ruffle and the pleated sleeve sit on top of the shoulder but don't go under the arm. Silk chiffon, georgette, charmeuse all follow these guidelines.
Polyester: It won't shrink, so there's no real need to pre-wash! Unless it's thrifted, or vintage, then you might want to give it a rinse to freshen it up. Polyester dries really quickly so you won't have to put it in the dryer very long, if at all. My rose-print Pendrell is polyester and it just about comes out of the washer dry. I'm not planning to pre-wash my teal polyester print for the sew-along. (I did wash the rose-print polyester as it came from the thrift store!)
Any other thoughts or theories on pre-washing? Leave a comment below!