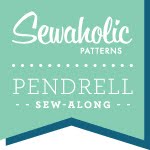 Hello Sew-Alongers! I wanted to follow up on this morning's post with a few more thoughts on underlining. Now that I've basted my underlining, here are examples of how to baste the underlining and a few thoughts on each method. Jump in with your thoughts, or let us know which method is your favourite!
Here's a link to the first post on underlining, if you missed it:
Pendrell Sew-Along #10: Underlining The Pendrell Blouse
I'm going to show you machine-basting and two different ways of hand-basting, so you can see what it will look like! I'll also give you what I think are the pros and cons of each method, now that I've tested them out.
Machine Basting:
Here's the Back piece, with the edges machine-basted. You can see I've ran the stitching off the edges of the fabric, instead of pivoting at the corners.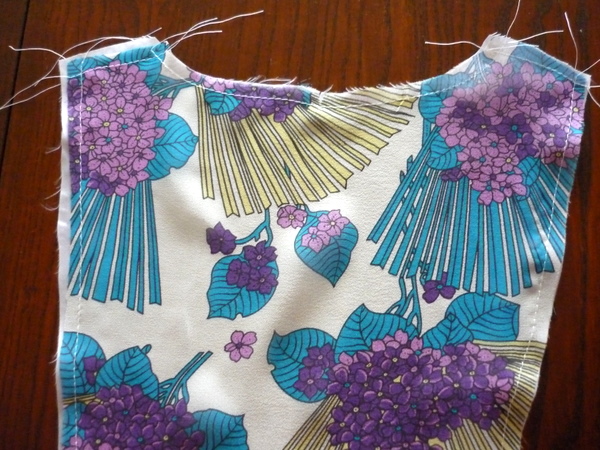 PROS: Speed – this method is fast! You can run this through your machine quickly and the whole piece is basted in minutes. Also, this basting is really strong. It's not going anywhere!
CONS: Some slippage of the layers. You can see a bit of a bubble in the middle of the piece, where one layer is pulled tighter than the other. When you machine-sew, the piece hangs off the edge of your machine and is no longer perfectly flat. Plus, it's true that the basting is very secure, but what if you need to take it out? Machine-basting makes way more holes in your fabric than if you were to hand-baste.
Hand-Basting, with running stitches:
I've used regular all-purpose thread to baste both layers together, and a nice sharp needle.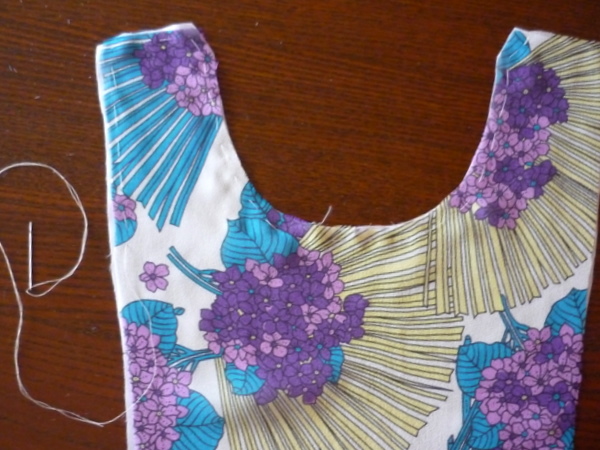 PROS: Accuracy, which is really important! With this method, you work with the fabric completely flat so there's less slipping. You can also adjust and re-adjust as you stitch, shifting the fabric slightly to line up the edges.
CONS: Slow! This method is way more time-consuming, especially when you have a few pieces to do. Also, large running stitches could pull out easily if snagged. (Take off any rings or jewelry when working with fine fabrics and hand-stitches!)
Hand-Basting, with diagonal basting stitches:
I liked Nikole's suggestion of using diagonal basting stitches (also know as tailor basting) to secure the two layers. I used the same all-purpose thread, but switched the direction of my stitches.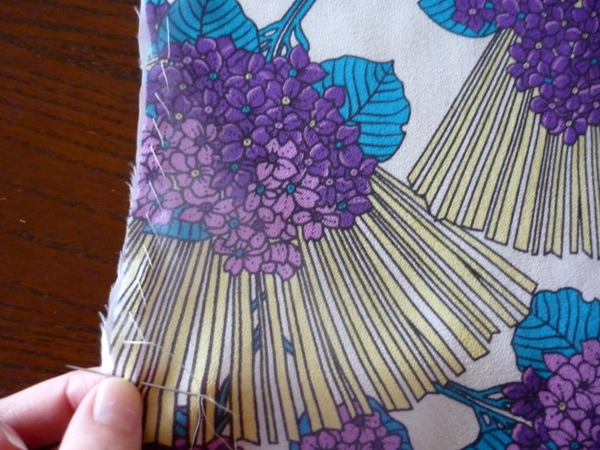 PROS: Accuracy again! With this method, we also work with the fabric completely flat so there's less slipping. Also, I find it's easier to make diagonal basting stitches than running stitches, it feels more natural to be holding the fabric so it's vertical, rather than horizontal. (See where my hand is? It's easy to hold both layers of the fabric from this angle.)
CONS: Slow! Again, this method is more time-consuming than machine basting. I found it faster than basting with running stitches, just because you hold the fabric in a more natural position.
Let's compare! Here's my front on the left side, hand-basted together. Compare it to the back on the right side, with the layers machine-basted.
Can you spot the difference?
How about a close-up? Same pieces, just a closer look: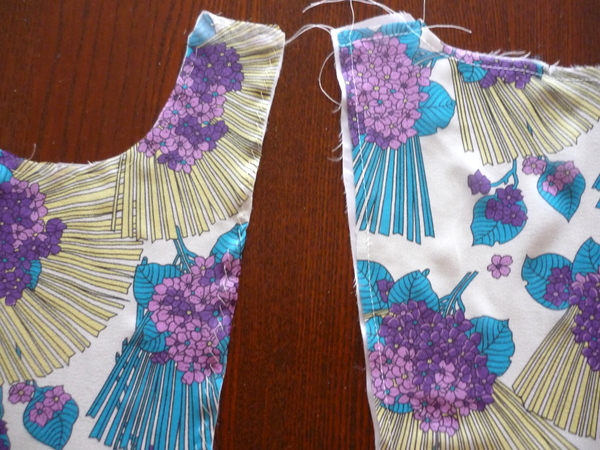 In my opinion, there's a little more bubbling on the machine-stitched side, but not a lot. Is it worth the time it takes for hand-basting? You decide! It might be faster to machine-baste all of your piece, and fix up any bubbles afterwards. But if your fabric is very delicate or fine, hand-basting might be better. You don't want to be unpicking fragile fabrics, if you can help it!
I hope this helps, for all of you who are underlining your blouses. See you tomorrow for the first sewing post!