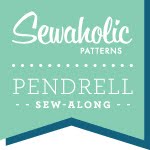 If your fabric is sheer, you may want to underline your Pendrell Blouse. I know a lot of you are already planning to underline your blouses for the Sew-Along. You may wonder, what's the difference between lining and underlining?
Underlining is different from lining, in that it's sewn to the main fabric as a backing. Lining is sewn to the main fabric as a separate layer.
Once underlining is attached to the main fabric, it's treated as a single layer of fabric! Lining is constructed separately, and then attached later on.
Lining is often used in home sewing patterns, with separate pattern pieces provided. Underlining is rarely called for in modern sewing patterns, it's something us sewists add in ourselves.
Now that you know the difference between underlining and lining, follow along as we discuss how to underline the Pendrell Blouse!
Read the rest of the Sew-Along posts here!
For my demonstration, I'll be cutting the Pendrell Blouse in a sheer, silk chiffon I bought last summer in Boston. I'm going to use a cream rayon lining as the underlining. Oh yes, and I'm making View A, the draped sleeve version.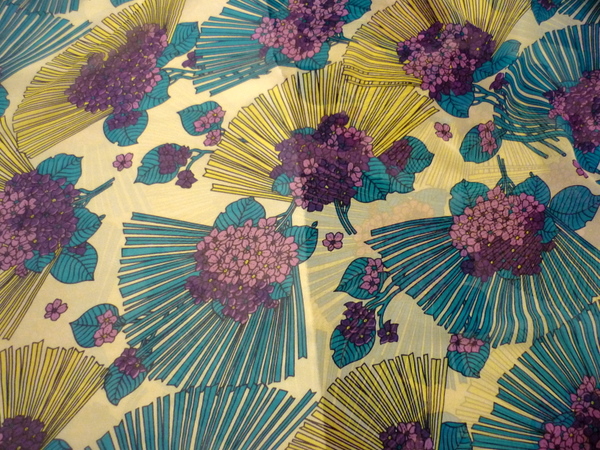 Choosing an Underlining:
The right underlining depends on the main fabric you're using! That being said, there is more than one 'right' fabric to use for underlining. Underlining can change the feel of your main fabric, which can be a good thing or a bad thing. Here are some examples of main fabrics that might require underlining. Feel free to jump in with your own suggestions as well!
Cotton voile or lawn: Likely, you're underlining here to prevent sheerness. In that case, I'd suggest a lightweight solid-coloured cotton voile, or cotton batiste. Something of similar weight or slightly lighter would work well!
Silk or polyester chiffon: Same here, you're probably concerned about sheerness and perhaps want to thicken the blouse fabric slightly! That's why I'm underlining my silk chiffon – it's way too sheer to wear over just a bra, and I'd like to wear it without a camisole underneath. (I don't like the feel of multiple bra strap layers!)If you look at the photo above, see how much brighter the left side is, with the cream underlining?
You could use a silk or polyester charmeuse or lining fabrics to give the fabric the same hand and drape. Or, if you wanted more structure to your blouse, you could use cotton batiste or lawn as an underlining. The blouse would look stiffer and slightly more structured, but it might be easier to sew and work with.
Some decisions to make before cutting:
Neck and Armhole Binding: which fabric is better suited for binding? In my case, I'm going to use the rayon lining fabric, as I'm imagining it to be more stable than the sheer chiffon. This all depends on your fabric choices! If you're making the main fabric lace, like in the Cutting Scalloped-Edge Lace post, then you'll also want to use your underlining fabric for the binding pieces.  However, if you're using something lovely like a cotton voile, and are underlining just for modesty, then perhaps you might want to use the cotton voile for binding pieces as well. (Want my opinion? Tell us what fabrics you're using in the comments, and I'll tell you what I think!)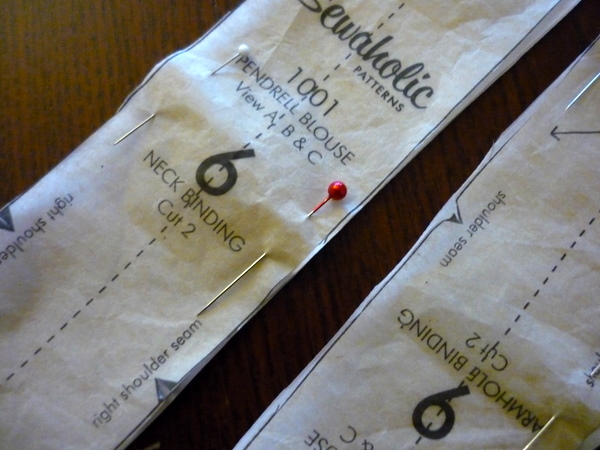 Sleeves or Ruffles: do they need to be underlined? Likely, the answer is no. Unless your fabric is very, very sheer, any underlining will make the sleeves too bulky and the ruffles too stiff. Think about it, and decide whether your sleeves or ruffles need to be underlined. You could try layering the fabrics over each other and gathering them up with your hands, to see what it would look like. I won't be underlining my draped sleeves for this blouse.
Cutting the main fabric:
First, cut the main fabric. If you haven't yet, press your pattern pieces with a dry iron so they're nice and flat. I pressed mine, because I've used them twice already!
From the main fabric, here are the pieces you have to cut:
Front, Back, Side Front, Side Back
Here are the optional pieces to cut from the main fabric, based on our decisions above and the view you're making:
Neck Binding, Armhole Binding, Ruffles or Sleeves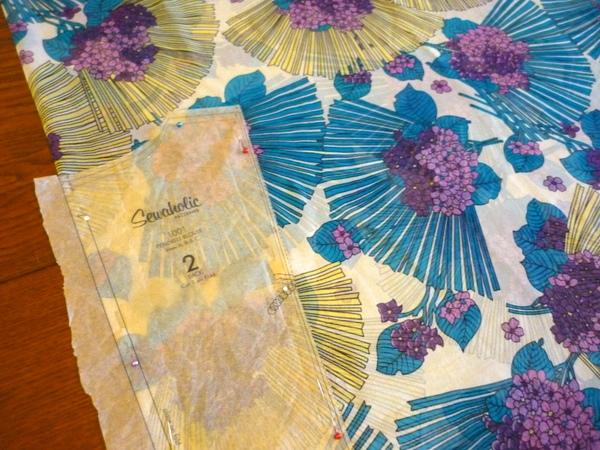 Once all of the pieces have been cut out, remove the pattern tissue from the fabric, as you'll need most of your pieces to cut the underlining! Clip your notches and mark any markings on the main fabric.
Cutting the underlining:
Next, we'll cut the underlining. If your pattern pieces got wrinkled, give them a quick press before cutting the underlining. (It doesn't matter which you cut first, the underlining or the main fabric! Whichever you prefer.)
From the underlining, here are the pieces you have to cut:
Front, Back, Side Front, Side Back
And here are the optional pieces to cut from underlining, based on our decisions above:
Neck Binding, Armhole Binding, Ruffles or Sleeves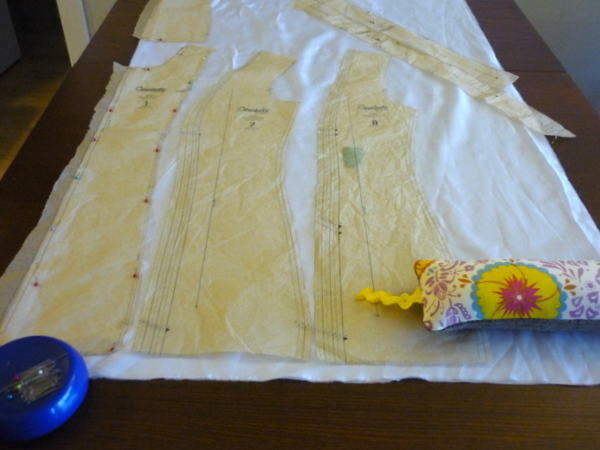 Cut out the pieces, and clip your notches. This will give us reference points for lining up the two layers!
Joining the underlining to the main fabric:
The great part about underlining is that once it's attached, we can forget about it! After the body pieces are underlined, they're treated as one layer from that point forward.
Lay the main fabric on top of the underlining fabric, so that the right sides of both fabrics are facing upwards.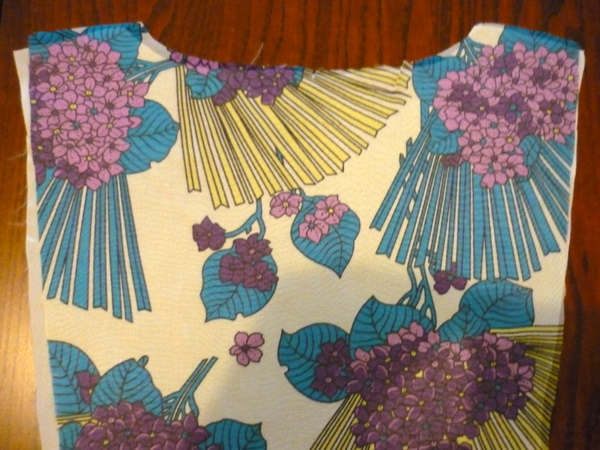 To help line up the pieces, match up the notches and markings, and pin both layers together.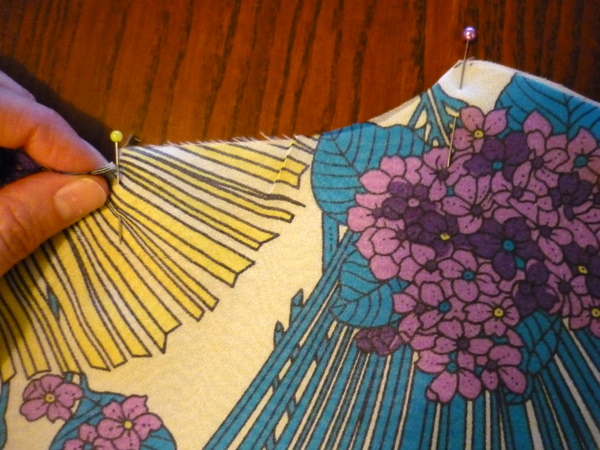 Now, we're going to baste them together, so we can work with them as one. You can either machine-baste the pieces together, like I did here with the Twin Spruce Dress. Or, you can hand-baste the layers together. I was going to baste mine together to show you, but I ran out of time last night!
I've machine-basted my underlinings on all of my underlined projects, but I'd imagine that hand-basting would be more accurate as your layers won't slip around and shift under the presser foot. (But hand-basting is much slower than basting by machine.) If you're still undecided, test both methods on scraps of fabric to pick a method that works best for you!
NOTE: Whatever method of basting you decide on, baste approximately 1/4″ (6mm) from the raw edges. That way, it won't show on the right side of the garment, and you can leave your basting stitches in the finished blouse.
That's it for underlining! From now on, when we refer to FRONT – you'll pick up your underlined front and pretend it's a single layer of fabric.
Another important note: now that your two layers have become one, you'll want to use the lowest iron setting when pressing your blouse. For example, I've just joined rayon and silk together, so I will use the silk iron setting from now on. If you mixed cotton and polyester, you'll want to use the polyester setting on the iron.
Any questions? Thoughts on machine-basting versus hand-basting? Other underlining tips and tricks? Comment away!