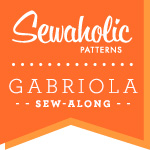 Hi everyone! Are you all enjoying your Wednesday so far? How about we brighten it up with some sewing, eh? Today is an easy-peasy day. We're assembling skirt panels. Lots of fabric, but very simple. If you're just tuning in, all of our posts related to the sew-along can be accessed by clicking the badge to the left, or in the list below.
Here is what we've covered so far, and what is to come!
Gabriola Skirt: Styling Inspiration
Gabriola Sew-Along: Let's Talk Fabric and Supplies!
Gabriola Skirt: Grading Between Sizes
Tips for Adding Lining to the Gabriola Skirt
Gabriola Sew-Along #1: Waistband and Yokes
Today: Assembling Skirt Panels
Friday, March 21st: Attaching Skirt and Yoke Pieces, Preparing for Zipper and Waistband
Monday, March 24th: Sewing Center Back Zipper
Wednesday, March 26th: Attaching Waistband to Skirt
Friday, March 28th: Finishing Inside of Waistband
Monday, March 31st: Hemming Skirt, Attaching Button or Hook and Bar
Let's start today by assembling our front skirt panels.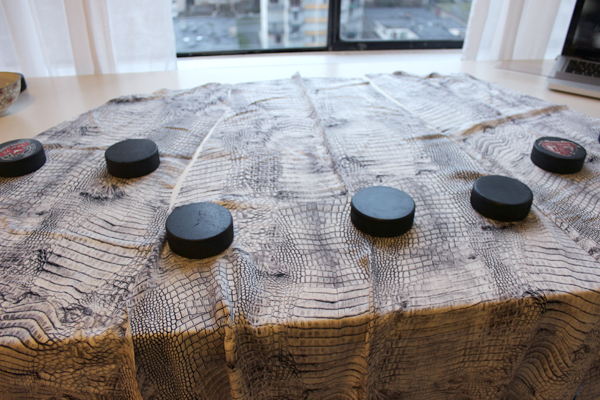 My fabric is slippery and my table top is too. Plus, that's a lot of fabric to handle! When I am laying out pieces or pinning, I find it handy to have my pattern weight on hand to keep things in place. Some of you may not know this yes, but in my case, pattern weights = hockey pucks. Yes, I'm Canadian. It works great!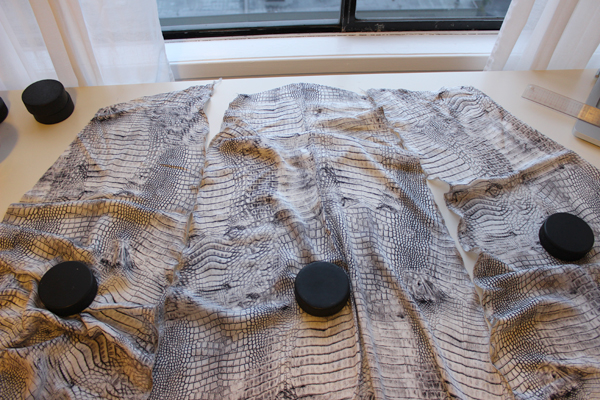 In the pattern instructions, you are asked to sew a seam, and then finish your seam allowances. In my case, when I am sewing a seam that I am sure to press open, then I prefer to finish my seam allowances before sewing my seam. This is really a question of preference. In this case, my fabric is slippery, and using my overlock to finish two small seam allowances separately seemed like it would be a bit tedious. It also frays a lot, so I wanted to get that edge finished as soon as possible! Now it is really important that if you're finishing your seam allowance with an overlock before sewing a seam, not to get knife happy.  (You know, when I'm serging an edge, I am always tempted to clean it up with the cutting knife… don't do that!)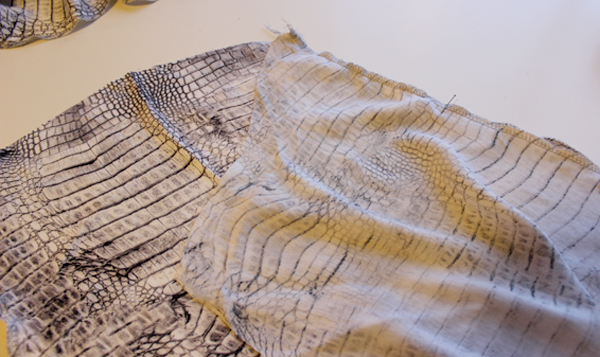 Lay your side panel over your center front panel, right sides together, and pin along the seam edge, matching your notches as you go. Yes, this is a pretty simple seam to sew, no tricky curves to ease or anything. BUT I still use a good amount of pins. Since this skirt has an a-line shape, the seams are actually a little bit on the bias. This means they can stretch or warp if you aren't careful. Pins are your friend!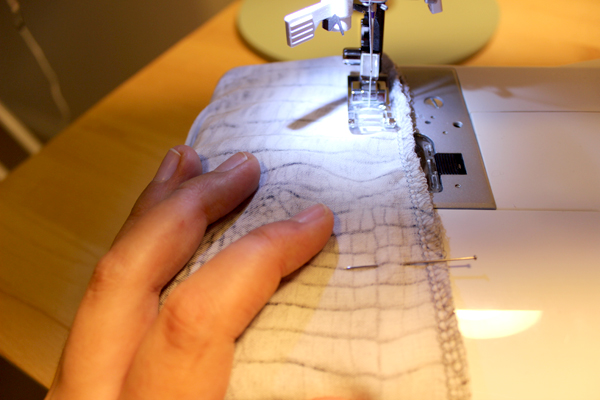 Now sew this seam at 5/8″ (1.5cm) seam allowance. Repeat for the other side, attaching your side panel to the other edge of your front panel.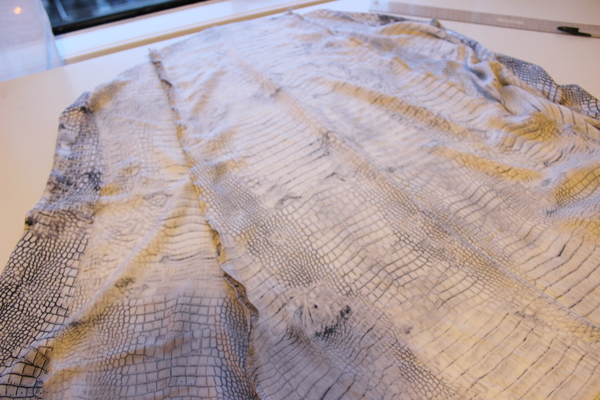 There we go, our front panels are assembled!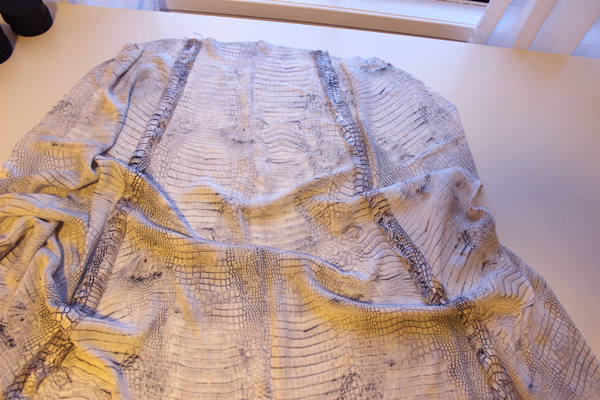 Press these seams open to get a nice flat open seam. Now repeat for the back! Sew your side panels to your back panels in the exact same way as above. Just be sure to leave your center back seam open for now, and don't finish that seam allowance yet. We will be inserting a zipper in a couple of days!
That's all for today! I'll be back on Friday, where we'll be attaching these panels to the yoke pieces, sewing the side seams, and stay-stitching our waistline. Our skirts will really take shape on Friday! Then we can stand in front of the mirror with our half-made skirt draped around us and dream of the day when we can wear our Gabriola skirts and prance around in fields of wildflowers….. okay I'm getting carried away!
Happy sewing!