Happy Friday, everyone! I finished up my second slip, following the same theory as I did for the first slip, with a few modifications. I added more ease and used different elastic and trimmings, but followed the same general guidelines.
Missed the first slip? Click here to check out the first attempt. Thanks so much for all the feedback, ideas, and comments on yesterday's slip-making post! I did this navy one before reading all of your feedback, and already I like version two better. Which means version three is going to be the best of all!
Here are the supplies I used: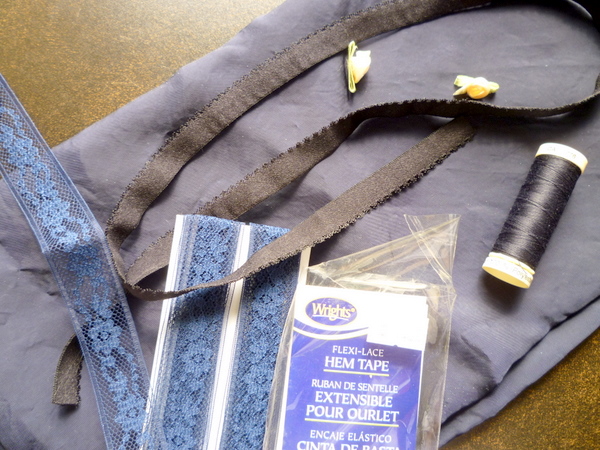 You'll need:
Slip fabric. I used rayon lining fabric again, like I did the first time around.
Elastic for waistline. I used a fantastic fold-over elastic, which I'll talk more about in a minute!
Lace for hemline trim. I used lace seam binding because I thought it would be an easy one for you to find for your own slips!
Matching thread
Optional:
Rosette or ribbon for decoration
I used a black fold-over elastic for the waistband. The fold gives you a place to insert your slip, sandwiching it between two layers of elastic and finishing the edges nicely on both sides! I like this stuff and hope to find it in more colours. All that I remember seeing is this black colour. Then again, we could probably use black waist elastic on just about any colour of slip, right?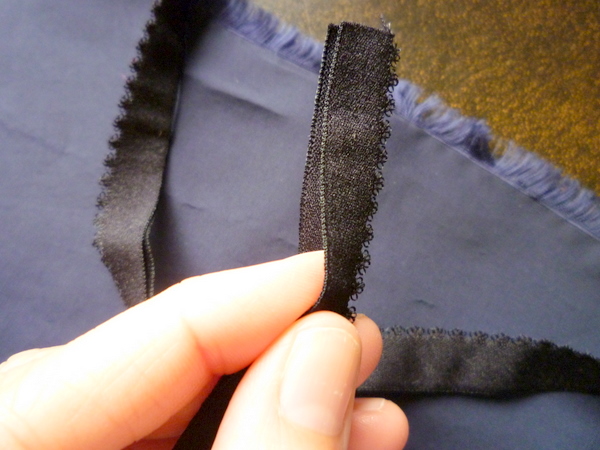 This time, I added a little more ease around the hips by making my rectangle 2″ wider all around.
My slip length: cut 19″
My slip width: cut 44″ wide (hip measurement + 5″ of ease + 1″ seam allowance)
It was much harder to sew the fold-over elastic! I had to stretch it like crazy and was afraid the lining would slip out of the fold. It was literally one hand at back, one hand at the front, pulling as hard as I possibly could! A third hand would have been really handy, to pin in between and keep the lining poked into the fold.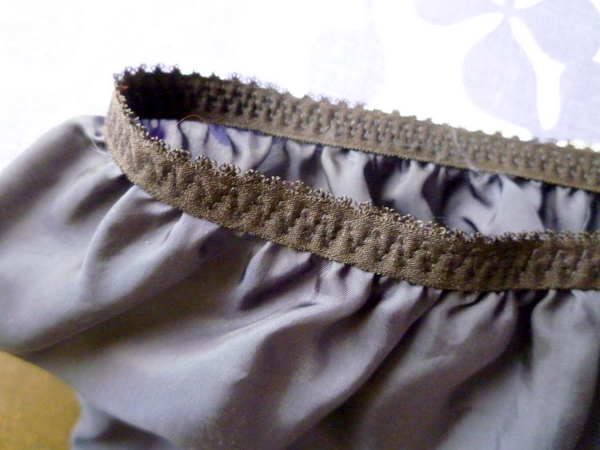 However, this was the nicest waistline finish! No raw edges, just elastic covering the inside for softness and the outside for a clean finish.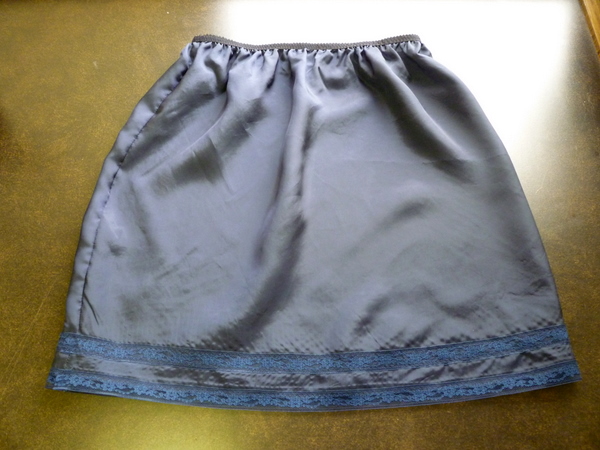 Adding more ease made a way more comfortable slip! If you have a larger derriere, or thicker thighs, consider adding 4-5 inches of ease instead of three. Also when you measure thighs, you'e measuring them with your legs closed, so as soon as I stand normally the slip starts to ride up and strain at the seams.
This one's way easier to walk in than Version 1. Version 3 will have more ease like this one. (Glad I didn't cut them all at once!)
Here's what it looks like on – yes, I'm standing on my chair to take the photo in the mirror! We'll have to set up something more glamorous for the Me-Made-June outfit photos.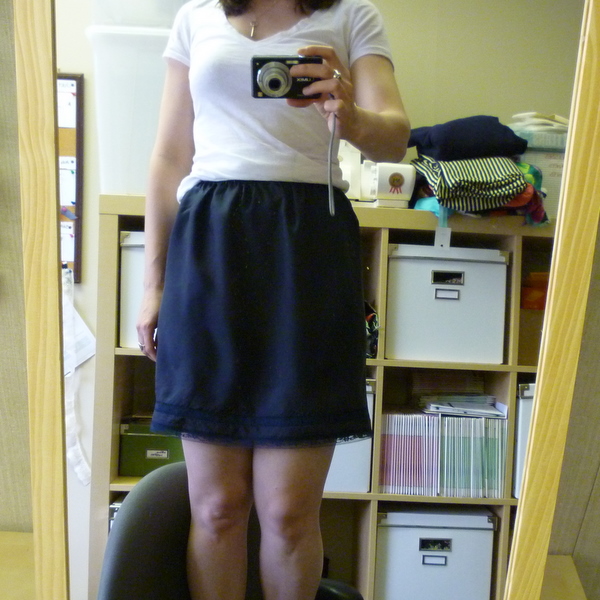 I wanted you to see that it does bunch around the waist, because I have a small waist compared to my hip measurement. That's all right, because it will be hidden under a skirt, and because the fabric is so thin it will lie flat under another layer. Flat enough, right?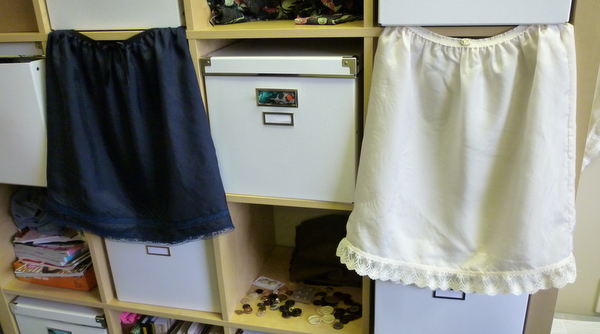 Trying on both slips again, this one is definitely more comfortable around the waistline too. The fold-over elastic is softer and hides the gathers, keeping the folds and bunches away from your waistline.
Side note: I wonder if I can bike in a slip? I'll try it and report back!
I planned to skip the rosette this time, as this one felt more utilitarian, being navy and with flat lace. But it looked too plain, so I added a black ribbon bow at the centre. Luckily, I had this little scrap of ribbon in my stash! This is a good way to use up little bits of ribbon, or single rosettes or appliques. You could even add a larger applique to the hem area! No one will see it but you.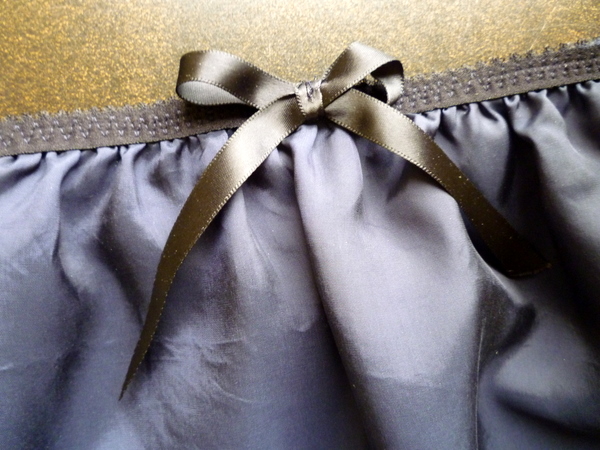 Things I like about Slip Version 2:
It's way more comfortable with the extra couple of inches around the hips.
Love the fold-over elastic! While it's harder to sew on, it feels nicer and finishes off the waistline better.
Because it's navy, it's not completely see-through. Not a big deal, but it does mean I can walk around in my slip if I wanted to!
The bow is a really cute touch at the front.
Things I'd change next time:
The seam binding lace is a bit stiff, and adding the second row made the hemline even stiffer.
When sewing on the lace trim, the needle left little strain-marks on my lining fabric. It may be because I need a sharper needle, or because the fabric is too delicate to have heavy trim applied. (What do you think caused this?)
Next up: Slip version 3! The next slip is going to be red, purchased specifically for wearing under my Crescent skirt.
Have a lovely weekend, everyone!