Hello, everyone! Today I'm making a slip and I'll show you how. This is more of a Slip Experiment than a genuine tutorial – though you can definitely follow along with the steps to make your own slip! I'm going to experiment with some variations and make up a couple of slips, and see what we can learn from trial (and possibly error!)
I'm planning to make three slips, using different trimmings, and hopefully improving with each one.
Today's slip is cream-coloured, with cream lace and cream elastic: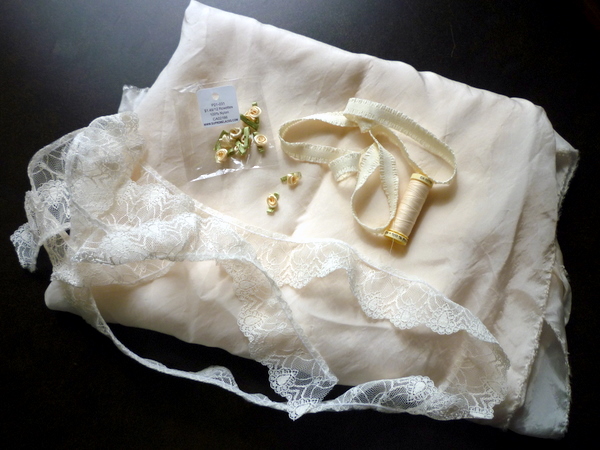 Feel free to get started on your own slip after today's post, or wait until I've made all three so you can choose the techniques that work best and learn from my mistakes!
You'll need:
Slip fabric. I used rayon lining fabric – we call it Bemberg lining here but I never see anyone call it that on sewing blogs, so maybe it has different names? It's the nicest-feeling lining and my personal favourite for all projects.
Elastic for waistline. I used elastic with decorative edges because it was a good match for the cream fabric and because I thought it would feel soft.
Lace for hemline trim. I used a pre-ruffled lace because it was the closest colour match. (I found plenty of white lace options but not a lot of cream lace.)
Matching thread
Optional:
Rosette or ribbon for decoration
Pre-wash your slip fabric. For me the best part of the slip is that I can wash it separately, without having to wash the whole skirt! So I definitely pre-wash my slip fabric.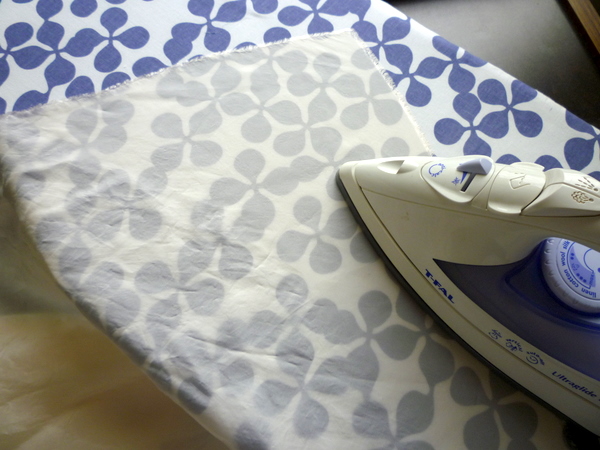 Iron out the wrinkles. I use steam and on the stubborn wrinkles, I spray them with water. It worked for me!
First, figure out how long you want your slip to be. Gertie's tutorial suggests it should be 3″ shorter than your skirt. One of my books recommends 1″ shorter than your finished skirt. I think it's completely up to you!
What I did was measure my finished Crescent Skirt: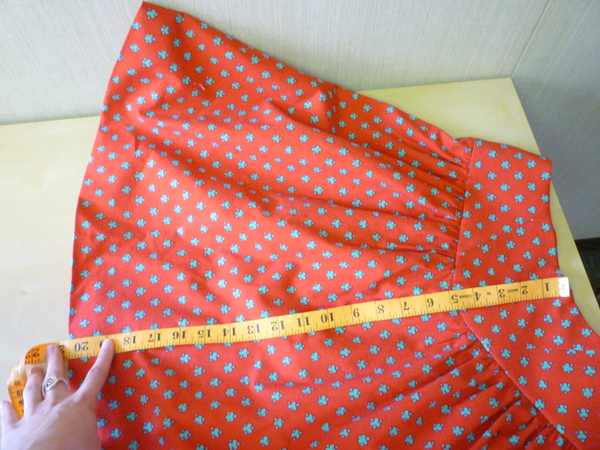 If you haven't finished the skirt yet, use the finished measurements on the back of the envelope as a guide, or measure a skirt from your closet.
Then, I used a little math to calculate the length of my slip, and the width. So I made you a handy worksheet!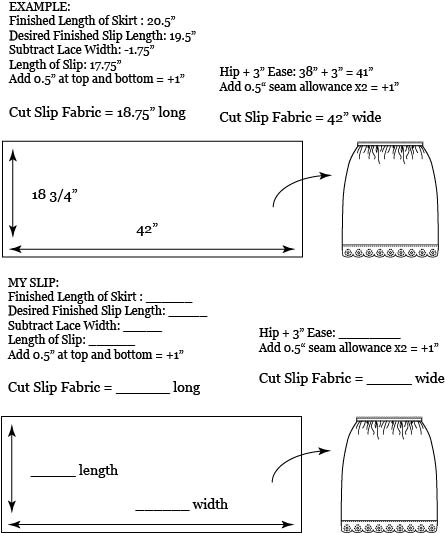 Right-click the image to save it to your computer, and print out a copy for your notes. Then fill in the measurements following my example above!
Because everyone will have different measurements, I thought this would be an easy way to follow along, that lets you customize your slip the way you want. Leave a comment if you have any questions!
Note: My lining is wide enough to cut my slip with one sideseam. If your lining is narrow, add an extra 1″ (2.5cm) to the width measurement of your slip. Then, divide your width in half and cut two rectangles, measuring half the width and all of the height. (If we use my measurements above, we'd have two rectangles 18 3/4″ high and 22″ wide.)
Once you have a rectangle of lining fabric, sew the sideseams. This is another great place to use French seams!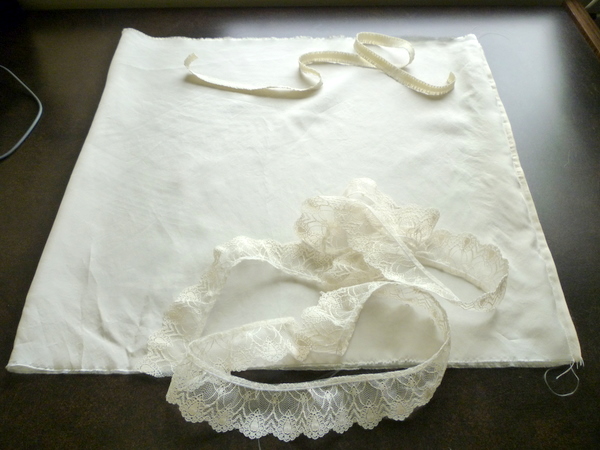 Now we'll add the elastic to the waist, and lace to the hem. Starting at the top edge, press under the 1/2″ (1.2mm) seam allowance.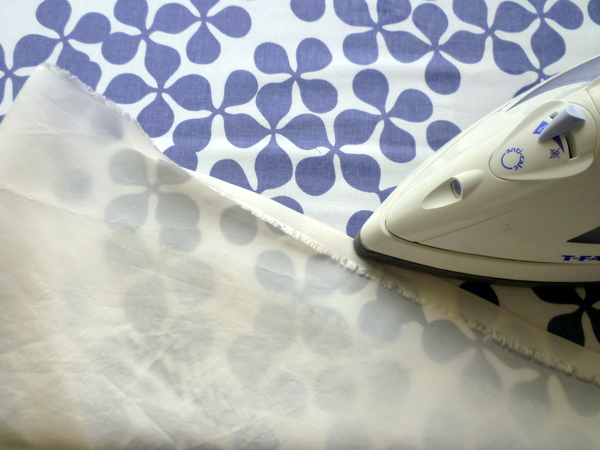 Now take your waist elastic, and measure around your waist snugly. I'll mention this again at the end but you will want it to be snug around your waistline, so pull the elastic tight without being too tight.
Overlap ends of elastic approximately 1″ and trim off the excess. I like this overlap-and-zigzag method because it's flatter than sewing a seam and having a seam allowance on the inside.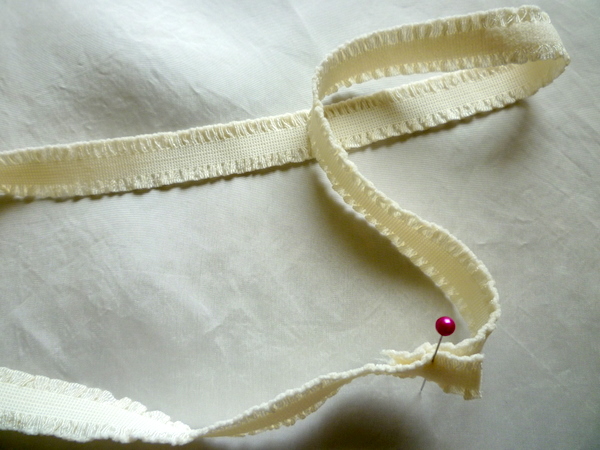 Zig-zag on top of the overlapped part, up and down a few times. Trim your extra threads like I didn't do before taking this photo!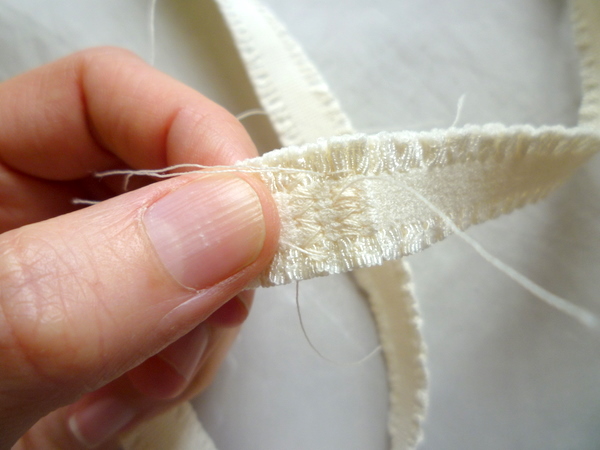 Divide your elastic loop in half, and half again, marking these points with pins. You'll have four pins dividing the elastic into quarters.
Do the same thing with the slip skirt. Mark halfway from your sideseam, and then divide these points in half again.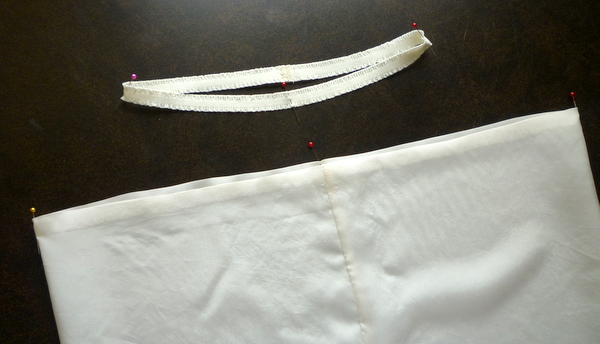 Pin the elastic to the folded edge, matching the pins on the elastic to the pins on the skirt.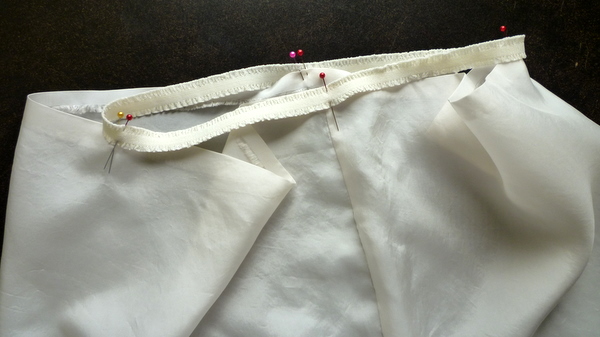 With a zig-zag stitch, sew the elastic to the slip without stretching, for a few stitches only. I lined up the folded top edge of the slip skirt with the un-crinkled part of the elastic.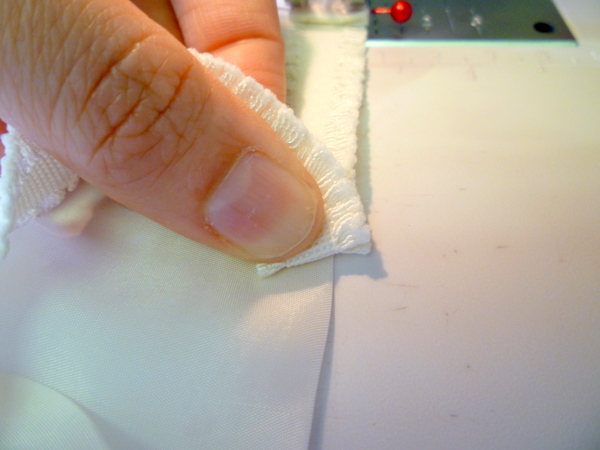 Now that the elastic has been secured to the slip, it's time to stretch the elastic! On mine, because my hips are so much bigger than my waist, my elastic is stretched as far as it possibly can. Yours might not be as strained, but it's OK if it is! It will shrink back into place after we're done.
Here's what it looks like, stretched: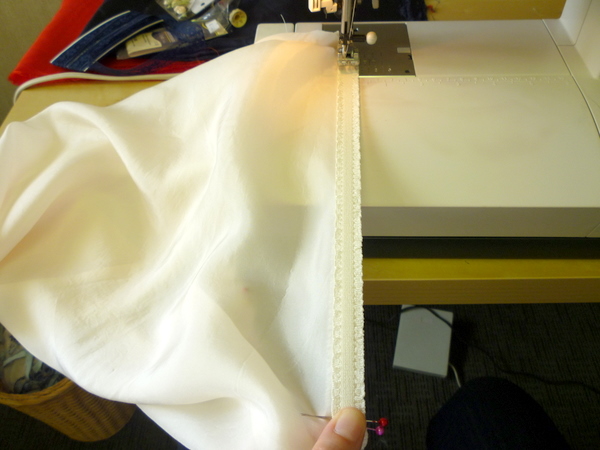 You will always want to keep your needle stuck in your elastic if you lift the presser foot, or it will spring out of place. That's how mine is staying in place to take the photo!
When you sew, sew with one hand behind your work, stretching the elastic, and one hand in front, also stretching the elastic.Use lots of pins to keep the elastic from shifting. When you get back to the starting point, overlap your zigzag stitches about 1/2″ (1.2cm) over the starting stitches.
Here's what your waistline will look like. Steam it to shrink the elastic back into place!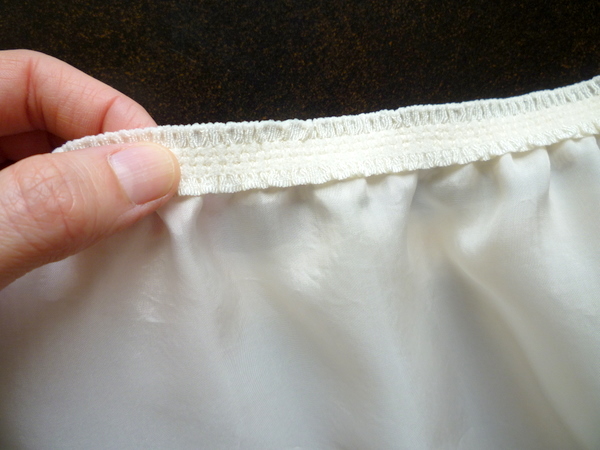 Next, I wanted to sew a rosette to centre front, as a pretty detail, and so it's easy to tell the front and back apart.
On a side note, I used to pick things like this off my underwear and clothes as a kid. I hated the little bows, flowers or appliques on panties and bras. I remember particularly hating a tennis-racquet applique on a training bra. How ironic that I like things like this now!
And go figure, the rosette fell apart on me!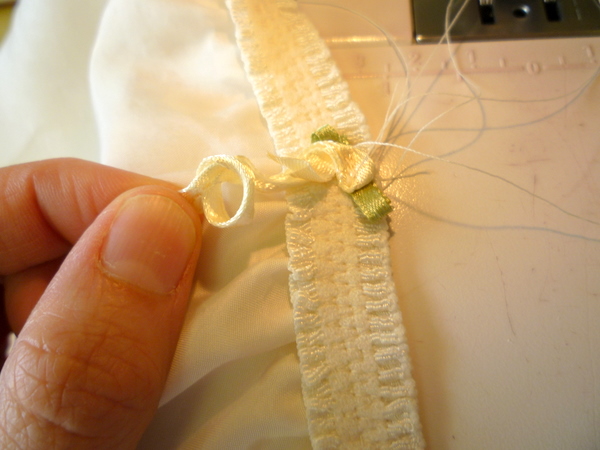 So I stitched right through the middle, squashing it down. It's a little flatter than before but still looks cute and makes it easy to tell the front and back apart!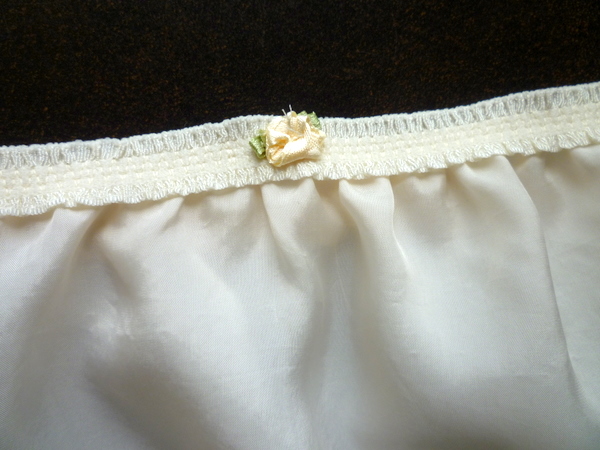 Next, let's add lace to the hemline! I wanted to hem my slip first so the raw edge was hidden. I pressed up the 1/2″ (1.2mm) hem allowance, and then turned in the raw edge forming a 1/4″ (6mm) unstitched hemline.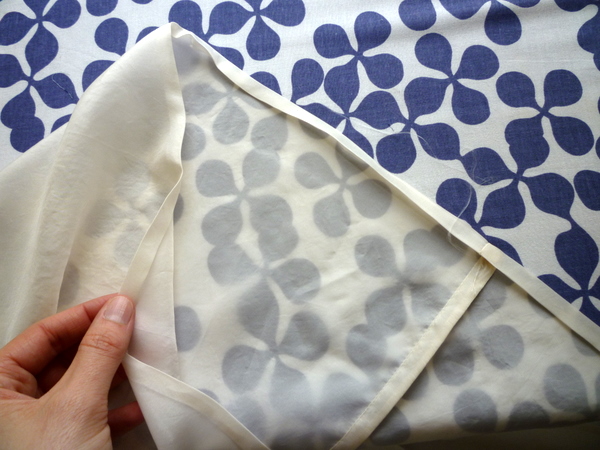 Then, I pinned the lace on top of this folded edge: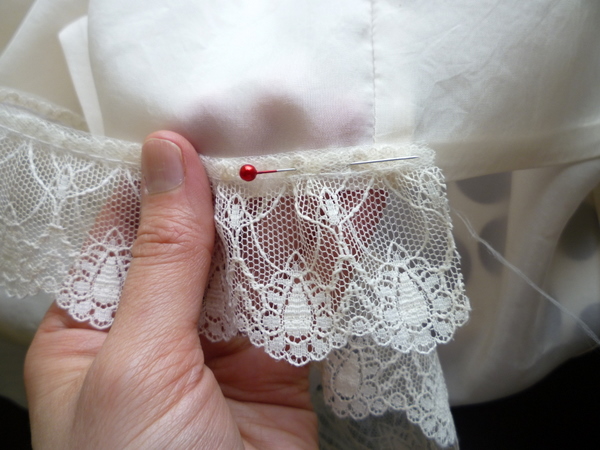 I stitched the lace on with a zigzag stitch, overlapping the stitching when I got back to the start point.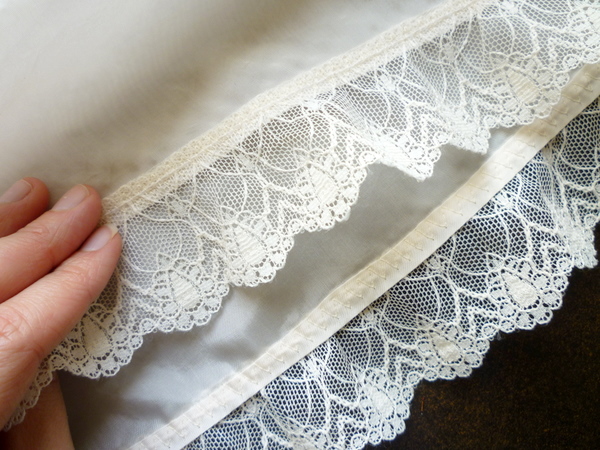 Here's the finished slip. Rayon lining is super sheer! I can't model this one for you guys, it's too revealing.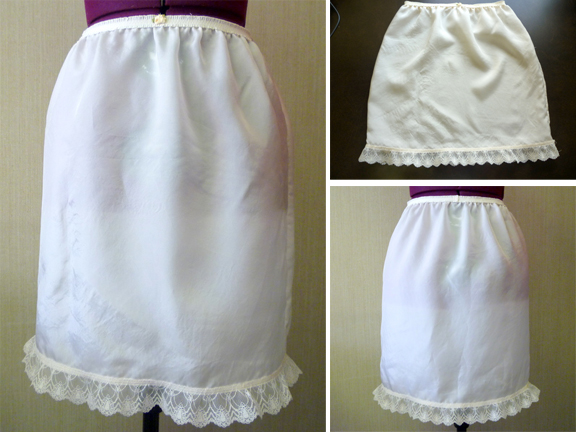 If you're curvy on the bottom, you may want more than 3″ of ease around the hips. Then again, I tried it on under my Crescent Skirt and it's pretty comfortable!
It does restrict your movement a little, especially if you like the freedom of a full skirt.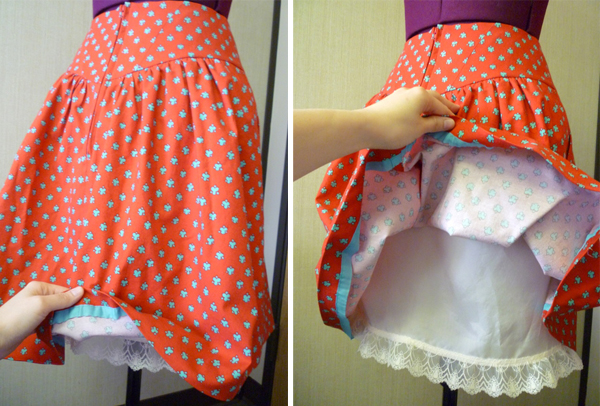 Things I like about Slip Version 1:
It's soooo pretty! The more I look at it, the more I like it.
It feels incredibly lady-like to own a slip like this. It was fairly simple to make and I'm envisioning a rainbow row of tights hanging in my wardrobe – so glamorous! (Although then I would own more slips than actual skirts..)
The lace is super cute if it sticks out of the skirt when you walk, or twirl, or ride a bike!
Things I'd change next time:
The ruffled-edge lace won't lie flat under slimmer skirts, and might catch and snag tights. I'd look for flatter, equally pretty lace options. (Of course that all depends on whether you want it to be cute and pretty, or smooth and functional.)
Rosette is good to identify front and back! But may be lumpy. Alternatively, you could sew a small bow to the front. Or a flatter rosette or applique.
Elastic at waistline is a little too loose. Next time I'll pull it tighter than I think – or measure this one and snug it in a little!
To give you an idea, my slip waistline measures 24″ and my actual waist is 26″ – and it's still quite loose! It's comfortable, so I'll wear it and see how it holds up during the day.
I'd sew on the elastic to the waistline so the elastic is against the skin, not on the outside. I have a feeling the elastic would have been softer than the lining edges, now that it's finished.
What do you think? Have you made a slip? What were some of the things you liked and didn't like about yours?
What would you have done differently, and what would you suggest for people who are making their first slip? Comments, opinions, suggestions are welcome!
Next up: Slip version 2!