Today, let's talk about fabric options for the Minoru Jacket. We'll be looking for light to medium weight woven fabrics, but as with most patterns, we can always bend the rules a little bit! I'll list some options that I think would work well, and mention some things to keep in mind as you select a fabric. If you have any other fabric suggestions, or questions on using a specific fabric, leave a comment below!
Choosing your Main Fabric
The easiest choice is cotton canvas or twill. Twill has diagonal lines, canvas doesn't have a visible stripe or diagonal pattern.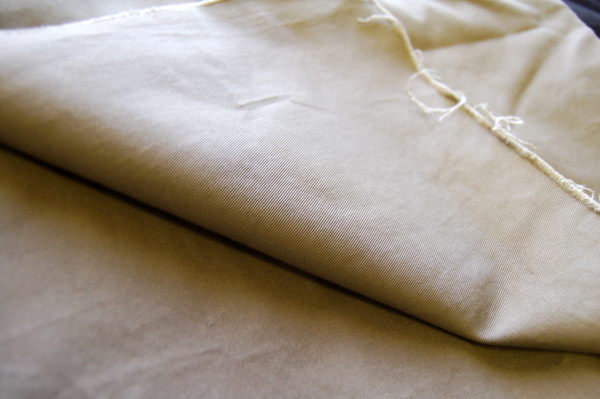 Cotton is easy to sew with, easy to press, and durable. This will give you a more casual look, although it all depends on what you wear with the jacket! Denim is another cotton fabric that's easy to cut, sew and press. Cotton fabrics look great with contrast topstitching, especially on denim!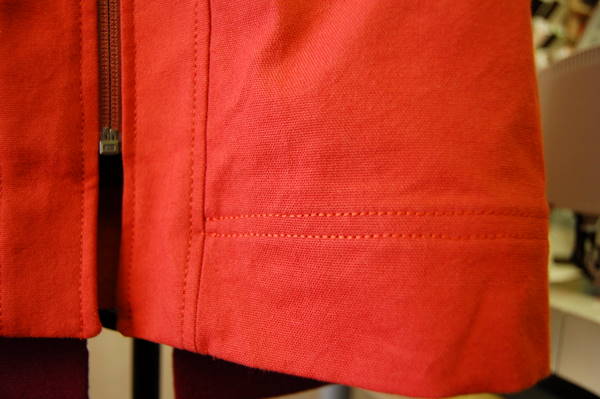 If you're looking for more of a rain jacket, nylon is great! A lightweight nylon works for a windbreaker-style jacket too, if you're less concerned about wearing it in the rain but like the look of a sporty jacket. For sources, and tips on working with waterproof fabrics, check out Caroline's guest post on Sewing Waterproof Outerwear.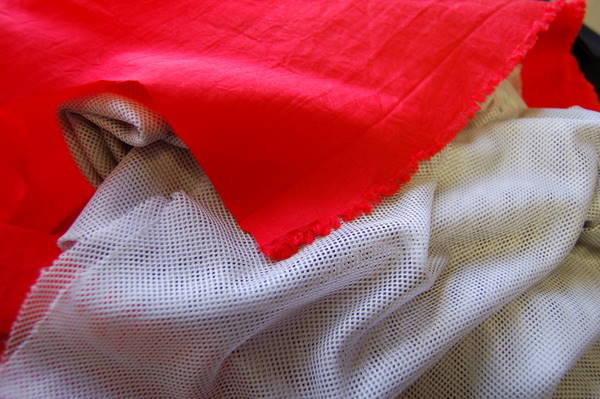 Corduroy, velveteen and velvet would be warm and luxurious for fall. With corduroys and velvets, you want to be sure that all of the pieces are cut with the nap in the same direction. Brush your hand up the fabric, and then back down in the opposite direction. It feels different, and some nap fabrics look different depending on the direction of the nap! Be careful when pressing velvets and corduroy fabrics. The taller the fluffy fibres stand above the surface of the fabric, the more special handling they require.
Or, choose something dressy! A tweed or wool would be really warm and luxurious, and a great contrast to the sporty style! Consider the thickness of the fabric – it needs to be able to gather.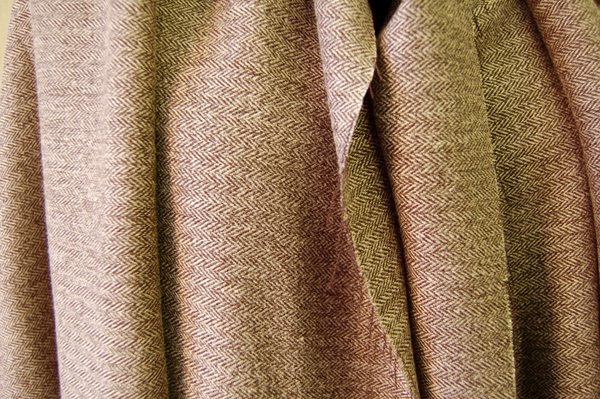 Try scrunching it up in your hand to see how it looks gathered. Is it thick and bunchy? Aim for light and medium weight tweeds and wools, rather than thicker fabrics. If your fabric is on the thick side, you may want to skip the hooded version as it may be too bunchy to roll up into the collar.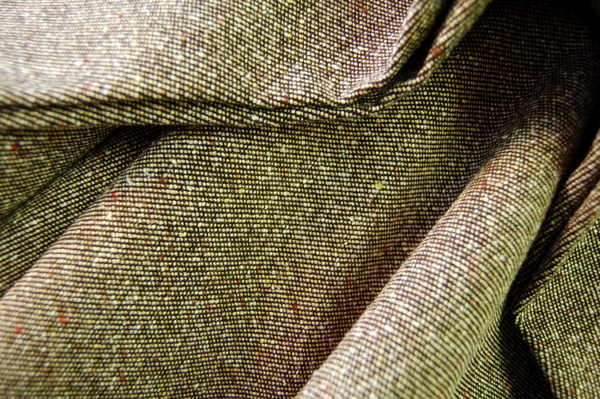 Linen or linen-look fabrics are a great option. I love the idea of a pale pink linen version, a little wrinkled and very lightweight. Or taupe linen for a hint of the safari-jacket look, but without the bulky patch pockets.
I've had a couple people ask about sweatshirt knits, polar fleece or other athletic-type knits. These would be great options! You'd end up with a flattering, fitted sweatshirt instead of the standard baggy hoodie. I bet it would look really cute and comfy! You could line it with a lightweight jersey knit, to keep it cottony and soft. Or, if you're using polar fleece, perhaps a mesh lining? You could skip the lining and modify the sewing directions for an unlined jacket but keep in mind a lot of the construction steps are based on having the lining there. I won't be covering how to sew this jacket as an unlined version in the sew-along (just because it's so different from the instructions) but you're welcome to give it a try!
Choosing a Lining Fabric
Get creative with lining fabrics if you like! I used a traditional polyester lining fabric with a suiting-style stripe, and it worked well.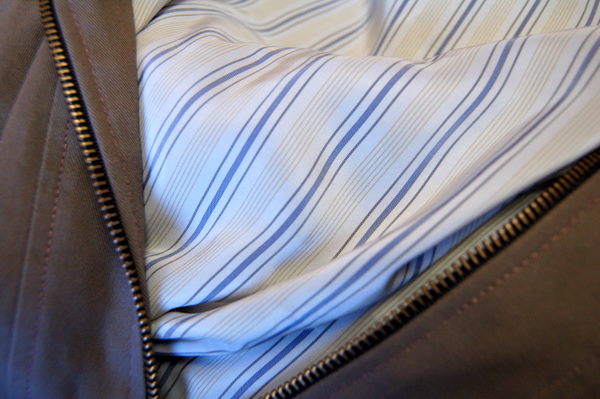 On the pumpkin-orange version, I lined it with a cotton batik-print. Using a cotton print gives you a chance to use a wild and crazy print, and makes it super-easy to sew! One thing to consider if you're lining with cotton is to line the sleeves with a slippery lining, so it's easier to pull on over sweaters and long sleeve tops.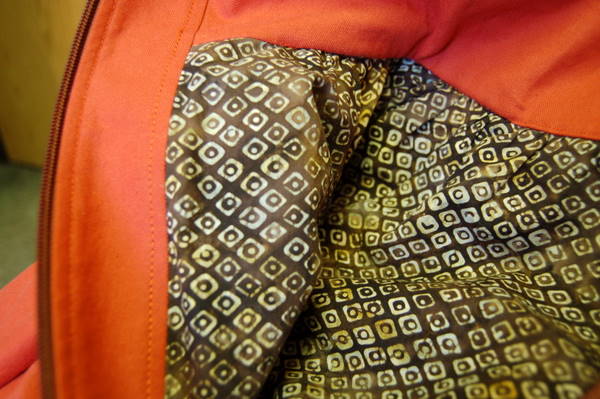 For nylon or sporty fabrics, mesh makes a great lining choice. A hole-y mesh might be tricker to sew than a less hole-y mesh, where the holes are spaced closer together.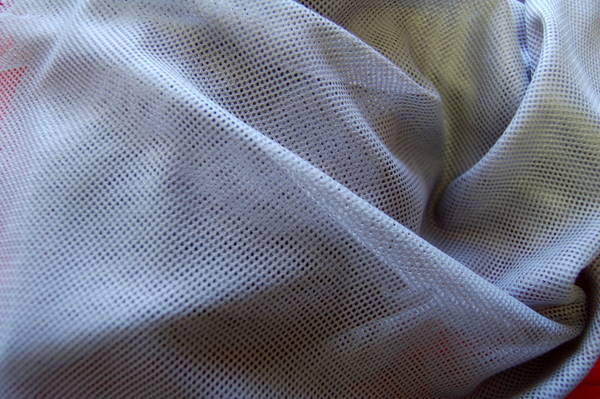 For my planned wool tweed version, I like Kasha lining – it's a thicker polyester lining with a brushed back. (I used it on the plaid cape project.) This lining is thicker, stable, and adds extra warmth. Fleece or flannel would also work for lining. Just make sure to add extra ease or go up a size. This pattern is designed for thin lining so adding a thicker one will change the fit of the jacket.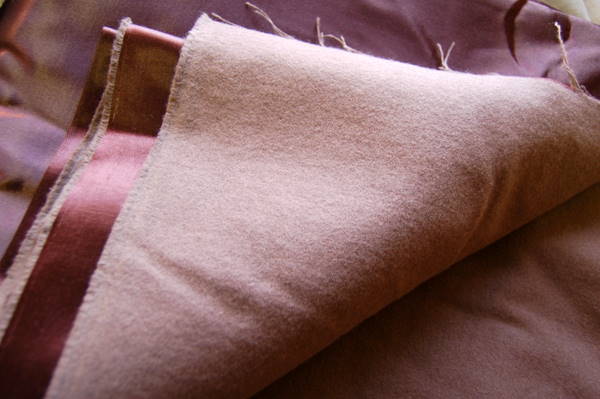 I hope this was helpful! With this pattern, it's easy to pick a fabric that will give you good results. Just about any light to medium weight woven fabric will work for you, as long as it's not too stiff to be gathered into the cuff and waist elastic.
What fabrics do you envision for this jacket? If you're sewing along, have you picked a fabric yet?