On the envelope back of the Minoru Jacket pattern, it says 'Not suitable for Plaids and Stripes.' And of course, most of us who sew like to bend the rules. People have already asked me 'but why? I love plaid! Why can't I make it in plaid?'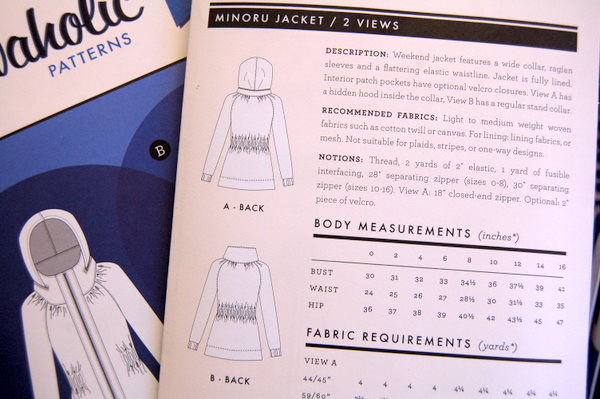 A lot of the time patterns will say that they are not suitable for plaids and stripes because the design of the pattern isn't going to look very good. If you notice, often one of the illustrations on vintage patterns will show a stripe. This lets you know the direction of the grain, and also how it will look in stripes if you follow the pattern! It's safe to say if there's a stripe on the cover art, you can use a striped fabric. They're giving you a subtle clue that stripes are OK!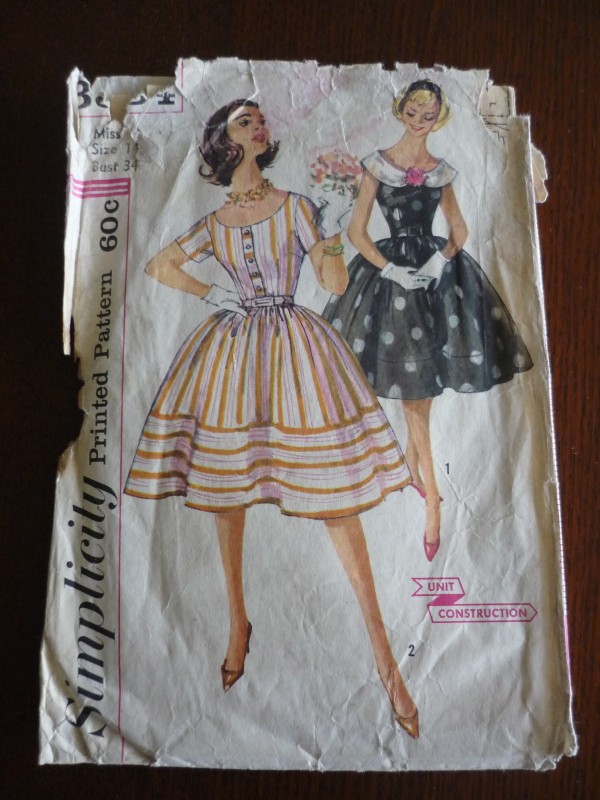 (Here's a great example of how the same pattern will look sewn up in both solids and stripes. The cover illustration shows exactly where the stripes will fall on the garment!)
On the Minoru Jacket, the plaid lines are really hard to match with the raglan seams. With the gathering into the collar, the plaid lines will slant and look strange. Plus, there's the elastic casing. Imagine if the stitch lines aren't aligned with the plaid lines? I think it would look sloppy and you wouldn't be happy with the final product.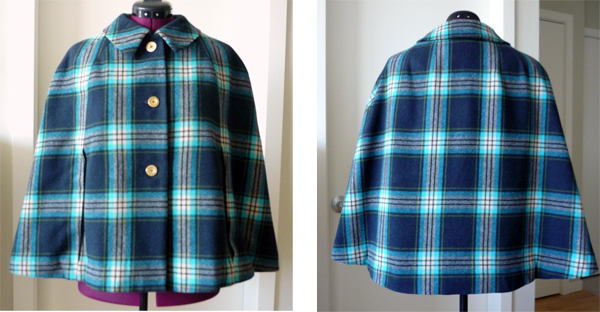 (imagine if the neckline of this plaid garment was gathered – it would look very busy and scattered around the neckline and collar area!)
But once the pattern is in your hands, you have total creative control!
So if you love the idea of a plaid garment, and really want to use a pattern that says Not Recommended for Plaids, here are some ways to test it out. Try laying the pattern pieces on the fabric before cutting. See what it looks like. Is it going to look weird? Or impossible to match? Are there too many seams that will cut up the lines of your stripes or plaid?
Or, draw the plaid lines onto the pattern tissue, and hold it up to yourself. Where are the plaid lines going to go? Are they straight?
Still want to work some plaid into your Minoru Jacket? How about a plaid lining, like Molly's jacket? That way you get a peek of plaid without worrying about matching on the outside.
Have your heart set on plaid fabric? Here's a post on how to match plaids.
I hope that answers the question on why plaids aren't recommended, and gives you some ideas on how to break the rules and work plaid into your Minoru Jacket. Let me know if you have any questions!
Next up: a post on fabrics that are recommended for the Minoru Jacket pattern!