I finished the cape! Here are some photos of the finished Tartan Plaid Cape, made from a vintage pattern from 1964, Simplicity 5669. It's cosy, warm, and feels fun to wear – like the best mix of comfortable and dramatic. What do you think?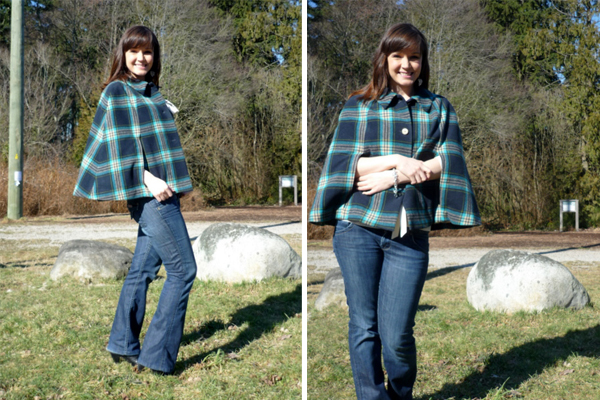 I had a hard time styling this cape, mostly because I don't own the things that fashion magazines would put with it: skinny jeans or leggings with tall boots. So I settled on regular jeans. Ideally, I'd love to wear it over a slim navy dress!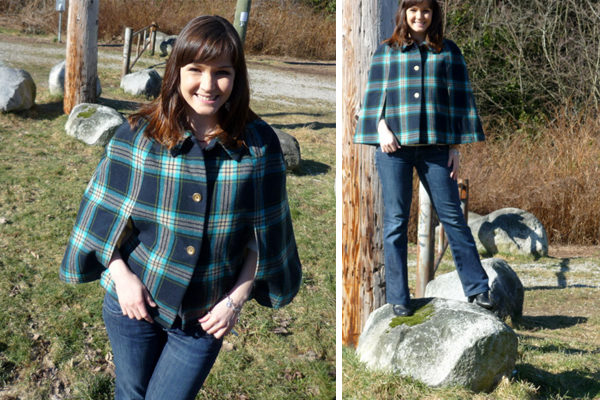 Kind of woodsy, don't you think? I don't love it with the jeans, but I really wanted to share the finished cape photos. Love the top half of my outfit, not crazy about the bottom half. Ah well! Pretend I have a cute navy skirt on instead.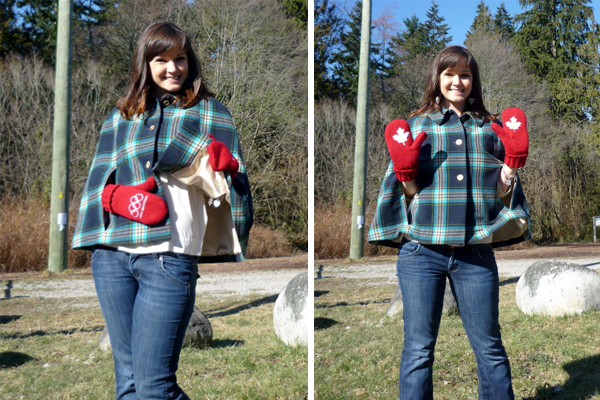 Olympic mittens! Yes, they're a little too sporty for the cape, but they're super warm, and work with my woodsy look.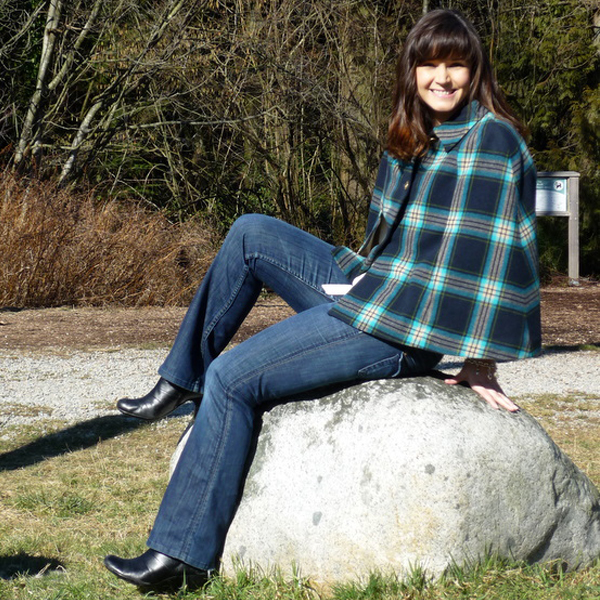 I had a lot of fun posing in a cape, can you tell?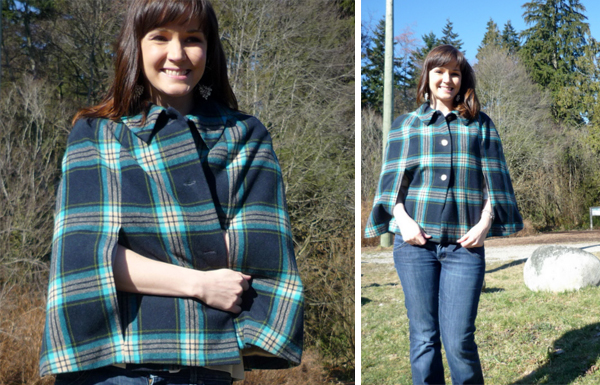 For a pattern from 1964, it looks rather modern. Would you believe it was a sixties pattern if I didn't tell you so? Perhaps that's because capes are in fashion right now, so it seems current. I hope they stay 'in' for a while so I can get some use out of this one! Although, I'll wear it anyways, fashion rules or not!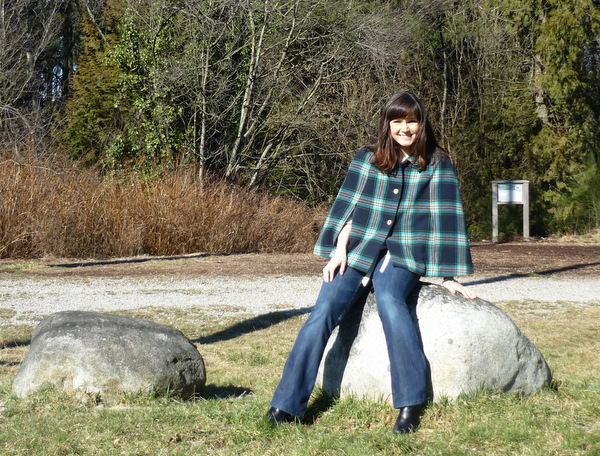 Take a look at the beautiful plaid matching. It matches pretty close along the seamlines and along centre front, and around centre front to the facings. If you cut the plaid carefully, the sewing part is easy.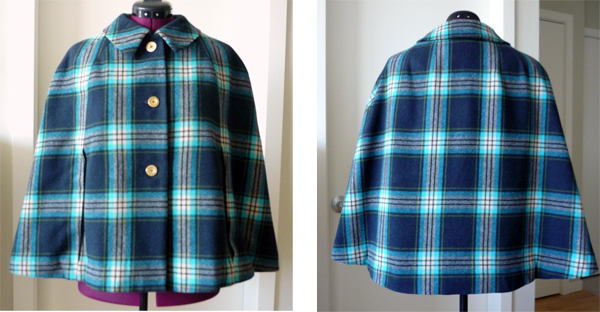 For the button placement, I decided to ignore the pattern markings and instead, centre the buttons in a plaid square. This was after marking the top buttonhole and thinking, does it work out that the buttons are in the dark navy square every time? When it didn't work out like that on the pattern tissue, I decided it would look nicer if I lined them up anyways.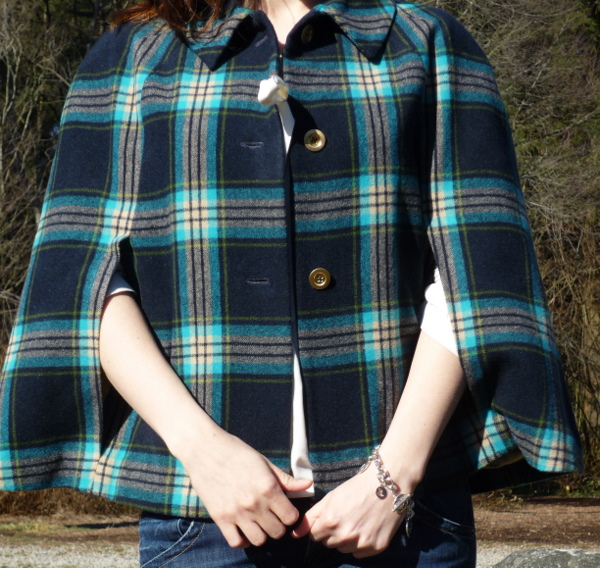 I originally thought of doing hand-worked buttonholes, mostly because I'd missed the window for bound buttonholes. When I did a sample buttonhole, it was not good, let me tell you! So I went with machine-worked buttonholes and luckily, all three turned out just fine.
Want to see the inside-out shot? You got it! I set the lining in by hand after constructing the cape body. This Kasha lining – with the flannel backing – is so easy to work with, and makes the cape extra-warm. (As warm as something with open hand-holes can be!)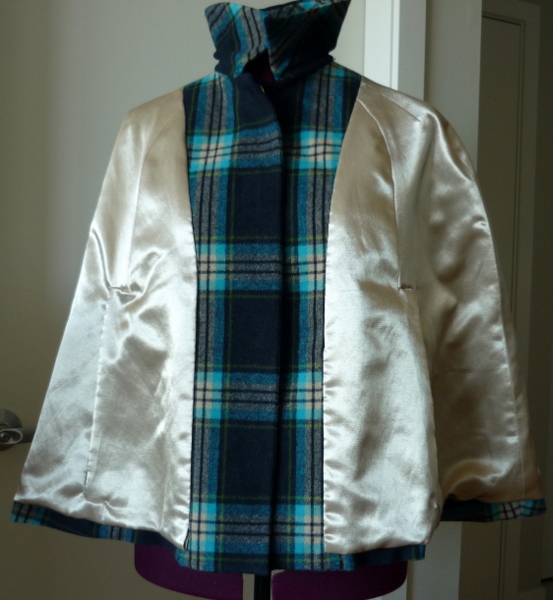 Here's the back-story on the cape, to see more of the inner workings:
Final verdict? It's not an everyday piece, but it sure is fun to wear!