I'm thrilled to introduce the FOURTH pattern from Sewaholic Patterns – the Minoru Jacket!
The Minoru Jacket is a zip-front weekend jacket with a secret hood hidden inside the wide collar! If you prefer, skip the hood and let the dramatic collar be the focus. Flattering raglan sleeves are comfortable and easy-to-sew, and the elastic waistline creates a slim, curve-hugging silhouette.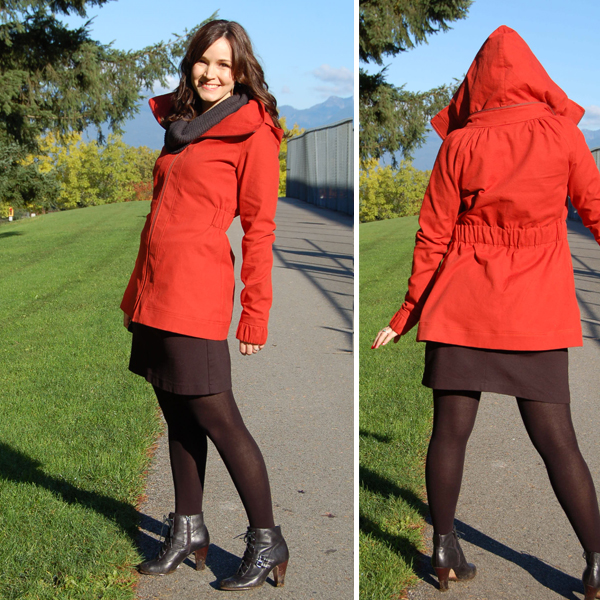 No need to choose between having a hood OR a cute collar. The hood is tucked away in the wide, roomy collar, ready for when you need it, but stays hidden when you don't! The collar looks great done up or left open. And if you're a cyclist like me, the front collar is great for keeping your lower face protected while commuting!
The jacket is fully lined, with interior patch pockets to stash your cards and keys safely and out of sight.  I'm a fan of using colourful or printed lining, it's a great way to add fun to an otherwise practical garment. If you're hesitant to sew slippery lining fabrics, choose a cotton or mesh that's easier to sew. This sample is lined with cotton batik-print and it was incredibly easy to work with compared to standard lining fabrics.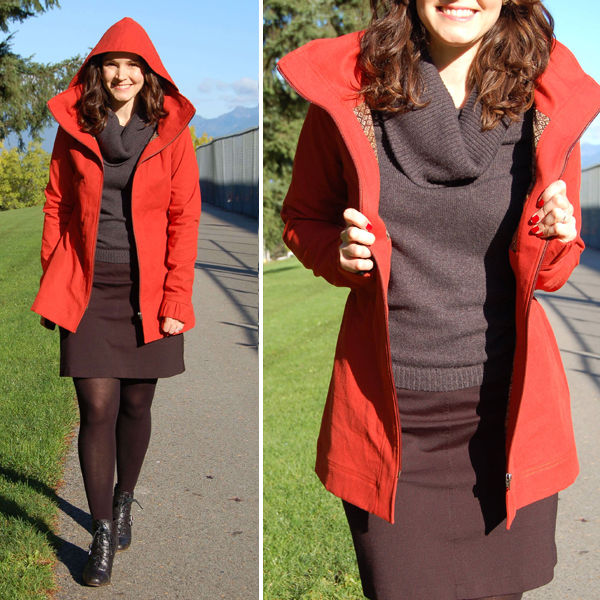 Where did the inspiration come from for this style? It all started when I started commuting to work by bike. I knew I'd get rained on. It's just a fact of life here in Vancouver – rain happens. And I really wanted to be one of those cool, fearless, all-weather cyclists. So I started biking in the rain. And got wet. I started borrowing Mr Sewaholic's rain jacket (looks somewhat like this) – it wasn't sexy, but it did the trick in keeping me dry until he wanted it back.
Then I started shopping around for rain jackets. I wanted something that fit me like a girl, was reasonably cute, and not too steep in terms of price. I had such a hard time finding a jacket I actually wanted to fork out the money for! Prices were over $200 for the reasonably cute and properly waterproof ones. Which was fine, if I loved them. But I didn't! I wanted one long enough to cover my butt, or at least come close to covering it. And I wanted to find one in a fun colour, not black or beige.
So – I designed my own pattern! And I couldn't be happier with how it turned out. When I made up the first sample, I realized right away that even though the original intention was for it to be a rain jacket, it would look fantastic in cotton canvas or twill for a casual jacket.
I'm pretty thrilled about this design. The best part? This jacket fits me like a girl. The elastic waist is comfortable to wear, flattering to our curves.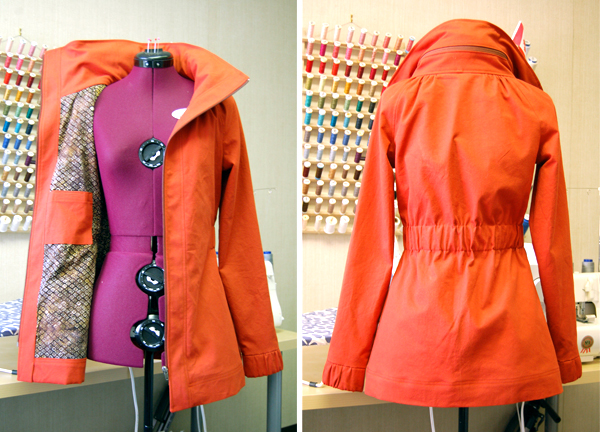 The pockets are safely hidden inside the jacket. Whatever you're taking with you will stay dry and protected inside.
Don't need a rain jacket? This pattern works equally well in cotton canvas or twill! I used a cotton canvas for this sample and it's comfortable, casual and easy to sew. Make the Minoru Jacket in lightweight nylon fabrics, denim, tweeds – just about any light-to-medium-weight woven fabric!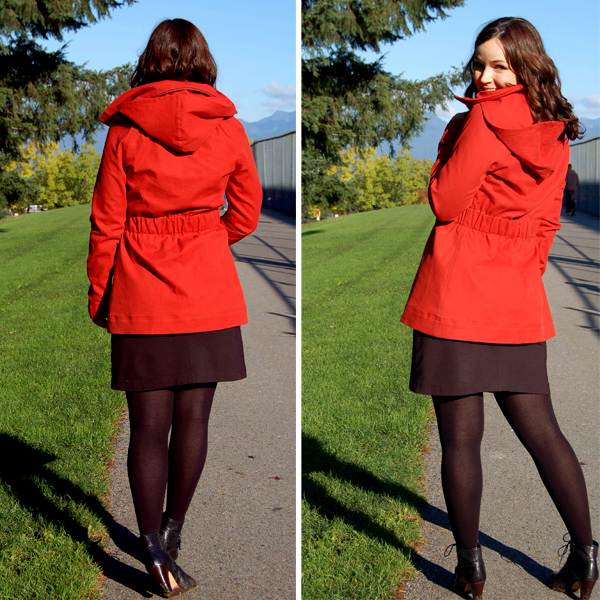 Perfect for autumn walks in the park, rainy days – and if you love the outdoors, it's great for cycling or running!
What does the name mean? The Minoru Jacket is named after Minoru Park in Richmond, BC where I grew up. When I was a kid it was an awesome place to go! Not only did it have a (tiny) waterfall and (equally tiny) hills to roll down, but there was also a swimming pool and an ice-skating rink. I'd go there for walks later on in my teen years, as it was right by the local movie theatre. This jacket is designed to be practical but pretty – something you'd wear with jeans for a walk in the park, or with a floral dress and pumps for date night. I hope you like it!
The Minoru Jacket pattern is out for printing right now, and is scheduled to ship by mid-November. Pre-sales are starting very soon! Sign up to the mailing list to be eligible for advance ordering and special offers.
Have an awesome Monday and stay tuned for more on this exciting new pattern!