Hey, everyone! I'm super excited to have Caroline of Little Package as a guest on the blog today. Caroline has been a long-time reader of the blog – you've likely seen her name come up in the comments before! She's combined her love of sewing with her love of cycling to create Little Package, offering handmade cycling caps as well as sewing patterns to make your own caps. I never thought about cycling caps until it started getting colder out. Now I have my eye on one of these cosy earflap caps to keep my ears from freezing off!
Caroline is smart, adventurous and practical, so I knew she'd have great suggestions and tips to share with us on sewing for the rain. The waterproof jacket she's making is actually a surprise for her guy – how lucky is he to receive a customized, waterproof cycling jacket as a present? Very lucky! I'm dying to hear his reaction when she gives him the finished jacket. Here's Caroline, looking very cool on her bike, with her tips on sewing waterproof outerwear! — Tasia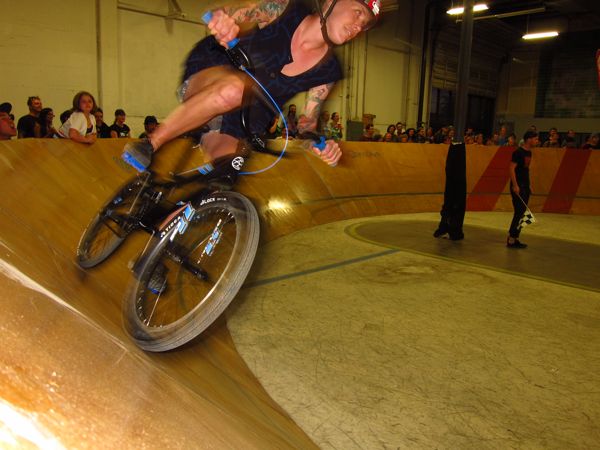 Hello Sewaholic readers! I'm so pleased Tasia has given me the opportunity to share my experience sewing waterproof outerwear. This came about when I mentioned in Tasia's comments how I am making a waterproof cycling jacket for my boyfriend. Sometimes I wonder why I get myself into such ambitious sewing projects, but at the time it seemed obvious: he loves the color green, he likes a rain jacket a friend loaned him, and I love to sew. We're both car-free in rainy Portland, Oregon, so we know exactly what we like and need in bike gear. It's just a matter of translating it into materials and skill. I'm an experienced seamstress but fairly new at waterproofing. I'll share with you what I've learned while making his rain jacket.
First off, be honest with yourself: why take on the (advanced) project of making your own rain gear? It is exciting to choose and edit an outerwear garment's color, cut, and features, and when it is complete and wearable you earn major bragging rights… but that may be about it. There are a few reasons why you might consider just buying rain gear from your local outdoor store instead:
Price. Without discounts, you are likely to pay just as much for custom rain gear as store-bought. Most quality waterproof fabrics top $20/yard, seam-sealing tape costs $1.50-$4/yard, and water resistant zippers are dear. That said, some GoreTex rain jackets top $500. Most handmade goods are priceless.
Time. Count your time investment, especially if you are seam-sealing every single seam.
Access. Can you find the fabrics you desire, notions like fobs and water resistant zippers, and seam-sealing supplies?
Frustration. Once a seam is sewn, and especially once it is seam-taped, it's pretty much final. Mistakes are sometimes very tragic.
Result. Are you happy with a less-than-"perfect" result? No warrantee, no return, no guarantee of performance?
Cool, brave soul, let's go!
Materials:
Waterproof/Windproof/Breathable (W/P/B or WP/BR) 2, 2.5, or 3-layer; water-resistant breathable fabric like uncoated fabric with a DWR (durable water repellant) finish; or non-breathable fabric like nylon coated to be waterproof. REI provides an excellent overview of these fabrics and how to choose them, so to avoid redundancy, here is a link to their site: (http://www.rei.com/expertadvice/articles/rainwear.html). Did you know any synthetic machine-washable/-dryable garment can be waterproofed or re-waterproofed with DWR coating? You might just consider applying a waterproofing spray or wash-in product like McNett's ReviveX® after you've sewn up your rain gear. But – what about the seams?
Seam sealing:

Glue-style, like McNett's Seam Grip®, can be squeezed from a tube onto the seam line then allowed to dry (about 12 hours unless a curing agent is used). This can be done on a completed synthetic garment, and is the most economical and simple approach. Seam Grip® in particular is a time-tried bestseller because it dries clear, flexible, and is durable. (I am not affiliated with McNett's. I am just recommending the most widely available and popular waterproofing product.) Clear and simple instructions for glue-style seam-sealing products are available online and on the product packaging, so I won't repeat that here.
3-layer Melco or Gore-Seam cloth-type tape comes in different weights to allow for seam movement and minimize show-through of tape on the garment's right side. These days taping is ubiquitous in garments and outdoor gear. Manufacturing houses have the means to find the correct weights, technical properties, and even matching colors; and have machines to apply it, but home sewists might struggle a little more to locate and apply it. I'll talk more about my experience here later.
2-layer film type tape is also applied with heat, but even more frustrating to apply as it also sticks to Teflon when hot. You may see the clear kind in shops – it is invisible, flexible, but I have found that it is easily damaged by friction – seam threads eat through it. I'm not impressed anymore.

A Teflon sheet to protect your fabric and iron during seam-sealing tape bonding. eBay usually has biggest sheets for the lowest price (search for "Teflon sheet heat").
Sharp needles. Try smaller gauge sharp needles (8,10). They will leave smaller holes in laminated and coated fabrics and may gum up less. If you experience gumming (I haven't yet), it is recommended to swab the needle with cotton soaked in rubbing alcohol. Keep the alcohol away from your fabric. Change your needle frequently as synthetic fabrics dull needles quickly.
Polyester thread (any other thread type may rot)
Notions like zippers, zipper pulls, cord, and fobs. Water resistant zippers like YKK's Uretek or Riri's Aquazip are hard to find and expensive. I recommend getting lengths of #3 and #5 and adding your own pulls. Find a long, separating #5 and shorten as necessary if you are making a jacket. In a pinch you can install a regular coil zipper outside-in and cover it with a storm flap for water-resistant results. Before I started my project I looked at closures and cinchers and other features on fancy rain gear to get ideas and build a shopping list. Just because I'm making the rain jacket at home doesn't mean it can't have bells and whistles!
Sewing rain gear is like sewing any other project, except the materials are generally more pricey and each step involves more attention. There are more steps if you are using seam-sealing tape. ALWAYS map out and test all steps on scrap fabric until you are happy and confident before beginning on your actual project!
Skills & Tips:
If you want the pro look and are going to be using seam-sealing glue, go for felled seams. However, if you plan on taping your seams, keep it simple for your sanity: a seam with a 1/4″ seam allowance and about 10 stitches/inch saves fabric, cuts down bulk, minimizes needle holes in the fabric, and is seam-sealing-ready. Taped rain gear is sewn in a logical sequence, with each seam sewn, top-stitched, and seam-taped before moving to the next seam. I recommend folding the 1/4" allowance to one side (strategically so that water doesn't fall by gravity into the seam) and then topstitching about 1/8″ from seam.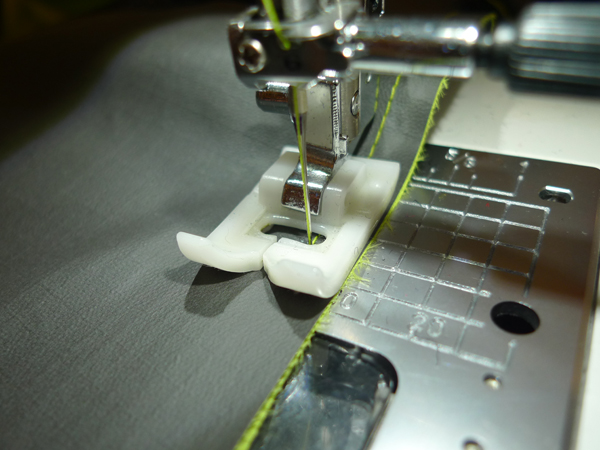 Another pro method is to 3-thread serge your seams and simply use the seam sealing tape to tack the seams strategically to one side or the other – skipping the topstitching.
Pieces can be pinned prior to sewing, but only in the seam allowances! You don't want needle holes anywhere else but in the seams, especially not in laminate fabrics. I didn't use pins. A Teflon presser foot and sacrificial tissue paper are good ways to get around uneven feeding and puckering. At times I needed to place a strip of tissue paper between a particularly rubbery fabric and the needle plate to keep it from sticking to the metal. The tissue tears away once you've sewn the seam. Some synthetic fabrics are stickier than others, so it may not be an issue for you. Test, test, test!
When cutting your length of seam-sealing for a seam, cut it so the ends don't extend past future seam allowances. For example, if you have a 12″ straight seam and are using 1/4″ seam allowances, cut a piece 11-1/4″ to 11-1/2″ long. This allows you to turn and top-stitch that future seam without the extra bulk of seam-sealing tape in the mix.
Seam-sealing should be centered on the seam, on the wrong side of the fabric. Most people don't have access to a seam-sealing machine or extra hands and a hot air gun, both of which heat the tape to melt the glue before applying it to the fabric. An iron works fine. I have my eyes on a Clover mini iron, but I made do without. Here's what I eventually figured out with my full-sized iron. Melco tape glue melts at 350' so I had it set on medium-high. I held short (3-4" at a time) pieces of tape in place over the seam, which would be draped over a small tailor's ham. Using an edge at the nose of the hot iron, I would tack down the tape first along the middle, then along each side, coming as close to the edge as possible without making glue leak out onto the iron. I would then place my clean Teflon sheet over that section and heat until I could see a little glue coming out the sides of the tape. (I can see through my Teflon sheet.) I then make sure my Teflon sheet is clean (rub off any glue) and move on to the next 3-4" section. It takes a while. All this and I'm aware my local technical fabric shop rents use of their seam-sealing machine…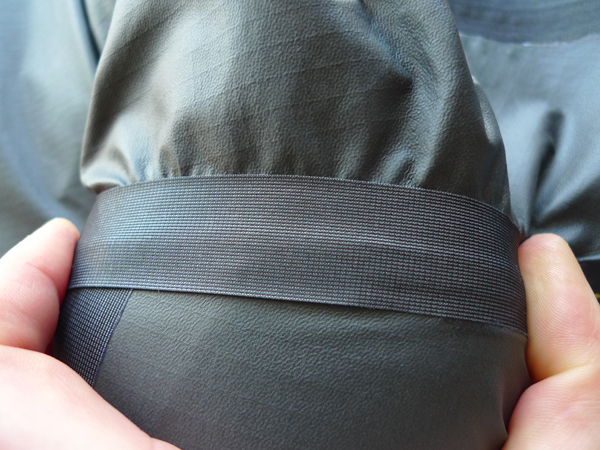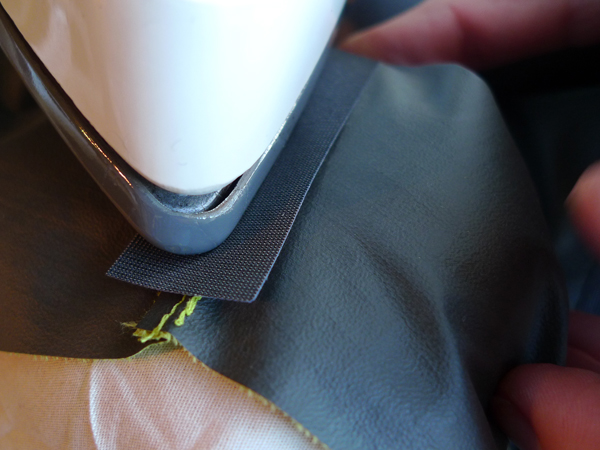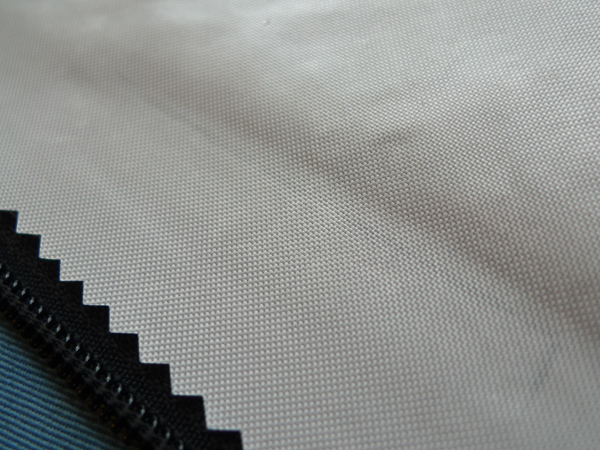 Seam-sealing tape can be torsioned and notched to follow curves.  Once I realized I could really twist it around the curves of my ham before tacking it down with the iron, I was able to get it on without incorporating wrinkles, and without having to notch it. Wrinkles are ugly but not the end of the world – unless they create tunnels to the seam. Sometimes the sealing can be re-heated, pulled up, and torsioned or notched to ease the wrinkle. Sometimes entire lengths of seam-sealing can be removed by re-heating it – but be warned this is a potential messy disaster.
Seam sealing tape or glue can be used to repair tears in technical fabrics. This is great to keep in your "toolbox" for torn technical goods. Just iron or squeeze it on!
For pockets and armpit zips, the best way to put in a zipper so that it can be seam-taped is to inset the zipper exposed (or even make a placket!), top-stitch around it, then seam-seal the inside raw edges. A separating zipper down the front of your garment can be put in with simple 1/4" allowances, topstitched, and seam-taped down the inside raw edges – so easy and clean!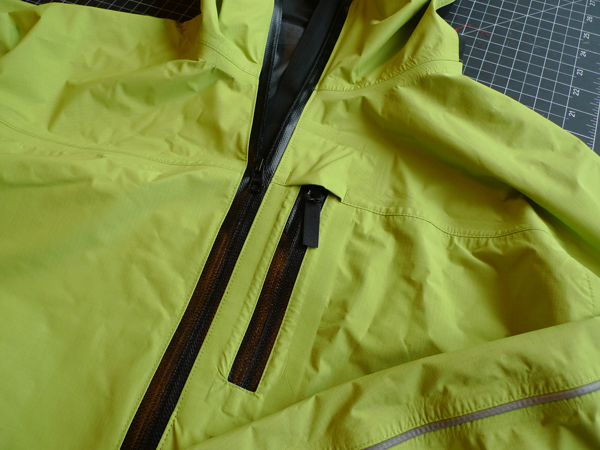 The first few seams I taped didn't come out perfectly, but as I went along I got better and better at it (after 15 yards one would hope so). Remember all the reasons I suggested you might not want to make your own waterproof gear? None of them matter to me now. I'm excited the jacket has special features like a great big hood that fits over his helmet (yeah, for some reason he likes this), reflective tape along the sleeves and back, articulated elbows so the sleeves don't ride up, and a dropped hem in the back to keep mud off his backside. And I have major bragging rights!
And Oh! Hey, Tasia – even though the hems aren't finished yet, I surprised him with the jacket on Saturday morning and he rode all over Portland in the drizzle. He is thrilled! He even let me take pictures to share with everybody! He likes the length, so I'll just be adding a casing for cording in the hem and a casing for elastic in the wrists… assuming I can wrest it back from him. I'll definitely be making one for myself.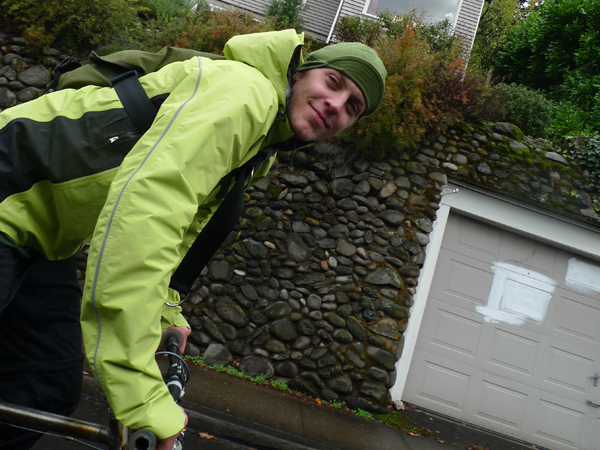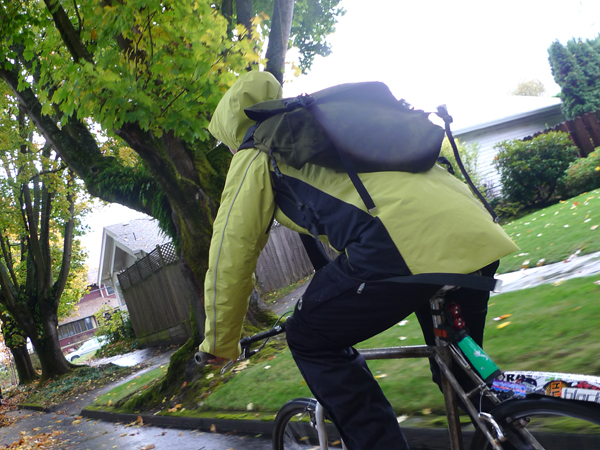 Sources:
Here are three great online shops which sell everything you should need to go waterproof. They are also great resources for ideas and advice.
Rose City Textiles, my local sports fabric store sells internationally
If you call, speak to Annette – she will help you. Love that lady!
Seattle Fabrics, sells internationally
Rockywoods, sells internationally