Hello, everyone! Canadians, did you have a nice Thanksgiving holiday? I did, but now I'm back to work on my Renfrews!
Look at how the fused pattern pieces cling to the fabric! They're not 'sticking' like they're sticky, but seem to grip to the surface of the knit fabric and don't slip around like tissue does. I could probably cut without pinning at all. (If you're just tuning in, I'm cutting a Renfrew Top and I just fused interfacing to my pattern pieces. I'm posting a few tutorials as I make this top, based on reader feedback and requests!)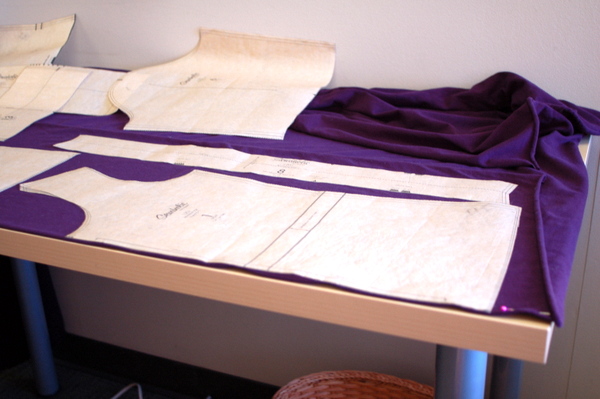 Yeah! Ok, back to talking about cutting fabric. Just a few little hints I thought of and wanted to pass on today!
One question that people have asked is 'Why are there so few notches on the Renfrew pattern pieces?' I'll tell you why.
The main reason is because I like to snip my notches inwards, about 1/4″ (6mm) into the seam allowance or slightly less. Snipping into knit fabrics can cause the loops to unravel, especially if you stretch the fabric a lot, so we want to minimize the snips as much as possible. I've only included them where absolutely necessary. It would be so much worse to pull on your fabric and have several notches stretch out, possibly causing runs in your fabric.
Also, the pieces fit together well and don't require a lot of notches to line them up properly. Most of the seams are short and straight, and if they're longer like the underarm and side seam that's sewn all in one motion) then there's a major point or intersection to line up, in this case the underarm seam. In the critical places, such as the neckbands or cowl collar, there are notches in place to make sure the band and collar line up.
I jotted down a couple of notes while I was cutting to share today! Here are a few thoughts on cutting knit fabric.
Cutting Notes:
Pin carefully around the pattern piece. If your knit fabric is particularly delicate, you may want to pin only in the seam allowances to prevent holes in the main body. (Not sure if your fabric is delicate? Test on a scrap piece and see if the pin leaves holes.)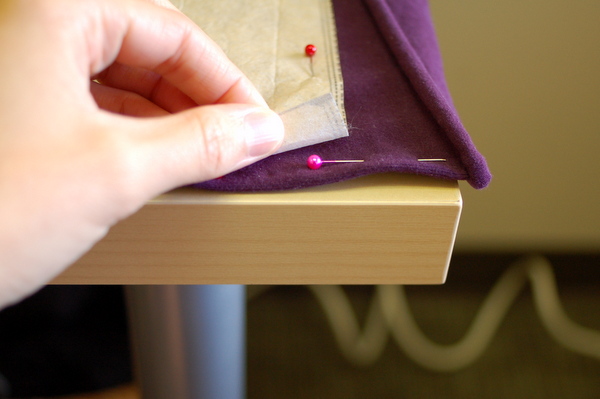 Remove the fold pins if they're in the way. (If they're hidden under the pattern piece you can leave them in for now.)
Cut with sharp scissors. Some people prefer a rotary cutter – if that's you, let us know in the comments! I have one, but never use it because of the cutting mat. (Because the cutting mat is at home and the rotary cutter is here, and I never think about it when it comes time to cut a new project.)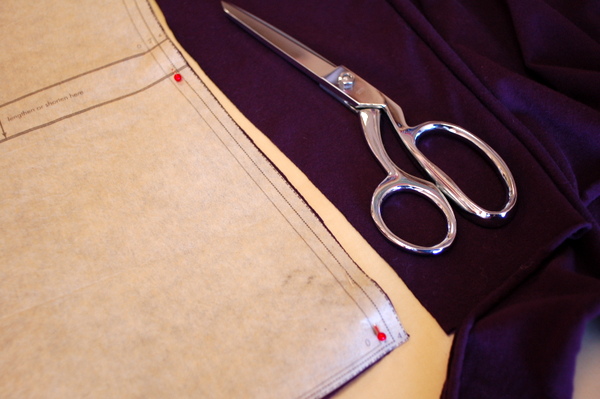 Snip inwards at the notches. Make your snips about the length of the notches, on the shorter side if your fabric is delicate.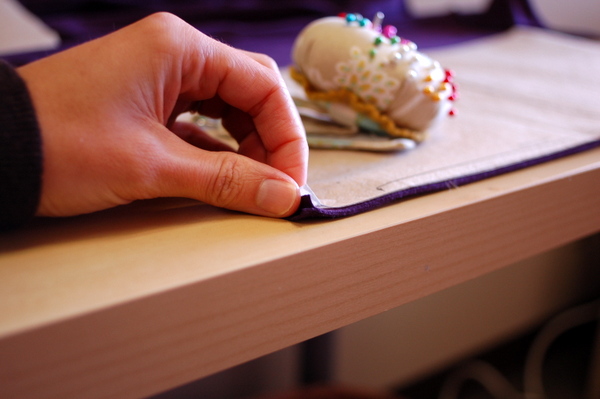 I tend to leave my pattern pieces on top of my fabric as long as possible. Especially if on your fabric, it's hard to tell which is the right side and the wrong side. I'll either take out most of the pins except for one or two, or I'll take out all the pins and just place the pattern piece on top when piling the cut pieces.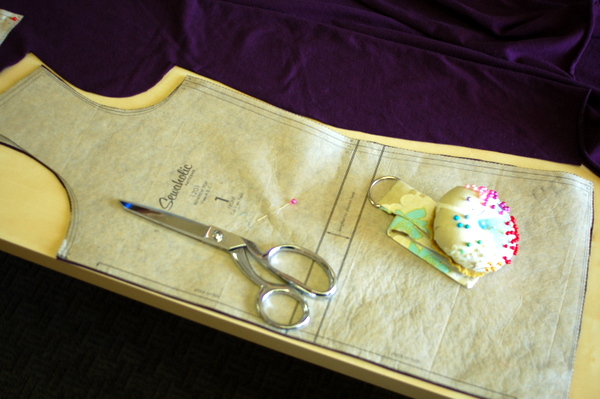 If you are making View C, or creating your own top that includes the cowl collar from View C, be sure to cut two of the collar piece! That's two collars, both cut on the fold.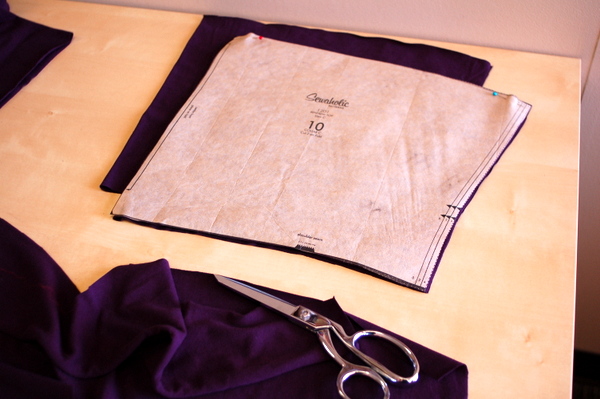 Save your fabric scraps. They'll come in handy for testing different stitches or thread colours, or even making mini-samples to try out different finishes. It's much better to try a stitch on scrap, you can stretch the little fabric swatch as much as you want to see if your stitching will break and not worry about ruining your project.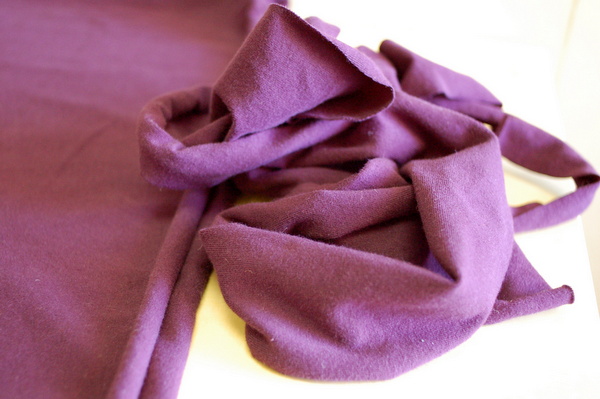 Here are more blog posts about the Renfrew Top. (Get the pattern here.)
I'm going to finish cutting the solid purple top, then I'll cut the striped knit! If you're wondering about cutting stripes, that's the next thing on my list. I have a very thorough and long post planned to satisfy all of your stripe-related needs.
Any thoughts on cutting knit fabrics? Suggestions and tricks to make it easier? Let us know!