Happy Monday everyone! We're in sew-along prep mode today. In case you are just tuning in, here is a recap of the schedule for the upcoming Yaletown dress & blouse sew-along. There is a small change in the line-up. I decided to move the full bust adjustment and small bust adjustment to it's own day, since this post was getting too long! I'll be back to talk about FBA/SBA later this week.
Yaletown Sew-Along: Styling Inspiration
Today – Fabric Suggestions, Choosing a Size, and FAQ
Thursday, September 28th – FBA and SBA Tutorials and Tips
Monday, September 1st – Cutting, Gathering Supplies
Monday, September 8th – Preparing Bodice and Sewing Facing (Instruction Steps 1-4)
Thursday, September 11th – Finishing Facing, Sewing Bodice Side Seams (Instruction Steps 5-7)
Tuesday, September 16th – Sewing Skirt / Lower Blouse (Instruction Steps 8-10)
Thursday, September 18th – Sewing Bodice to Skirt, Sewing Elastic Casing (Instruction Steps 11-13)
Tuesday, September 23rd – Sewing & Attaching Sleeves (Instruction Steps 14-17)
Thursday, September 25th – Hemming, Sewing Tie Belt (Instruction Steps 18-19)
Friday, October 2nd – Thread Loops and Securing Neckline (Instruction Steps 20-21)
Fabric Suggestions
We recommend a fabric with drape to get the best results. Drape refers to how the fabric hangs, not the weight of the fabric*. A good test of drape is taking a width of fabric and gathering it up in your fist. Does it bag out or have large stiff folds? Then it probably isn't a drapey fabric. Fabrics with drape will fall smoothly and flow naturally. If you hold the gathered piece of fabric along your hips, and it skims your body, then I would consider it to have drape. If it sticks out from your body and appears crisp or more structured, then it likely does not have the drape you want for this dress or blouse.
*Sarai wrote a great post about weight vs. drape on Coletterie years ago and I definitely recommend giving it a peek if you haven't already!
Some fabrics with drape cold be rayon challis, charmeuse or satin, crepe, cotton lawn, or cotton voile. But if you are in the fabric store, don't concern yourself too much if you fall in love with a fabric that is not listed above. If it is opaque, lightweight to midweight, and drapes fluidly against your body, then it should work!
Here are some examples of fabrics that would be lovely paired with the Yaletown dress or blouse.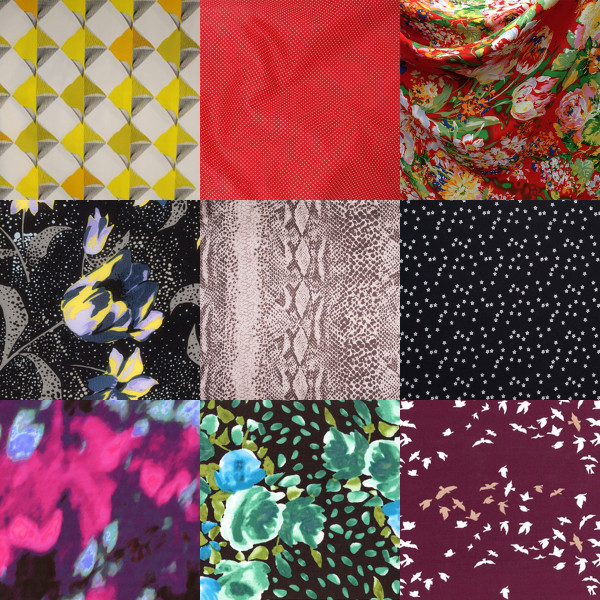 First Row: Yellow Diamonds Cotton Lawn, Red Dots Cotton Voile, Red Floral Crepe
Second Row: Vintage Floral Silk Crepe, Reptile Silk Charmeuse, Stars Crepe
Third Row: Pink Abstract Charmeuse, Green Floral Challis, Bird Print Voile
Choosing a Size
Sometimes, looking at a size chart with body measurements, and finished garment measurements, it can be tough to decide which size to choose. The first thing you need to do is measure your body. The measurements you'll need most importantly are bust, waist, and hips. Compare your measurements with the body measurements on the back of the pattern envelope, or in the downloadable instructions if you purchased a PDF pattern. Here they are: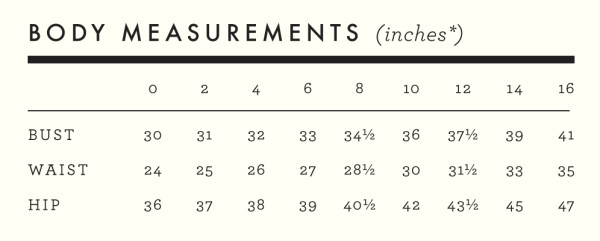 If you fit perfectly into one size column, then yay! Go with that size.
If you don't fit into one size column, then you may be able to select just one size anyways. If your bust and waist match a size 10 for example, but your hips are smaller, you can still cut a size 10. The gathered skirt will still skim your hips if you choose a fabric with drape.
Also, remember that the waist of this dress is gathered with elastic. This will work to our advantage! If your bust and hips fit into one column, but your waist is smaller, then you can use a smaller length of waist elastic than recommended to make it a bit more snug.
Another thing to consider is your bust "cup size". Sewaholic Patterns are designed for a B cup. It's important to keep in mind that your cup size in pattern making may be different from your bra cup size. To figure out if you are a B cup, start with your bust measurement. Then measure your high bust (for this, measure above your bust, running the tape measure just under your arms). If the difference between these two is more than 2" (5 cm), then you are larger than a B cup.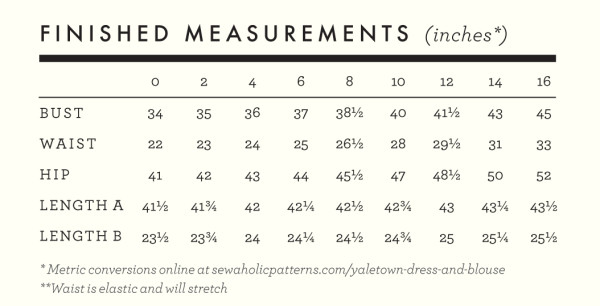 So what if you are larger than a B cup? With the loose fit and style of this dress, you may still be able to get away with not doing a full bust adjust (FBA). Check the finished measurements for the bust. Note that we give 4″ of ease at the bust for this pattern, which is generous! If you fit within the finished measurement,  make a quick muslin of the bodice without any changes to check the fit. If you find it snug around the bust, then a FBA is likely the answer. Tune in later this week for more on how to do that!
How about grading between sizes?  I talk about the basics of grading between sizes in the Gabriola sew-along here.If you decide you want to grade between sizes, it won't be difficult with this pattern. Because there are no darts or closures, you will only need to blend between sizes along the side seams.
FAQ
You guys asked some great questions in the comments of this post! Some questions were also answered in the comments. (Thanks Sophie-Lee and Tanya!) Here are some of the popular topics that came up.
Changing the sleeves.
It will be more difficult to change this sleeve than most sleeve patterns, since it is a flutter shape, and it has gathers at the sleeve cap. It is much easier to create a flutter/gathered sleeve, than it is undo it. However, it can be done! Here are a couple of ways you can give it a go:
Reverse engineer the sleeve back to a regular sleeve. Here is a great article about drafting different types of sleeves. She explains how a gathered sleeve cap is drafted, as well as a flutter sleeve (or bell sleeve). You can do the reverse to remove the fullness from the gathers and flutter. From here you can leave it as a short sleeve, or lengthen it to elbow or full length!
OR
Find a sleeve pattern that you like on a bodice that fits you. Compare the armholes from that bodice and the Yaletown bodice. You will more than likely have to redraw the Yaletown bodice armhole to match your chosen sleeve piece.
Lining the dress.
Totally do-able! However with the wrap style, lining the bodice the traditional way would be tricky. I would recommend lining the skirt, and underlining the bodice.
The skirt lining piece will be an exact replica of the skirt piece, except shortened by about 1/2″ – 1″, depending on your preference. In terms of construction, I would sew the skirt lining as a separate piece. Attach it to the skirt along the waistline before you join the skirt to the bodice.
The bodice front and back pieces pieces can be underlined and then sewn as per instructions.
Can it be made in a knit fabric?
The short answer – probably! However I have not tried it myself. My advice:
Be sure to use a stable knit fabric.
You may want to go down a size or two to get a nice fit, especially if your knit fabric has a high spandex content.
Facings in a knit fabric are not ideal. It would be a good idea to try finishing your neckline another way, like with a neck band or knit binding.
And remember! For any of these major adjustments, we always recommend making a quick muslin to pinpoint any fit issues before cutting into your beloved fabric.
P.S. I will be back on Thursday to talk about bust adjustments!