Ladies, you have asked and I have listened! Today I am going to talk a little bit about how to grade between sizes for the Gabriola Skirt. It's quite simple, but I know sometimes all of the pieces can feel like a puzzle and it's tough to know what to trace and where. So today I'll be quickly reviewing how to trace your pattern when your measurements don't correspond with just one size.
Sewaholic patterns are designed with the pear shaped lady in mind – that means a narrower waist and fuller hips. So if you are not a pear shape, you are likely spanning between a couple of sizes! Fear not, with this skirt, it's super easy to grade between sizes.
Let's look at body measurements chart, shall we?
For this skirt, all we need to consider is our waist measurement and our hip measurement. The first step in this process is to measure your body, and determine what size you are at the hips and waist. Today I am going to be grading for a theoretical size 12 waist, size 8 hips.
Now here's something to consider. If you are a size 12 waist and size 8 hip, you could easily just cut the size 12 and it would fit just fine. But you would end up with a lot of ease around the hip area which might not appeal to you! "Ease" is the extra room built into the fit of the pattern for ease of movement, too much ease will result in a loose fitting garment, and too much extra fabric.  So if you'd like to get the true fit of the skirt, where it is skimming the hips, then you'll want to grade down (or up) to your correct size at the hips.
So let's start by looking at our skirt on a body to see where our pieces are falling.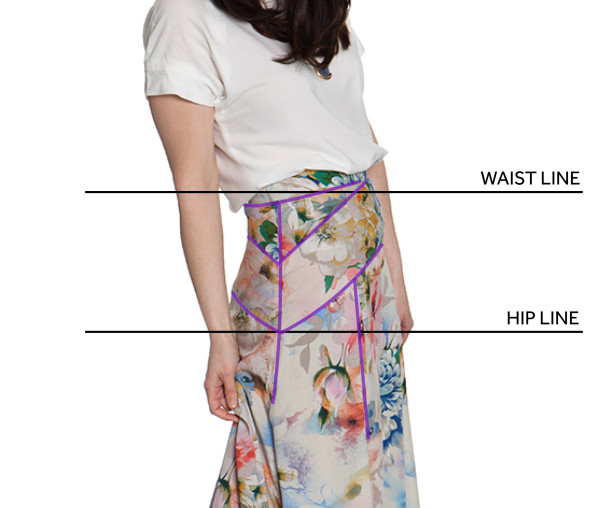 In the image above, I've traced the seamlines in purple so you can visualize your pieces. We're pretty lucky here, because the bottom of the yoke is hitting the hips at the side seam. The waistband is also designed to sit right at your waist, so if you are a size 12 waist, then you can cut a size 12 waistband! But what about the yoke pieces?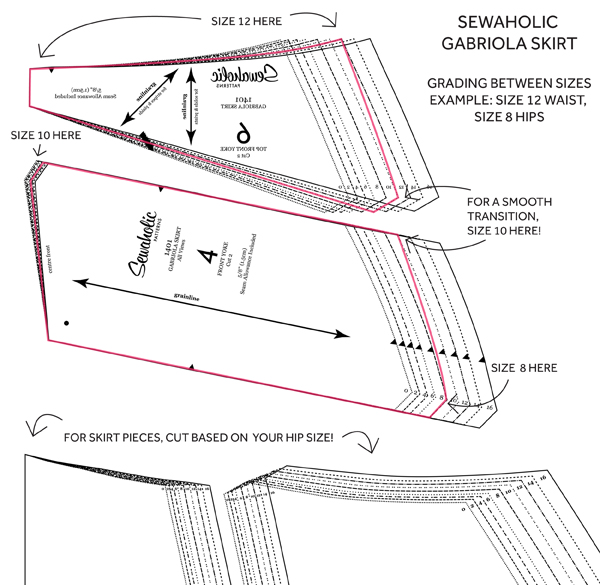 When you're grading between sizes, the most important thing is to think about how these pieces connect. I like to lay out my pieces in the way they fit together, like you can see above. It just makes it really easy to visualize things. I am using the front for this example, but grading in the back will work exactly the same way.
We are cutting a size 12 waistband, so we need the top of top yoke piece to fit with the waistband. From there we want to trace down to a size 8 at the hips. But the hip point is at the bottom of the lower yoke piece, at the side seam – this point is on a different piece. So that we are grading smoothly, I am tracing the size 10 in between, at the point where we are connecting the top yoke and lower yoke pieces. Then we can continue to trace down to a size 8 at the bottom of the lower yoke. And since we have traced to a size 8 at the hip area of the yoke, we can cut our skirt panels in a straight size 8!
You can repeat this exact same method for the back yoke pieces.
And that is it! Easy right? If you have any questions, feel free to ask me in the comments.
Tomorrow we are beginning the Gabriola Sew-Along! All of our posts for the sew-along can be found here. So far we've covered inspiration, fabric options, gathered materials, and we've looked at some lovely pattern tester versions. I hope you will join the sew-along, it will be lots of fun!