Happy Monday, everyone! Today's post is about how to change the Cambie Dress to a straight-across neckline instead of the sweetheart neckline! It's so easy to do. Maybe you like the Cambie Dress, but think it's a little too sweet with the sweetheart neckline, feminine gathered sleeves and full gathered skirt. Or maybe you're about to use a really girly, sweet fabric and don't want it to be too cutesy.
Changing just one of the details will make it a little less 'sweet!' You don't even have to make permanent adjustments the pattern piece if you don't want to, although I will show you how.
Here's a peek of what the finished straight-across bodice looks like! Cute, right? This would be a good alternative for fabrics that won't press nicely. Or if you wanted to add piping, a straight neckline would make it easier to add piping than the heart shape. (Although Scruffy Badger did a great job adding trim to the curved seams on her version!)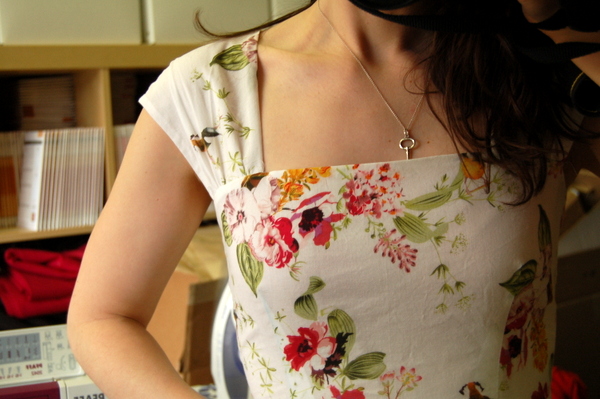 You'll need:
Pattern Piece #1 – Bodice Front
Scrap paper – anything will do!
Pencil
Ruler
Tape (Scotch tape is best, packing tape will work if you're out of Scotch!)
Take your pattern piece. (I prepared this tutorial before the patterns were printed, so I'm using a printout of the bodice for this demonstration.)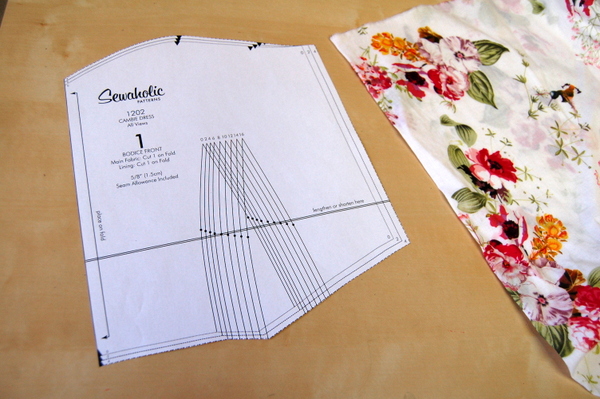 I'm going to use an old envelope as pattern paper. One, because sometimes I accidentally stamp my address stamp the wrong way and end up with unusable envelopes that I can't bear to throw away. And two, because the yellow paper will show up better in photos for this tutorial!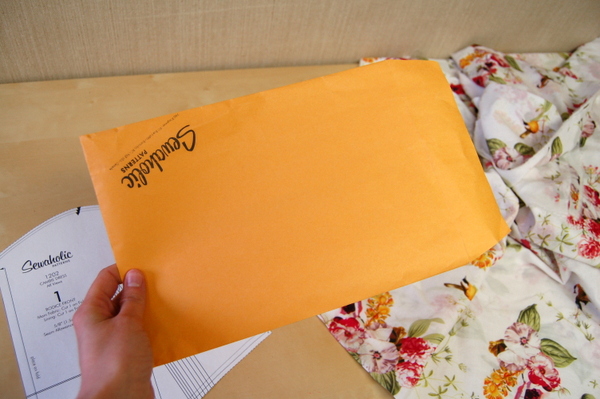 (oops! sometimes this happens when I start stamping a new box of envelopes..)
Draw a straight line vertically on the left side of your scrap paper.
Now, line up the centre front of your bodice pattern piece along this new straight line. Take a square ruler like the one in the photo, and slide it upwards until the top edge is just barely peeking out.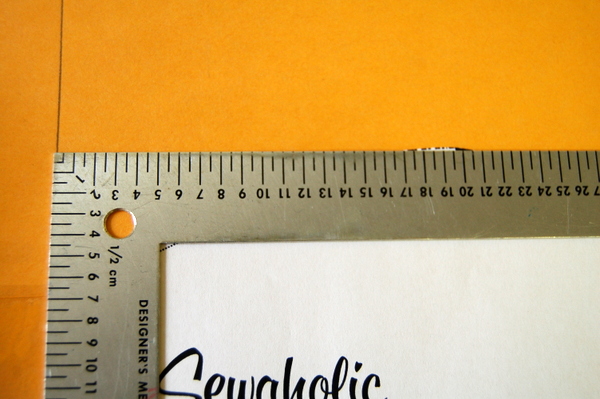 Now draw a straight line from the fold line to the first notch. If you don't have a handy square-shaped ruler like this one, use the flat end of the ruler to square off the top edge. If you have the centre front on the line, it will naturally be a straight line from the notch to the fold.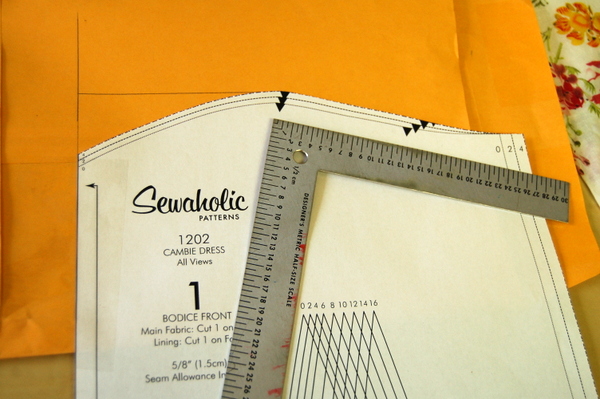 Trim off the extra scrap paper, and your pattern piece is done!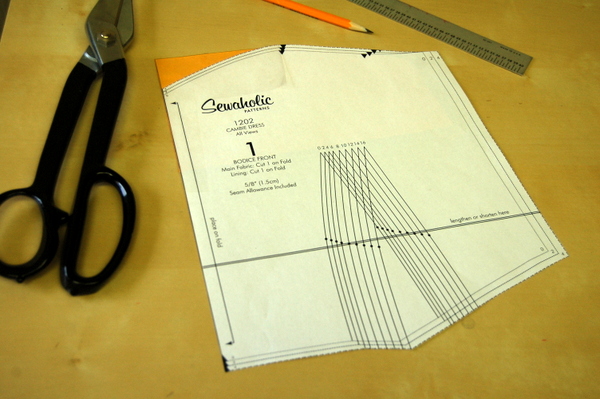 (those are my intense paper scissors! they weigh a ton, just like you might imagine…)
If you think you'll only make it once, then you could simply follow these steps to draw a chalk line on your fabric, and use it to cut out the front bodice! (Remember to cut the bodice front lining the same way.)
It's nice to make the permanent piece so you have both options ready when you sew your second dress! (And are less likely to forget and cut the original neckline on the lining fabric.)
Or, curve the neckline upwards, to form an upside-down scoop neckline! (Probably that's not the right word for it. Imagine instead of two curves forming a sweetheart neckline, there's one curve across the bodice.) As long as the bodice stays the same from the notches to armhole, you can draw any type of neckline you want!
Get the pattern here. I also have a few more Cambie Dress sewing construction posts planned for the coming weeks. When your pattern arrives in the mail, you'll be fully prepared to start sewing it up!