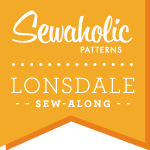 Choosing fabric is one of the most fun parts of sewing! Today, I'll share my fabric recommendations for the Lonsdale Dress. For this dress, a change in fabric can give it a completely different look! Choose a solid silk for formal occasions, printed cotton for the beach. It's up to you!
For earlier Sew-Along preparation posts, check out these links:
Here's what I recommend for sewing the Lonsdale Dress. The two main things to consider are weight and drape. A drapey fabric will give you a softer, flowier, clingier skirt. A crisper fabric will give you more of an A-line silhouette and a more structured dress.
For fabric weight, you want to be able to tie a knot at the front without too much difficulty! Also, consider the fact that the bodice is self-lined. Do you want this fabric doubled-up, or is that too heavy? Fold the fabric over itself at the store to get an idea of what it will be like double-layered.
Cotton lawn and voile.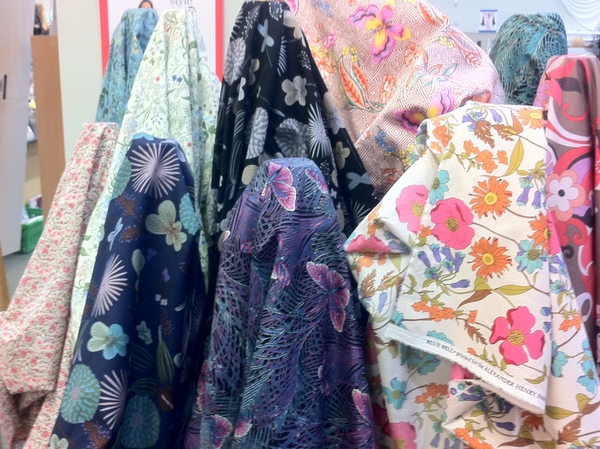 Cotton lawns and voiles are gorgeous, but hard to find. If you find a cotton fabric that you absolutely love, but it's too sheer, consider underlining the dress! Or, just line the skirt for a little more opaque-ness. I have a fabric that I'm planning to use but it's rather sheer for a skirt, so I'll add a layer of lining fabric to the skirt part only.
Linen and linen-blends.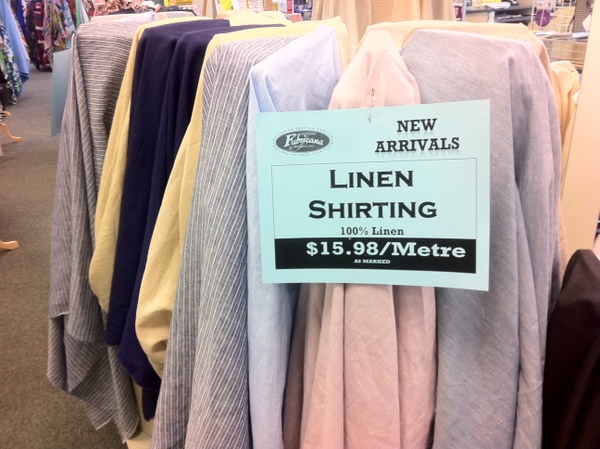 Linen is gorgeous for summer!  You'll end up with a crisper, stiffer version than if you used a drapier fabric, so keep that in mind when planning your project! A cotton-linen blend would be lovely, too. Careful though, it will get wrinkled!
Silk dupioni.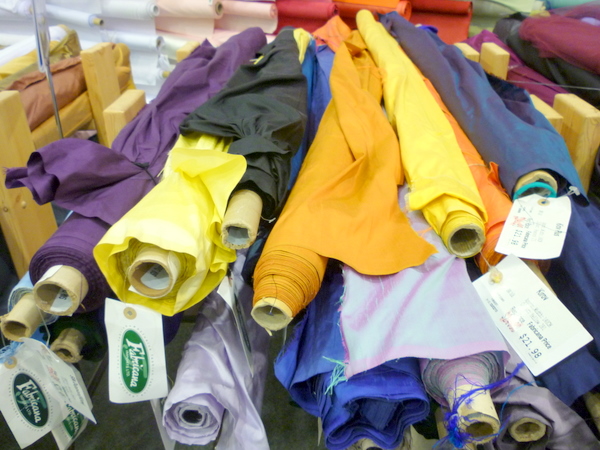 For an evening dress, silk dupioni is gorgeous! The subtle sheen and texture would look beautiful in the knotted bodice detail. Silk is lightweight, so it's perfect for summer. I love the idea of wearing a silk dupioni Lonsdale dress to a summer wedding!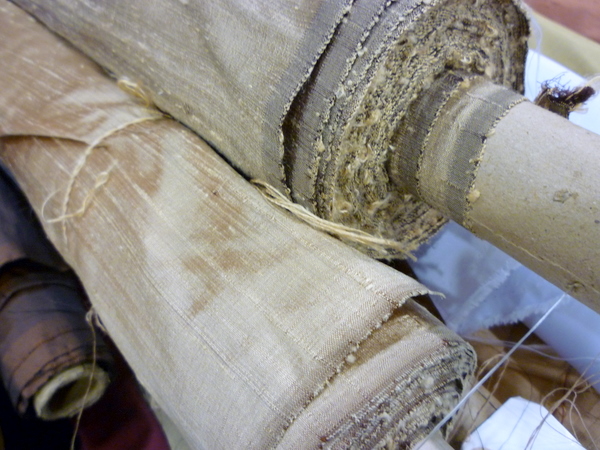 All photos above taken at Fabricana Richmond, mostly borrowed from this post on Crescent Skirt fabric selection.
Rayon and rayon blends.
This one isn't listed on the envelope specifically, but it is a lightweight woven fabric! Using rayon will give you a drapier, softer, possibly clingier dress than cotton or linen. I have a rayon planned for the long version, it's very flowy and soft. You may want to line or underline your dress if you're using rayon for less cling, and a little more body. Most likely, I'll be lining the skirt of my rayon dress for a little more coverage, but if your fabric is opaque, you don't have to!
Here's what I would avoid:
Stripes and plaids. Like the Crescent Skirt, I'd attempt these at your own risk. For one, you'll need a lot more fabric, and this dress already uses a lot of yardage! It's not impossible, if you're up to the challenge and don't mind matching plaids or stripes, then by all means give it a try. It might be fun to experiment with the stripe direction on the loops, waistband, and bodice pieces! For beginners, I wouldn't recommend either of these, although the more adventurous seamstresses might give it a go!
Any questions on fabric selection for the Lonsdale Dress? Do you have your fabric already? I'm excited to see what you pick!
If you've posted a photo of your fabric on your blog, leave a link below so we can all check it out!
PS. Want your own Lonsdale Dress pattern? There's still time to order your pattern for the Sew-Along. Click here to visit the store!
PPS. Still need to pick out your fabric? Save 10% on fabric orders at Sewtropolis, using discount code 'Lonsdale! Click here for details.