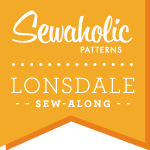 Hello, Sew-Alongers! Even if you're not sewing the Lonsdale Dress with us, I wanted to share a few tips and tricks to save fabric on this dress. It uses a lot of fabric! If you're anything like me, you have fancy taste in fabric but a limited budget. Or, you tend to buy fabric before you know what you're going to do with it, and have to get creative with cutting layouts in order to make it work! Either way, here are a few ideas to save fabric on this dress or any similar dress pattern!
The trick is to find ways to save fabric that don't affect the look and feel of the dress. After all, that's what attracted you to the pattern! If you change it too much, it will look quite different from the original design.
Easy Ways to Save Fabric
These ideas simply involve cutting some of the pattern pieces out of an alternate fabric, no pattern adjustments required!
Cut the inside waistband of another fabric. You'll see that the waistband is double-layered, and only one is visible! While this won't save you a ton of fabric, it is one way to cut back.
Cut the inside bodice back pieces of another fabric. These pieces won't show, either, so you can cut them out of a similar, less-expensive fabric if you need to save more of the main fabric.
Cut the front bodice pieces of another fabric, for a contrast look on the ties! This one I haven't tried yet. It may look clever and contrast-y, or it may just look like you ran out of fabric. If you try it, let me know, I'd love to see how it looks! This will save the most fabric, and give you the most consistent look if you cut the whole bodice lining out of contrast fabric – saving yourself two bodice fronts and two bodice backs!
Shorten the skirt. Depending on how tall you are, this may be the look you wanted anyways! I love the contrast in proportions between the short bodice and longer skirt, but if you're on the short side, or have fantastic legs, shortening the skirt is definitely an option!
Trickier Ways to Save Fabric
These ideas involve a little more work, perhaps some measuring, pattern adjustments, even math!
Piece the waistband. If you run out of fabric just as you get to the waistband, you can piece it together out of smaller sections of fabric! Simply slash the waistband pattern piece, and add seam allowances to both sides of the new opening. I'd suggest slashing at the side-seam notches, instead of at the centre, for a less-obvious piecing job. Sew together these seams and work with this new, pieced waistband just like you would if it was whole.
Create a pocket facing, and cut the rest of the pocket out of cotton broadcloth or pocketing fabric. Think of a pair of jeans – there is a pocket facing out of denim, and the rest of the pocket is sewn out of pocketing fabric.
Shorten the ties, eliminating the loop detail and sewing them straight to the bodice. If you don't love the bow-tie at the back, this is an option! However, you won't be able to re-tie the front knot if you sew down the straps. Something to think about if you're considering going this route!
Cut your fabric open, instead of on the fold. You'll need a very large cutting area to do this! But if you cut your fabric open, cutting each piece twice on a single layer, you may be able to squeeze the pieces closer together.
I hope this gives you some ideas on how to reduce your fabric consumption! Some of these suggestions will make more sense once you receive the pattern and take a look at the pattern pieces.
If you think of anything to add, please leave us a comment below!