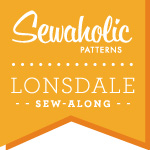 For the Lonsdale Sew-Along, you may want to underline or line your dress! Especially if you're using a lovely, soft sheer fabric and don't want to see the print through both layers of the bodice, or want a little coverage through the skirt.
If your fabric is a light colour, even if it's not lightweight, underlining and lining might be a good idea! Underlining can brighten or change the colour of your dress fabric, too. It's completely up to you.
I have this pretty cotton voile print for a Lonsdale dress, that's too sheer and light to wear on its own.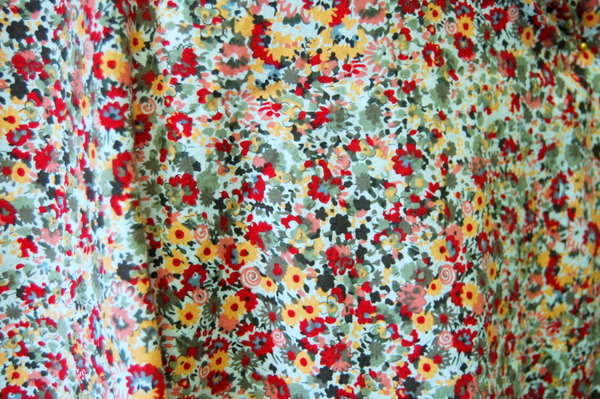 If you're not sure whether to underline your dress or not, test the fabric by draping it over your hand. Can you see your fingers? Try draping it over your shirt sleeve. Can you see the hem of your shirt through the fabric?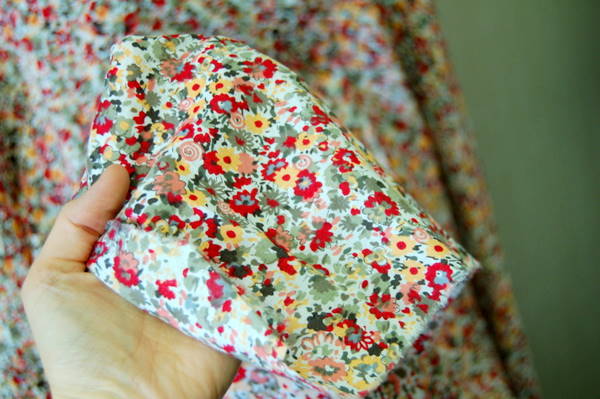 Bottom line: if you don't feel comfortable in your dress, you'll never wear it!
This fabric is borderline. There's enough colour and distraction in the print to make it somewhat opaque. It's mostly the light weight that makes me want to line the skirt, for modesty.
I'm underlining it with a lightweight cotton. I wanted a natural fibre next to the skin, so the dress would stay cottony and soft. You could also use rayon lining fabric, for a slippery lining. The advantage to using lining fabrics is they won't stick to your main fabric. Layers of cotton on cotton have a tendency to grab onto each other – but I'm willing to deal with that in order to keep the dress all-cotton. Just something to think about, for your project!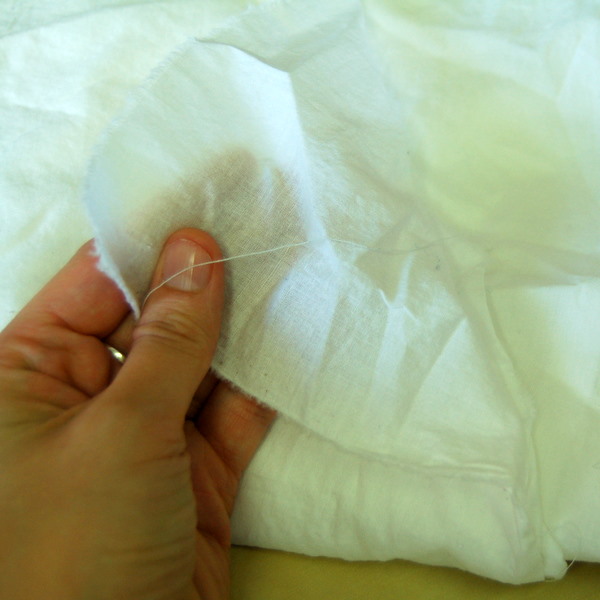 What we'll do is sandwich our underlining between the bodice layers, and add a layer of lining to the skirt.
Underlining the Bodice? Cut these pieces:
Bodice Front (2 pieces)
Bodice Back (2 pieces)
Optional:
Waistband (1 or 2 pieces)
Loop (2 pieces)
If your fabric is sheer, really sheer, you might want to underline the loop and the waistband so the colour is the same as the bodice. I'm not going to underline either piece on my dress because this fabric isn't quite that sheer. Plus, I'll use white interfacing on the waistband and on the loop, which will make my fused pieces the same colour as the underlined bodice.
When in doubt, sew up a little swatch to be sure! Cut a scrap of interfacing and test to see what it will look like next to the underlined sample.
Lining the Skirt? Cut these pieces:
Skirt Back
Skirt Front – fill in front pocket section
Fill in the cutout on the skirt front, using the pocket piece as a guide. You can also use this technique to omit the pocket completely!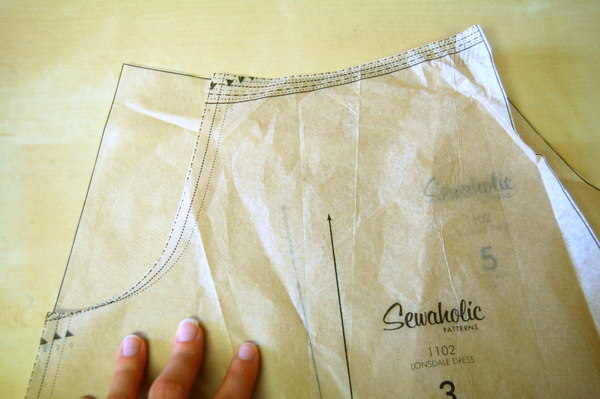 For more on how to fill in the pocket, check out this post: How to Eliminate a Slash Front Pocket
Other Underlining Thoughts
You can use underlining to change the colour of your dress! If I wanted to tone down the whites in this fabric, I could use red, or peach, or another colour to change the colour slightly. This effect would be more noticeable on a sheerer fabric.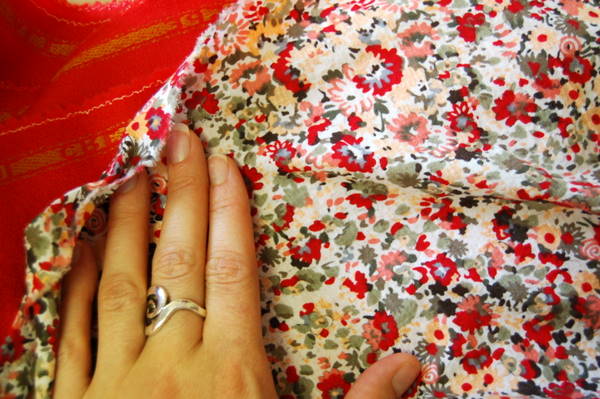 Underlining can also be used to add structure. If you're using a very soft and drapey fabric, and you'd like it to be crisper, choose a stiffer fabric to underline with. Silk organza is often used in couture sewing for a crisply structured garment.
Once you've cut your underlining…
Baste it to your cut fabric pieces – bodice front and back. With right sides up on both your fabric and underlining, lay your fabric on top of your underlining. Baste in place, and work with this double-layered piece as if it's a single layer.
And for the skirt lining…
Sew up the sideseams, and centre front seam. Finish the seam allowances. (You can do this step later on, when you sew the skirt seams.) You can either sew it to the main skirt, and work with the centre back seam using both layers. Or, you can sew the centre seam below the circle, and keep it out of the dress's centre back seam. Attach it to the inner waistband, and either slipstitch it around the zipper opening or leave it hanging free.
Need to see it, in order to follow the steps? I'll work on this dress and include some photos as I go! It may be near the end of the Sew-Along, so that I can keep up with the regular posts.
I wanted to include this post now, so you could get started with your underlining or lining! Any questions? Leave a comment below!
More posts on underlining your sewing projects: