Hey everyone! We've received lots of questions about the Davie Dress over the last week, so I wanted to answer some of them here so the answers are public and all in one place. This post covers a long list of good questions that you may or may not have wondered as well, and our answers.
I broke the questions into two sections: design modification questions and fabric questions. If you have any other questions, just ask!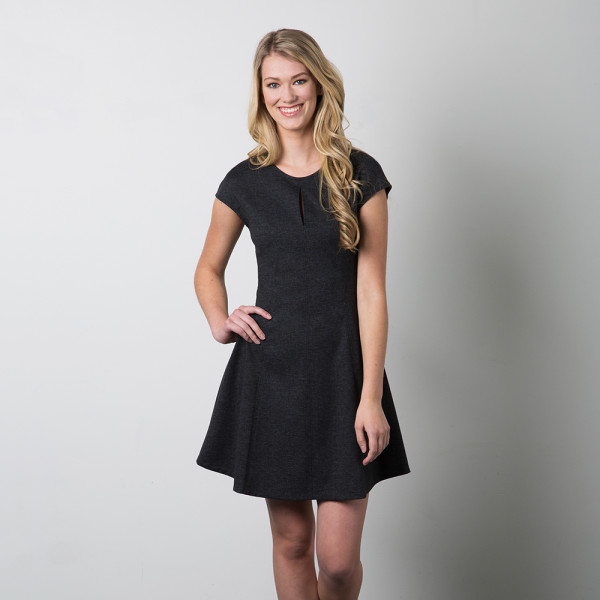 Davie Dress Design Modifications:
Q. Can I skip the keyhole?
Sure! The keyhole is a design feature, it doesn't affect the fit or the ability to get the dress on and off. When the instructions call for you to leave the seam open, simply sew it shut!
Q. Can I eliminate the centre front seam?
Yes! You totally can. Some of you wanted to eliminate the keyhole neckline, so why not just cut the front on the fold and remove the seam allowance? Align the pattern piece along the fold, extending the front edge 5/8″ (1.5cm) OVER the fold. Or trace and trim 5/8″ (1.5cm) along the center front edge of the pattern piece, then you can line up the cut edge of the pattern piece along the fold of your fabric. Speaking of cutting knit fabrics on the fold, here's a related post that might be useful. 
You could do the same with the center back seam, too. However, having a vertical line down the middle does add length visually. So it's nice to have it there as well.
Q. Can I lower the neckline?
Yes! It's easy to lower the neckline too, since the neckline is bound with bias tape. Simply trace a new neckline, lower than the original one, and cut off the excess. If you're going way lower (more than 1″) then I might make a little mockup of just the neck area, draw in the desired neckline right on the fabric and make sure it looks good on you.
Q. Can I make the Davie Dress into a maxi dress?
You sure can! Simply extend the panels down, at the same angle, so they maintain the same shape and flare. It'll be quite flared this way, so you may want to reduce the flare. (Or not – might be more dramatic that way!) It might be heavy, so consider your fabric choice carefully. Something like the blue printed jersey below would be nice, something like the grey doubleknit will get really heavy in a floor-length garment. (Caroline made the Saltspring maxi dress in a knit and talked about it here, and gave some tips and suggestions here.)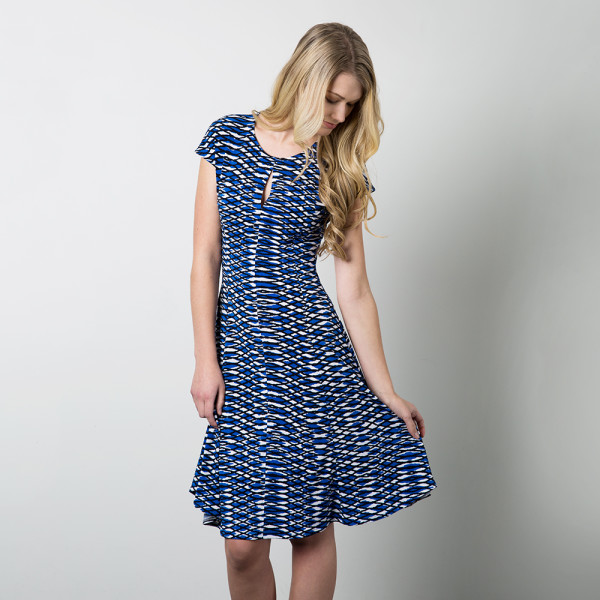 You can see the flare of the panels in the longer version above. Imagine that the seamlines keep going from the knee to the floor, and that's how it will look in a maxi-length version.
Q. Can I add sleeves, say from the Renfrew Top pattern?
Again, this is something we haven't tried. But if you love that idea, give it a go! What I'd do is use the armhole from the Renfrew Top as well as the sleeve. The armholes on the Davie Dress are designed to be sleeveless, and they won't fit the Renfrew Top's sleeve exactly. I'd trace the armhole from the Renfrew Top onto the Davie pattern, and then you know the sleeve will fit exactly into the armhole! Start with the sleeveless version of the Davie Dress, as the cap sleeve version is extended over the shoulder and is very different from a set-in sleeve armhole shape.
Q. Can I add pockets?
I'm not sure where to suggest adding pockets that won't add bulk or weigh down the dress. You could add inseam pockets, but I find they gape and sag in knit fabrics. They'd be better in a dense knit that doesn't stretch too much but then they'd be even bulkier. Patch pockets would conflict with the long vertical lines of the princess seams so I wouldn't recommend them either. I'd consider doing an inseam pocket that closes with an invisible zipper, so the mouth of the pocket doesn't gape open, if it didn't add too much bulk. If you have a better idea I'd love to hear it, and so would the people who've asked about adding pockets!
Q. Can I skip the topstitching?
Sure! It's optional. I skipped it on a version I'm working on. I like it on thick dense knits as it keeps the seam allowances pressed open and finishes both sides of the keyhole nicely. You don't have to do it if you don't want to, or if you prefer to serge your seams together. It sure does save time if you skip it. If you aren't sure, make a test! Cut a scrap of your fabric and sew a seam, press it open, topstitch, and see if you like it.
Davie Dress Fabric Questions:
Q. Can I sew the Davie Dress in a striped fabric?
I'm always hesitant to give a resounding yes to anything I haven't done personally, just in case. But I can't see why a striped knit (like our Renfrew samples) wouldn't look amazing! You'd want to line up the stripes across each panel so they match as they cross the body. It shouldn't be too hard to do. On the longer version, the stripes will meet like a V at the flared part of the hem.
Here are some posts that might be useful:
http://sewaholic.net/cutting-striped-knit-fabric-matching-stripes/
http://sewaholic.net/three-tips-for-sewing-stripes/
And if you make a striped Davie Dress, I'd love to see it! I picture it as cute and sporty, especially if you choose the shorter length.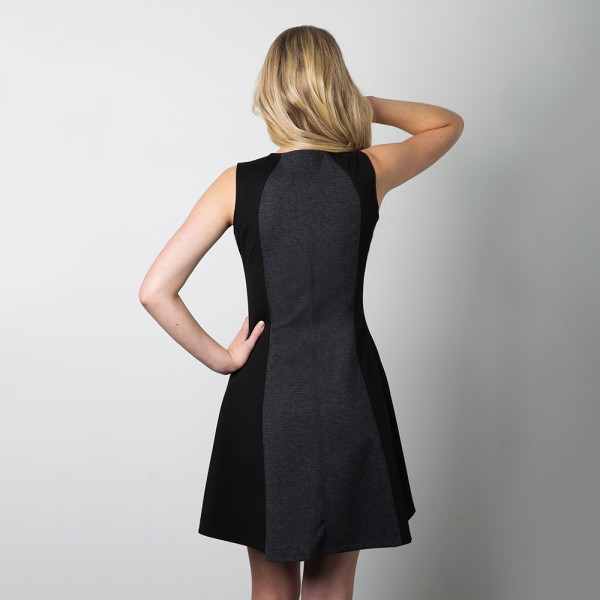 Q. I love the contrast panels! How much fabric will I need if I want to use contrast fabric for the sides, and a different fabric for the centre panels?
Excellent question! When this one came up I knew it was worth taking a little extra time to figure it out. Our sample is sewn in a reversible fabric, so we've simply used the black, reverse side for the side panels. The cutting is exactly the same, since you're cutting pairs of each piece.
If you want to mix two different fabrics, we've calculated the fabric requirements for each view for you!
View A – 44/45″ (115cm) wide fabric:
Front and Back Panels 1.75 yards (1.6m)
Side Panels 2.25 yards (2m)
View A – 59/60″ (150cm) wide fabric:
Front and Back Panels 1.5 yards (1.4m)
Side Panels 1.75 yards (1.6m)
View B – 44/45″ (115cm) wide fabric:
Front and Back Panels 1.5 yards (1.4m)
Side Panels 2 yards (1.8m)
View B – 59/60″ (150cm) wide fabric:
Front and Back Panels 1.25 yards (1.2m)
Side Panels 1.25 yards (1.2m)
View C – 44/45″ (115cm) wide fabric:
Front and Back Panels 1.25 yards (1.2m)
Side Panels 2 yards (1.8m)
View C – 59/60″ (150cm) wide fabric:
Front and Back Panels 1.25 yards (1.2m)
Side Panels 1.5 yards (1.4m)
If your fabric is between the two widths, go with the narrower fabric requirements. These are a ballpark based on the largest size, but because of the shape of the pieces you don't save a ton of fabric if you cut a smaller size. They're also calculated using a with or without nap layout, so if your fabric allows you to turn the pieces you may be able to save a little fabric. Keep in mind if you plan to lengthen or shorten the dress, that will affect the amount of fabric you need as well.
Q. Can I sew the Davie Dress in a woven fabric?
The Davie pattern is specifically designed for knits, but it works well in knits without a lot of stretch like ponte and double knits so it may work OK in a woven. You'd want to change the armhole finishing, and possibly size up or choose a stretch woven. But it does have princess seams to fit over curves, so it might work out ok! Would love to see if you give it a try.
Q. Can I line the Davie Dress?
Lining a knit dress is sort of a pain – I wouldn't recommend it. I feel like the layers will separate and move apart, if it's sheer enough to need lining then you'll see the seam allowances, it's just not a good idea for this pattern. The two layers of fabric will shift and move and generally be annoying. If I absolutely had to, then I'd underline it and treat the two layers as one. Maybe use spray adhesive to keep them together during construction.
Hope this answers some of the questions you have. Let me know if there's anything else you'd like to know, or if you have suggestions to add to my replies!