I have another tip post for you guys today! Love sewing stripes? Thinking of sewing up the Renfrew Top pattern in a striped knit? Here are a few little tips that will help make stripe-sewing easier!
If you missed Monday's post with A Big List of Tips for Sewing Knits! – here's the link again. I'm glad that many of you found it helpful! I'm guessing it was helpful based on the number of times it was pinned on Pinterest. Becky asked if it was OK to pin it for future reference so I thought I'd mention Pinterest today. Feel free to pin any of the tips, tutorials and how-to posts from this blog if you want! It's a great way to find what you're looking for later on.
Back to the stripe tips!
1. Pin every stripe intersection, on seams that have to match. Or pin every second stripe line. Pin as many times as you need to pin to feel confident about the pinning part. No one will know how many pins you used to sew each seam, once the top is finished!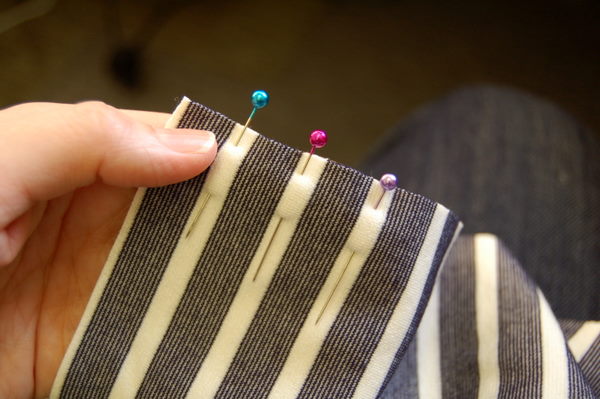 2. Baste your seam first. This is a step I always skip! But if you're anything like me, a messy stripe seam will drive you crazy. And you'll end up ripping it out anyway to fix the un-matched parts. Do yourself a favour and baste it first! It'll be easier to unpick and fix any slipped stripes. And on that note…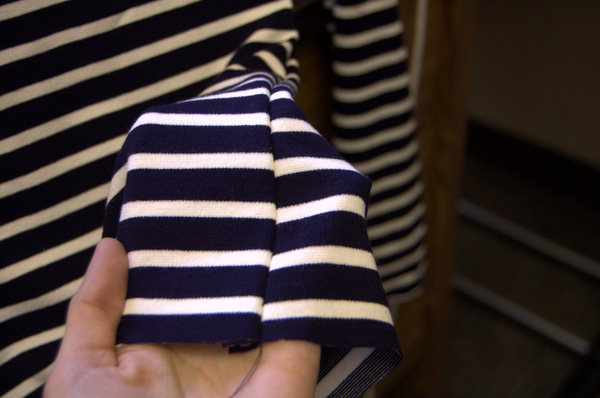 3. Be prepared to un-pick and redo your seam a few times to get it right. If you nail it the first try? Awesome! Run your machine right over the basting stitches, this time using regular-size stitches and you're done. If you figure you're bound to have some fixing to do, it doesn't seem so bad when it inevitably happens. I've been sewing for ages and see – I had good stripes on one sleeve seam.. but wayward stripes on the first sleeve seam. No problem, I figured that might happen. And hey, if I fix it, I only have to un-pick half the seam!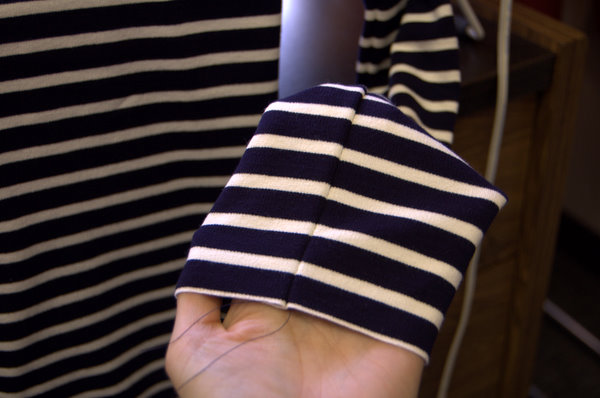 Other words of stripe wisdom:
Know when enough is enough. If you've redone your seam three times, and it's still only 99% perfect, stop! Pat yourself on the back for getting it pretty darn close and move forward.
Not sure if your stripes are 'good enough?' Put the project away, come back an hour later, and see how you feel about the stripes. Do they match? Do you care? Make a decision and move on. Life is too short to agonize over possibly-not-matching stripes on a tee shirt.
Need validation on your stripes? Take a photo. I was worried about the stripe-matching but after taking a photo, it looks just fine to me. So it stays!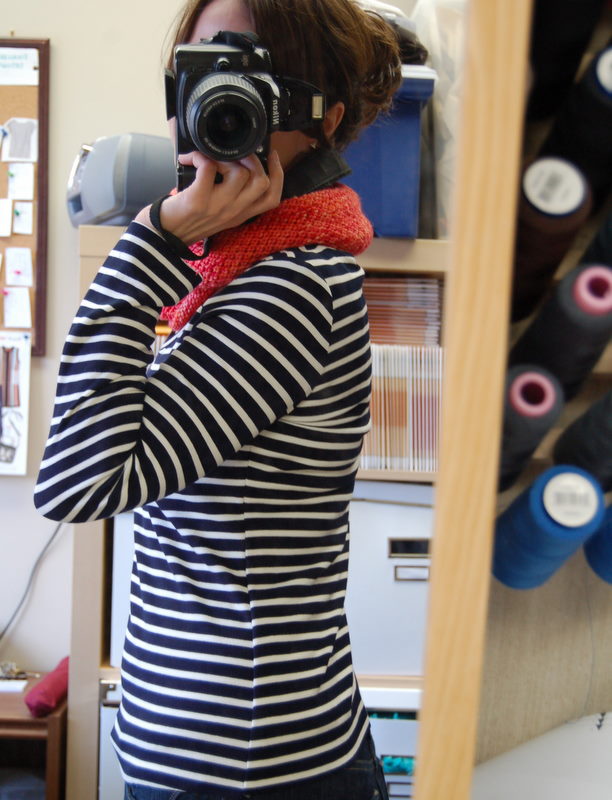 This seems like a lot of thought on stripe matching, something that ready-to-wear manufacturers don't always bother with! (Or save money and fabric usage, by deciding to not bother with..) The great part about sewing for ourselves is that we get to decide what design details are important to match.
Here are a couple of other posts on stripes and plaids:
Any tips on sewing striped fabric to share? Leave them in the comments!