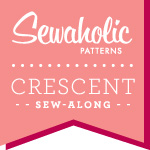 Hi everyone! Thought I'd jump in with a Sew-Along update post. We'll be starting the Sew-Along officially on Monday, beginning with our Crescent Skirt muslins. As promised, here are some helpful links on preparing to sew!
Just joining us? Here are links to the previous Sew-Along posts:
To prepare for sewing, we'll talk about pre-washing your fabric, measuring yourself and choosing a size, and cutting your fabric.
Pre-washing Your Fabric:
Here's the link to the post on Pre-Washing from the Pendrell Sew-Along – Pendrell Sew-Along #2: Prewashing your Fabric.
If you're going to pre-wash your fabric, you can do it whenever you have time! I've already washed my fabric for the Sew-Along, and folded it up for when I'm ready to cut. That way I won't be slowed down when I'm ready to cut the real fabric!
I also get in the habit of always pre-washing my fabrics as soon as I get them home. If it's out of the shopping bag, then it's always pre-washed! If you like to stick to rules, this method works well. I know all pieces of fabrics that aren't in shopping bags with the trims and a receipt, are guaranteed to be pre-washed already.
Want a second opinion? Check out these other links on Pre-Washing:
Measuring Yourself and Choosing a Size:
Also from the Pendrell Sew-Along, here's a post on Measuring and Choosing Your Size.
For the Crescent Skirt, if your measurements fall into two different columns, choose the size that fits your waist. Why? Because the hip area has plenty of ease! Especially if you're making View B or C, the fuller skirts have so much ease they allow for a larger hip. And if your hips measurement is smaller, then you'll just have a fuller skirt around the hipline.
I'd suggest following along as we make a muslin, as I'll show you which seamlines are the best ones to alter, and which ones to leave alone. If you aren't planning on making a muslin first, I'll let you know now that the centre front, centre back, and sideseams are the best places to take in or add, not the curved seamlines. Changing those will change the look of the skirt!
Cutting Your Fabric:
Because some of you are going to skip the muslin stage,here's a link on how to cut fabric! Pendrell Sew-Along #7: Cutting Your Fabric demonstrates cutting the Pendrell Blouse, but the principles of grainlines, cutting pieces on the fold, and following the fabric layout diagrams are the same.
When we finish our muslins and get to the cutting stage, I'll include a link to this post again!
Lining or a Slip? You get both!
Because you asked for it, I'll show you how to add lining to your skirts, as well as how to make a slip for your skirt. You get both! That way you'll have the option to make either, depending on your personal preference! If you're excited to buy lining, or are heading to the fabric store soon, and need help on figuring out fabric requirements, here are some tips.
If you can fit the Front and Back side-by-side on the lining, you'll need one skirt length of lining. Measure the skirt pattern piece at its longest possible point, add a little extra, and that's how much lining you'll need.
However, unless your lining is 60″ wide and you're making View A in a small size, you won't be able to fit the Front and Back pieces side by side. In most cases, you'll need two skirt lengths of lining. Again, measure the skirt pattern piece at its longest possible point, add a little extra, and double that amount.
Does that make sense?
The short answer to how much lining to buy: two skirt lengths of lining.
For example, I'm making the size 4 in View B, and my skirt pattern piece measures roughly 18″ from top to bottom at its longest point. If I doubled that amount and bought 36″ (one yard) I'll have enough lining to cover the length of both pieces. You could round up if you wanted to be extra-sure, but you'll also be able to nestle the pieces closer together, so you won't need a full 18″ of length for each piece.
Or, bring your pattern pieces to the store and make a mock-layout on your chosen lining fabric. That way you won't waste any lining fabric!

Any questions on the preparatory steps? Ask in the comments!