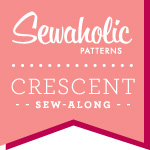 The best part of any sewing project? Choosing fabric! There's nothing like heading into the fabric store with purpose. Today, I'll share my fabric recommendations for the Crescent Skirt. I know they're on the back of the envelope, but it's nice to have some reasons why certain fabrics are more suitable. Knowledge is power, even if you ignore it and go your own way.
Here's what I recommend for sewing the Crescent skirt. (And a few fabrics I would avoid if possible!)
Cottons, including quilting-weight cottons.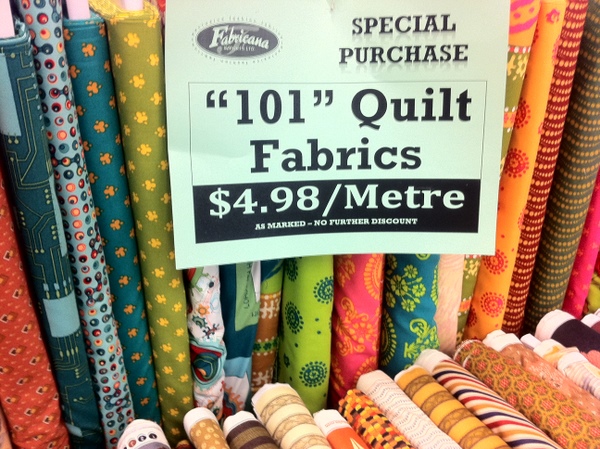 I know there's always a debate going on, discussing whether quilting cottons are suitable for clothing. And yes, it's very easy to look artsy-craftsy in garments made from bright, fun quilting prints. (Or Becky Home-Ecky, I forget where I first heard that expression but I love it! Oh Becky, we would be friends, I'm sure of it.)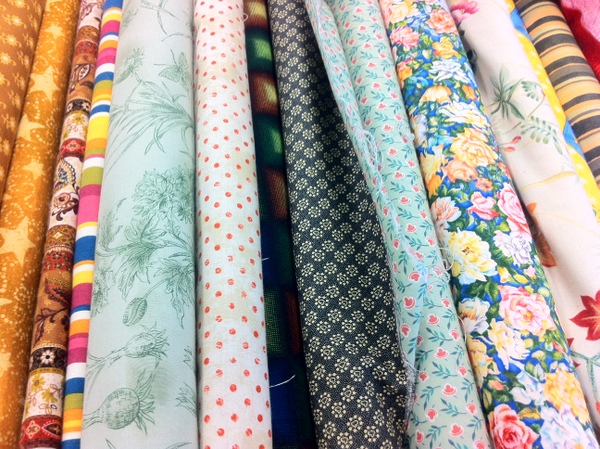 Whether you're pro-quilting-cotton or not, I have made this skirt in a typical quilting-weight cotton and it's lovely. It's super easy to sew, it presses delightfully and it's cool and comfortable to wear. There, I said it! Quilting cottons are a YES for this skirt.
Cotton lawn and voile.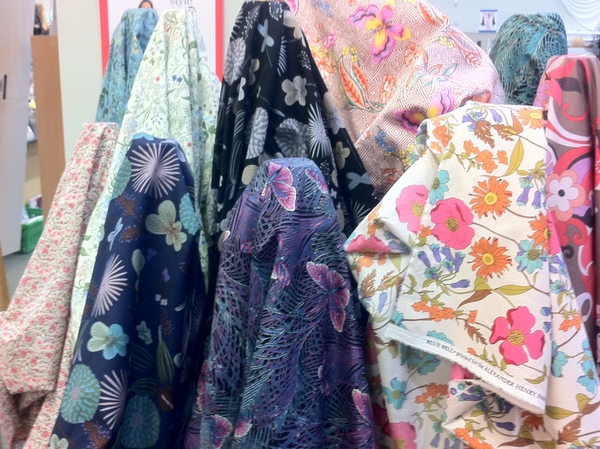 A lighter weight option to quilting cotton, cotton lawns and voiles are gorgeous, but hard to find. Just watch out for sheerness. Lawns are often more opaque than voiles, which is more suitable for this skirt. I love all of the prints on this table!
Linen and linen-blends.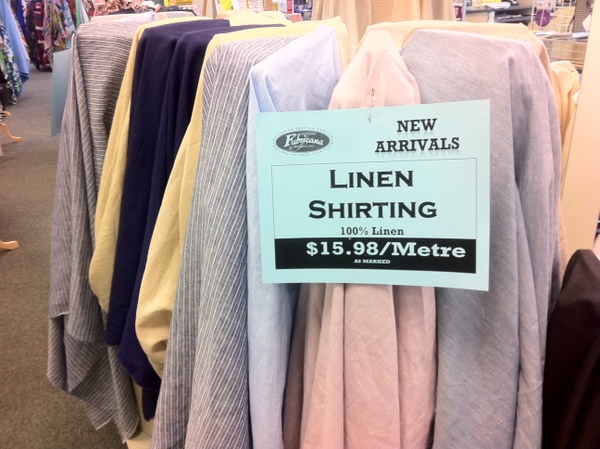 Linen is gorgeous for summer! It does get wrinkly, so if wrinkles bother you, you'll have a lot of pressing to do! The crisp-ness and breathability are perfect for this skirt. You'll end up with a crisper, stiffer version than if you used a drapier fabric, so keep that in mind when planning your project! A cotton-linen blend would be lovely, too.
Lightweight denim.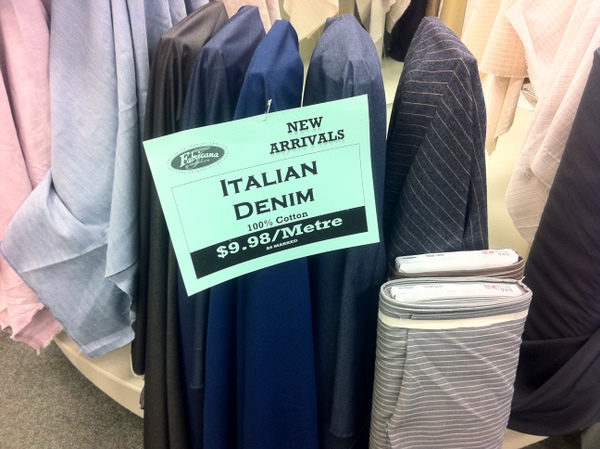 I love my denim version of this skirt! (Which I realize I still need to photograph and share, oops! It's View A in a dark medium-weight denim.) Love it. It's my go-to piece when working at home, I love the durability of denim – and the skirt is way more comfortable than jeans! Choose a lightweight or medium-weight denim for best results. Remember, you have to gather the skirt, and if your fabric is too stiff and board-like you'll have a hard time with the gathers. Denim looks great with contrast topstitching, which really shows off the waistband seaming!
All photos taken at Fabricana Richmond, in case you saw something you like! I thought this post would be more fun if I had examples of all the different fabric suggestions.
Here's what I would avoid:
Knits. All you knit-lovers, go with a woven fabric instead for this skirt. You'll have a harder time fitting and stabilizing the waistband in a stretchy knit fabric.
Stripes and plaids. Attempt these at your own risk. The hemline on the fuller skirt isn't on the straight grain, so your plaid lines won't run across the body like you might expect. Matching plaids and stripes will be a challenge with the yoke seams. I wouldn't recommend either of these, although the more adventurous seamstresses might give it a go!
Any questions on fabric selection for the Crescent Skirt? Do you have your fabric already? I'm excited to see what you pick!
PS. Want your own Crescent Skirt pattern? There's still time to order your pattern for the Sew-Along. Click here to visit the store!