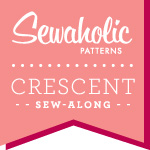 Hi Everyone! This post is just for the Sew-Alongers that are lining their skirts. Because I'm not  lining mine, I've done the best explanation I can on how to do the lining with very few photos. Please let me know if this isn't clear and I'll add more detailed instructions!
Click on any of the linked text for more help! I've linked the steps to previous Sew-Along posts, where you can repeat the same steps we did on the main skirt.
Cut your Lining Pieces
You'll need a Skirt Front, cut on the fold, and two Skirt Backs. For the Skirt Back, use the same pattern piece as you did to cut your main fabric.
For the Skirt Front, you'll need to add back in the pocket cut-out section. Here's how to eliminate the pocket – follow the steps in this post for your lining pattern piece. (Hint: If you're thinking of making this skirt more than once, make a real pattern piece for the skirt front lining so you have it for next time!)
Sew your Skirt Lining
Sew Skirt Lining Front and  Skirt Lining Back together at the side seams. (French seams are a great way to finish the edges and sew the seams in a lining!)
Gather the top edge, so we can attach the lining to the waistband facing.
Attach Lining to Facing
Attach the skirt lining to the waistband facing, same as we did when we attached the skirt to the waistband. Press the seam allowance upwards, towards the waistband.
Proceed!
Now you're all caught up to follow the rest of the Sew-Along. The only things you'll need to do especially for the lining are:
sew centre back seam in the lining (when we sew the zipper and facing unit into the skirt)
hem the lining (when we hem the finished skirt)
As we go through the rest of the Sew-Along steps, if you're not clear how to proceed with the lining, just leave a comment! If I forget to mention the lining, that's because it's not in my demo sample and I've forgotten. Just jump in with a comment and I'll explain how to sew the steps with lining attached.
Any questions at this point? Let me know!