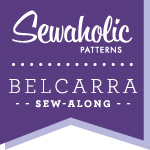 First official day of the sew-along! Today is an easy day, we're getting everything ready so that we can start sewing tomorrow.
You can click the badge to the left to see all of our Belcarra sew-along posts so far. Here is what we've covered, and what is to come!
Belcarra Blouse: Inspiration and Modification Ideas
Belcarra Blouse: Fabric Suggestions
Belcarra Blouse: Choosing Your Size, and FBA Tutorial
Belcarra Blouse: FAQ, and How To Narrow the Neckline
Today: Preparing and Cutting your Fabric, Gathering Supplies
Tuesday, May 27th: Sewing the Pocket, Sewing Sleeve Tucks
Thursday, May 29th: Attaching Sleeves, Sewing Shoulders and Side Seams
Friday, May 30th: Neck Binding
Tuesday, June 3rd: Attaching the Sleeve Cuff/Band
Friday, June 6th: Hemming our Blouses
Let's get started!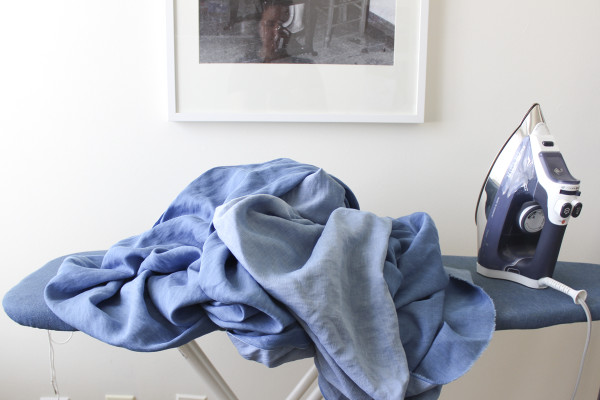 If you haven't pre-washed your fabric, you should! I always recommend to pre-wash fabric the way you intend to care for your finished garment. Fabrics usually shrink the most on the first wash. So washing it before we cut it ensures that we don't have a lot of shrinkage after we've sewn it up.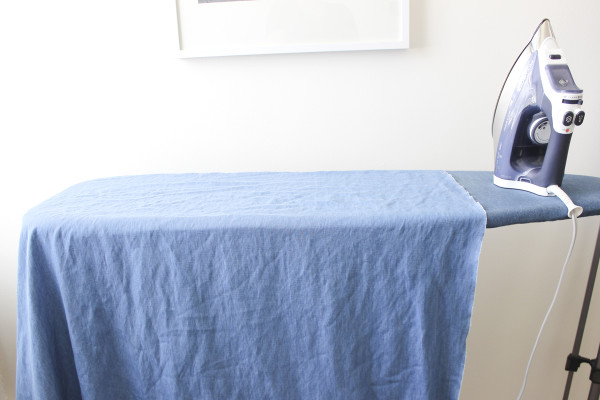 Now let's iron out all those wrinkles! For the sew-along, I've chosen a lightweight denim shirting, in a cotton/rayon blend. It's really nice, I think it will make a great staple Belcarra blouse.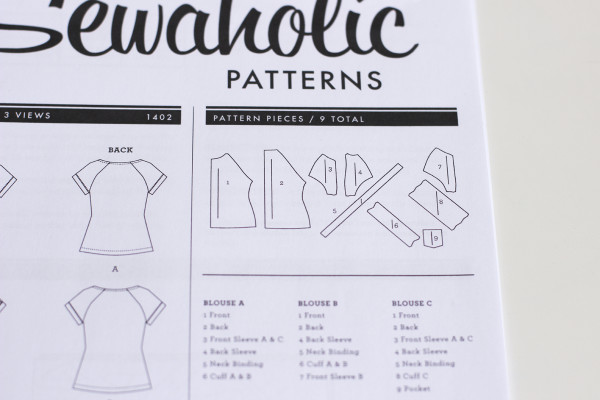 Okay so our fabric is prepped for cutting, now let's take a peek at the pieces we are going to need. You can find the breakdown in your instruction sheet. I'll be making view C. But not to worry, I'll demo all the steps (like the tucks), I'll just use a different fabric for the steps that don't apply to my version.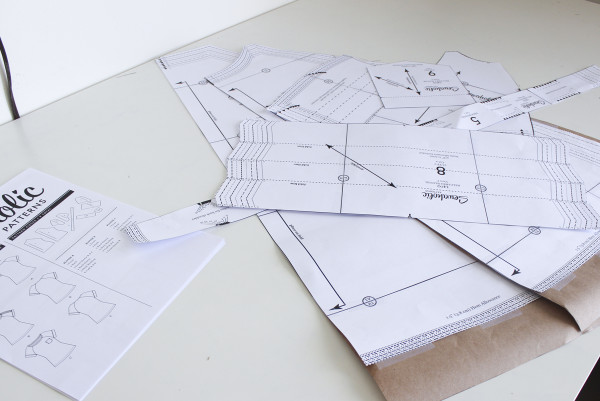 Let's grab the pieces that we'll need for our chosen view. After I tried on my muslin version, I decided I wanted a bit more room at the hips, and more length in my blouse. You'll notice in the photo above from the brown paper, I've already made these adjustments to my pattern pieces and they're ready to go. You also may have done a FBA, or narrowed your neckline, by now. If so, go you!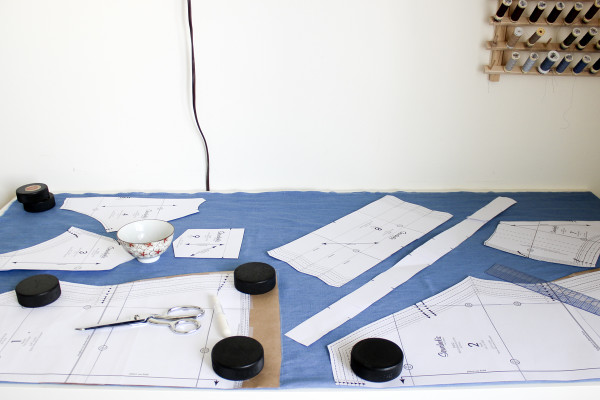 Okay now let's lay out our pieces on our fabric. You can refer to the cutting layout in the instructions, or you can wing it! We prepare the cutting layouts as a guide for two standard widths of fabrics (44-45″ and 59-60″), based on the largest size. You might have a fabric with a width in between those, or you may be a smaller size, so feel free to improvise if you can fit your pieces into less fabric or if you'd like to lay them out in different way. Just made sure you follow the grainlines.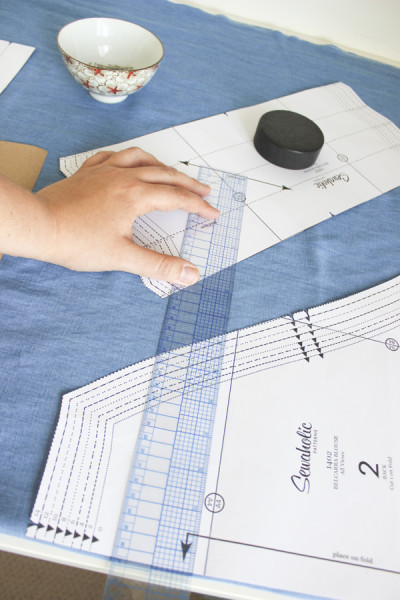 The most important thing is to make sure you check that the grainlines of your pattern pieces are lined up parallel to the selvedge (the edge) of the fabric, or the fold. I like to use a ruler and check a couple of points along the pattern piece grainline to make sure it's equidistant from the edge. This takes a bit of extra time but it's an important step. If your grainline is off, you might end up with a crooked side seam or a strangely hanging garment. It's worth the extra effort!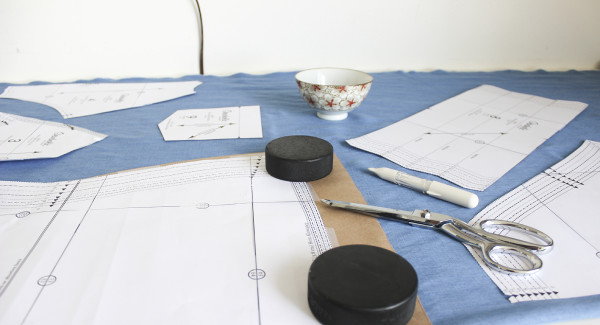 Once my pieces are laid out, I like to weigh them down, and then trace them with chalk. Then I remove my paper, put a couple of pins along the inside of my tracings so that my fabric stays in place, and then cut out my pieces! This is my favorite cutting method but there are tons of ways you can cut. Some people like to roughly cut out their tissue, lay it on the fabric, and then cut the fabric and tissue out in the correct size all in one step. This is a time-saver for sure! Or you might want to use weights and a rotary cutter. However you like to cut, go for it.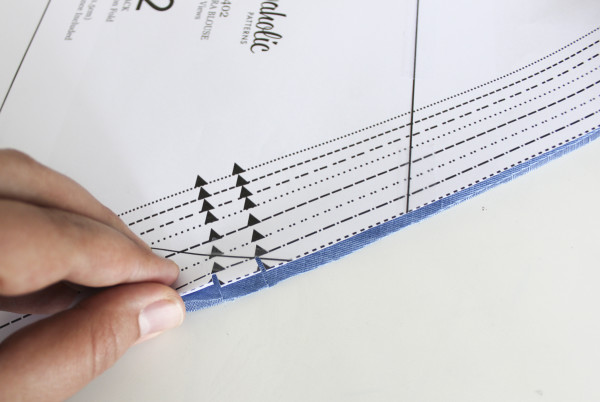 Once your pieces are all cut, time to notch. You may already know this, but for anyone who does not: notches are just small snips or markings along the edge of the fabric. That's what the triangles on the pattern piece are for, they indicate where you need to notch (or "snip") your fabric. When we go on and sew, these notches will help us to line up edges properly, or they are points of reference so that we know what piece we are looking at (fact: double notches usually indicate a back piece). They are handy and important, so go ahead and notch each piece as indicated.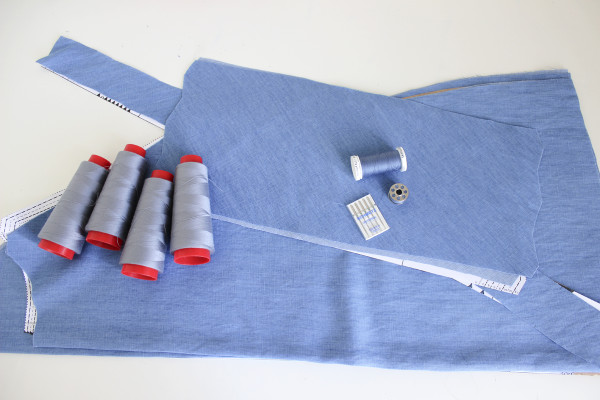 So our pieces are all cut out, and all we need is a couple of supplies. The Belcarra blouse doesn't call for many supplies, just thread! If you are using an overlock or serger, you'll need thread for that too of course. I also like to always use a fresh needle every time I start a new project. Now would also be the time to grab any extras you might be using. If you are sewing with lace, you may want to get some binding to finish your seams. If you want to add an applique or trim to your pocket, you can grab that too.
Now we're all ready to go for our first sewing day tomorrow! We'll be sewing on Thursday and Friday this week as well, which seems like a lot but not to worry, we're going little by little and you'll have plenty of time to catch up this coming weekend.
Oh! And I also have a really fun announcement to make on Thursday relating to the Belcarra sew-along, so stay tuned for that. I won't say anything more for now… But I promise you'll like it!