Happy weekend everyone! I'm coming to you today with another post to help you prepare for the Belcarra Sew-Along.
Choosing Your Size…
Let's take a look the charts for the Belcarra Blouse again. Our sizing is designed with the pear shaped lady in mind. That means smaller bust, narrower waist, and fuller hips and thighs. But that doesn't mean the pattern won't work for you if you are not a pear shape – Tasia wrote all about this topic in this post.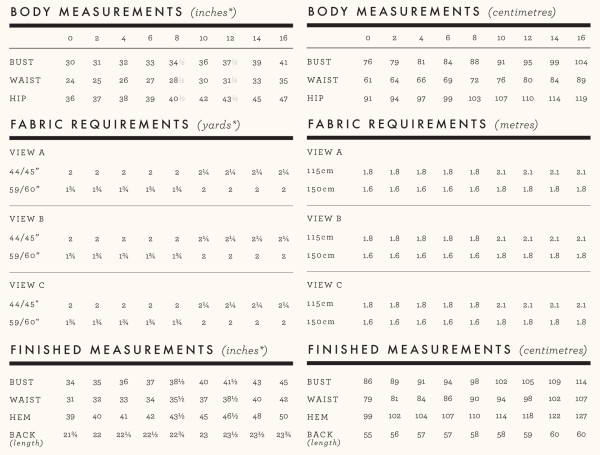 If you don't fit exactly into one size, you want to grade between sizes. The good news is, this is so simple with this pattern! All you have to do is adjust the side seams.
Example: Say you are a size 6 in the bust and waist, but a size 0 in the hips. Trace a size 6 for all of your pieces except the front and back bodice. When you get to the bodice pieces, all you have to do is trace between sizes below the waist. So trace the entire top part of the pieces in a size 6, but when you get to the waist,  draw a line down to the size 0 at the hem. This method applies to almost any scenario, you can grade up or down between sizes at the bust, waist, and hip (or hem in this case, because the hem falls higher than your hips).
If your bust is on the fuller side, then you may want to consider doing a full bust adjustment. Which brings me to my next topic…
Full Bust Adjustment (FBA)
The dartless bodice of the Belcarra blouse could make it tricky to fit if you have a larger bust. Fear not! A full bust adjustment is a great option for you.
Sewaholic patterns are designed for a B cup size. Keep in mind that your cup size in pattern making may be different from your bra cup size. To figure out if you may need to do a FBA, start by measuring across your bust. Then measure your high bust (for this, measure above your bust, running the tape measure just under your arms). If the difference between these two is more than 2" (5 cm), then you are larger than a B cup, and you might want to do a FBA.
For this pattern, choose your size based on your waist and hip measurement. Next you want to figure out how much you need to add to the bust. There are a couple of ways you can do this:
Trace your chosen size. With this method work with tissue or muslin. Pin your side seams together, and then drape the pieces over your body, lining up the side seams with the side of your torso. Measure the space between the center of your chest, and the edge of the piece. This measurement is how much you will want to add to the bust on your pattern piece.
Or, look at the measurement that corresponds with the size you cut. Calculate the difference between that measurement, and your actual bust measurement. Whatever this amount is, divide it in two to figure out what you need to add to the bust on your pattern piece. (Note: we are dividing it in two because we are adjusting our pattern piece for one side of us, but when we cut on fold, this adjustment is mirrored and therefore doubled)
For this example, I have traced a size 14, and I am adding 1″ (2.5cm) to the pattern piece, which will add 2″ (5cm) to the total bust measurement.
Okay! So now that we know how much we need to add, let's get to the pattern adjustment part.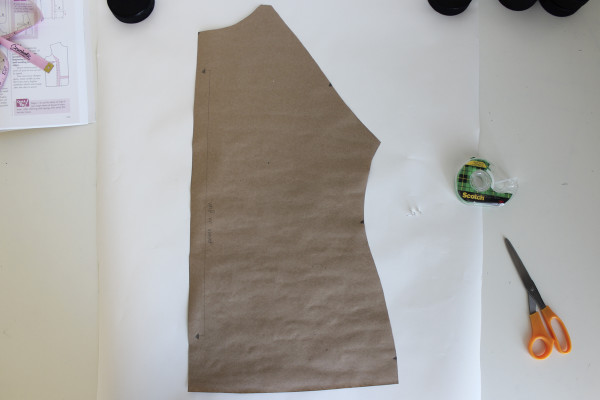 Begin by tracing your front bodice pattern piece, as shown above. I am using craft paper for the traced piece and white paper for the adjustments, so it's easy for you to see.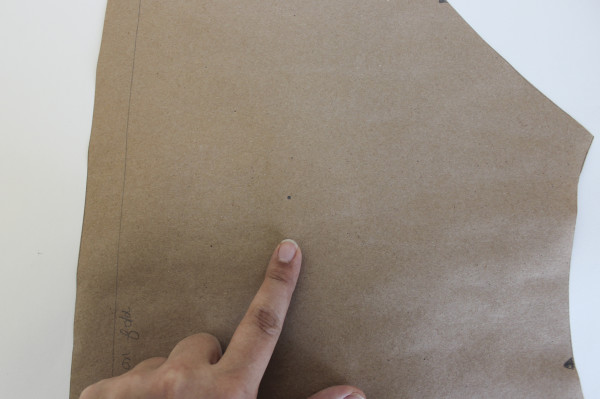 Take your traced piece and hold it over your body with the center front lined up with the middle of your body. Mark your bust apex point.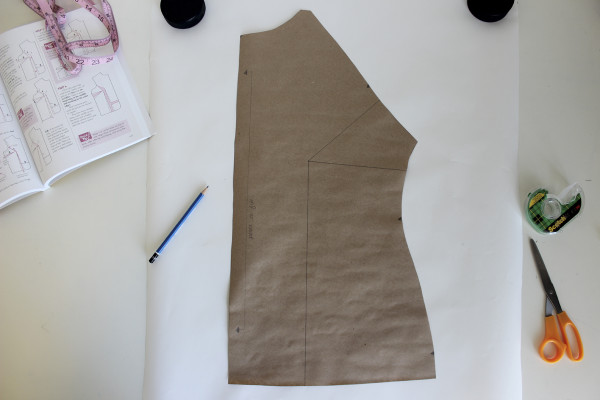 Draw your lines. You want one line extending down from the apex, parallel to the grainline. Another one extending from the apex to the side seam, where you want your dart to land. Another line extending from the apex into the armhole, about 1/3 of the way up. There is a 4th line that you will need to add near the bottom left side of the bodice – I forgot to add it here but you will see it below. Not important yet!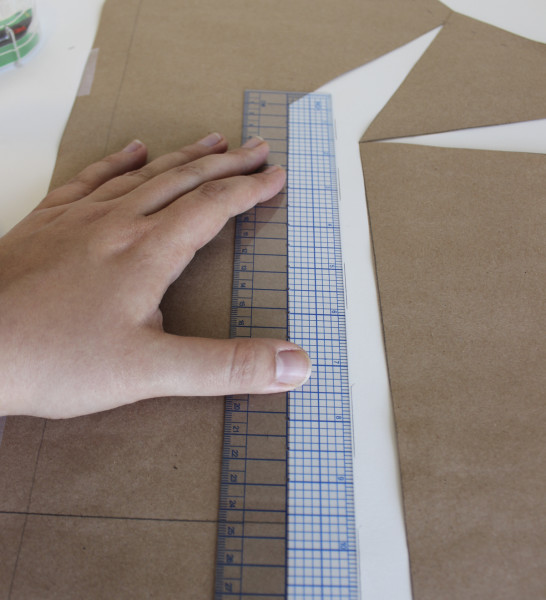 Slash along the lines you just marked. You can now tape top left piece in place. Mark your opening as shown above. I am marking a parallel line 1″ away from my cut line, because I calculated that I need to add 1″ to the bust on my pattern piece.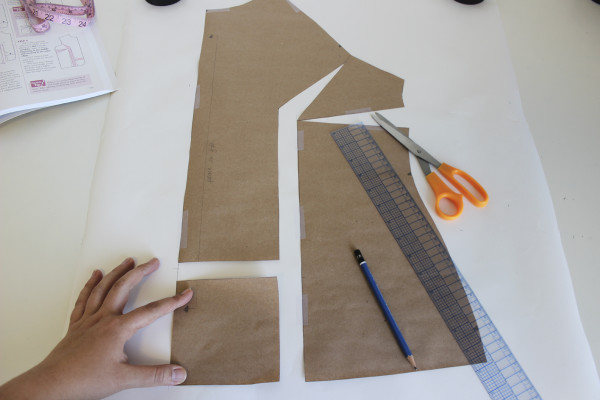 Now we will pivot and tape down our pieces as shown.
Top right section: the point of the piece lines up with the line we just drew, pivot so that the armhole is still intact.
Bottom right section: line up the left edge with the parallel line we drew.
Bottom left section: lower this so that it lines up with the hemline on the bottom right section.
Now you can see, we've created a dart!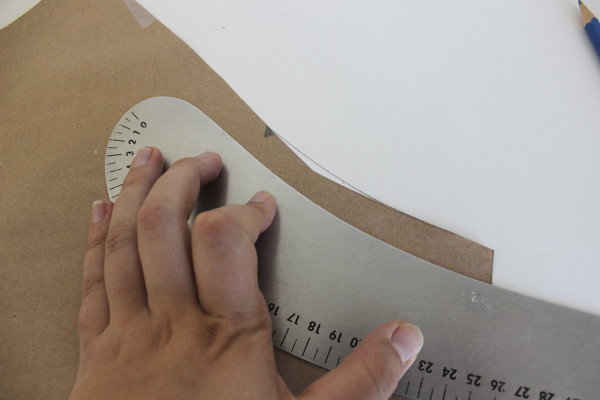 Now use a french curve to smooth out the armhole edge.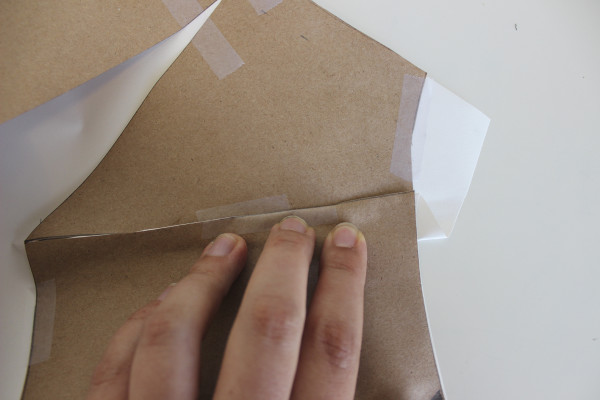 Trim off all the excess paper. I like to fold my dart when I cut the dart area so that the dart head has a little "hat".
Like so…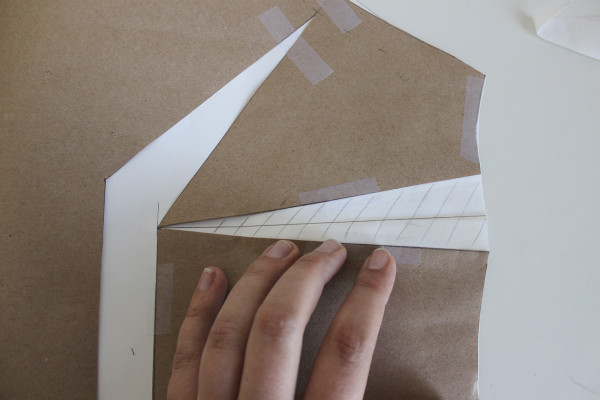 Voila! The hat is very small in this case, but it's there! I marked the dart so you can clearly see where it is.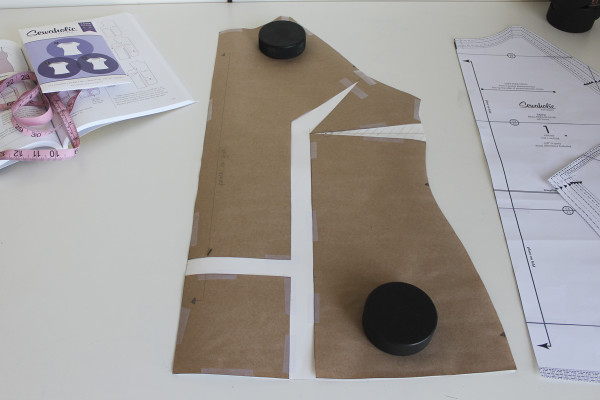 Now our new piece is complete! You may want to raise your dart point, the way I did at the end of this tutorial. Not necessary just yet. I've been referring to Palmer and Pletsch's book Fit for Real People, and they actually suggest that you leave it where it is, and adjust later on if necessary after your first muslin.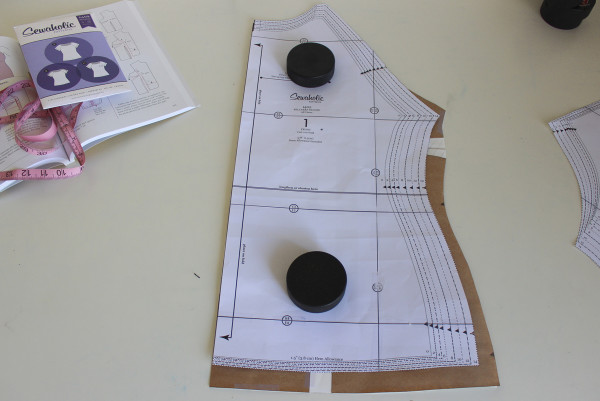 Here is a shot of the original pattern piece on top of the FBA pattern piece. You can see, there is more room at the side seam, and underarm, and it's longer. Makes sense right? A larger bust needs extra room in these areas.
As with any and all pattern adjustments, I highly recommend you make a muslin/test garment. This way you can pinpoint any fit issues or small adjustments that need to be made, before cutting into your final fabric.
I'm hoping this will help you to get prepared to sew a beautiful Belcarra Blouse that fits you just right. If you have any questions or concerns, be sure to leave me a comment.