Hi everyone! Today, in preparation for the Belcarra Sew-Along, let's look at some great questions that have come up. I'm also going to show you a quick way to narrow the neckline of this pattern. Let's hop to it!
Your Questions Answered…

Several readers asked about whether the neckline is so wide that the bra straps will show. The wide neckline of the Belcarra blouse is a flattering look that we love, but I understand the concern! Personally I have not had this problem with my blouse, but every body (and bra!) is different so it is possible that your bra straps will show. I'll do a quick demo below on how to narrow the neckline. Another solution would be bra strap holders! Dixie DIY did a great tutorial for that here. (Thank you Sophie-Lee for directing us to Dixie's tutorial!).
You might be thinking about sewing your blouse entirely out of lace or eyelet. If you do this, you don't necessarily need to underline or line your blouse, some people like the sheerness of lace! Some thoughts on sewing the Belcarra blouse in lace or eyelet:
If your lace has a scalloped edge, you can cut your pieces so that your hem is scalloped, and even your sleeves! Just trace off your pattern pieces, trim off your hem allowance, and sleeve edge seam allowance, and you can omit the cuffs. This way you can line up the edges with your scallop when you cut, and you wont have to finish these edges.
How about sewing the blouse without cuffs? If you aren't nuts about the cuffs, you could easily omit them! You could add a hem allowance to the sleeve pieces as they are, or, you could make a slash in line with the sleeve edge, and spread the piece open to make it longer (similar to how you would lengthen a blouse). For easier hemming, straighten the sleeve hem edge so there is no curve to it.
One of our readers, Linda, asked: I usually have too much length between shoulder and bust. How do I reduce this in the bodice and raglan sleeves? Here's what I would do to reduce the length between shoulder and bust:
Make a slash line in your front bodice pattern piece, perpendicular to the grainline. The slash line could be able halfway between bust line and shoulder.
Overlap your piece by an inch or so (the same way you would "shorten" a bodice piece).
Your diagonal edge on the bodice piece, the raglan "armhole", will need to be smoothed/straightened out now.
You want to slash the sleeve in the same way (perpendicular to the grainline), but this time overlap your piece in a pie shape, so that your bodice and sleeve raglan seams will be the same length, but your shoulder seam will not be affected.
How to narrow the neckline
If you'd like to make your neckline narrower, it's a pretty easy pattern adjustment. Here is how I would go about doing it…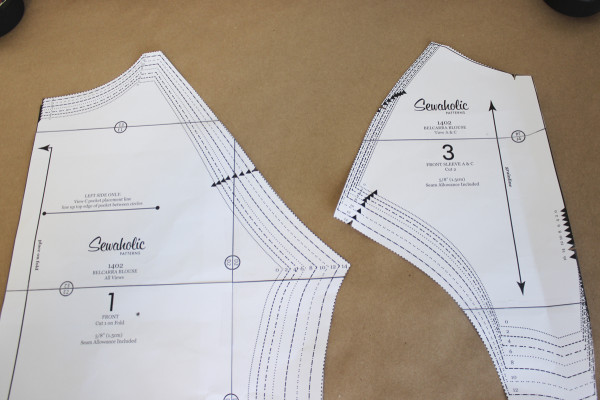 Start with your front bodice and front sleeve pieces.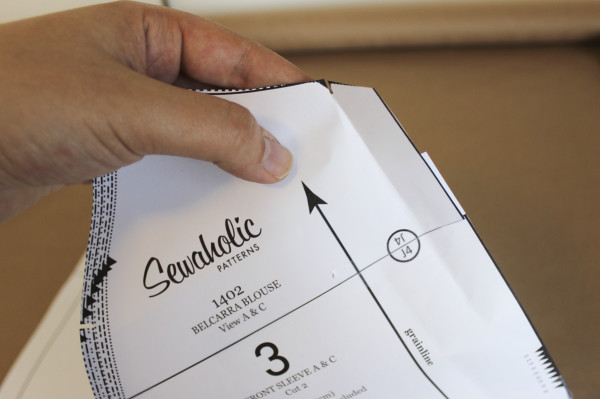 Fold your sleeve piece along the seamline (5/8″ or 1.5cm from the edge).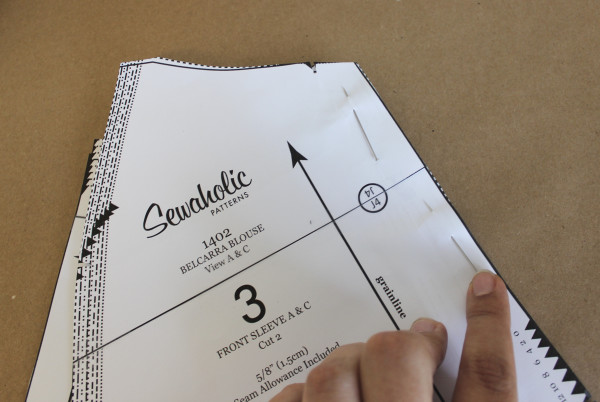 Line up your sleeve edge with your bodice edge, and pin in place.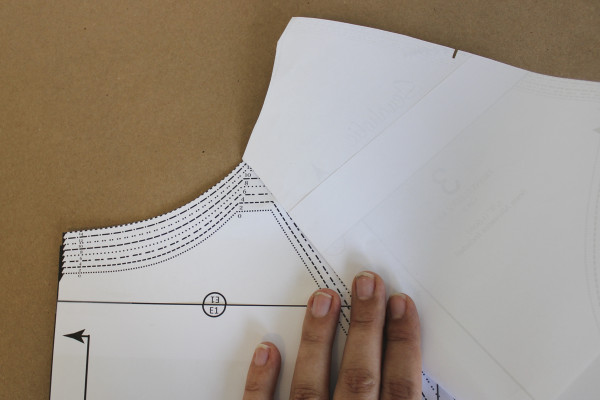 Fold back your sleeve piece along the seamline. Now we can see our front neckline!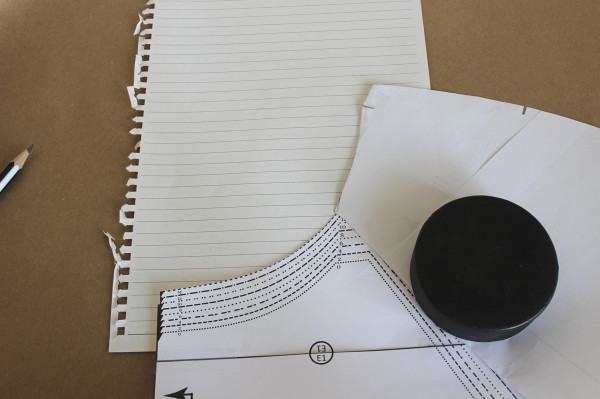 All you need is a piece of scrap paper for this modification.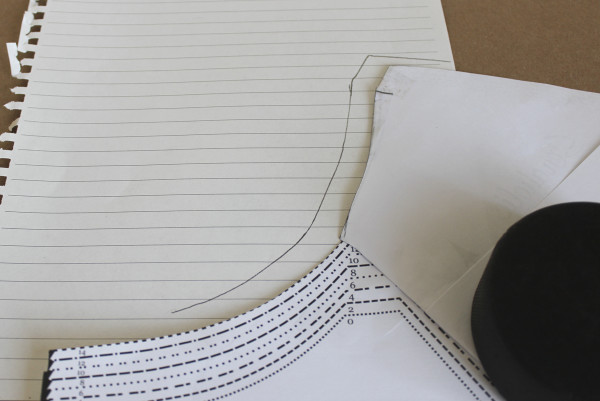 Trace along the neckline and shoulder, as shown above.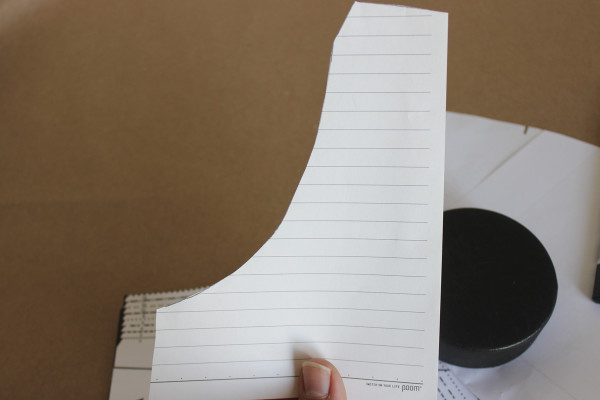 Cut out your paper along the line you just traced.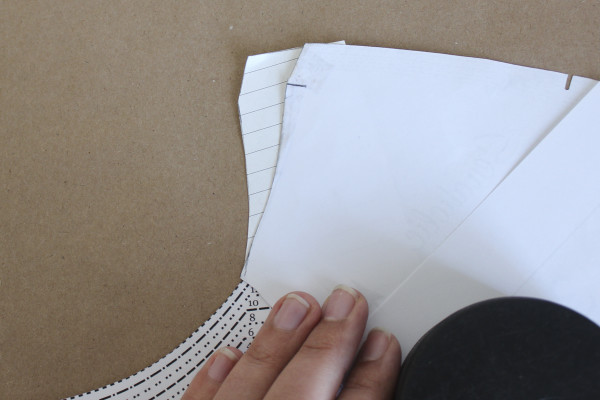 Lay it behind your pieces, and pivot it to narrow the neckline a bit. You only need to narrow the sleeve piece, and only a little bit.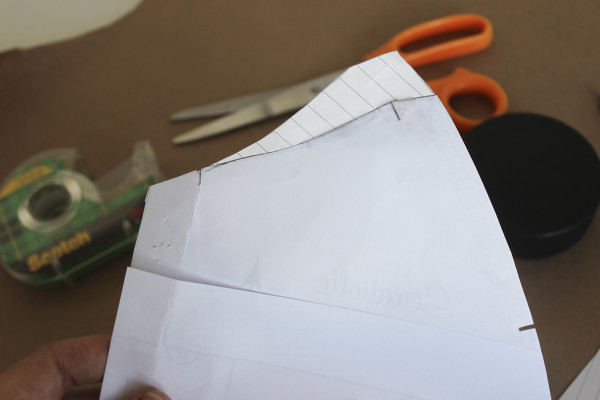 Tape the section to your sleeve piece, and trim off the excess paper. Now repeat these steps for your back pattern pieces! This will narrow your neckline and you wont have to worry about bra straps showing. Win!
Don't forget, the Belcarra Sew-Along begins on May 26th. I'm excited!