A little change in the schedule for our Belcarra Sew-Along prep posts! I am going to cover fabric suggestions today, and I've moved the FBA (full bust adjustment) and choosing your size to tomorrow (Saturday) and FAQ, including a quick tutorial for narrowing the neckline, will be on Sunday. Here is the updated line up!
Belcarra Blouse: Inspiration and Modification Ideas
Today: Fabric Suggestions
Saturday, May 17th: Choosing Your Size, and FBA Tutorial
Sunday, May 18th: FAQ, and How To Narrow the Neckline
Monday, May 26th: Preparing and Cutting your Fabric, Gathering Supplies
Tuesday, May 27th: Sewing the Pocket, Sewing Sleeve Tucks
Thursday, May 29th: Attaching Sleeves, Sewing Shoulders and Side Seams
Friday, May 30th: Neck Binding
Tuesday, June 3rd: Attaching the Sleeve Cuff/Band
Friday, June 6th: Hemming our Blouses
If you haven't already, you can purchase your Belcarra blouse pattern in our shop – paper pattern here, or PDF pattern here. Or pick it up from one of our lovely retailers!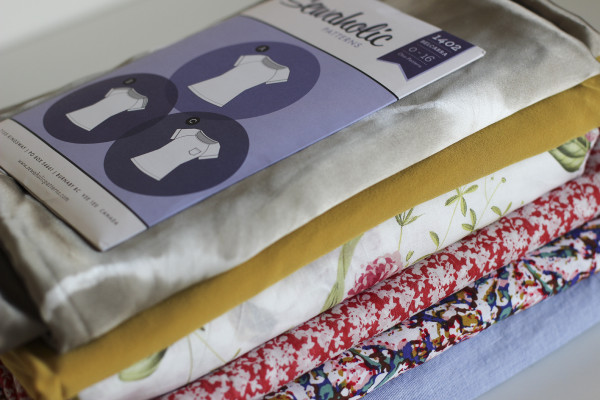 So let's dive into this and talk about fabric options!
Here is our sizing chart and the yardage requirements for this pattern, for your reference.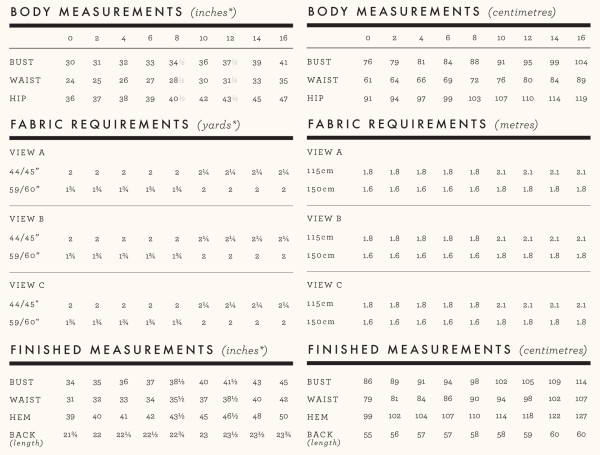 This blouse is a stash buster! The most you'll need is 2 1/4 yards in a 45″ fabric. Don't forget though, this is the perfect blouse for mixing fabrics, and I bet if you had a bit less fabric than you need, you'll probably be able to squeeze the pieces in. So what fabrics do we suggest? We recommend lightweight woven fabrics. That could be anything from silk charmeuse or crepe, rayon challis, cotton lawn or voile, or shirting. In the spirit of stash busting, I turned to my fabric stash and pulled some examples to show you.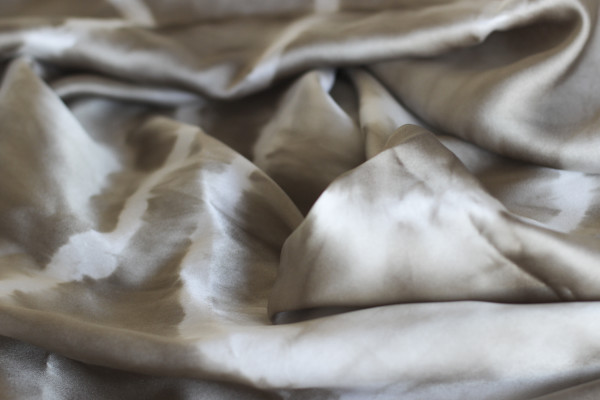 Silk Charmeuse is drapey, lightweight, breathable and lustrous. One trick I learned from selling fabrics to designers in the fashion industry – not everyone likes the sheen of a charmeuse or satin, but often, you can actually use the backside of this fabric! If the print shows through on the back side, there is nothing wrong with using this as the "right side". I've actually seen this done on ready to wear garments, and personally, I prefer it! Keep in mind, silk charmeuse can be tough to cut and sew. You can do a bit of googling for tips for working with charmeuse or satin, there is lots of good information out there.
Silk Crepe has almost all of the same properties as a silk charmeuse. Drapey, lightweight, breathable… and it's not as shiny, and easier to handle. This is one of my favorite fabrics! The one you see above is a silk crepe de chine.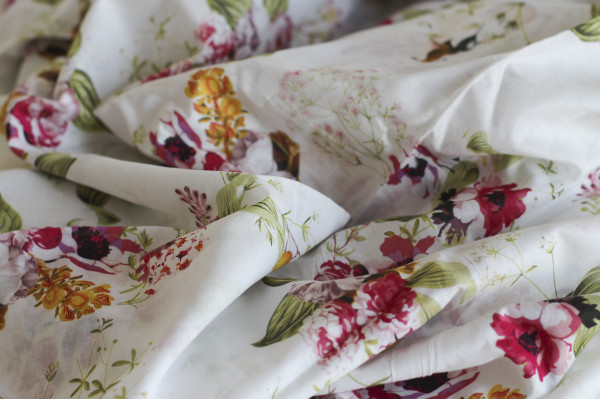 Cotton Voile or Cotton Lawn is a great choice for beginners. It has a nice crisp drape and it's not too stiff. It's also super easy to cut, sew, and press. Cotton is breathable of course, and washable! It's really a winning choice. You probably recognize the print above from Tasia's Cambie Dress and Alma Blouse. We love this fabric! This particular fabric is a cotton voile, but a lawn is very similar. Lawn's just tend to be a bit more opaque, and have a bit of a softer handfeel and drape.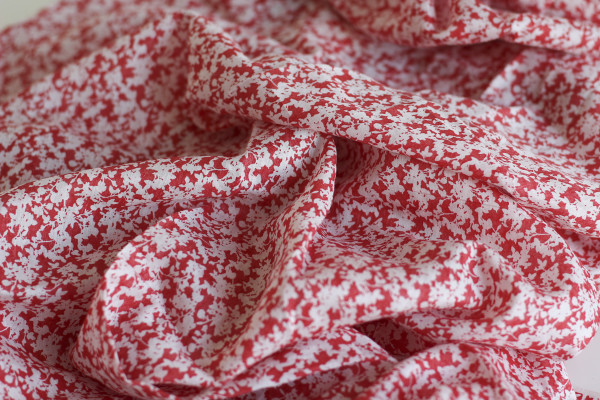 Here is another example of a cotton voile! I wanted to show you this because it's still called a voile, but it's a bit more sheer that the previous fabric. A semi sheer voile like this would work great for this blouse, if you're okay with your finished blouse being a bit see-through.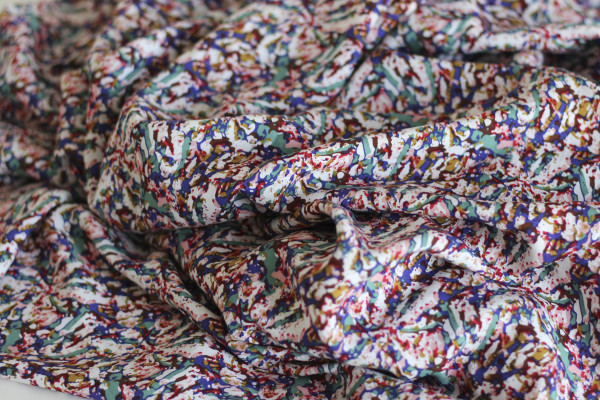 Rayon Challis is soft, breathable, and drapes beautifully. I love this fabric but there are a couple of things to consider. First of all, rayon shrinks a lot, so pre-wash your fabric once or even twice to make sure you are pre-shrinking it before cutting into it. Secondly, rayon wrinkles quite easily, so you will definitely have to iron your blouse regularly if you go with a rayon fabric. Just some things to keep in mind!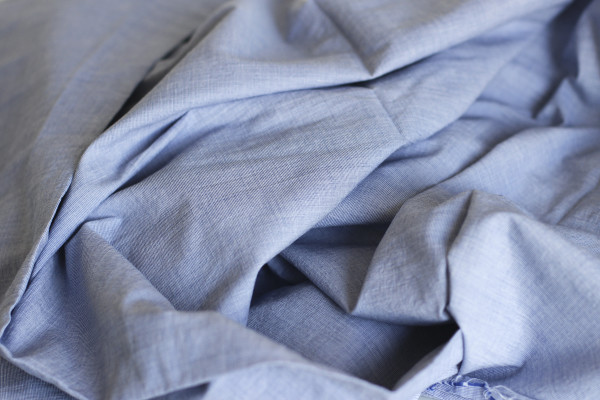 Shirting is usually 100% cotton or a blend of cotton and nylon or polyester or spandex or a combination of a few. It's nice and crisp, breathable, and easy to cut, sew, and press (another great choice for beginners!).
Remember to always pre-wash or pre-treat your fabrics the way you intend to care for the finished garment. Pre-washing will often shrink the fabric, so that your final garment doesn't shrink on you!
So that covers all of our fabric suggestions! Of course, feel free to experiment. This top could work in a stable knit or sweater knit, lace, eyelet, leather… the possibilities are really endless! If you are wondering about a particular fabric, feel free to ask me about it in the comments.