A question came up and I thought the answer might be useful to many of you. It's regarding the contrast fabric for the Tofino Pants. As you can see on the envelope back, there's fabric requirements listed for both main fabric and contrast fabric.
So what is the contrast fabric used for?
The contrast is for cutting the fabric tie belt, and for cutting the bias pieces to make the fabric-covered piping.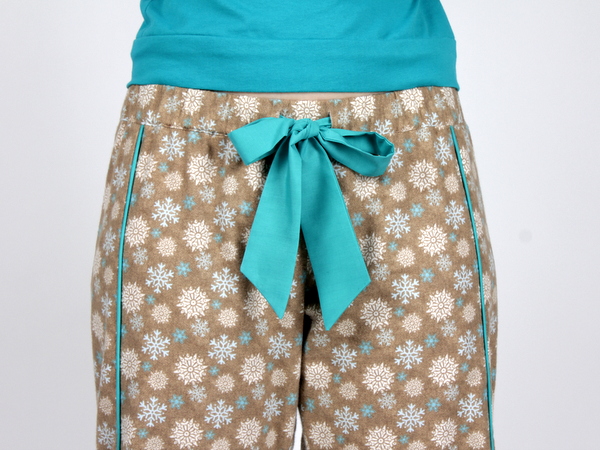 You can see in the photo above we've used turquoise fabric for the contrast (a lightweight cotton) and tan snowflake fabric for the main fabric (a cotton flannel.) Both fabrics are from Fabricana in Richmond BC, if you wanted to know!
So what does that mean? If you are skipping the piping and the fabric belt, you don't need to buy any contrast fabric.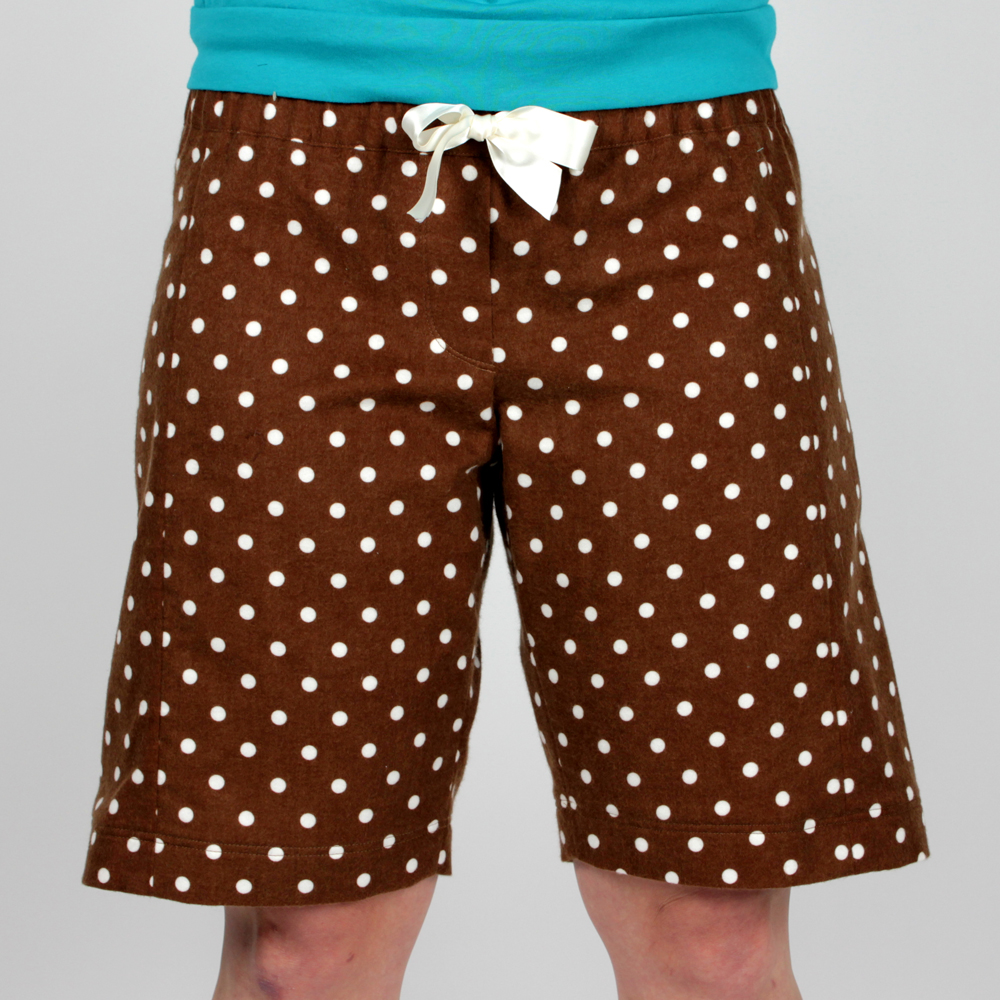 In this sample, there is no contrast fabric used at all. We've skipped the piping, and used a ribbon in the waistline along with the elastic. (The fabric is also a cotton flannel from Fabricana, with a cream satin ribbon at the waistline.)
Also, if you are replacing the piping with purchased piping or trim, and skipping the tie belt, you don't need to buy contrast fabric either.
If you are replacing the piping with purchased piping or trim, but still want to sew the tie belt, you'll need to buy contrast fabric but not the whole amount. (You'll only need just over a yard, as opposed to the 1 3/4 yards required in the pattern. A yard and a quarter should cover it.)
Can you skip the ribbon and elastic altogether? Of course you can! Personally, I like to have the option to pull the waistline in tighter, and I like the extra detail of having a fabric tie or ribbon at the waistline. But you can skip the detail and just have elastic at the waist. You'll want to skip the buttonholes on the waistband piece as they're only there to thread the ribbon through.
Do you have any other questions about the Tofino Pants? Let me know and I'll get them answered for you!
ps. Want to get your own copy of the Tofino Pattern? Click here to visit the store!
pps. Want to join the Pyjama Party at Didyoumakethat? Details here!