My love for the Thurlow shorts is endless! Today I want to share an easy mod with you that will change up the look of these shorts.  Front pleats!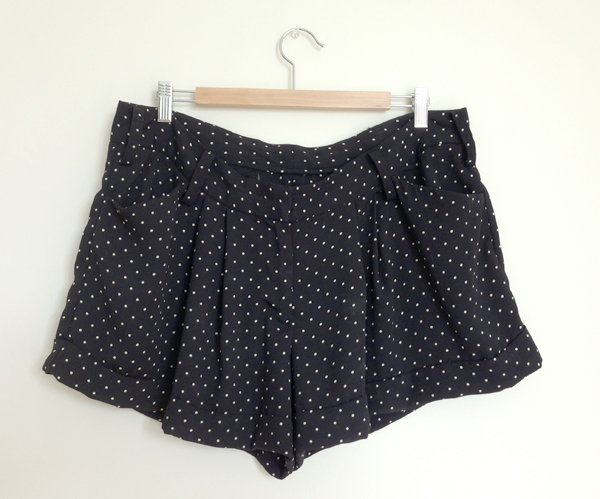 Don't be intimidated. I've taken lots of pictures of my pattern modifications so that you can create this look too! Let's get started. First up, materials needed: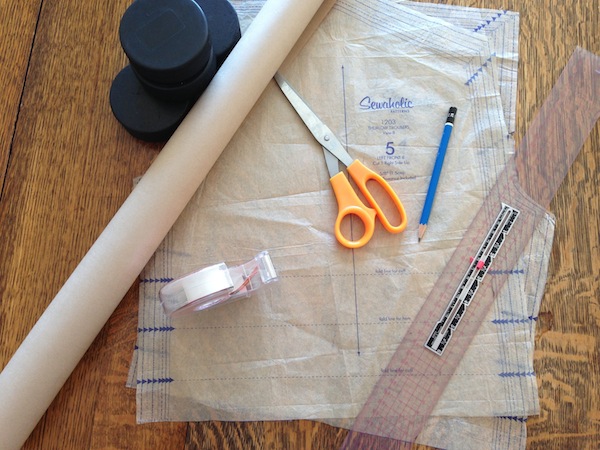 You'll need your right front and left front pattern pieces, a ruler (or two), scissors, pencil, tape, drafting paper (I use kraft paper), and pattern weights! Wait… am I super Canadian because I use hockey pucks at pattern weights?
For now we're just going to use our left front pattern piece. It's exactly the same as the right front, except it has a tiny extension at the center front. See?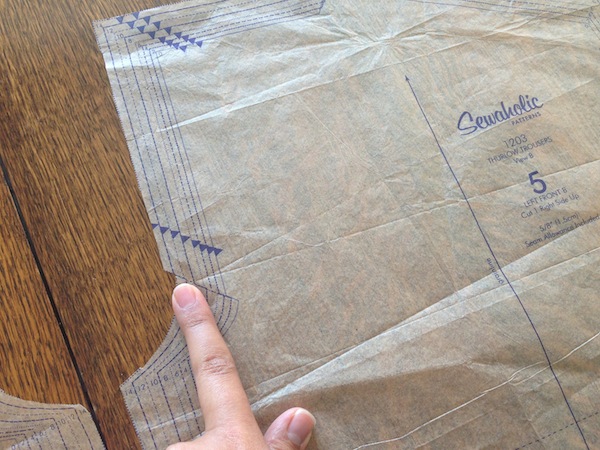 Now let's trace this piece onto our drafting paper. I just laid it out flat and traced with my pencil, making sure to transfer my notches and grainline.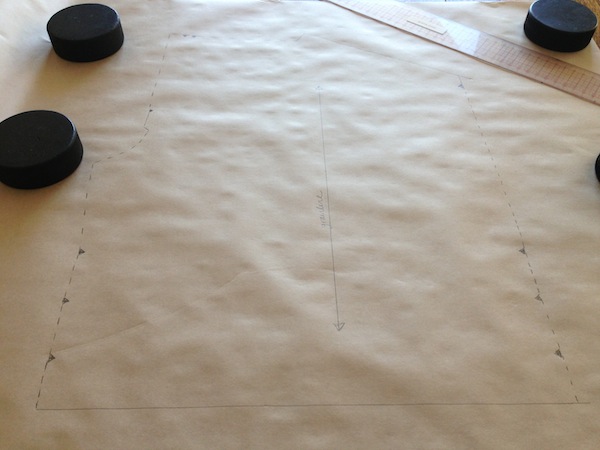 Now is when our right front piece comes in. Lay it on top of your paper, with the right side of your tissue pattern piece facing down. Trace the center front line and notch. I like to add a little note for myself that says "cut here for right front, wrong side up".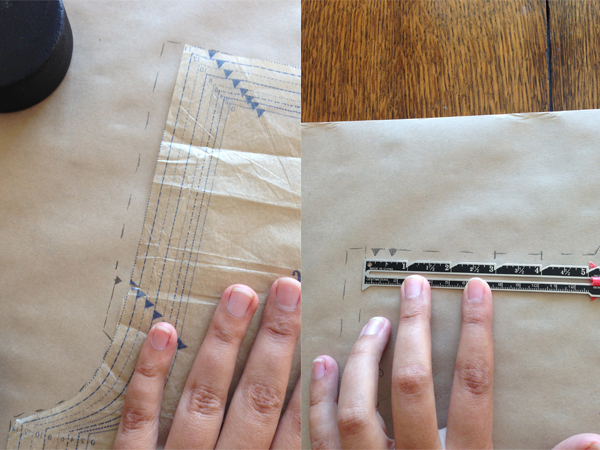 Then we're going to mark where we want our pleats to go. I'm a size 14, and I decided to place my first pleat 3 inches in from the center front, and my second pleat 4 inches in from the center front. This is in no way a science! You can decide where you think your pleats should go, or how many pleats you want.
Now we want to extend those marking all the way down to the hem, keeping your line parallel to the grainline.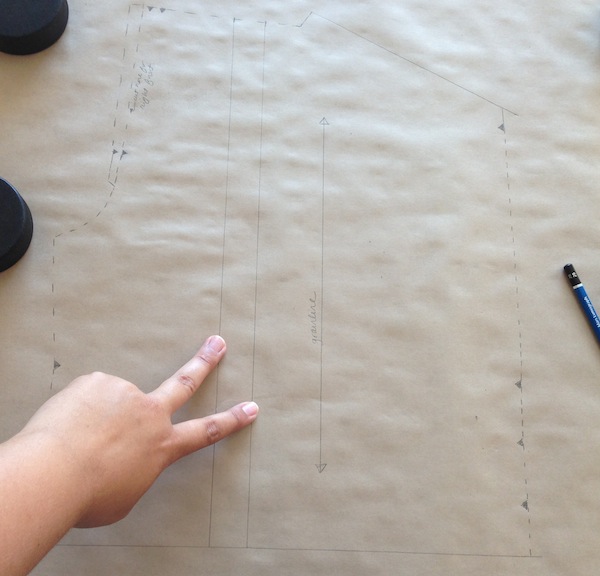 Then cut out your pattern piece, and slice along your pleat lines so that you have three pieces. Like this: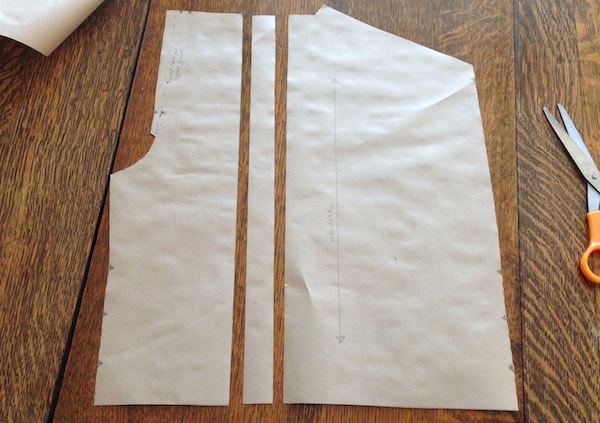 We're going to create our pleats now! I wanted the pleat depths to be 1 1⁄4 inch, so the space between each piece was 2 1⁄2 inches. I started with a blank piece of drafting paper. I like to trace two perpendicular lines, like an upside down T, and start lining up the pieces that way. This way I know that everything will be square from the hem.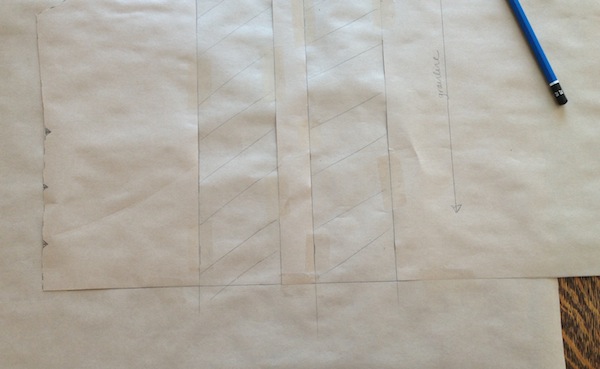 Once that's all taped together, I trim down all of my excess paper except for the top portion.
Since the top of the pattern piece is not at a right angle to the grainline, I like to trim off the excess paper after I've folded my pleats. So next we fold our pleats! I use pins to keep them in place.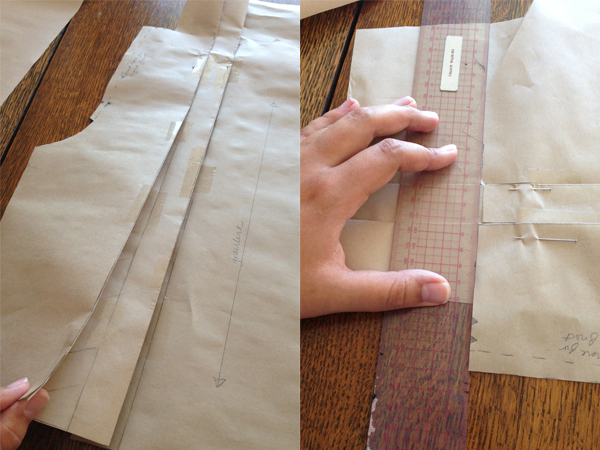 We want our pleats folded as shown, with the excess paper towards the center front, and the fold facing the side seam. Now we can straighten out our top line, and trim the rest of the excess paper off.
And voila! Be sure to add notches at your fold lines so that you know where to fold your pleats, and you're done!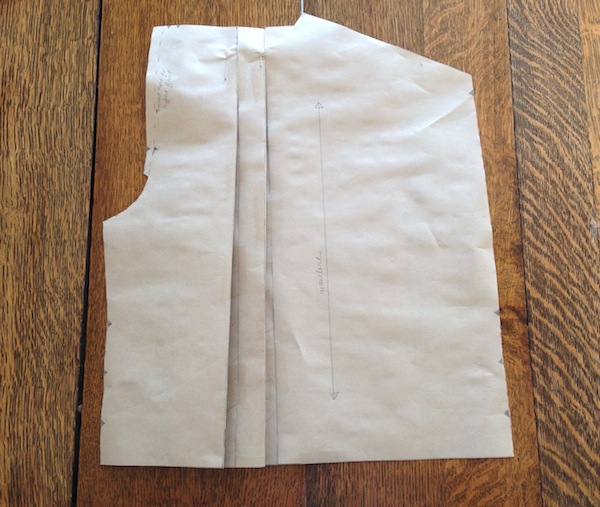 Here's a photo of the shorts on: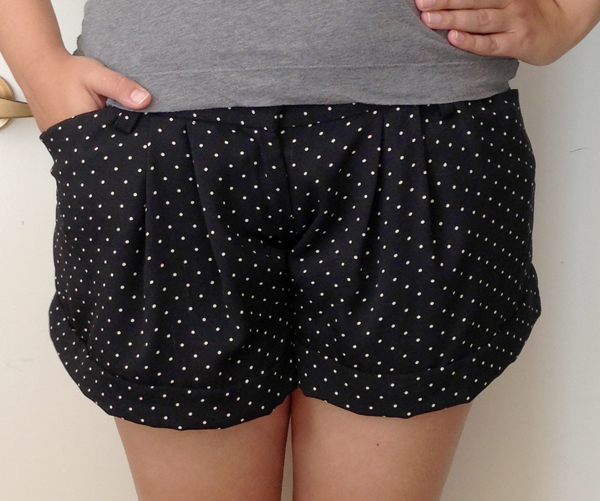 And a close up of our lovely pleats!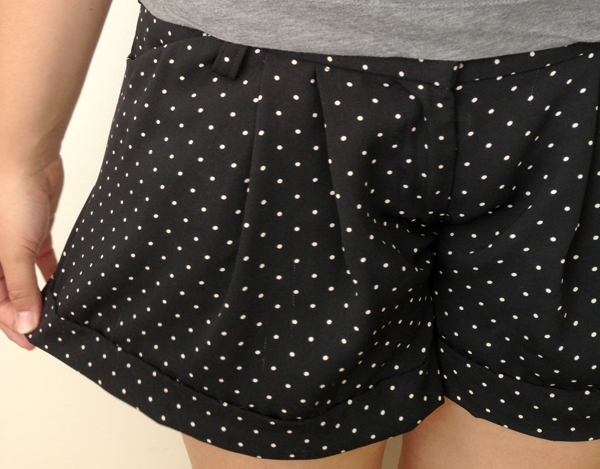 Recognize the fabric? It's from Télio. Tasia plans to use it for a Minoru jacket. I liked it so much, I picked some up too!
So that's it! A simple way to create a new version of the Thurlow shorts. Happy sewing!