Glue-basting is awesome! It feels like cheating, but if David Page Coffin recommends it then it can't be wrong. I used his book Shirtmaking for the construction of my Liberty-print Granville Shirt and one of the things in it is glue-basting. I thought I'd talk about it in detail as it will come up again and again when I talk about the collar and cuff construction.
You get better control from glue-basting than basting with machine stitches, because the machine isn't stretching or pulling the fabric. You also get a chance to lift and reposition the interfacing a few times to get it right.
This works for sew-in interfacing, not fusible as the fusible already has adhesive applied. I used bleached muslin as interfacing, which is nearly the same thing as regular muslin but bleached so it's pure white.
You need fabric glue stick, not a regular craft glue stick. This glue is water-soluble so it will wash out the first time you wash the garment.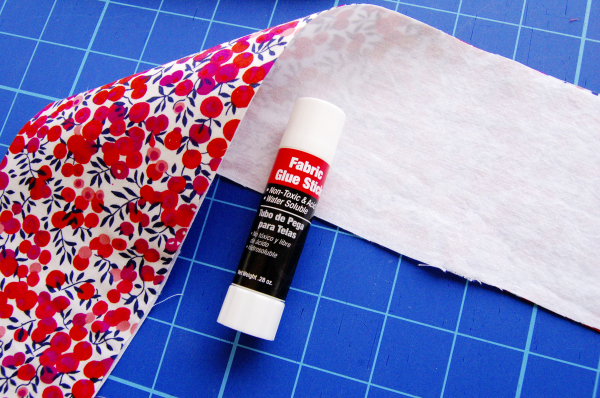 How to glue-baste:
Cut a layer of sew-in interfacing to match the fabric piece.
Open the glue stick and twist it just a little so it's barely above the edge of the tube. Rub the glue stick on the wrong side of the fabric. Try not to get gobs of glue on the fabric. That's why raising the glue stick just a little is important, so you can't overglue.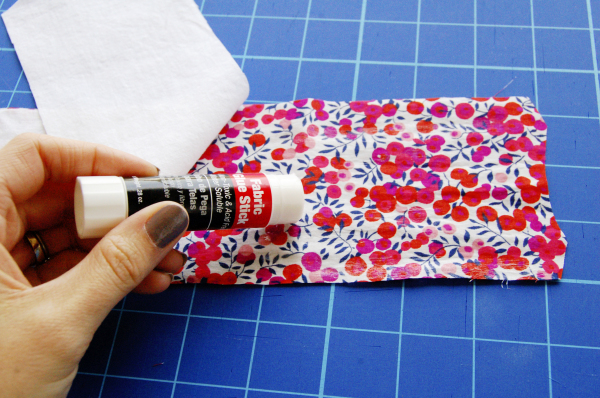 Gently place the interfacing on the wrong side of the fabric, starting at one end, and smooth it down along the piece. I start at the end that's most important to line up, if there is one. On this front band, I want the curved top edge to match more than the bottom of the band.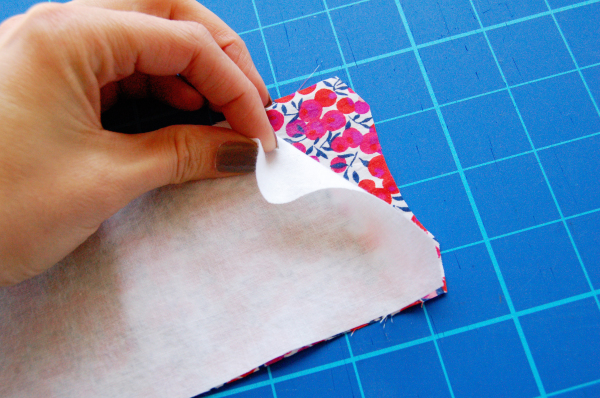 If the edges don't line up, or if there are bubbles or lumps, simply lift and reposition the interfacing so it lines up better. You can do this until the glue dries. I tried to figure out how long it takes for the glue to try, it starts to stick after about a minute so you don't have a lot of time. (Your glue may be different and also it was in the window so it was warm, which could have made the glue dry faster.)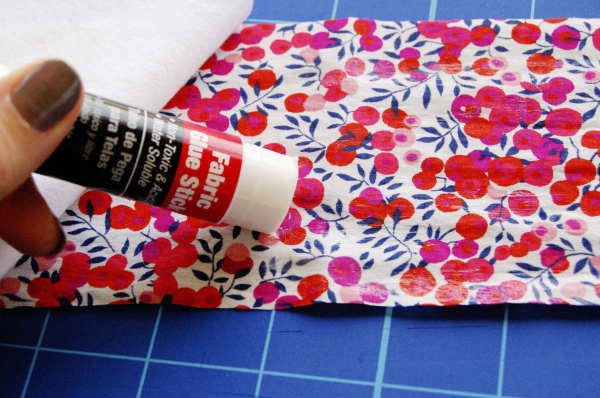 If you are basting a long piece, start at one end, glue down about 4″ – 6″ (10-15cm), then work your way down the length of the piece.
Do you glue-baste? Any tips to add?
Check out more posts on shirtmaking here! I'm tagging them all with 'shirtmaking' to make them easier to find.