I learned a lot when I made my knit Saltspring dress. I'd love to share some tips with you today on working with knits for this pattern.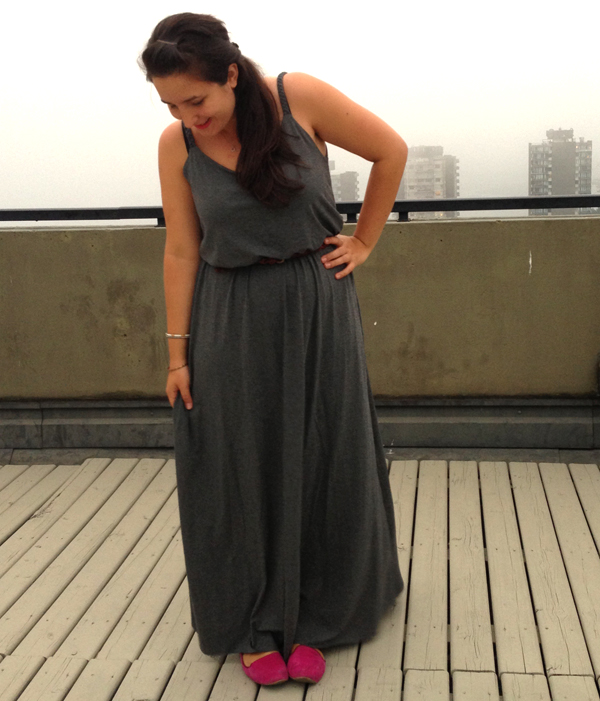 I will preface by saying that I am no knit expert! But I've sewn my fair share of knit garments, and learned a lot along the way. So here we go with some tips & tricks!
Choosing your fabric
When you're choosing your fabric, I would suggest getting something with a small percentage of spandex in it (about 3% is ideal). This means your knit will have good recovery (bounce back when stretched).
This pattern does double duty; it can work for both wovens and knits. It works well with knits because there are no darts or princess seams. But this pattern does not have negative ease. Negative ease is when the pattern pieces are designed to be smaller than the body they are fit to, because we are accounting for the fabric to stretch and fit. When making a knit Saltspring dress, you may want to consider cutting a size smaller if you are concerned with your garment being too loose in a knit fabric.
Weight is also important! If you read my last post, you know that I learned this the hard way. I thought my fabric was the perfect weight, but after cutting out and sewing my large skirt pieces, the fabric just seemed to weigh me down. I would suggest draping the full length of fabric over your shoulders or arm, and moving around a bit. How does it feel? Compare that weight to the weight of your favorite knit dress. You might look a bit crazy in the fabric shop, but embrace it! Why not do a little dance even! If you can't imagine it working – skip it! It's not right for this dress.
Test, test, and then test again!
My number one tip is to test everything out! Look at the pattern and instructions, and figure out all of the seams you will be sewing. Before even cutting your pattern out of your fabric, cut small squares of fabric and test the thread, needle and tension of your machine. Whether you're using a regular machine or an overlock/serger, they should both be tested beforehand.
To test your fabric, sew seams on a double layer of fabric to see how your fabric will react. You want to stretch your seams out in all directions. See what happens. If your thread breaks when you stretch the seam, you might need to adjust tension in the machine. A seam stretching out and looking "wavy" as you sew is also an indication that you need to adjust tension. If you pull on your seam and it doesn't bounce back, you'll want to consider stabilizing your neckline and waistline.
Next, you want to try to figure out if your fabric will shrink. If it's a cotton (or any natural fiber), it most likely will shrink in the wash! If so, prewash your fabric the same way you intend to wash your finished garment. If you're not sure, cut a small square of fabric and throw it in with a load of laundry to see how the fabric reacts.
Cutting your fabric
Test your fabric for recovery. If you chose a fabric with spandex in it, it most likely has good recovery. This means if you stretch it out, it will bounce right back. If your fabric has nice recovery, you can totally get away with omitting your zipper! Just remove the center back seam allowance, and cut your back pieces on fold.
If you chose a fabric without good recovery (say, a cotton or tencel knit without spandex), you'll probably want to keep your zipper in there. That way your seams wont stretch out when you're pulling the dress on and off.
Tasia wrote some great posts for the Renfrew series about cutting knit fabrics, you can find them here and here.
Sewing needle
If you are sewing with a knit fabric, you want to use a jersey/stretch/ballpoint needle. The point of the needle is a tiny bit rounded, so instead of cutting through the threads of the fabric as it stitches, it will gently push them aside.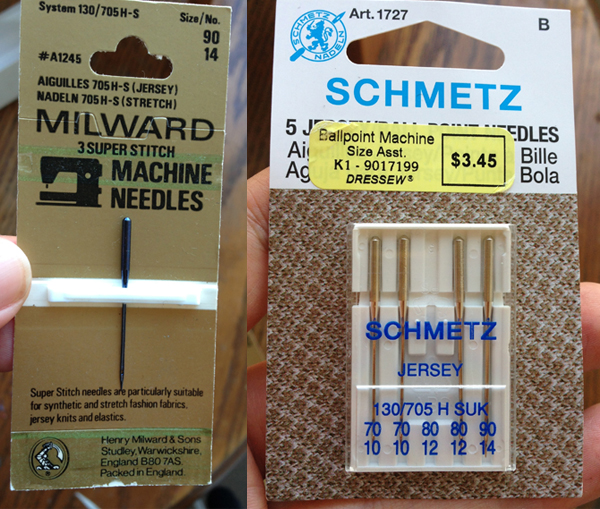 This might be obvious, but I remember when I first started design school, I totally learned this the hard way! I had just received a new machine for my birthday. I spent a day whipping up a killer pair of comfy leggings, and proudly wore them to class the next day. By the end of the day, all of my seams were developing small holes. This was because I did not know to change my needle to a special sewing needle! I was so embarrassed!
If you're using a regular sewing machine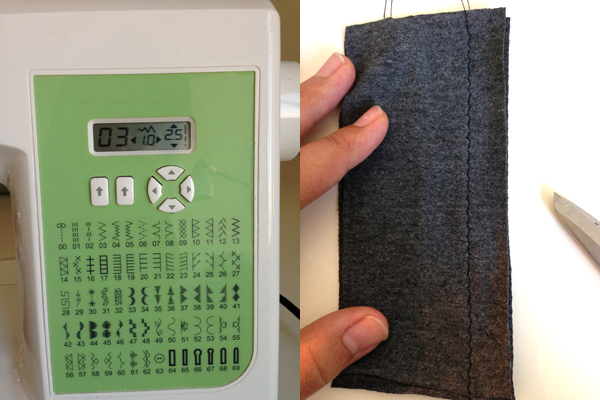 Test your stitch! I find the most fool-proof way to sew a knit fabric on a regular sewing machine is with a narrow zig zag stitch. Test different stitch widths and lengths, stretch out the seams to see how much give they have.
The neckline in the Saltspring dress is curved, which can be tricky when you're sewing with a zig zag stitch. Test this out too. Don't clip your seams if you're using a knit! They may unravel and come apart. You can just trim your seam allowance in half and the fabric will have enough give.
If you're using an overlock/serger
You'll probably call me captain obvious, but I'll say it again: don't forget your serger/overlock will also need ballpoint needles!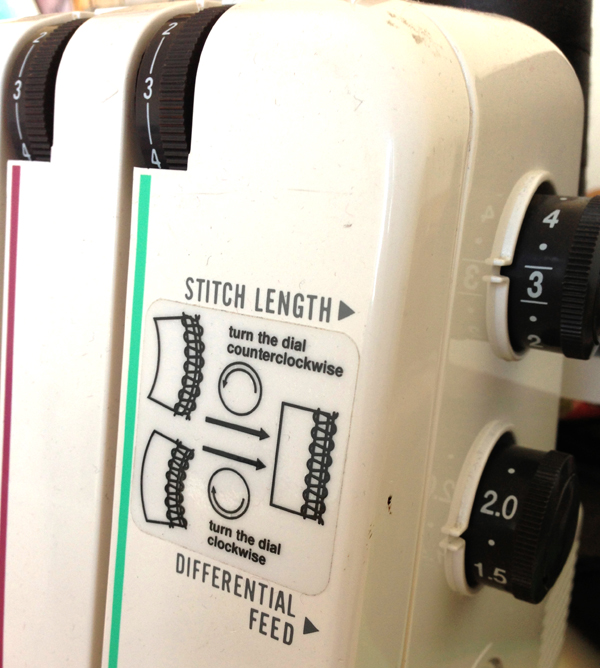 One thing I learned during many a late night crying over my overlock machine (ha! kidding… sort of) is that a wavy seam can be fixed with a simple adjustment to the differential feed. See that lovely dial? It's magic.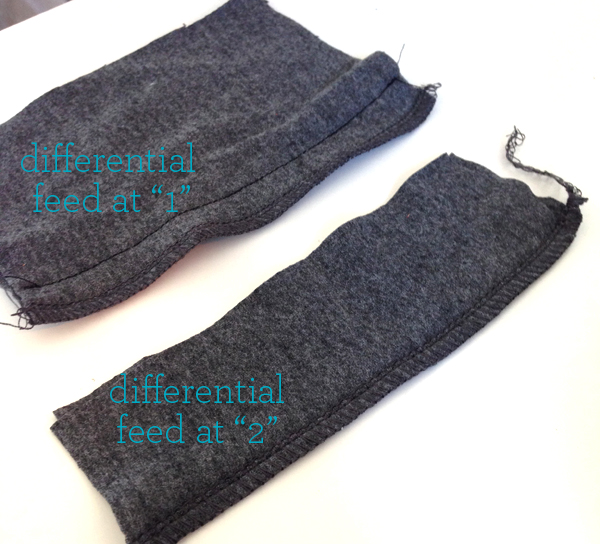 See? I was testing out finishing options, and noticed a wavy seam. A simple adjustment to my differential feed fixed that.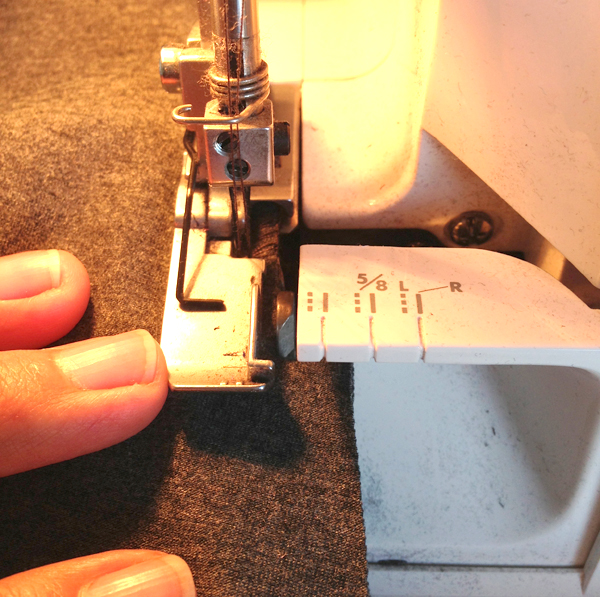 The Saltspring dress has 5/8" seam allowance built in. But your overlock will finish a seam at around 1/4". I find the easiest way to adjust the seam allowance is to trim it off as I sew using the cutting knife on my machine. Most machines will come with a handy guide.
Can I use both an overlock and a regular sewing machine?
Yes!
Tasia has a unique approach to sewing knits. She describes it here. Basically she finishes her knit fabrics as wovens. Finishing seam allowance with the overlock, but also sewing a seam with her regular sewing machine at 5/8" seam allowance. I often use this method myself. This might be something you want to consider, depending on your preference.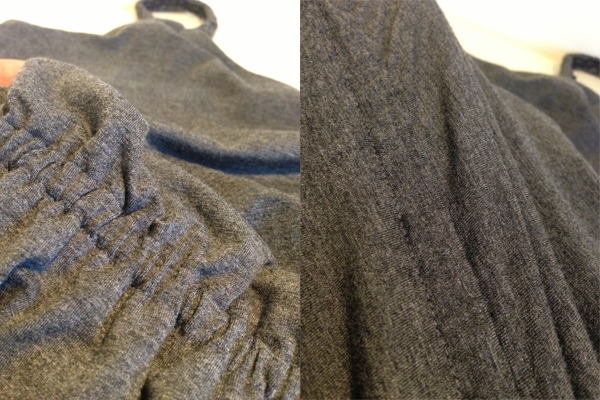 Keep in mind, if for nothing else, a regular machine is essential for constructing the waistline of this dress. I used my overlock for everything except this step. You can see above, I used a straight stitch (instead of a zig zag) for my waistline seams and topstitching. My reason for this is that since I was inserting elastic, I wasn't worried about the seams being stretched to the point of my thread breaking. I find a straight stitch creates a cleaner finish, so I went with that.
If you want to leave your hem raw, go for it. That's what I did! It wont fray or look funny with a knit fabric, it will just curl up. If you prefer a finished hem, do that!
What else?
Think about stabilizing your seams! A great method is described here in the Renfrew series. Especially around your neckline, seams can tend to stretch out with wear and not bounce back.
My braided straps
My braided straps were really easy to create. I cut 6 strips of knit fabric using the strap pattern piece that came with the Saltspring.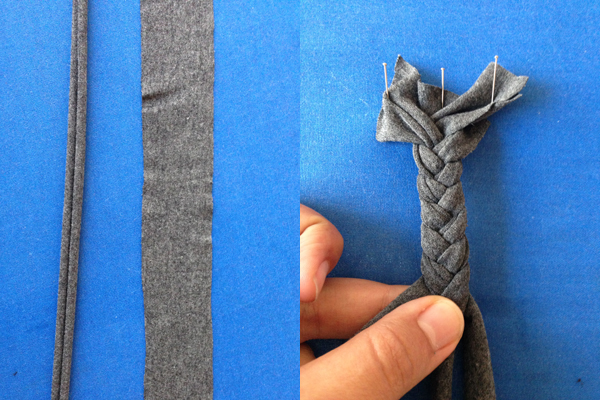 In the photo above on the left, you can see the knit fabric before and after a gave it a good stretch. Just stretching it will make the edges curl under, which will make the piece perfect for braiding.
Use three sewing pins or safety pins to attach three strips of your fabric to something. I used my ironing board. Braid your strips of fabric together slowly and evenly.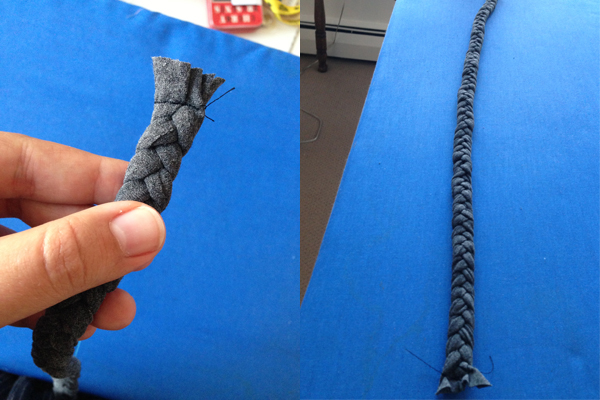 Sew across both ends of your finished braid to keep your braid nice and tight. Repeat for a second strap!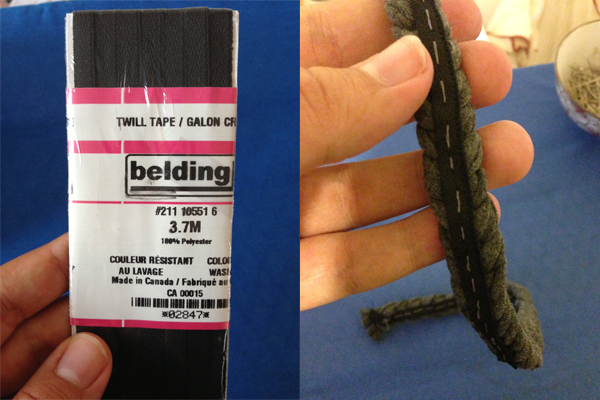 Now is where I get creative! I was thinking to myself… how am I going to decide on the length of my strap, if the knit strap might stretch out? Especially with the weight of my fabric, I feared my dress would pull down the straps and make my neckline too low cut. Once the dress is constructed, this is tough to fix! So I remedied this concern by hand sewing twill tape to the backside of my braid. It's invisible to everyone else, but it gives me the extra peace of mind knowing that my dress straps wont stretch out over time and wear. Cool, right?
Once your bodice side seams are sewn, you can figure out the correct strap length by pinning them onto your bodice, trying your bodice on, and marking the correct strap length. When you are actually sewing your straps in, they will be tucked into the bodice layers. But if you have a chalk or thread marking the correct length, you can pull the end through to the correct point and then sew across.
That's it!
The final message I'd like to get across is… don't fear knits! If you prepare and test correctly, you can conquer your knit sewing fears. If you're looking for more information or tips, visit Tasia's big list of tips for sewing knits. And if you have any questions, drop us a line in the comments and we will be more than happy to help!
Happy sewing!