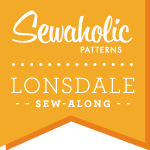 Hello, everyone! If you've been wondering about adjusting this dress for a fuller bust, I can help! I can at very least, point you in the right direction for your own alterations. Keep in mind I am adjusting for an imaginary full-bust, and haven't fit this according to a real person. However, I've added a ton of helpful FBA links at the bottom of this post for further reading! Between this and all of the links, you'll have plenty of information to start with.
The best part is that the knot front is adjustable, and you can tie it tighter or looser above the bustline for just the right fit, every time you wear it. You may want to tie a full knot so it never comes undone or loosens as you wear it, or you may want to tie a half-knot for discreet adjustments on the go. (You'll be able to quickly reach up and tighten the knot when no one's looking!)
Today, I'll show you possible ways to adjust this dress – and share as many links to other FBA tutorials as I can find!
If you have any suggestions to add, or have a method that's worked for you, I'd love to hear it! Leave a comment and let's help each other out.
Before making any adjustments, we'll need to figure out how much to add. If you consistently make the same 1″ FBA, then likely that's the same adjustment you'll need here! This pattern is drafted for a B cup.
Figuring out how much to add:
Cut out the bodice front pattern piece. (Or use your tracing of the pattern piece, if you prefer to trace your patterns.)
Hold it up to your body (or dress form), and line up the sideseam along your sideseam. This is a little tricky to do with paper, as the area between centre front and the top edge will get gathered up in the knot!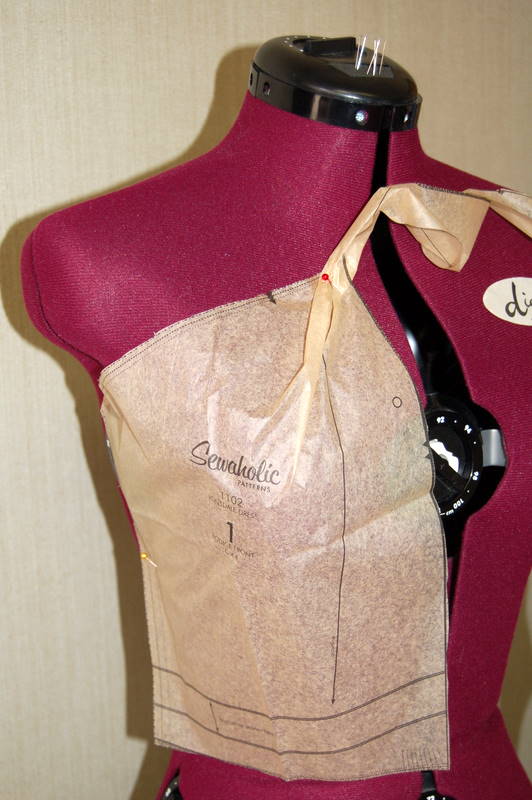 Figure out how far away your pattern piece is from meeting at centre front. This is how much you need to add in your FBA adjustment.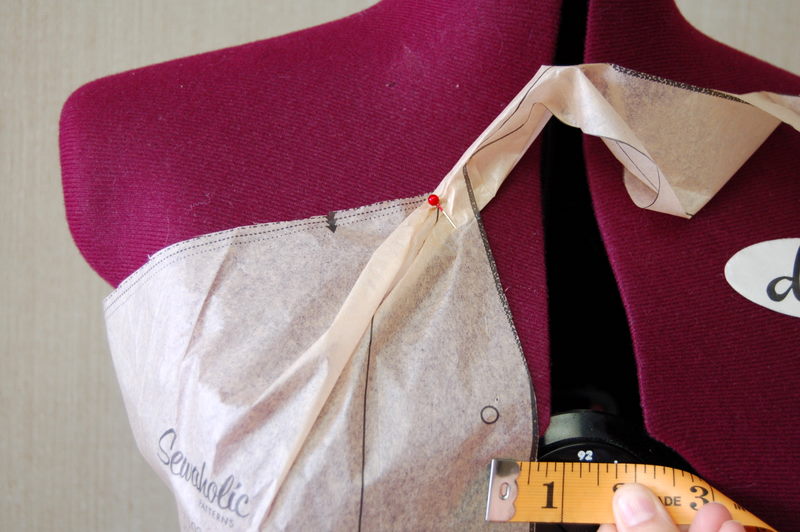 Mark the bust point on the pattern piece, according to your body. Time to move on to the pattern adjustment!
Adding to the pattern:
Cut a piece paper slightly larger than your bodice pattern piece. This will go on your workspace, under your pattern, so you can slash-and-spread the pattern piece and tape it to the paper below.
Lay your pattern piece (Bodice Front) on top of the paper. We'll do our work with this piece of paper underneath! If you don't have a single sheet that's large enough, take a few smaller sheets and tape them together.
Now we'll draw four lines!
Line #1: Draw a line from the 'armhole' to the bust point – in this case, we don't have an armhole, so I've made it about 1/3 of the way between the sideseam and the notch.
Line #2: Draw a line from the sideseam to the bust point. This should be positioned where a dart would be, with a slight upward angle.
Line #2: Draw a line from the 'armhole' – in this case, we don't have an armhole, so I've made it about 1/3 of the way between the sideseam and the notch.
Line #3: Draw a line from the bust point, straight down. I've drawn mine to the middle of the pattern piece.
Line #4: Draw a horizontal line. I'm using the 'shorten or lengthen here' pattern line.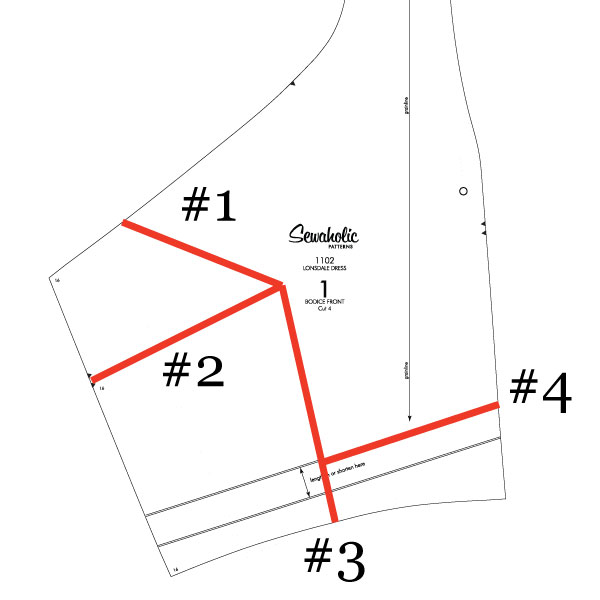 Slashing the pattern
Now we'll cut these lines and spread our pattern apart! Before cutting, make sure you have that piece of paper underneath your pattern, it will be so much easier to tape it in place.
First cut line #1, then cut line #2 right up to the bust point but not through line #1. There should be a teeny bit of paper still left holding the top half  and bottom half together.
Cut Line #3 up from the bottom. Cut Line #4 all the way through.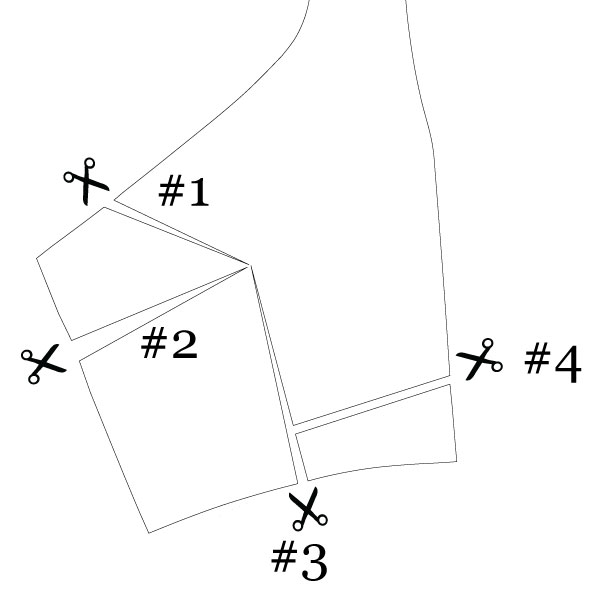 Spreading the pattern
Spread the pattern piece apart along line #1 and #3. The distance of the opening should be the amount we determined we needed to add in the first step, trying on the pattern tissue.
Keep the opening along Line #3 evenly spread from top to bottom.
Move the section below Line #4 downwards until the bottom edge lines up.
Now you have a side bust dart in your dress pattern!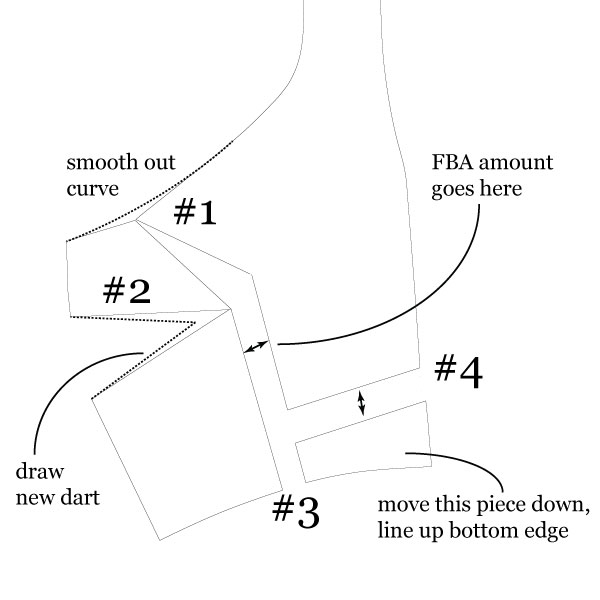 The last thing you'll need to do, is adjust the waistline. Do you need the extra around the waist that we've added? Then slash-and-spread your waistband and skirt pieces to match. Don't want any extra ease around the waistline? I'd either take the amount we added back out of centre front, or out of the sideseam.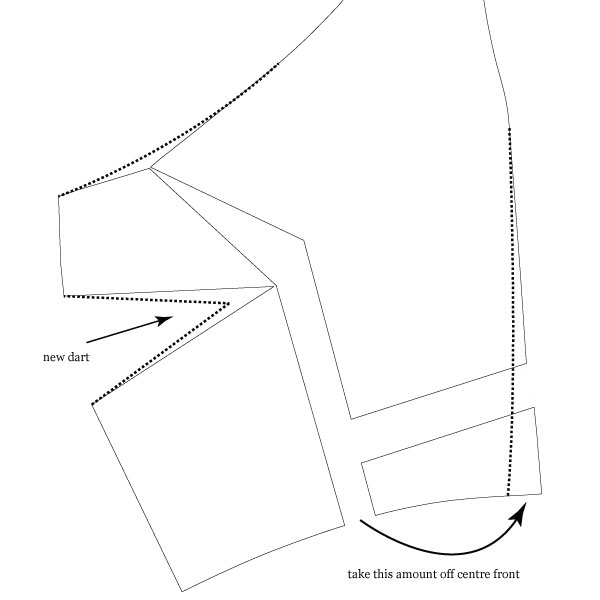 These are major alterations! If you're making major pattern adjustments like this, I'd strongly recommend making a muslin of at least the bodice, to make sure you're happy with the fit before starting your real project.
Feeling adventurous? Decide where to put the fullness. It's your choice!
Now that you have your new pattern piece, you can decide where to move the dart fullness. The important part is that we've created enough room in the bust area to fit. You can pivot this dart anywhere you like to shift the fullness.
Some ideas – take a look at the tutorials below for more!
You can leave this side dart in your bodice pattern, and sew it into your dress.
You can move the dart to the centre front, and then shift it over to the sideseam for a dartless bodice.
Or, you can put the fullness into the knot area, and have a more gathered knot at centre front.
Credits and Other Helpful Links:
Hope this helps point you in the right direction! I'm not an expert on fitting a full bustline, as my cups do not runneth over at all. I've given you as much information as possible to help you get started, and referred you to several talented bloggers who are experienced at adjusting for larger busts. (Let me know if there's any links that should be added to the list above!)
Suggestions, tips and recommendations on FBAs are welcomed – leave a comment below!