We are super excited that this year we began to introduce PDF sewing patterns! With the last few new patterns, we have been able to offer a PDF download option as well as our usual printed patterns. We are also working through the existing pattern line, and eventually we would like to offer the instant download option for every pattern.
Personally, I love PDFs. I love having the option of reprinting instead of retracing. I love the instant gratification. And there have been times when my budget loved the lower price tag. Over the years, I've developed a couple of tricks that make the whole PDF assembly process quicker, and more efficient. I thought you might want to read about them!  I snapped some photos while assembling my Yaletown dress & blouse pattern for the sew-along. Here is what I do…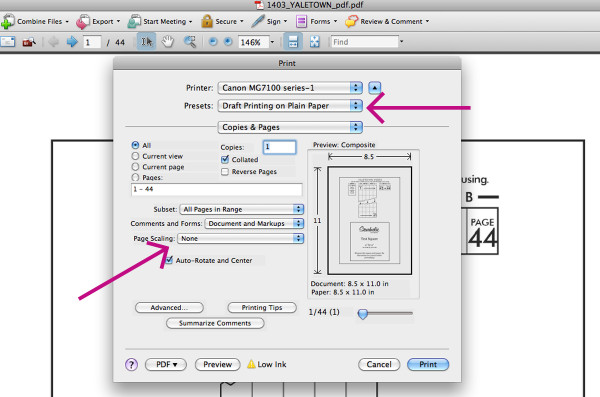 Print in draft. 
When I print PDF patterns, I always print in "draft" mode. This uses much less printer ink, and it prints more quickly! The black lines come out a bit faded this way, but still totally legible.
Since we're on the subject of printing, be sure to turn off page scaling! To be doubly sure, you can print the first page with the test square, and measure the square to make sure it is 4″ X 4″, before proceeding to print the rest of the pages.

Trim sparingly.
The pattern will print out with a border of empty space all around the page. It's not necessary to trim off this border on all sides! I trim only what I need to trim. This means only top and left side for almost all pages. For the first row, you don't even have to trim the top edge. And for the first page of each row, no need to trim the left side!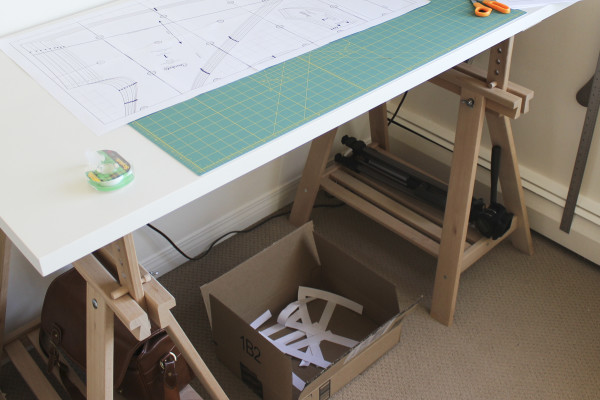 Keep a recycling bin at arms reach.
When I am working on a new project, I am the worst for leaving a trail of paper, fabric scraps, and loose threads. My only saving grace is keeping bins, bags, or boxes at arms reach to stash all of my scraps. Assembling PDF patterns is no exception. I try to keep something nearby to throw my paper scraps in as I go, so I don't end up with a mess when I'm all finished.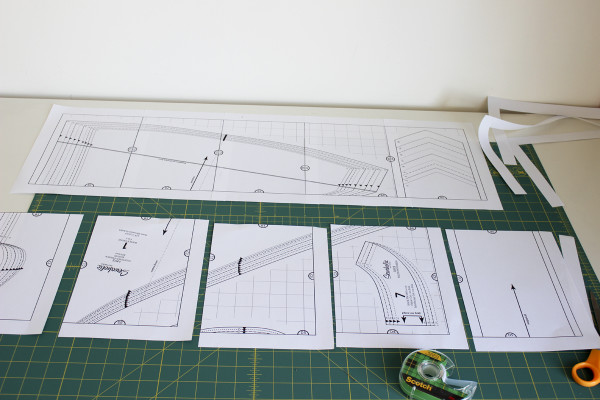 One row at a time.
The first few times I assembled PDF patterns, I would trim a page, tape it down, trim a page, tape it down. It was a lot of picking up scissors and putting them down, then picking up tape and putting it down. Such a time waster! Now I assemble one row at a time. I trim the necessary borders off one row, then tape it together. Then I trim the borders of the next row, and tape it to the row above. Things move much more quickly this way.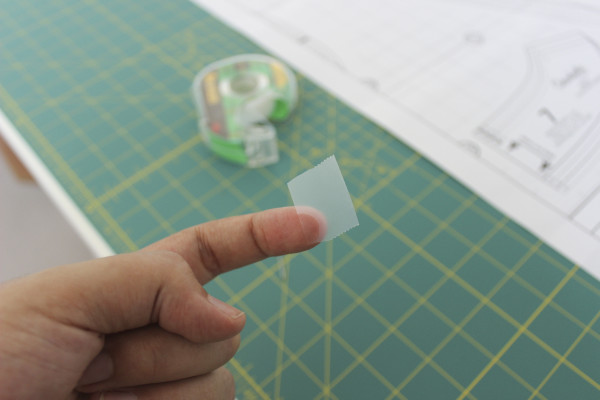 Small pieces of tape. 
This is more of a money saver than time saver. It takes a lot of tape to assemble a 40 page (or more!) PDF pattern! But you don't need long strips of tape to do the job. I try to make a conscious effort to use small chunks of tape, and my wallet thanks me!

Strategic tape placement. 
Who knew I would be talking about thoughtful tape placement today? Hah! But it's true, there is no use putting tape in places that will get cut off later. When taping together the page seams, I try to place my tape inside or along the edge of a pattern piece, instead of in the dead space that will be trimmed off when I cut out my size.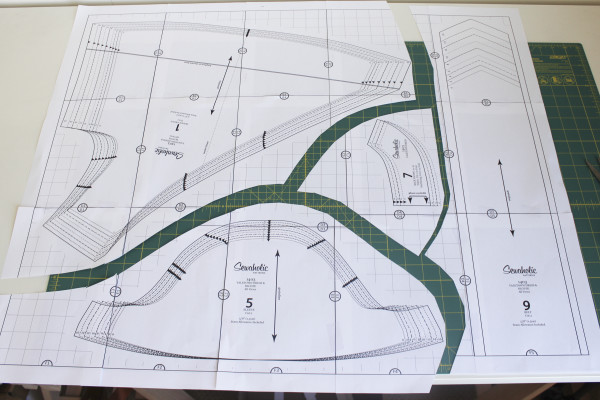 Rough cut as you go.
I used to tape together an entire PDF pattern (on my floor), and then cut out the pieces at the very end. It seemed like a big elaborate affair, because it meant monopolizing floor space for a good hour or so. But! There is a better way! Now, as soon as a piece is complete, I rough cut it out and put it aside. Not only does this save space, but it also means less trimming of page borders. Like in the example above, I don't have to trim the top edge of the next row, because I have rough cut and put aside the sleeve piece. Win-win!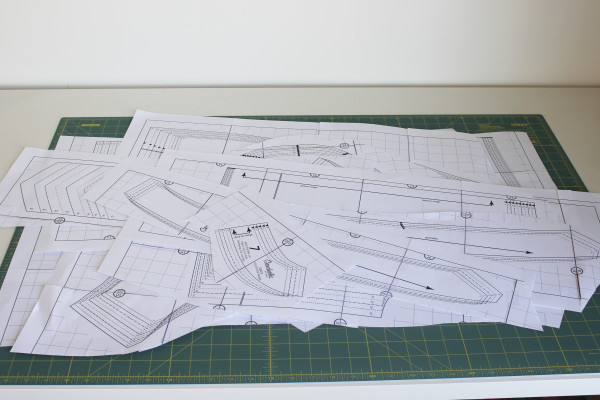 So when I'm all finished I end up with a nice pile of rough cuts, ready to be trimmed down to my size. Voila! PDF pattern assembly, without the headaches. At least for me!
Do you have any tips or tricks to add? Please do share!