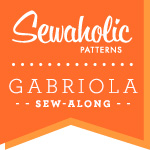 Today is the daaaaaay! That we finish our maxi skirts. Yay! If you're just tuning in… we've missed you. You can catch up on all our Gabriola sew-along posts here:
Gabriola Skirt: Styling Inspiration
Gabriola Sew-Along: Let's Talk Fabric and Supplies!
Gabriola Skirt: Grading Between Sizes
Tips for Adding Lining to the Gabriola Skirt
Gabriola Sew-Along #1: Waistband and Yokes
Gabriola Sew-Along #2: Assembling Skirt Panels
Gabriola Sew-Along #3: Attaching Skirt and Yoke Pieces, Preparing for Zipper and Waistband
Gabriola Sew-Along #4: Sewing Center Back Zipper
Gabriola Sew-Along #5: Attaching Waistband to Skirt
Gabriola Sew-Along #6: Finishing Inside of Waistband
Today: Hemming Skirt, Attaching Button or Hook and Bar
So we've sewn up our skirt, and it's been hanging for at least 24 hours.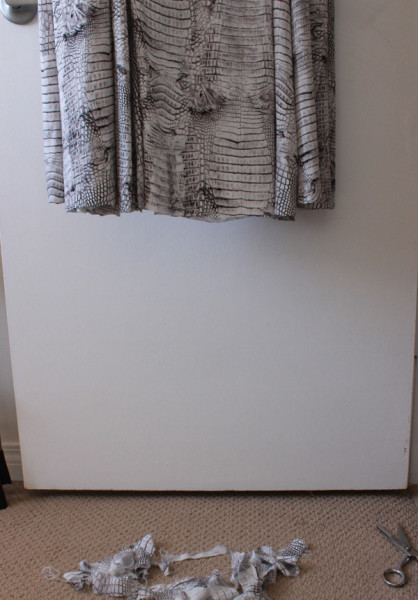 Time to even out our hem! You might also want to trim your hem even more if the skirt is really long on you. I am 5'8″ and I didn't trim, just evened out the hem. You want to measure from the floor up – your skirt can hang on a clip type hanger (but make sure it's not drooping off the sides of the hanger! Or if you have a dress form, use that.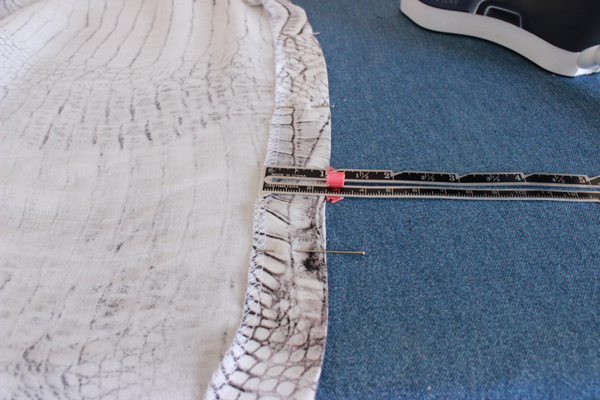 Finish the bottom edge of your skirt with your overlock/serger, a zig zag stitch on your regular machine, or you can even be fancy and finish it with a colorful binding or lace! Turn it up by 1″ (2.5cm) and pin in place.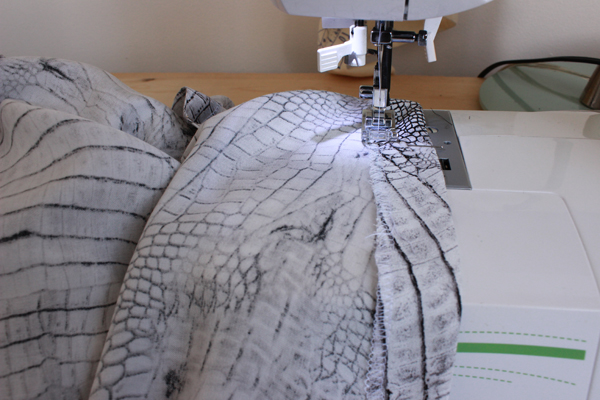 Either machine stitch your hem, as I am doing above, or hand sew it with a catchstitch – see a  demo of the catch stitch at the end of this post from the Lonsdale Sew-Along.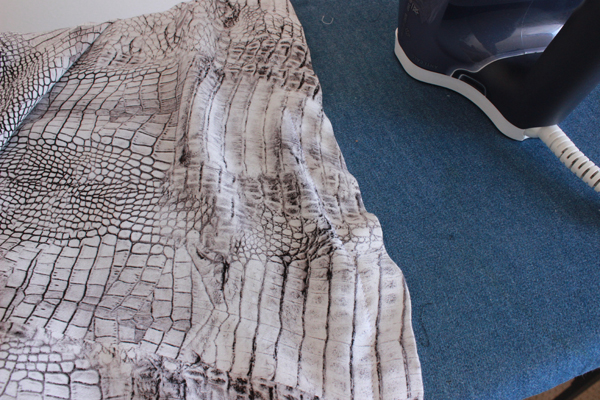 If you machine stitched your hem, you might find that your hem stretched out a bit while you sewed it, no biggie!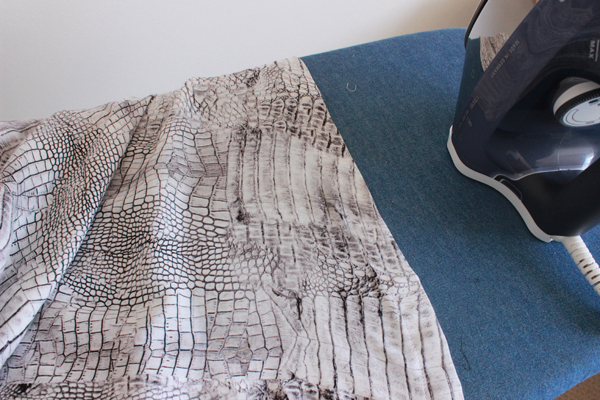 Give it a good press with steam (if your fabric allows) and it will correct itself. I love the look of a nice stitched and freshly pressed hem – so clean and tidy!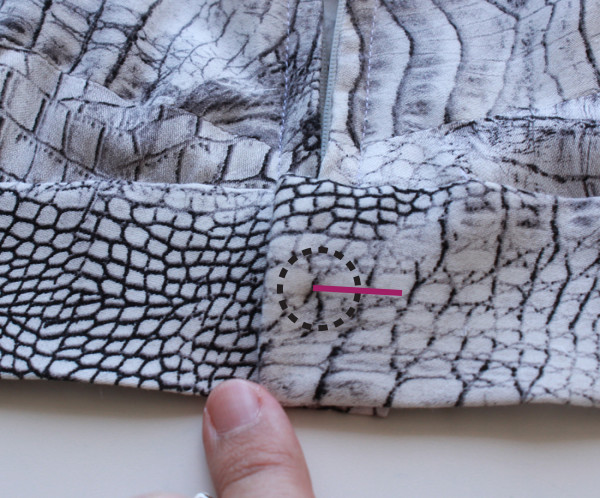 This photo is upside down, sorry! But you get the idea… remember your skirt waistband is going to overlap a little bit, left side over right side.
Time to decide on a back closure! For my skirt, I wanted to keep my waistband clean, so I decided on a hook and bar.
You could also go with a simple button/buttonhole, this pattern calls for a button approximately 1″ (2.5cm) in diameter. You could easily use a slightly smaller button, or even two small buttons one above the other! You want your button to hit right at your center back. The center of your button is the point where your buttonhole will start, and the buttonhole will extend towards the left side. I've given you a little outline in the photo above.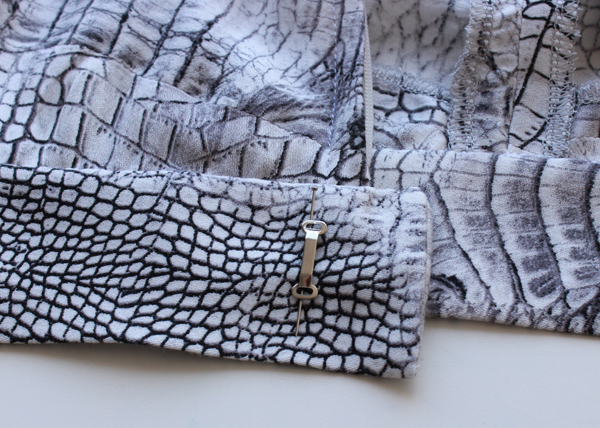 For the hook and bar, I marked the overlap with a pin, and then used that pin as a guide for where to place my bar.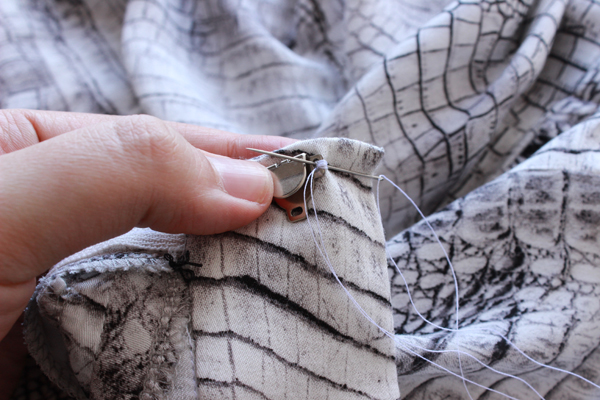 Hand sewing the hook and bar is really straightforward. You are just looping the thread around and around. I find that pushing my needle through the underside of the hole, from from the outside in, gives me the most control. Hard to explain with words – you can see the motion in the photo above.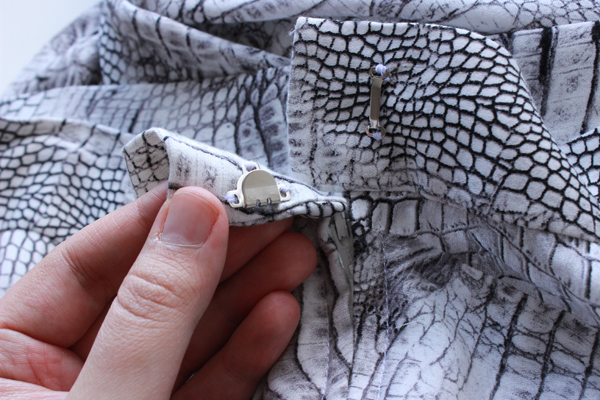 There we go, all done with our lovely closure! That wraps up the sewing of the Gabriola skirt.
I am going to share some photos of my finished skirt very soon, but I'm more interested in seeing yours! Please do share with us, I am going to do some round up posts in the coming weeks and I would be thrilled to include your versions! Here is how you can share:
– Post a link here, in the comments
– E-mail us your photos or a link to your blog post: info[at]sewaholic[dot]net
– Post your photos to the Sewaholic Patterns Group on Flickr – include a link to your blog if you have one!
– Instagram me! I am @carolineamanda on Instagram, or just tag your photo #sewaholicgabriola
Can't wait to see what you've made! Thank you so much for following along everyone. I would love to hear from you in the comments as well – Did you enjoy the sew-along? Any questions or comments? Suggestions for next time?
Happy sewing!