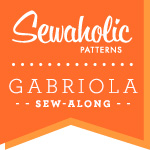 Today we get to do some hand sewing on our Gabriola skirts! But first as usual here is a recap of everything we've covered so far for the Gabriola sew-along. The badge to the left will also lead you to all of these posts!
Gabriola Skirt: Styling Inspiration
Gabriola Sew-Along: Let's Talk Fabric and Supplies!
Gabriola Skirt: Grading Between Sizes
Tips for Adding Lining to the Gabriola Skirt
Gabriola Sew-Along #1: Waistband and Yokes
Gabriola Sew-Along #2: Assembling Skirt Panels
Gabriola Sew-Along #3: Attaching Skirt and Yoke Pieces, Preparing for Zipper and Waistband
Gabriola Sew-Along #4: Sewing Center Back Zipper
Gabriola Sew-Along #5: Attaching Waistband to Skirt
Today: Finishing Inside of Waistband
Monday, March 31st: Hemming Skirt, Attaching Button or Hook and Bar
Let's get started!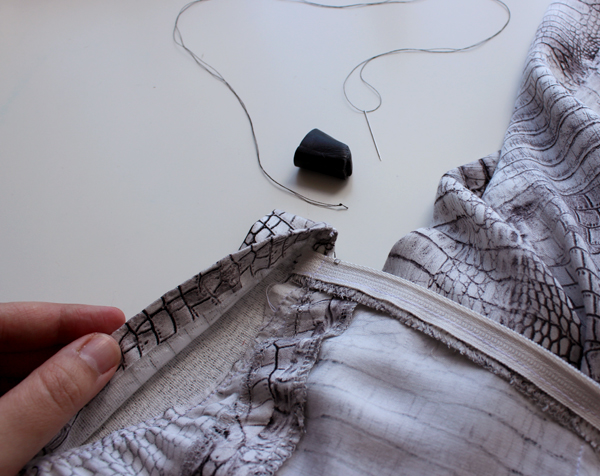 So what we'll be doing today is slipstitching the inside of the waistband to the skirt waistline. This is my method of choice for lighter or more delicate fabrics, so I am using this method for my sew-along sample. There are a couple of other options, I'll cover those afterwards! We'll need a threaded hand sewing needle to get going.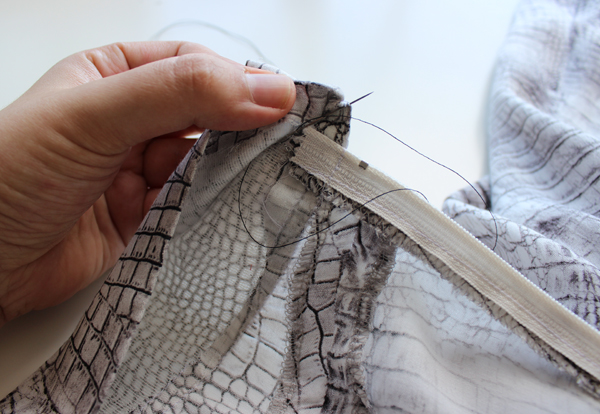 I don't really like hand sewing with thread that is too long, it gets tangled and is harder to control. So I like to work from each end and meet in the middle, instead of try to use a length of thread that will get me all around the waistband. We want our tied thread end to be tucked inside the skirt, so we'll begin by inserting our needle from the inside out, right at the corner.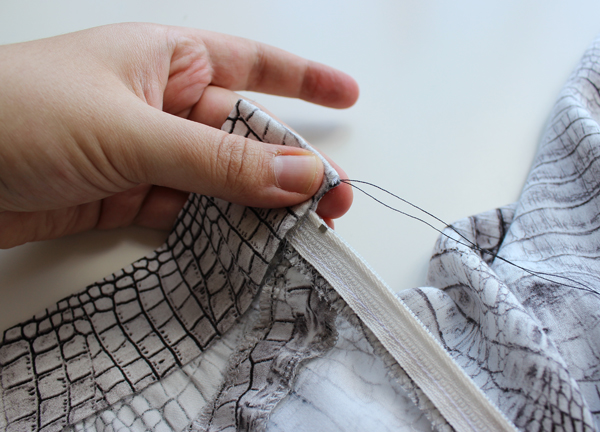 Now for the first few stitches, where the extension and zipper are, I am going to be using a ladder stitch. It's very similar to the slipstitch – the only difference is that you're taking a longer (equal) bites of fabric from each edge. So once I poke my needle through the corner there, I squeeze my edges together with my fingers.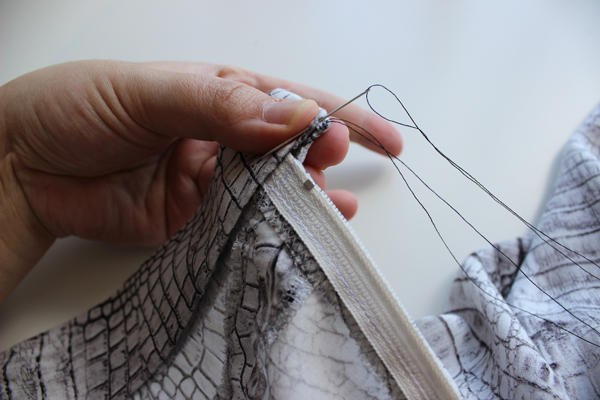 Then I'm taking a bite of fabric from the top fold.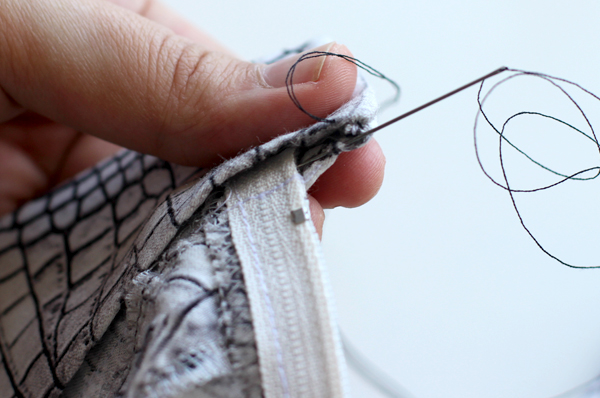 And the next bite of fabric from the bottom fold.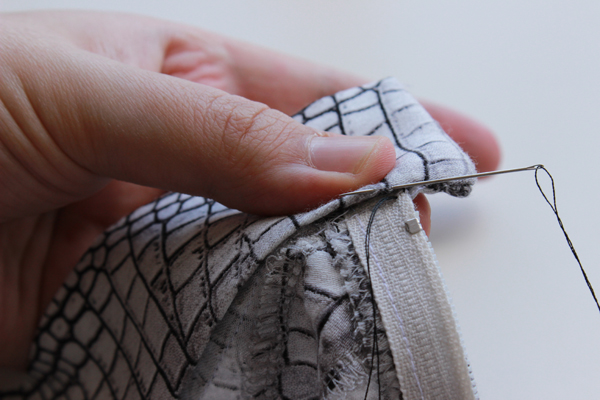 Continue your ladder stitch this way up until you get to the end of your zipper tape.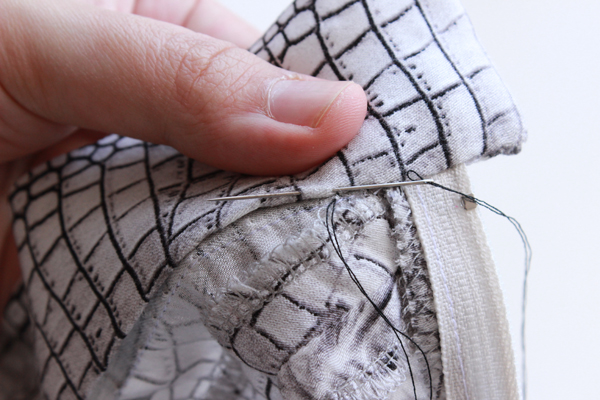 Now we're going to start with our slipstitch! To slipstitch, we're taking larger bites (a few millimeters) of fabric from the waistband fold…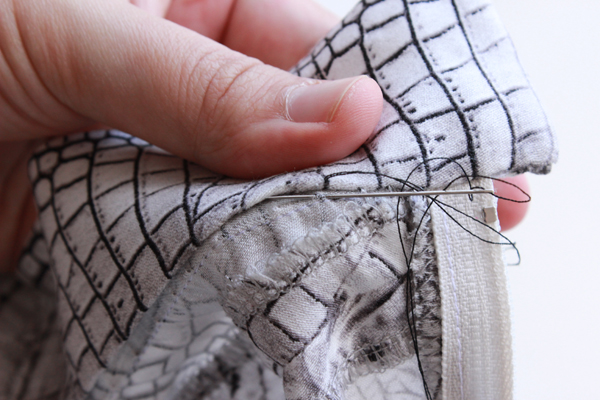 And tiny bites of fabric from the skirt, right along the stitch line. Just a few threads, taking care not to poke through the right side of your skirt. As you sew you can pull your thread to keep things nice and taut. Just keep slipstitching in this way, larger bites from the waistband fold, tiny bites from the skirt.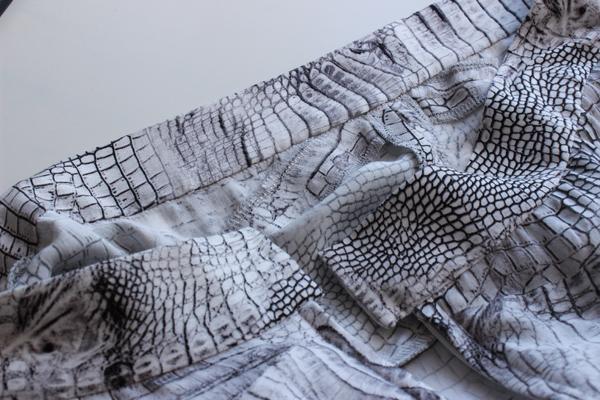 When you are finished give things a nice press, and voila! A nice clean waistband with no visible stitching. I really like this clean look.
There are a couple of alternatives to slipstitching your waistband. You could stitch in the ditch! I also love this method. My fail-safe way is to hand baste my inner waistband in place. As I am basting, I make sure that the fold of the inside of my waistband is ever so slightly below the stitch line. Then we use our machine, skirt right side up, and stitch quite literally in "the ditch" or seamline between our skirt and our waistband.  As we sew in the ditch we are catching the inside of the waistband. The stitching is visible on the inside of the skirt, but on the outside it just disappears into the seamline crack. Matching thread is essential with this method!
If you are using a heavier/more stable fabric, you can also edgestitch all around the waistband – this will be visible from the outside and inside.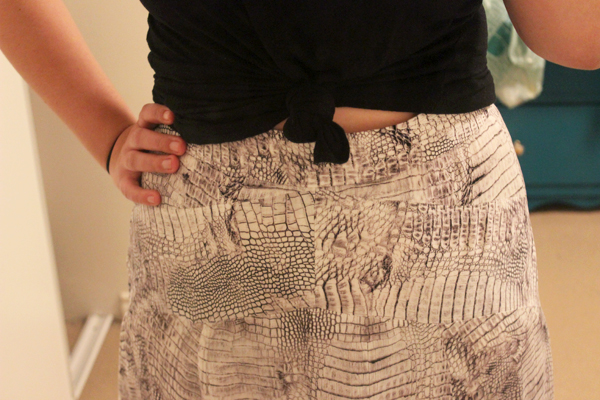 Once we're done finishing the inside of our waistband, we can try on our skirts and admire our lovely waistbands. For this photo I just pinned the skirt closed, I was so excited to try it on!
Final thing to do today – hang your skirt up so that the hem can settle. By now we know we're dealing with a lot of fabric, some of it on the bias. Bias fabric tends to "relax" which really just means it settles into place and hangs lower. We'll need to let our skirts hang for at least 24 hours.
That's everything for today! Just one more day of sewing coming up and we'll be all finished. Happy sewing!