Just for fun, I added a little topstitching to the neckline of the Alma Blouse. I knew how sheer the fabric was when I started, but it still bothers me a little that it's so see-through, maybe topstitching will work as a distraction!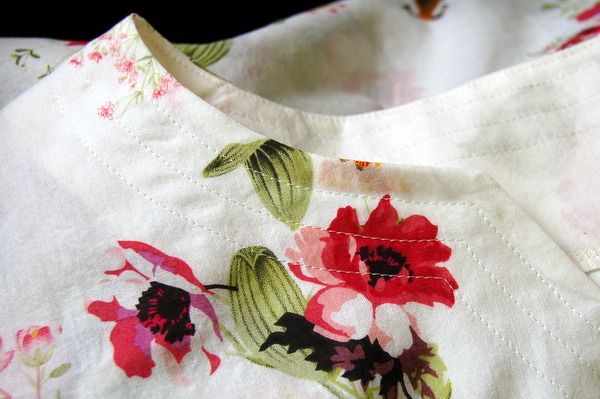 Here's how I did it:
I sewed the first row of stitching, following the 1 centimetre (3/8″) guideline on my sewing machine.
After that, I moved the presser foot to the left as far as it would go, and used the edge of my presser foot as a guide for the second and third rows of stitching.
The key to making it easy to topstitch is to use the edge of your presser foot as a guide, once you stitch the first line close to the edge.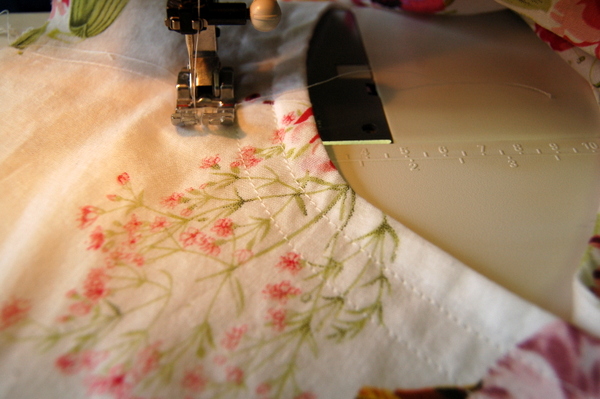 What do you think? It's subtle, but pretty. On this fabric, it sort of gets lost in the print and the fact that you can see the outline of the facing. (It might not be so transparent on a real body – my dress form is purple so her 'skin' shows through more than mine will.)
I do like the look of topstitching. It adds more structure to the neckline, and frames the face nicely. And I love that a bird ended up swooping across the neckline!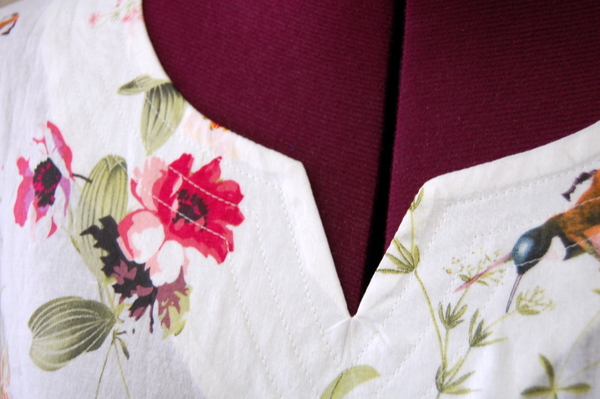 For more impact, try using a contrast colour thread. Or plan your project around the topstitching, with white thread on a black blouse.
You could add more or less rows of stitching if you wanted. Just move them closer together or farther apart! If you're making the scoop neck view (the neckline on View C) you'll have more room to add more rows of stitching as there's no centre 'V' to go around.
An added bonus: the extra topstitching will keep the facing in place, making it less likely to flop out of your neckline!
Want to get started on your own Alma blouse? Get the pattern here.
Have a great weekend, everyone!