Yes, I said it – a reversible dress! Christine from the blog 'What's Up Cupcake' made her version of the Cambie Dress reversible. How cool is that? One side is a fun print, the other is timeless black, and both look beautiful on her!
Here's the outside: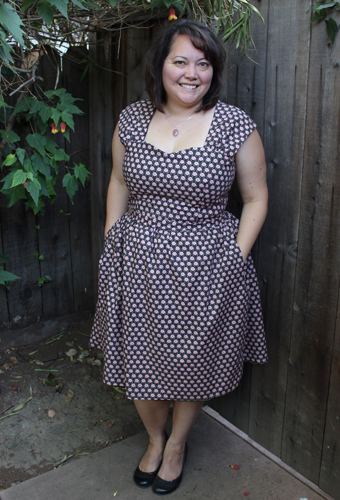 And here's the inside!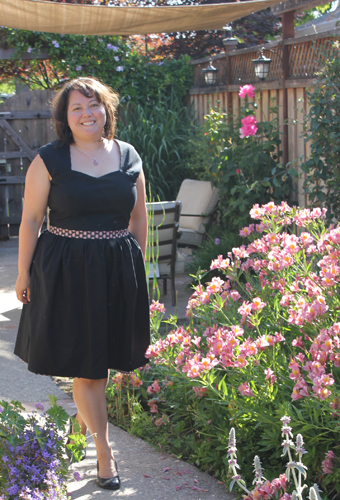 Isn't that neat? I came across her version the other day and just had to share! Check out her blog for more photos and her project notes.
If you wanted to make your Cambie Dress reversible, the first thing to consider is the zipper. Either you'll have to hunt down a special zipper designed for reversible garments, or have someone help you when zipping up the reverse-side of the dress. They make zippers for coats that are reversible, where the slider rolls around to the inside of the zipper, but I don't know if they make dress-weight zippers that behave like that, and I bet both are hard to find!
Another point to mention is to keep the inside as clean as the outside. When the instructions suggest either stitching in the ditch or slipstitching, you'll want to pick slipstitching or go very carefully with your ditch-stitching. Also, do you want pockets on the inside version, too? Or would it be better to eliminate them altogether? (I see that she's not putting her hands in the pockets in the black version.)
Think about the colours for both fabrics, too. Christine's black lining works as an outer layer, but a white lining used with a printed fabric might let the print show through to the inside. (Then you'll just look like your dress is inside out. Not the look we're going for here!)
What do you think? Pretty creative, right? I don't think I own a single thing that's reversible, but I like the idea for travel. One dress, two looks!
See more Cambie Dresses here! (Get the pattern here.)