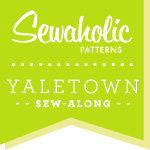 Hello everyone and happy labor day, to those who celebrate it!
Today is another Yaletown Sew-Along prep day. We get to start cutting and preparing our pieces for our first sewing day, which is in a week. Here is a recap of what we've covered so far, and you can click the badge to the left to catch up on all of our Yaletown Sew-Along posts so far.
Yaletown Sew-Along: Styling Inspiration
Yaletown Sew-Along: Fabric Suggestions, Choosing a Size, and FAQ
Yaletown Sew-Along: FBA and SBA Tutorials and Tips
Today – Cutting, Gathering Supplies
Monday, September 8th – Preparing Bodice and Sewing Facing (Instruction Steps 1-4)
Thursday, September 11th – Finishing Facing, Sewing Bodice Side Seams (Instruction Steps 5-7)
Tuesday, September 16th – Sewing Skirt / Lower Blouse (Instruction Steps 8-10)
Thursday, September 18th – Sewing Bodice to Skirt, Sewing Elastic Casing (Instruction Steps 11-13)
Tuesday, September 23rd – Sewing & Attaching Sleeves (Instruction Steps 14-17)
Thursday, September 25th – Hemming, Sewing Tie Belt (Instruction Steps 18-19)
Friday, October 2nd – Thread Loops and Securing Neckline (Instruction Steps 20-21)
First, let's talk about the handy tools that we'll be using for both cutting out and sewing up our garments. I don't often cover tools in the sew-along, but I thought it would be a fun thing to mention!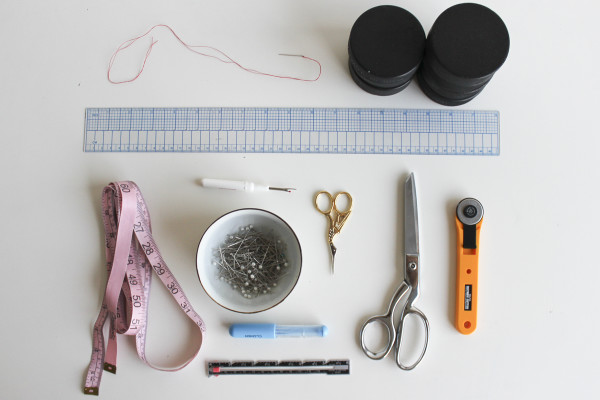 For cutting, you will need:
A ruler, to help you to line up the grainline.
A pair of dressmaker's shears, or a rotary cutter (and mat, not shown) – for cutting!
Pattern weights (I use hockey pucks) or pins, for keeping your pattern pieces in place while laying them out and cutting.
Tailors chalk or a whatever your favorite marking/tracing tool might be.
For the sewing part, you will need:
Pins.
A seam gauge, great for hems and measuring seams. (Not necessary, but I can't live without mine!)
A seam ripper. Just in case.
A needle and thread, for basting.
A tape measure.
Snips, embroidery scissors, tailor's points, or any small scissors to keep nearby for trimming threads, etc.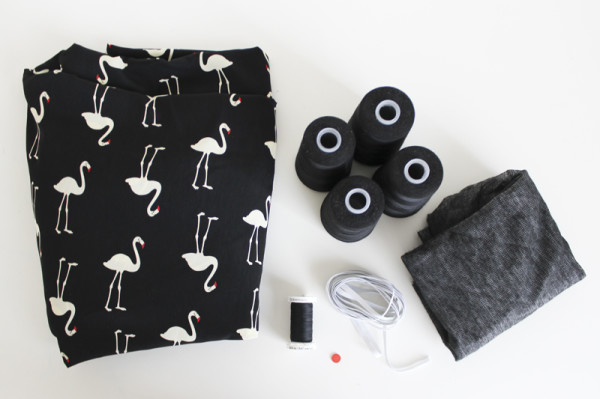 Now would also be the time to gather fabrics, notions, and supplies. Here is what you'll need:
Fabric (Look at mine! Aren't those flamingo's the cutest ever?). I wrote about choosing fabric in this sew-along post. The fabric I chose is a poly crepe de chine from Télio (website / blog), read more about Sewaholic's partnership with Télio here!
Matching thread. I have one spool of polyester thread for my sewing machine, and four cones of thread for my serger/overlock machine. You don't need a serger, so don't worry if you don't have one! You can simply finish your raw edges with pinking shears or a zig zag machine stitch.
One yard of 1/4″ wide elastic.
One yard of fusible interfacing.
One 3/8″ button (optional).
I always recommend pre-washing fabric the same why you intend to wash your final garment. Most fabrics will shrink a lot on the first wash, so it's good to get this out of the way before sewing anything up.
Finally, give your fabric a nice press before laying it out for cutting.
Once your fabric is pre-washed and ready to go, it's time to lay it out and start cutting. Use the cutting layouts provided as a guide. We use standard widths to plan out these layouts. But fabric widths can vary widely, so if you find a fabric saving layout that you like better, go for it!
Here's my method for cutting: I lay out my pieces, weight them down with pattern weights, and trace around them with my handy chalk pen. Then I remove my pattern pieces, pin the fabric to keep things in place, and cut with my dressmaker's sheers.
You could also use a rotary cutter and mat, just lay out your pieces, weigh them down with pattern weights, and cut away! This is a very precise and quick method for cutting. The only caveat is sometimes larger pieces don't fit on the mat, so you have to resort to cutting the old fashioned way anyways.
Of course, simply pinning your tissue down and cutting with dressmaker's sheers is a perfectly fine way to cut as well! This is how I did it for years and years before exploring new methods.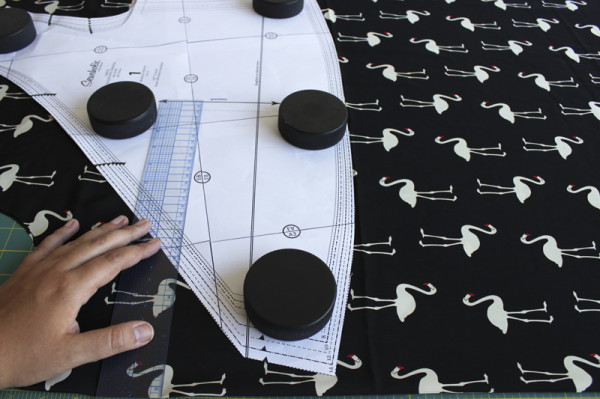 Remember when laying out your pieces, use a ruler to check that your grainlines are parralel to the selvedge or fold line of your fabric.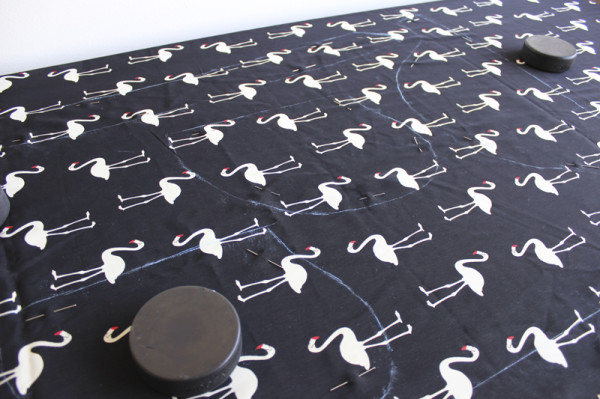 Here's another shot of my favorite cutting method. I trace with chalk, pin and then cut! It seems involved but it's actually quite quick.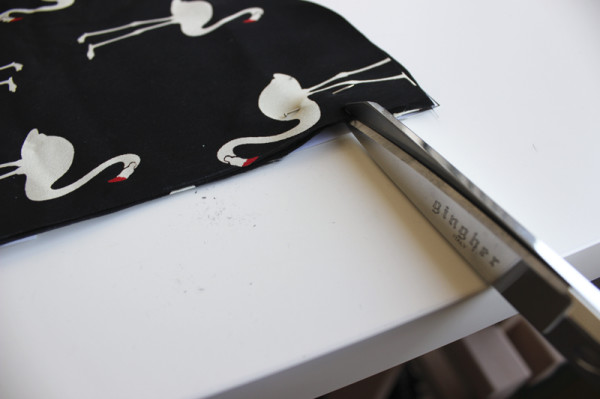 Once your pieces are all cut out, go through and snip your notches.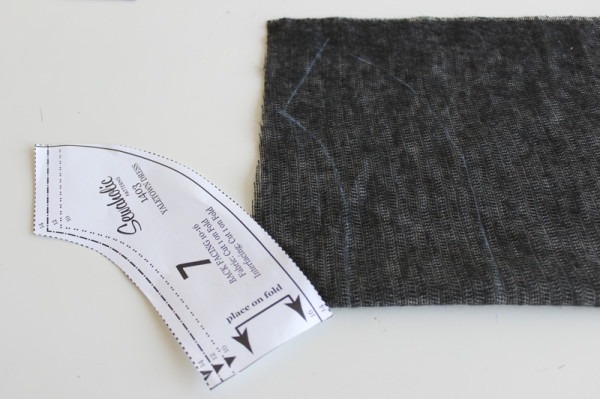 Let's go ahead and cut out our fusible interfacing pieces as well. Grab your facing pieces (pieces 6 and 7), and trace them on your fusible.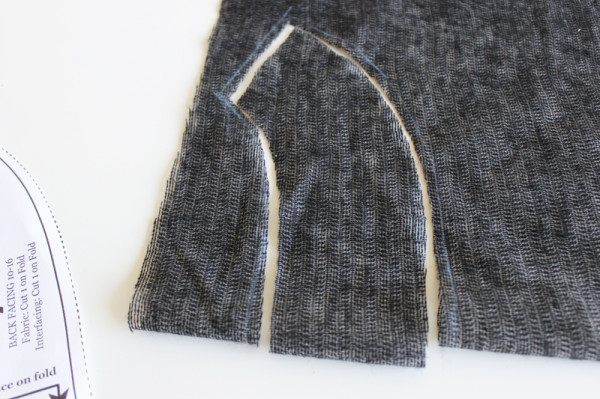 Here's a trick: instead of cutting right along your traced line, cut a little bit inside. This way, you are guaranteed not to have any sticky fusible extend beyond your fabric and muck up your ironing board.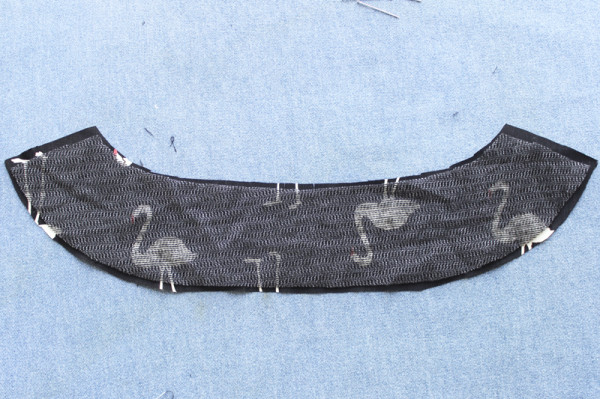 Here you can see what it looks like when you trim the fusible slightly smaller than the fabric.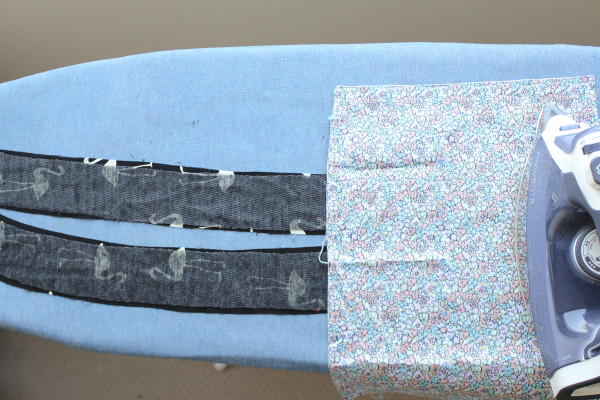 While we're at it, let's fuse our facing pieces. I always use a scrap press cloth to do this, so that I don't get any glue on my iron. Use a low heat setting, and press your fusible in an 'up and down' motion, instead of dragging your iron across. I like to hold my iron down for a good 30 seconds at a time to make sure it sticks. Once you're all done, inspect your piece to make sure the fusible is stuck on there nicely. If there are any parts pulling away, give them another press.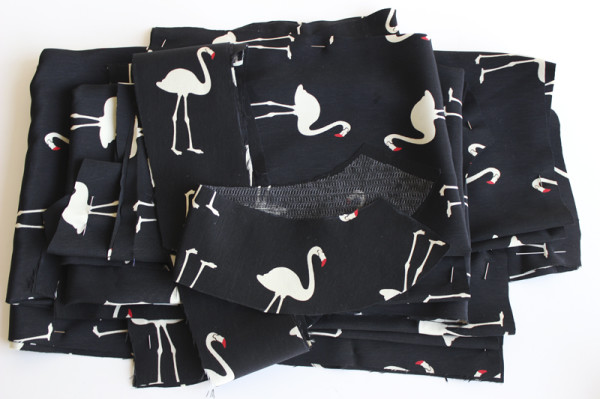 There we go. So now we have our pieces all cut out and notched, and our facings interfaced. We are ready to start sewing in a week!